Your Daily Phil: Missions to Ukraine: Do the pros outweigh the cons?
Good Thursday morning!
"When and how does speech become violence?" That dilemma may be debated in courts and classrooms, but beginning later this year, it will also be addressed at Yale University's Slifka Center for Jewish Life, where an artist will create a work focused on the question.
Starting in December, the Slifka Center will host an artist residency program in which one Jewish artist will get a $10,000 stipend and have work expenses covered to create a piece commissioned by the center. The inaugural residency will run through March 2023, during which time the artist will meet with a group of Jewish students at Yale to plan and craft their final work. Eight artists have applied to the residency so far.
"We wanted something more long-term, so that the artist would have time to really sink into both the central question that we would take on for each iteration of the residency, and also so that they would have time to… produce a piece," Aviva Green, Slifka's Springboard social justice and arts fellow, told eJewishPhilanthropy.
The question framing the residency was chosen, Green said, because debates over free speech, and whether or not hate speech should be legal, are shaping both college campuses and concerns about social media platforms.
"We find ourselves disoriented between speech's potential to illuminate and unify, and also legitimize murder and demonize," Green said. "So we wanted to pose this as a question because it's a question that we've been thinking about. And we see arts and artists as well-equipped to respond to this in a really…deep and profound way that we want students to also be able to engage with."
The Slifka Center will be engaging Jewish students who have a background in arts and creative expression to work with the commissioned artist. The intention is both to engage artistic Jews who may not feel connected to Hillel, and to show them that there is a career path in the Jewish arts world. "We want them to see what it looks like to continue this outside of college, and how it works to continue on a creative pursuit in a way that is Jewish in some way or another," Green said.
Green also sees the residency as a way for the Slifka Center to support Jewish arts and make a statement about its worth. "We really value highly Jewish cultural production, and want to…contribute," she said. "So having a piece that will live beyond at Slifka and in the sort of larger art world that is speaking to a question like this, we also see as something really valuable."
DEEP DIVE
'Someone has to pay for it': Aid workers and organizers on the burdens and benefits of American Jewish missions to the Ukrainian border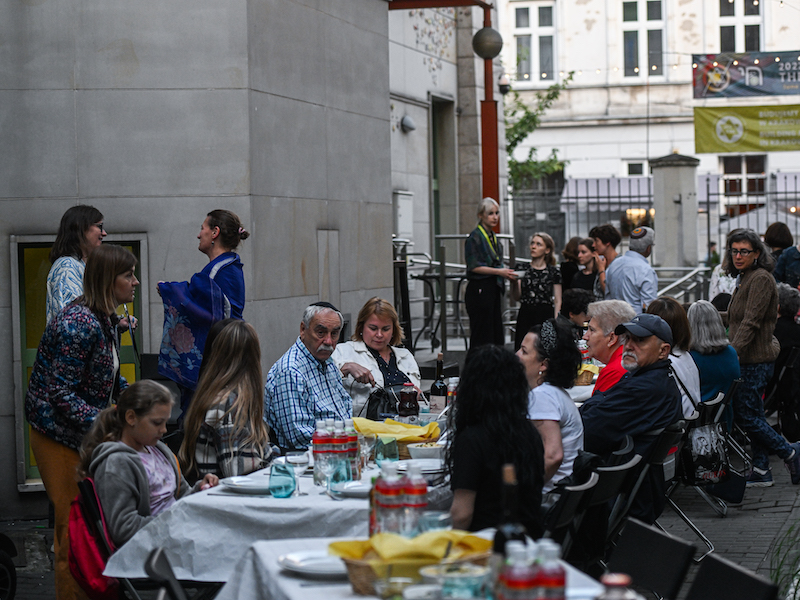 When Russia invaded Ukraine in February, the Polish Jewish community mobilized to help the wave of Ukrainian refugees crossing the border. But that wasn't the only group Polish Jews found themselves having to assist. Soon came a sometimes chaotic flood of American Jewish mission trips to witness efforts on the ground, fundraise for aid efforts and, in some cases, to volunteer alongside aid workers, reports eJewishPhilanthropy's Lev Gringauz.
Unqualified volunteers: Individual people seeking to volunteer were most often the problem, aid workers say. They described well-meaning American Jews who came without knowing Russian or Ukrainian, had little experience with refugee work and relied on the Polish Jewish community to facilitate their volunteering. American volunteers "were expecting us to organize accommodations for them, organize transport for them," one Polish Jewish volunteer said. "It was really demanding."
Worth the cost: But trips focused solely on fundraising, both Polish Jewish aid workers and American Jewish leaders said, were well worth the resources spent as they resulted in additional much-needed financial support. Still, the aid workers added, successful fundraising in a refugee crisis always comes at the expense of their attention. "It's worth sacrificing the time" for fundraising mission trips, said one Polish Jew who coordinates international aid for Ukrainian refugees. But the trips also carry a cost, the aid coordinator added, and "someone has to pay for it."
MULTIPLE VOICES
The millennial generation
"As we leave our dining rooms and bedrooms and return to communal workspaces, some generational differences become starkly clear. Rabbi Danny Burkeman raised some important issues in his recent eJP article on suburban millennials, highlighting ways Jewish spaces might be more attentive to some and not others. He's right," writes psychologist Betsy Stone in an opinion piece for eJewishPhilanthropy.
Millennial traits: "Millennials grew up in a time of political and financial insecurity. They were marked by Sept. 11 and the wars in Afghanistan and Iraq. Their own economic experience was slowed by the Great Recession, which also delayed marriage and parenthood for some… They are also a generation that tends towards increased open-mindedness. They are more likely to partner across old racial and gender lines, and more accepting of other people's choices. They are better educated than previous generations – and they were told that education would open doors for them. And they are digital natives, but that doesn't entitle the rest of us to make them our digital translators."
Outdated organizational structures: "My guess is that many millennials don't experience their organizations as loyal, but as demanding loyalty from them. They see the glass ceiling created by boomers who cannot share power, who do not see the expertise of their younger colleagues. We raised millennials on visions of cooperative learning, but our power structures are vertical. How do we reconcile old models with their expectation of flatter, shared leadership?"
CONFERENCE RECAP
Better together: Pro-Israel groups convene to collaborate
"Last week, more than 150 professionals from over 25 leading pro-Israel organizations gathered in Denver for the Israel on Campus Coalition's Field Professional Retreat (FPR). Due to the COVID-19 pandemic, this was the first time that ICC had been able to hold the convening since 2019," writes Jacob Baime, the organization's CEO, in an opinion piece for eJewishPhilanthropy.
Online activism: "In 2022, one of our coalition's most significant challenges is the blurring of lines between on-campus and off-campus activism. As our adversaries invest their most substantial resources to influence the U.S. Congress and the American campus, we must be proficient in both theaters. We must also recognize that online activism is the thread that ties these domains together. One track of the FPR involved our partners coming together for the first in-person meetings of our coalition-wide Digital Activism Working Group, focused on cooperating to address the dynamics of the current environment, where threats and opportunities first emerge online."
Today's reality: "To put a finer point on our new digital-first reality, a rising college senior has never experienced a 'normal,' pre-pandemic academic year on campus. The virus disrupted life, including on campus, in early 2020, when a current rising senior would have been a first-year student. Later, the rise of the Delta and Omicron variants brought further upheaval. In the meantime, in May of 2021, Jewish and pro-Israel Americans, on and off campus, faced surging antisemitism and a coordinated social media harassment campaign during the 11-day conflict between Israel and Hamas in Gaza, dubbed by the IDF, Operation Guardian of the Walls."
Worthy Reads
Elevating Voices of Color: Film and TV company Rideback's nonprofit arm, Rideback Rise, hopes to raise $2 million this year and will oversee a fellowship program for writers, directors, podcast creators and other artists of color. The program is funded by $1 million from the Ford and MacArthur foundations as well as several other philanthropies; completed, commercially viable projects will generate 2-10% royalties on each project, toward Rideback Rise's eventual self-sustainability, Kay Dervishi writes in The Chronicle of Philanthropy. "'For us to make a direct grant to something like Rideback Rise, this is a little bit of a departure for us and one of the first of its kind,' said Kathy Im, who oversees the [MacArthur] foundation's journalism and media program. The grant maker, which contributed $200,000 to Rideback Rise, may use this as a pilot to evaluate whether it wants to support similar efforts in the future. 'We have come to realize and recognize that all forms of popular culture, including mainstream fiction films and scripted television shows, in addition to journalism and documentary films, which is our sweet spot, have a huge educational value and social impact,' Im said." [ChronicleofPhilanthropy]
Word on the Street
Donations from Fidelity Charitable, the U.S.'s largest grantmaker, climbed 11% to a record $4.8 billion for the first half of 2022…
Rabbi Avi Olitzky has joined See3 Communications as chief innovation officer…
The Jewish Federation of Howard County (Maryland) elected Rabbi Gordon Fuller as its president and Chuck Koplik to be 1st vice president…
The University of California, Berkeley announced a $30 million gift from alums Warren "Ned" Spieker and his wife, Carol in support of the Haas School of Business; it is the largest gift in the Haas school's history…
The University of Texas at Tyler received a $10 million gift from the Robert M. Rogers Foundation to its school of medicine to support mental and behavioral health education…
Pic of the Day
World ORT's ongoing partnership with the Irida Women's Center in Thessaloniki, Greece, has expanded to include holistic support for more than 50 Ukrainian refugees.
Birthdays
Online media personality and product manager on the Adobe Spark team, Veronica Belmont…
President at Admar Group, Henry Dean Ostberg… Chilean-born classical music composer, professor emeritus at Tel Aviv University, Leon Schidlowsky… Escondido, Calif., resident, Leonard Simon Zoll… Retired CEO of Sony/ATV, Martin Bandier… Professor emeritus in the department of physics at Bar-Ilan University, Shlomo Havlin… Director of the Center for the Political Future at USC, Robert Shrum… Criminal defense attorney Benjamin Brafman… Former member of the U.K. Parliament, now in the House of Lords, Baroness Susan Veronica Kramer… U.S. Sen. John Barrasso (R-WY) … Chairman and CEO at Quantitative Financial Strategies, Sanford "Sandy" Jay Grossman… Professor at Columbia University's medical school and the president of NYC's Central Synagogue, Dr. Shonni Silverberg… Professor at Columbia Law School and daughter of the late Justice Ruth Bader Ginsburg, Jane Carol Ginsburg… Irene Ostrovsky… Comedian and actor, Jon Lovitz… Former chief rabbi of Moscow, Rabbi Pinchas Goldschmidt… Literary agent and the co-head of William Morris Endeavor book department, Eric Matthew Simonoff … Actress and producer, Alysia Reiner… Professor of astronomy at MIT and winner of a 2013 MacArthur "genius" award, Sara Seager… Brazilian fashion designer best known for avant-garde designs and eclectic prints, Alexandre Herchcovitch… CEO of Fanatics, until last month he was a minority owner of the Philadelphia 76ers (NBA) and New Jersey Devils (NHL), Michael G. Rubin… Founder, president and CEO of Securing America's Future Energy (SAFE) and the Electrification Coalition, Raphael "Robbie" Diamond… Rabbi of Congregation Bais Naftali and teacher at Mesivta Birkas Yitzchok in Los Angeles, he is also a motivational speaker, Rabbi Yoel Gold… Youth and teen engagement coordinator at Manhattan's B'nai Jeshurun, Aniko Gomory… Writer and political activist, Chloé Simone Valdary… Policy analyst at Brownstein Hyatt Farber Schreck, Zachary A. Marshall… Talent acquisition partner at Drizly, Rachel Elizabeth Nieves… Attorney in Madrid and recent secretary general of the Federation of Jewish Communities of Spain, Elias Cohen…
Email Editor@eJewishPhilanthropy.com to have your birthday included.