Your Daily Phil: Margot Pritzker to chair Aspen Institute + Busting myths to create well-attended programs
Good Tuesday morning!
Jewish organizations are lauding the reintroduction in Congress of the Afghan Adjustment Act, a bill that would give Afghans evacuated to the U.S. an easier path to permanent residency. The legislation is a long-standing priority for Jewish groups that have been working to resettle displaced Afghans.
"With the first anniversary of the fall of Kabul…upon us, we commend House and Senate leaders for working together to find a sensible solution for Afghans," Melanie Nezer, senior vice president of global public affairs for the Jewish refugee agency HIAS, said in a statement. "Without the AAA, those evacuated last summer have no assurance that they can remain in the U.S. after their parole status expires."
Many of the 76,000 airlifted Afghans were brought to the country under the humanitarian parole program, which allows non-citizens to temporarily live here for "urgent humanitarian reasons." To become permanent residents or citizens, parolees must apply for asylum or a Special Immigration Visa (SIV) – a process that could drag out for years given the backlog of applications, leaving parolees in limbo.
Congress has the ability to adjust the legal status for parolees and allow them to apply directly for permanent residency. Cubans fleeing Castro's regime; Southeast Asians escaping communism; and Iraqis who came to the U.S. after American military operations have been the beneficiaries of previous adjustment acts.
The act "affirms our country's sacred commitment to our allies and our Jewish community calling to 'welcome the stranger' by ensuring that displaced Afghans…can build lives in the United States without fear of lingering in legal limbo," Darcy Hirsh, managing director of public affairs at The Jewish Federations of North America, said in statement.
Both HIAS and JFNA have been helping local Jewish communities resettle Afghan parolees through welcome circles, a form of private sponsorship necessary because parolees don't receive federal refugee resettlement funding. The same model has been used by Jewish organizations to assist Ukrainians fleeing Russia's invasion of their country, who are also in the U.S. as parolees without a path to permanent residency.
"We know that displaced Ukrainians…will face a similar challenge in the future, and they too deserve a pathway to remain here in safety," Elana Broitman, senior vice president of public affairs at JFNA, said in a statement.
TRANSITION
Margot Pritzker elected to chair Aspen Institute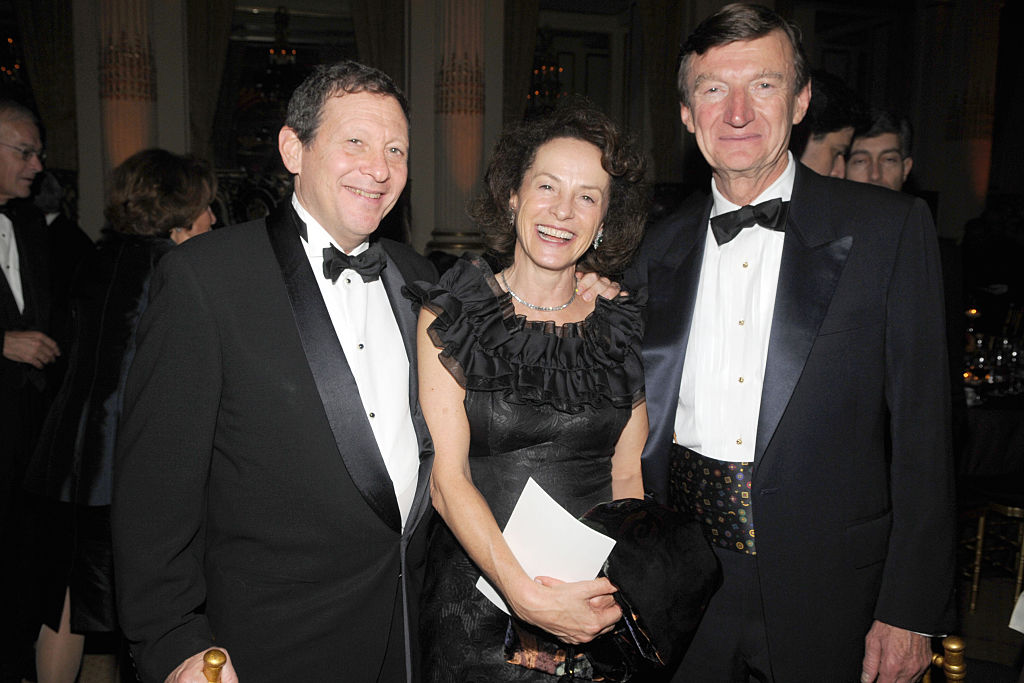 Margot Pritzker, the Chicago-based philanthropist and nonprofit leader, was unanimously elected to a three-year term as chair of the Aspen Institute's board of trustees on Aug. 13, reports Lev Gringauz for eJewishPhilanthropy.

Aspen regular: Pritzker, a member of the prominent Chicagoland Jewish family that made its fortune through the Hyatt hotels chain, has served on the Aspen Institute's board since 2004. There, she has taken on a variety of leadership roles, from being a seminar moderator and advising some of the institute's leadership programs, to serving on the executive committee. "For many years Margot Pritzker has been an impactful leader, supporter and advocate for the Aspen Institute," said Dan Porterfield, CEO of the institute, in a statement to eJP. 

Leadership experience: Pritzker chairs the Zohar Education Project Incorporated, which has supported a full English translation of the Zohar, the book of Jewish mysticism. She was also the founder and president of WomenOnCall, which connected women to volunteering opportunities. More recently, Pritzker is the executive chair of the Community Food Navigator, which aims to connect underserved Chicago communities to BIPOC food producers.

Read the full story here.
CHANGING OUTREACH PATTERNS
Busting 7 myths to creating a well-attended program
"Prior to the pandemic, I began to explore new ways our Jewish day school could enlarge our pool of prospective families. What we soon referred to as 'outreach' transpired in the form of off-site events, geared toward prospective families as well as on-site events, for both current and prospective families," writes Rabbi Yael Buechler, the Lower School rabbi and outreach coordinator at The Leffell School, in an opinion piece for eJewishPhilanthropy.
Check your expectations: "It was surprising that some of our initial expectations about what would make these events most successful were actually at times the opposite of what the event needed to enable us to reach our goals of connecting with as many new families as possible."
Seven myths: 'Here are seven myths that were busted as we moved to higher levels of engagement with prospective families (primarily millennial-age parents and their babies, toddlers and preschoolers)."
Event promotion: "Need a great flyer: Detailed flyers are out of vogue. Simple flyers are most successful in the form of a square graphic with minimal copy and a photo… The graphic does not need to include further details since it will be shared in emails or on social media with an accompanying typed-up blurb and hyperlink to RSVP."
ON-RAMPS TO GIVING
Amplifying our philanthropy
"A pathbreaking 2009 study led by Angela M. Eikenberry and Jessica Bearman discovered that when people participate in giving circles, they give at higher amounts, are more intentional about their giving and engage more deeply with their communities," writes Sasha Raskin-Yin, interim executive director of Amplifier at The Jewish Federations of North America, in an opinion piece for eJewishPhilanthropy.
Amplifier's mission: "Amplifier, powered by The Jewish Federations of North America, has grown and informed the giving circle movement in this country. Our mission is to offer accessible on-ramps to giving that are rooted in Jewish values. Inspired by the centrality of community building in Jewish life, we envision a world in which everyone has the opportunity to create change through collaborative giving."
Shared identity: "The majority of giving circles are rooted in shared identity, with women's circles being the most common. Amplifier works with Jewish giving circles, which bring participants into more meaningful relationships with Jewish values and giving as an expression of those values. Jewish federations sponsor more than a dozen such circles, and are finding them to be a strikingly effective model for donor engagement, education, stewardship and leadership development and for engaging the community in innovative ways."
Worthy Reads
Money Trail: In Fortune, Harris Poll CEO William Johnson evaluates how philanthropy has shifted to meet the needs of both the pandemic and the evolving economy. "Not only are charitable donations now paying for less but they may also soon become scarce due to recessionary fears. If macroeconomic events do blunt Americans' charitable inclinations, it will be the end of a brief but important surge. The $485 billion they contributed in 2021 was, as an absolute figure, a record–though when 2020's figure is adjusted for inflation it still comes out on top, at $488 billion, according to a recent report from the Giving USA Foundation and Indiana University's Lilly Family School of Philanthropy. Both numbers mark a sharp increase from the previous inflation-adjusted high of $475 billion in 2017." [Fortune]
Community Comms
Lead. Apply for the Fall 2022 online cohort of the Certificate in Jewish Leadership, presented by Spertus Institute in partnership with Northwestern University.
Be featured: Email us to inform the eJP readership of your upcoming event, job opening, or other communication.
Word on the Street
The Digital Storytellers Lab of the Jewish Writers' Initiative has selected 13 digital media writers/creators for its inaugural program. A project of Maimonides Fund, the Lab is an eight-month fellowship designed to kick-start the development of new digital audio/visual media exploring Jewish themes and narratives, encouraging creators to tell Jewish stories in innovative, digital-first ways…
The Clinton Global Initiative will relaunch in New York City on Sept. 19 and 20 around a theme of "The Business of How," looking to create partnerships between political, business and philanthropic leaders. Luminaries — including Nobel Peace Prize-winner Malala Yousafzai, actor and water-access activist Matt Damon, World Central Kitchen founder José Andrés, Jordan's Queen Rania — as well as philanthropic leaders such as Emerson Collective founder Laurene Powell Jobs, Mellon Foundation CEO Elizabeth Alexander and Case Foundation co-founder Steve Case are participating…
Duke University received a $5.46 million gift from alum Rick Horvitz and his wife Erica Hartman-Horvitz to permanently endow a Duke Law School program devoted to constitutional and public law… 
The Civil and Administrative Tribunal in Sydney, Australia, has canceled the registration of Chabad-Lubavitch Yeshiva College, stating that the school remains non-compliant in the areas of curriculum and governance…
Waverley Street Foundation, a climate action initiative founded by philanthropist Laurene Powell Jobs, has announced that Jared Blumenfeld, who serves as California's secretary of environmental protection, will serve as its inaugural president…
Foundations took on $2.925 billion in long-term debt in 2020 to fund their response to the COVID-19 pandemic and accelerate social justice initiatives in the wake of George Floyd's murder and are far along in their distribution of the funds…
Pic of the Day
The Israeli gold medal-winning team in the men's group marathon at the European Athletics Championships in Munich celebrates on the podium on Monday. They are, from left, Maru Teferi, Gashau Ayale, Omer Ramon, Yimer Getahun and Girmaw Amare.
Birthdays
Argentine professional tennis player, Diego Schwartzman…
Solicitor general of New York State, Barbara Dale Underwood… Former member of Congress and both houses of the New Jersey Legislature, Richard Alan "Dick" Zimmer… Sportscaster who is known as the "Voice of the Dallas Cowboys," Brad Sham… President and CEO of the Business Roundtable, Josh Bolten… Maryland secretary of aging, Rona E. Kramer… Gerald Platt… Media consultant Sol Levine… Former commander of the Israeli Air Force and later CEO of El Al, General Eliezer Shkedi… Senior partner in the Denver office of Brownstein Hyatt Farber Schreck and an AIPAC national board member, Steven C. Demby… Founder of Value Retail Plc and co-owner of the NHL's New York Islanders, Scott David Malkin… Founder of Walk Swiftly Productions, Bonnie Bernstein… Johannesburg-born model, actress and singer-songwriter living in N.Y.C., Caron Bernstein… Editor-at-large of The Agenda, Michael Grunwald… Former lieutenant governor of Vermont, David E. Zuckerman… Member of the Knesset for the Yesh Atid party, Vladimir Beliak… Writer and editor Kami Troy… President of Profitero, Sarah Hofstetter… Co-founder of Johannesburg-based LLH Capital, Gil Oved… Political and public relations consultant based in Albuquerque, N.M., Jonathan Lipshutz… CBS producer, Matthew J. Silverstein… VP at BlackRock, Julian Olidort… Studio manager at Barre3 Bethesda and founder of Atom, LLC, Anna Dubinsky… Founder & CEO of Project Healthy Minds and VP and chief of staff to the Global CMO at BlackRock, Phillip Schermer… Development assistant project manager at AIPAC, Rachel Berman… J.D. candidate starting her third year at George Washington University, Katherine Dolgenos… Member of AJR, an indie pop multi-instrumentalist trio, together with his two brothers, Jack Metzger… Submissions coordinator at Nishlis Legal Marketing, Galit Tassi Imbo… Associate director for congressional education at J Street, Cooper Boyar… Ellen Weissfeld… Marshall Cohen… Dave Jacobsen…
Email Editor@eJewishPhilanthropy.com to have your birthday included.