Your Daily Phil: Jewish family uses car dealership wealth to support local journalism
Good Wednesday morning!
Yom Ha'atzmaut Sameach! Happy Israeli Independence Day!
In today's edition of Your Daily Phil, we report on the Esserman Family Fund's support for local investigative journalism. We feature op-eds from Dan Elbaum, Noam Weissman, Jeffrey Tiell and Seth Linden. Also in this newsletter: Tali Dee, Michael Bloomberg and Emunah Cohen. We'll start with new efforts in Congress to increase funding for the Nonprofit Security Grant Program.
Ahead of the 2024 appropriations process, bipartisan groups of lawmakers in both the House and Senate have written to appropriations leaders to express support for increased funding for the Nonprofit Security Grant Program, which provides funds for religious institutions and other nonprofits to increase security measures, reports Marc Rod for eJewishPhilanthropy's sister publication Jewish Insider.
A group of 135 House lawmakers led by Reps. Bill Pascrell (D-NJ) and Michael McCaul (R-TX) joined a letter last month, obtained by Jewish Insider, again calling to increase funding for the program to $360 million. The 135 lawmakers represent just under a third of House members. Similar letters garnered 160 signatories in 2022 and 145 signatories in 2021. Individuals familiar with the process have told JI that deadlines for appropriations requests were shorter this year in both chambers than last year. The letter highlights a series of terrorist threats and hate crimes incidents across the country during the past year, including increasing antisemitism in New York, the arrest of an individual who had made threats against Jewish people in Las Vegas, increased antisemitic threats in Kentucky, a plot to attack a synagogue in South Carolina and a bomb threat targeting a Missouri synagogue.
A separate letter on the issue was sent by eight senators— Sens. Kirsten Gillibrand (D-NY), James Lankford (R-OK), Gary Peters (D-MI), Kevin Cramer (R-ND), Jacky Rosen (D-NV), Roger Marshall (R-KS), Tom Carper (D-DE) and Kyrsten Sinema (I-AZ) — on April 11 and obtained by JI. Five senators joined a similar letter at the beginning of 2022. That letter also highlights that the program is underfunded, that demand is growing and that there is "room for growth," but requests "robust" and "adequate" funding for the NSGP without naming a specific funding-level target — similar to Senate letters sent in previous years.
The Senate letter notes that law enforcement reports have found that anti-Jewish hate crimes have accounted for the majority of anti-religious crimes for each of the past 24 years. It also highlights that the damage from an attempted firebombing of a synagogue in New Jersey earlier this year was lessened due to shatter-resistant doors funded with assistance from the NSGP and that cameras funded through the grant program helped law enforcement capture a suspect.
Free press
Esserman family looks to prop up local investigative news with fellowships, awards
In the years before car dealership mogul Ronald Esserman died in July 2020, he had a wish: He wanted his family to unite around a cause, something that would bring sustainable change to the world. They could choose to support anything they wanted — but they had to do it together, reports Jay Deitcher for eJewishPhilanthropy. "We could have picked women's rights. [We could have picked] abortion. We could have picked gun rights. There are so many things that we all care about," his daughter Laura Esserman told eJP. "But when you invest in investigative reporting and a free press, you [are] supporting all of it."
A Miami focus: In early 2020, months before the elder Esserman passed away, the family announced the Esserman Family Fund for Investigative Journalism, beginning with a $2.5 million investment. The fund currently finances two investigative reporting fellowships for early-career reporters at the Miami Herald with an annual salary of $50,000, plus $10,000 in benefits. It also supports the Esserman-Knight Journalism Awards, a partnership with the Knight Foundation, a yearly award given to journalists based on "quality of analysis and storytelling, rigor of newsgathering, inclusion of community voices, and the impact on public understanding or action," according to the award's website.
Helping all the issues: The award is based on the Jewish value of freedom, said Laura Esserman. "While anyone is enslaved, no one is free," she said. "If you are not reporting on the issues locally, you miss the opportunity to uncover where people are being oppressed… When you invest in investigative journalism, you are investing in the plethora of issues that come up. You are uncovering injustice, greed, corruption, a whole host of issues that are critically important to us, whether it's gun violence, domestic violence, racism, antisemitism, etc. And one of the ways in which you can make an outsized impact or punch above your weight class is to honor the people who are the storytellers."
Make it sustainable: Finances for the Esserman Family Fund are managed by the Miami Foundation, which is focused on civic leadership, community investment and philanthropy. The foundation helps nonprofits and charges the Essermans less than 1% for its services. Laura Esserman believes the fellowships and awards are completely sustainable. The endowment yields about 5% annually, allowing the family to spend $100,000-$125,000 each year and still be able to grow. The family hopes to add an additional fellow and increase the prizes in the future. "The financial part of it is incredibly significant, it can make the difference for a young reporter like me, especially as a single mother," said Alexandra Martinez, a senior news reporter for the Prism news publication and a finalist for the Esserman-Knight awards. "It makes a difference in being able to continue in this type of work."
Adulthood
Telling the story of Israel's founding in a new light
"The founding of Israel is one of the crown jewels of Jewish history, and a remarkable accomplishment in the history of Western civilization. But to pretend Israel is perfect rather than explore the tough questions is a project in both futility and falsehood," write Dan Elbaum, head of North America at The Jewish Agency for Israel, and Noam Weissman, executive vice president of OpenDor Media, in an opinion piece for eJewishPhilanthropy.
Founding narratives: "Broadly speaking, there have been two founding narratives of the State of Israel. The first goes something like this: Less than three years after the Holocaust, a beleaguered people with practically no army or financial support miraculously overcame the combined armies of nearly every Arab country…. Although they begged the Arab residents to stay, most fled because their leaders urged them to do so rather than become part of the region's only true democracy."
The second one: "The second version of the story is pervasive throughout the Palestinian and Arab worlds and has gained popularity on college campuses and other parts of life in the United States, United Kingdom, Australia and other countries. That is the narrative of the Nakba (Arabic for 'Catastrophe'). Both of these narratives are simplistic, with either half-truths or complete falsehoods."
Present day: "As the 75th anniversary of Israel's founding approached, we asked ourselves: 'Is there an alternative way to tell the story of Israel's founding, which will be historically accurate, share different sides of the debate and ensure that this generation connects with the story of Israel?' We make no claims of neutrality on this subject…. Yet we do a disservice to that history when we gloss over the difficult parts of the story which also created the situation that we see today."
Futurescaping
A spiritual equity mapping project
"In our work as educators and consultants, we find that so much of what transpires or fails to connect with various audiences is because organizations aren't being spurred and supported to be imaginative," write independent consultants Jeffrey Tiell and Seth Linden, in an opinion piece for eJewishPhilanthropy.
Building the Jewish future: "The idea of a spiritual equity mapping project might help forecast and scenario plan various audacious Jewish futures for communities, individuals, organizations and initiatives to help create and build the Jewish futures that we dare to dream toward."
Aspirational vision: "A spiritual equity mapping project – similar in aspirational vision as a wealth map – is the notion that we can bring the praxis of forecasting and scenario planning to build a fuller, more relevant and creative Jewish present."
Worthy Reads
On Loss and Yom Hazikaron: Tali Dee, whose mother Lucy and two sisters Maia and Rina were killed in a terror attack earlier this month, reflects on the "black hole" left behind by their absence on Israel's Memorial Day in an op-ed for The Times of Israel. "I've always connected to Memorial Day ceremonies. At least that's what I thought. That this is how you feel when you connect. But I never thought it would be my family – the one for whom the ceremony was written… Even when things are good for me – they're not really good. And even in another five years or another 10 years – even at my wedding – this hole will be there… But nobody can relate to this pain. Not really. It is impossible to understand what it is to lose a loved one without experiencing it. I've never had such emptiness as this. I never knew what loss was. … And even now I don't understand – I can't come to terms with the fact that this is truly my reality. From a family of seven, we became a family of four. It's impossible to digest. And it's so scary to be so sad." [TimesofIsrael]
The Why of Being Jewish in 2023: Rabbi Michael Strassfeld reflects on the past 50 years in American Jewish life, from the publication of The Jewish Catalog, which he published with his then-wife ??Sharon Strassfeld and Richard Siegel, in 1973 to his latest offering, Judaism Disrupted: A Spiritual Manifesto for the 21st Century, which just came out, in an article for J. The Jewish News of Northern California. "While 'The Jewish Catalog' helped answer the question of how to be Jewish, my new book tries to answer a different question: Why be Jewish? Or, perhaps, why bother?… The institutional structures that worked so well to acculturate us to American life — our federations, synagogues and JCCs, to name the most prominent — are struggling to succeed in the changing landscape, even as innovations begin to surface. The picture is not all bleak. There are interesting emerging institutions. There are also existing institutions with exceptional leaders that are thriving. But overall, we are clearly in a disrupted period." [J.]
Charitable Tax Implications: Maria Di Mento explores the potential personal and industry-wide ramifications of Michael Bloomberg's plan to leave his company to his philanthropic foundation when he died, in an article in The Chronicle of Philanthropy. "What is clear is that the donation signals that the tradition of wealthy philanthropists creating family foundations to handle their giving is a model that is becoming less and less satisfying to America's superrich, said [Brian Galle, a law professor at Georgetown University who specializes in nonprofits and foundations]. Instead, he added, more wealthy donors are turning to new charitable structures that allow them to avoid estate taxes… Although wealthy donors have a range of options now and can choose to give through many kinds of giving vehicles, Grace Chiang Nicolette, of the Center for Effective Philanthropy, said she is not seeing a decline in rich philanthropists who want to set up foundations. 'Donors who choose the route that Bloomberg and [Nelbert Murphy] Chouinard have taken decide to use impact as an overarching North Star for that big transition, and though this kind of thing isn't new, I think the high-profile nature of these donors' decision may highlight this option more for other donors who are approaching similar transitions,' said Nicolette." [ChronicleofPhilanthropy]
Around the Web
American Jewish University announced that its School for Jewish Education and Leadership is launching a doctorate in education in Jewish early childhood educational leadership, the first program of its kind in the United States. The program will be delivered via distance learning beginning this fall. The School for Jewish Education and Leadership currently offers a bachelor of arts completion program and a master of arts in education degree…
The Jewish Education Project announced the 2023 Robert M. Sherman Young Pioneers Award recipients. The annual award recognizes five innovative educators under 40 from the greater New York City area…
Jason Greenblatt, the former special envoy to Israel and the Arab world in the Trump administration, is joining the Jerusalem Center for Public Affairs as senior director for Arab-Israel diplomacy…
The Paul & Daisy Soros Fellowships for New Americans, a merit-based graduate school program for immigrants and children of immigrants, announced its class of 2023 Fellows…
Nike co-founder Phil Knight and his wife Penny pledged to contribute $400 million to the newly formed 1803 Fund, a local effort intended to strengthen Portland's Black community. Knight has previously supported Portland's Black community with his funding of the local Head Start programs…
Founder and CEO of Citadel, billionaire philanthropist Ken Griffin is donating $25 million to help fund a planned expansion of  Success Academy's charter-school network in New York City. This follows a $20 million gift last week for Miami-Dade high school graduates going to Miami Dade College and a $300 million unrestricted gift to Harvard University earlier this month…
Pic of the Day
Having beaten out competitors from around the world, Emuna Cohen, center, from Bnei Netzarim near the Israel-Egyptian border, is awarded first prize in the International Youth Bible Contest today in Jerusalem. The competition is held each year on Yom Ha'atzmaut.
Birthdays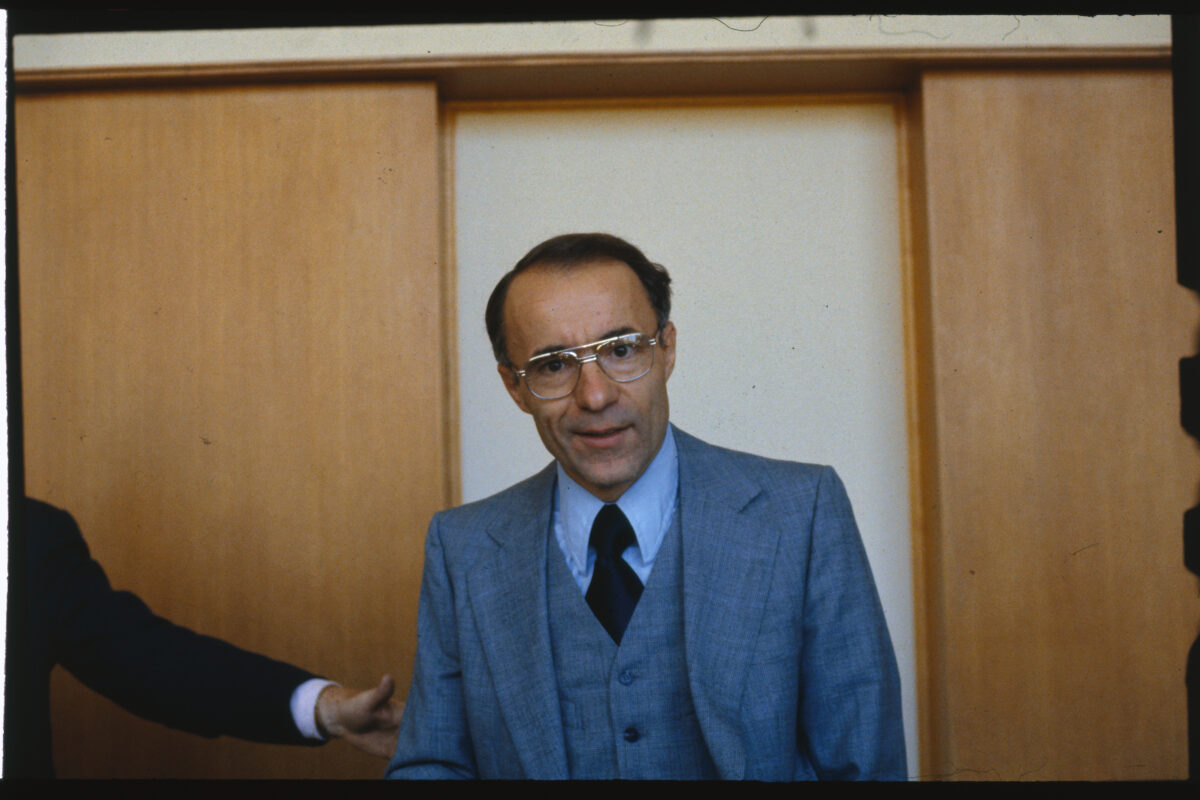 Radio astronomer and 1978 Nobel Prize laureate in physics, he escaped from pre-WWII Germany as part of the Kindertransport rescue operation, Arno Allan Penzias…

Former LA Clippers owner, Donald Sterling… Publisher of Avotaynu, the International Review of Jewish Genealogy, Gary Mokotoff… Retired Federation executive in Los Angeles, Oakland and Sacramento, Loren Basch… Investment banker, Richard S. Fuld Jr.… Professor of computer science and engineering at MIT, Hal Abelson… President of Brandeis University, Ronald D. Liebowitz… Conservative journalist and political activist in Israel, Avigdor Eskin… Senior fellow at the Brookings Institution and contributing editor of The Atlantic, Jonathan Rauch… London-based interfaith social activist, she founded and chaired Mitzvah Day International, Laura Marks… Journalist and author, Jonathan Eig… Former member of the Maryland House of Delegates for four years and then the Maryland State Senate for eight years, Roger Manno… Former member of the California State Assembly where he served as chairman of the California Legislative Jewish Caucus, Marc Levine… Member of the New York City Council for Bensonhurst, Borough Park, Gravesend, Kensington and Midwood, Kalman Yeger… General partner of Coatue Management, Benjamin Schwerin… Senior staff editor of the international edition of The New York Times, he is based in Hong Kong, Russell Goldman… Senior director of federal government affairs at Jazz Pharmaceuticals, Karas Pattison Gross… Media relations manager at NPR, Benjamin Fishel… London-based reporter for The Wall Street Journal covering finance, he is the co-author of a book on WeWork, Eliot Brown… Fashion model and actor, Brett Novek… Head coach of the UC Irvine Anteaters baseball program, he played for Team Israel in the 2012 World Baseball Classic, Ben Orloff… Associate account director at Real Chemistry, Alisha Katz… Subscription services for new business and product strategy at Apple, Kenneth Zauderer… Washington correspondent for The Epoch Times, Jackson C. Richman… Board liaison at American Jewish World Service, Ross Beroff… Ahron Singer…