Your Daily Phil: JCC Association's post-pandemic strategy
Good Friday morning!
World Jewish Congress (WJC) has created NextGen Inc., an incubator for new projects from young people interested in specific causes such as Holocaust education, interfaith relations and supporting local Jewish communities.
World Union of Jewish Students is partnering with WJC on the program, which will help the accepted applicants launch, implement and promote their proposals.
Craig Newmark Philanthropies announced yesterday a $100,000 grant to MAZON: A Jewish Response to Hunger, for its work mitigating food insecurity among veterans and military families.
The talent
Post-pandemic, JCC Association refocuses on talent strategy
Barry Finestone, CEO of the Jim Joseph Foundation. Debbie Schriber, executive director of the Union for Reform Judaism's Northeast region for camps and youth. Lenny Silberman, CEO and founder of Lost Tribe Esports. Despite their varied careers, these Jewish professionals all have something in common — they've all worked at a Jewish community center or camp. "About 40% of everyone who works in the Jewish community works in a JCC, so we are working on behalf of the wider Jewish community," JCC Association of North America CEO Doron Krakow told eJewishPhilanthropy's Helen Chernikoff, citing an estimate that puts the total Jewish communal workforce at about 100,000 employees.
Building the pipeline: Gali Cooks, the CEO of Leading Edge, which helps Jewish nonprofits identify, develop and support high-quality leaders, calls the movement of centers and camps a "leadership factory." Next Tuesday, about 2,800 people who work in it will gather online for ProCon 2021, their professional development conference. It will be the first one held since the umbrella organization that serves 170 member organizations — 157 centers and 13 overnight camps — published its "Talent White Paper," which offers nine recommendations and 64 "action steps" toward the goal of shifting the culture across the movement to make professional development a priority.
Tricky timing: JCC Association released the paper right before the beginning of the pandemic, which forced the association to shift some of its attention away from implementation as it began to raise money for and provide crisis relief services. JCCs and other organizations whose business models rely on fees paid in exchange for services — like gym memberships, or childcare or classes — were some of the hardest hit by coronavirus lockdowns. At least 70% of JCCs were forced to make layoffs or reduce employee hours, as did JCC Association, said Sue Gelsey, the group's chief program officer. Before the pandemic, 38,000 employees worked at JCC Association member organizations, according to the white paper.
positive touch
Can we hug now? Returning to touch in Jewish spaces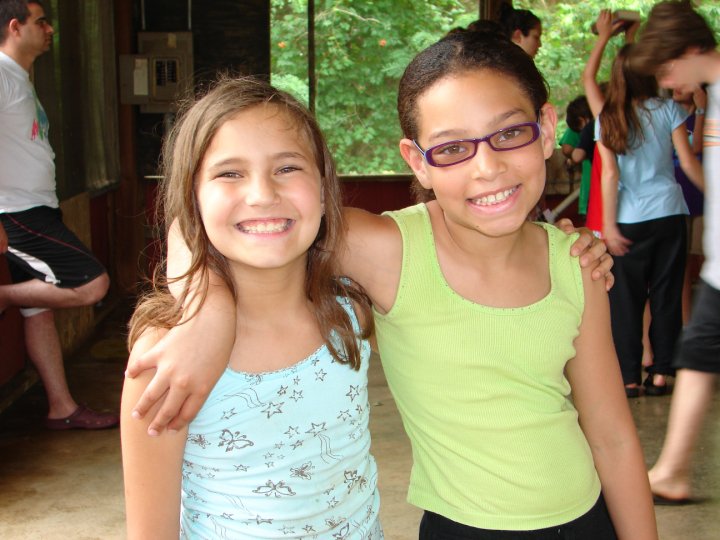 "How will a year plus of touch deprivation change the way adolescents and young adults interact in large groups of their peers? What are the possible dangers, as well as the clear benefits, connected to this return to physical contact and touch?," writes Rabbi Daniel Brenner in an opinion piece for eJewishPhilanthropy.
Positive touch: "For most people, camp is a place associated with hugging friends, swaying with arms around one another, and other positive touches. It is also a place where young people learn to set boundaries."
Communicating boundaries: "There are two key components to the work of changing Jewish communal culture around touch. As we emerge from the pandemic, my colleagues and I believe that NOW is an ideal time for educators to consider these components."
MITZRAYIM
Entering the wilderness "after" COVID-19
"We have a vaccine to help stop the spread of COVID-19, increasing numbers are being vaccinated, and all adults will be eligible. States are relaxing restrictions for businesses to reopen and people are venturing out of their houses. And for our religious institutions we have the potential to return to some level of in-person services and programming. This is what we've been waiting for and yet, this moment is daunting," writes Rabbi Danny Burkeman in an opinion piece for eJewishPhilanthropy.
Leaving mitzrayim: "When we reflect on the biblical narrative, we think about Mitzrayim – Egypt as the geographic location in the Middle East, the place where we were slaves, a place where our ancestors suffered and were persecuted. And Mitzrayim is also a symbolic narrow place… Mitzrayim is a place of pain and suffering. It is a time of enslavement and loss of control. It is any period of loss. The last 13 months have been a personal, communal, and global Mitzrayim as we have suffered under the weight of COVID-19."
In the wilderness: "And now, just like our ancestors before us, we are finally leaving Mitzrayim. But we do not immediately arrive at the Promised Land. Instead, just like them, we are entering into the wilderness. The wilderness is characterized by uncertainty and doubt. We do not know how long we will be here; we do not know what exactly to expect: we do not know what tools we will need to navigate through the journey."
Worthy Reads
Sunny Personality: In Vox, Umair Irfan interviews Andrew Steer, the environmental expert recently named head of Jeff Bezos' $10 billion Earth Fund, and finds an optimist who's also comfortable making specific policy prescriptions. While the Paris Agreement achieved more than he had expected, and the Biden administration is doing "remarkable outreach," the planet also must tackle its most intractable problems, such as airlines and steel production, and maintain the Paris Agreement target of limiting warming to 1.5°C insead of defaulting to the easier goal of 2°C, Steer said: "The only way is through real disruption, and so I think what we've had in the last few years is a recognition that actually there are some disruptive jumps possible. That's what's exciting people right now." [Vox]
Educational Progress: A year after the start of the coronavirus pandemic, educators are starting to feel more at ease, according to Education Week's monthly survey of the pandemic's effects on schools. While a majority of educators still feels the coronavirus is a real threat, the percentage who hold that view has fallen from 90% last year to about 60%, reports Holly Kurtz. Slightly over half of teachers, principals and district leaders are saying that they want to reduce social distancing to three feet or suspend it altogether. The percentage of time spent handling technological difficulties related to remote instruction has also fallen, to 14% from 27% last year at this time. [EdWeek]
Free Money: The importance of cash transfers in the federal government's COVID relief program has amplified the buzz around a 2017 experiment with universal basic income in Stockton, Calif., writeEli Rosenberg, Jeff Stein and Heloisa Traiano in the Washington Post. The results of Stockton's effort, which was small and funded by a one-time grant, are inconclusive, yet more than 40 American cities are exploring the idea, and the mayor who ran the Stockton program, Michael Tubbs, is advising California Gov. Gavin Newsom on how to replicate it. "It's risky when you're the first; when you're the 45th, it's not that risky," Tubbs said. [WaPo]
New Again: The notion that faster philanthropy is better philanthropy is not a new one, despite the recent pressure on billionaires to give quickly in the wake of Mackenzie Scott's $6 billion philanthropic spending spree, reflects Lucy Alexander in the Robb Report. Even the consultant to the world's first billionaire, John D. Rockefeller, counseled his client to distribute his fortune faster than it grew, but American notions that charity should make cautious, measured progress have prevailed until now. Scott and others want philanthropy to do more, but recipients might struggle to handle huge windfalls," said Phil Buchanan, president of the Center for Effective Philanthropy: "There remains a need for philanthropy that takes a longer view and requires longer-term support." [RobbReport]
Community Comms
Apply: The Jewish Council of the Emirates Community Centre seeks a Dubai-based Executive Director.
Apply: The Kirsh Foundation seeks a full-time NY-based Program and Special Initiatives Coordinator.
Apply! Want to join the team at Jewish Insider/eJewish Philanthropy? We're looking for a top-notch philanthropy editor. Learn more here.
Be featured: Email us to inform the eJP readership of your upcoming event, job opening, or other communication.
Word on the Street
The Supreme Court will hear arguments Monday in a case involving donor disclosure requirements that could have far-reaching implications for nonprofits nationwide… The Florida legislature passed a bill yesterday requiring that all public-school students be given a brief period to pause and reflect as they begin each school day… Stanford Libraries has begun the task of bringing together under one digital roof the archives of the International Military Tribunal (Nuremberg)… Blue Avocado published "The Employee Retention Credit: What Nonprofits Need to Know"…
Pic of the Day
Eldar Rustamov, an alumnus of JDC's Knafaim leadership program in Moscow, and his team baked 100 challahs for isolated Jews during National Volunteer Week.
Birthdays
Yeshiva of Brooklyn student who went on to become an Emmy, Grammy, Oscar, Tony and Peabody Award winning singer and actress, Barbra Streisand on Saturday…
FRIDAY: Actor and still appearing in new films, Alan Oppenheimer… Los Angeles resident, Marim Weissman… Owner of Council Bluffs, Iowa-based Ganeeden Metals, Harold Edelman… Retired real estate brokerage executive, Terry Pullan… Retail industry analyst and portfolio manager at Berman Capital, Steve Kernkraut… Chair Emeritus of Israel Policy Forum and chairman of Trenton Biogas, Peter A. Joseph… Health services researcher focused on smoking cessation programs for women, maternal health and child health, Judith Katzburg, PhD, MPH, RN,… Deputy Director of NCSEJ, Lesley L. Weiss… Principal of Philadelphia-based Ceisler Media & Issue Advocacy, Larry Ceisler… Chairman of edutech firm Weird Science Lab based at the University of Oxford, Gary Pickholz… Palm Desert, California resident, Janni Jaffe… Uruguayan-born author of a book on the history of antisemitism and co-founder of Gryphon Software, Gabriel Wilensky… CEO of Hermitage Capital Management and author of Red Notice, Bill Browder… DC-based Executive Director of the Orthodox Union's Advocacy Center, Nathan J. Diament… Heiress and businesswoman who is the style and image director for the Estée Lauder Companies, Aerin Lauder Zinterhofer… Director General of Aish HaTorah, Rabbi Steven Burg… President and CEO at Americans For Peace Now, Hadar Susskind… Jewelry designer, Jennifer "Jen" Meyer… Senior program officer at Maimonides Fund, Ariella Saperstein… Founder and CEO at 90 West, a Boston-based strategic communications firm, Alexander Goldstein… Co-founder of Edgeline Films, he co-directed and co-produced "Weiner," Joshua Kriegman… Communications director at the Republican Jewish Coalition, Neil Boylan Strauss… Branded content editor at Axios, Alexis Kleinman… Former University of Michigan quarterback, now a fund manager in NYC, Alex Swieca… CEO at Khan Theatre in Jerusalem, Elisheva Mazya… Head of Strategy for the Jerusalem Post group, Maayan Jaffe-Hoffman…

SATURDAY: Film director, Richard Donner… Rabbi emeritus at Washington's Adas Israel Congregation and former president of the Rabbinic Assembly, Rabbi Jeffrey A. Wohlberg… Delray Beach, FL resident, Phyllis Dupret… Former board chairman of financial publisher TheStreet, Lawrence S. Kramer… Israeli designer, architect and artist, Ron Arad… President of Cincinnati-based Standard Textile since 1986, Gary Heiman… Former president of basketball operations for the Washington Wizards of the NBA, himself an NBA player (1977-1986), Ernest "Ernie" Grunfeld… Senior correspondent and deputy news editor at Foreign Policy, Michael Hirsh… President of Kirtzman Strategies in NYC and author, Andrew Kirtzman… CEO of Wells Fargo, Charles Scharf… Financial advisor for Bernstein Private Wealth Management where he is Carl S. Schwartz, and leader of Baltimore's Shomrei Mishmeres HaKodesh where he is Rabbi Chaim Schwartz… Senior legislative aide in the Office of the Council President of the Montgomery County Council, Laurie Mintzer Edberg… Emmy Award-winning television writer and producer, Damon Lindelof… National outreach director at AIPAC, Mark H. Waldman… Brandon Hersh… Partner at Apollo Global Management, Reed Rayman… Investigative reporter at The Forward, Molly Boigon…
SUNDAY: Myron "Mike" Sponder… American-British academic, social worker and health spokesman of the Green Party of the UK, he is the older brother of U.S. Senator Bernie Sanders, Larry Sanders… Chairman and CEO of Omega Advisors, Leon G. "Lee" Cooperman… Rosh yeshiva at Yeshiva University since 1973 and Rabbi of the Young Israel of Riverdale Synagogue since 1974, Rabbi Mordechai Willig…. Chairman of the Conference of Presidents of Major American Jewish Organizations, he was previously president of Bed, Bath and Beyond, Arthur Stark… Administrative law judge at the California Unemployment Insurance Appeals Board, Beth A. Fox… Commissioner of the National Basketball Association, Adam Silver… Senior Fellow at the Hudson Institute, Michael Scott Doran… Litigator at Quinn Emanuel Urquhart & Sullivan, he served as U.S. Ambassador to the Czech Republic (2014-2017) and clerked for Supreme Court Justice Harry Blackmun (1992-1993), Andrew H. Schapiro… Actor who voices many roles on the "The Simpsons," and descended from a Sephardic family rooted in Thessaloniki, Hank Azaria… Beersheba-born director, writer, comedian and infomercial pitchman, better known as Vince Offer, Vince Shlomi, or "The ShamWow Guy," Offer Shlomi… Editor of Shalom New Haven, Jeannette C. Brodeur… CEO of the Jewish Federation of Greater Rochester (NY), Meredith Dragon… Senior policy advisor to the mayor of Salt Lake City, David E. Litvack… Democratic party strategist, Julie Roginsky… Senior-editor-at-large for Breitbart News, Joel Pollak… Attorney turned grocer, she is the founder of Glen's Garden Market, carved out of the old "Secret" Safeway north of Dupont Circle, Danielle Brody Rosengarten Vogel… Senior director of community engagement at NYC-based Integrity First for America, Adina Mermelstein Konikoff… Executive director of social media at Grey Group, Kenneth R. Gold… Former senior communications advisor for NYC's First Lady Chirlane McCray, Jaclyn Rothenberg… Actress, model and singer, Sara Paxton… Senior political reporter in Manhattan for the news and media website Mic, Emily Cahn Singer… TikTok Star with 4.6 million social media followers, he runs the culinary website CookWithChefEitan, Eitan Bernath…