Your Daily Phil: An interview with Naomi Azrieli + A letter to camp staff
Good Tuesday morning!
The M.J. Murdock Charitable Trust hosted a panel discussion yesterday on Zoom between Phil Buchanan, president of the Center for Effective Philanthropy; Dan Cardinali, CEO of Independent Sector; and Elise Westhoff, CEO of the Philanthropy Roundtable. The conversation touched on a range of topics, including the role of race in philanthropy and proposed legislation to increase the payout rates of charitable vehicles such as donor advised funds.
Buchanan and Westhoff had already engaged in a debate on race through a series of op-eds. Buchanan criticized Westhoff and Philanthropy Roundtable board chair Richard Graber for conflating the effort to combat racism with a neglect of poor whites or a rejection of capitalism. "Debate is healthy. Critique is good. But only when it's grounded in facts," Buchanan said.
Westhoff said the Philanthropy Roundtable acknowledges and decries historical and contemporary racism, antisemitism and extremism, but cited an example of a camp that serves children with Down Syndrome that was pressured to take on the cause of racial equity in a way that undermined their core mission. Cardinali said that philanthropy must incorporate race in its effort to accurately discern who in society is not thriving and needs help.
On the question of using legislation to mandate higher payout rates, both Buchanan and Westhoff raised a concern that the voices of community foundations hadn't been sufficiently considered when drafting the legislation. The need of "place-based" philanthropy, especially in economically underdeveloped parts of the country, to retain funds in the event of another pandemic-like crisis should be considered by policy makers, Westhoff said.
FAMILY PORTRAIT
The Azrieli Foundation's ethos is abundance
The Azrieli Foundation, known for funding in program areas from education to scientific research to food security to musical composition, is an apt reflection of its founder, David J. Azrieli, his daughter, Naomi Azrieli, chair of the foundation's board, told eJewishPhilanthropy's Helen Chernikoff. The foundation, with more than $2 billion in assets, is Canada's largest public foundation.
Generosity of spirit: "He was a Renaissance man, as they say," Azrieli said of her father, an architect and real estate developer who died in 2014 at age 92. "A lifelong learner. He had his favorite things but then he would want to learn something new. That's in the family culture." Born in Poland, Azrieli escaped Nazi Europe by fleeing to the Soviet Union. He made his way to Mandatory Palestine, where he became an architecture student and fought in Israel's 1948 War of Independence. In 1954, he moved to Montreal for further study, and launched his real estate career. Azrieli had two homelands, and many intellectual interests, his daughter said. Since its founding in 1989, the foundation has expanded to encompass more of his interests, and also those of its current leadership. It both makes grants and operates its own programs.
Generation to generation: "We're a second-generation foundation that operates like a third-generation foundation," Naomi Azrieli added, referring to the scholarly literature on foundation evolution that describes a first stage that is focused on the founder's interests; a second that involves close family; and a third in which the entity professionalizes by bringing on non-family members. The board consists of Naomi; her sister Sharon Azrieli; and Danny Hakim, a martial arts champion and husband of a third sister, Danna Azrieli, in addition to non-family members: Andre Beaulieu, a businessman; Morris J. Fish, a former Supreme Court judge; Amir Gissin, an Israeli diplomat; and Dr. Frederick Lowy, former president of Concordia University. Jason van Eyk, a violist, manages Azrieli Music Initiatives. Dr. Mira Puri, a scientist, manages Science Initiatives.
Giving back through education: When her father started the foundation, he was focused on funding education in order to give people the life-changing opportunities he'd had, Azrieli said: "It was about how to empower one person to make a difference, and if you empower enough people to improve their quality of life, that improves the quality of life in whole communities." Education, however, wasn't his only passion. He was also interested in design, as well as in popular science and innovation of all kinds, a love he shared with his wife, Stephanie.
NEXT NORMAL
No single right way to return to work
"As the programmatic, academic, and — hopefully — the pandemic years winds down simultaneously, we all face myriad variations of the question, 'What comes next?,'" asks David Bryfman, CEO of The Jewish Education Project. in an opinion piece for eJewishPhilanthropy.
Moving forward: "Over the last year and a half we've read the many important pieces by Dr. Betsy Stone on mental health and wellness related to the pandemic. She recently discussed the fears and subsequent struggles people may experience returning to 'normal' work life after so many difficulties and changes. With her insights and pragmatic suggestions in mind, we worked to craft a return-to-office framework that simultaneously recognizes where our team was before the pandemic, what changes both as a team and as individuals they experienced, and how these individuals and our agency can be most healthy, happy, and productive moving forward."
Slow down and smell the roses: "One of the boldest ideas Dr. Stone put forth in her recent articles was giving everyone a month off in July to rest, recharge, and refocus. We seriously explored this, and adapted this idea to an extended period in September, coinciding with the High Holidays, when everyone at The Jewish Education Project will receive consecutive days off, fully paid. We do not take this decision lightly. Yet we believe that having everyone stop work for the same extended period will enable all of us to slow down and rejuvenate."
#SUMMER2021
A letter to camp staff
"When campers write letters home, they fill the margins with memories and highlights from their days spent with new friends, trying different activities, and attempting to put words to their time here at camp. In these letters, the most important people in their lives – the ones who hang on every word and count down the minutes and the moments until they can wrap their arms around them again, see glimpses of changes… more confidence, more self-awareness, more independence," write Amy Coran and Becca Goldman, co-directors of Camp Pembroke, in an opinion piece for eJewishPhilanthropy.
#summer2021: "As we count down until we see our campers once again, we want to take a moment to write a letter to some of the most important people in their lives – camp staff: our counselors, our health center staff, our kitchen crew, camper care team, department heads, office staff, support staff, and everyone in between. In a year that has been unlike any other, you have all made an incredibly selfless commitment, and we struggle to put words to the impact you're about to have and the gratitude that we already feel for the investment of time and energy that this summer will require of all of us. You've joined us in looking past the protocols, and minor changes, and many unknowns, and you've seen what we see: Camp – the opportunity to provide what will undoubtedly be one of our campers' most memorable summers. You have made a powerful choice, and that will not be lost on our camp community."
Worthy Reads
Lessons Learned: In The Forge, Gara LaMarche, founding director of U.S. philanthropy for Open Society Foundations, reflects on the relationship between philanthropy and organizing, which he came to value by funding Bob Moses, a southern civil rights organizer and teacher and an earlier iteration of the Jewish group now known as Bend the Arc. Big philanthropies must put more money into bottom-up approaches to social change, especially by making more long-term grants, and by putting organizers on their boards. "Traditional philanthropy…will always be insufficient, palliative, and fickle without a shift in power that puts those most urgently in need of change in control of their own destinies," LaMarche writes. [Forge]
What Donors Want: Inside Philanthropy's Mike Scutari traces the evolution of an Ohio Senate bill that would allow lawsuits against institutions of higher education based on an allegation that they violated donor intent in how they used a gift. At issue are fees imposed on such gifts that siphon away a percentage to support the broader fundraising effort, which critics say are not disclosed to donors. "The developments out of Columbus may appear to be a local affair, but the key issues at play — the existence of endowment management or development fees, their inclusion in gift agreements, and how the institution uses the fees — apply to advancement officers and donors everywhere," Scutari writes. [InsidePhilanthropy]
Tough Numbers: Data is not a panacea, warns Leslie Lenkowsky in the Chronicle of Philanthropy, noting that despite the proliferation of both information available about philanthropy and professionals equipped to use it, drawing conclusions from the numbers is still a risky proposition. It's especially important this year, in which philanthropists must consider outliers like MacKenzie Scott's multi-billion-dollar donations, and the impact of the pandemic, to bring humility and caution to the task of analysis, Lenkowsky writes: "Seeking more accuracy about what we know is desirable, but so too is learning how to ask questions." [ChroniclePhilanthropy]
Community Comms

Excel: Applications are still being accepted for the George Washington University's Graduate Degree in Israel Education. Deadline June 25
Apply! Want to join the team at Jewish Insider/eJewish Philanthropy? We're looking for a top-notch philanthropy editor. Learn more here.
Be featured: Email us to inform the eJP readership of your upcoming event, job opening, or other communication.
Word on the Street
Amanda Beckenstein Mbuvi, Ph.D., was named the next vice president for academic affairs at the Reconstructionist Rabbinical College… Hillel International announced the 2021 recipients of the Handeli First-Year Student Scholarship and the Campus Leadership Award… Angelique Power is leaving Chicago's Field Foundation to lead the Detroit-based Skillman Foundation… Former Treasury Secretary Steven Mnuchin and former Ambassador David Friedman have set up a new fund and are scouting out investments in Israeli tech… The Bank of Israel issued digital currency for a first internal pilot program prior to the possibility of issuing a digital shekel… The Ohio Senate passed a bill that builds greater accountability into how universities manage endowed funds… The U.K. and Israel could recognize COVID-19 vaccination certificates to allow those who are fully vaccinated  to enter each other's countries without the need for isolation… Oberlin College has started offering students certified kosher dining… Stephanie Hausner is joining the Conference of Presidents of Major American Jewish Organizations as its chief program officer.
Pic of the Day
Rabbi Zvi Drizin (center) and his wife, Aida Drizin, who direct the Intown Chabad in the Dallas-Fort Worth area, hosted a Shabbat weekend in Crawford, Texas, for young professionals.
Birthdays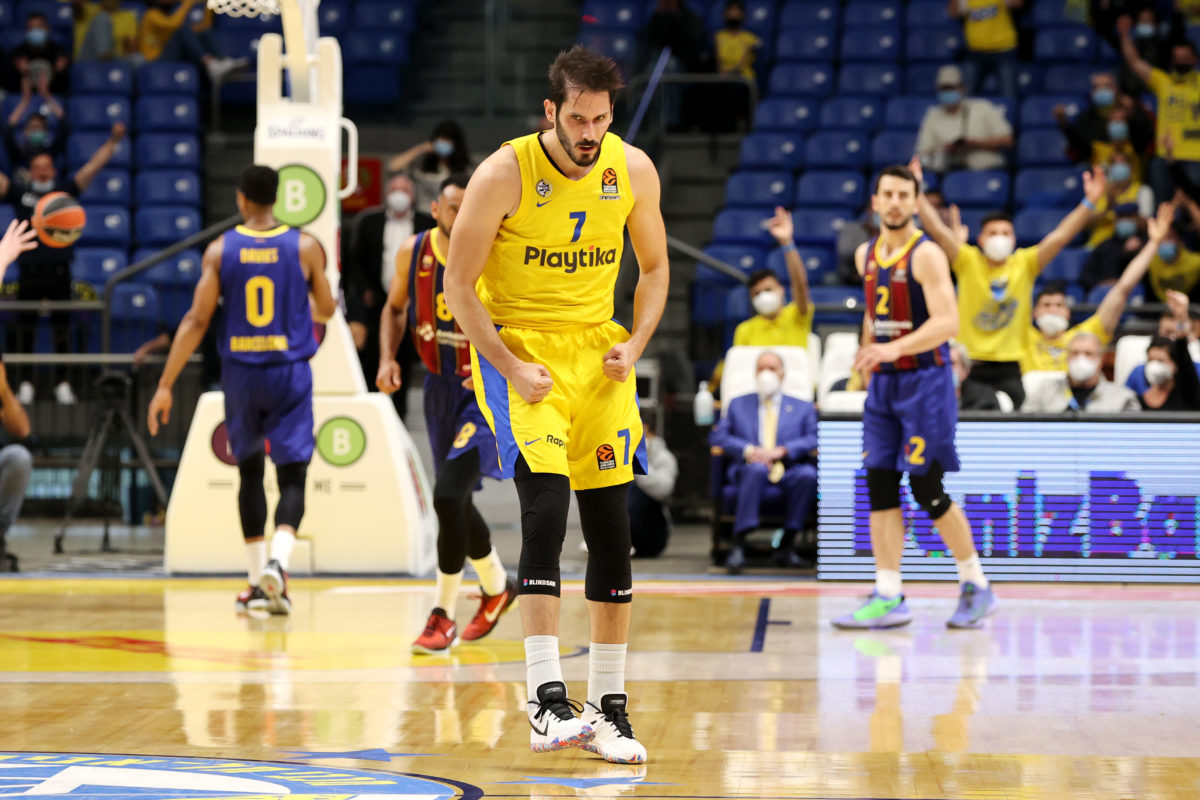 Israeli-born basketball player with 11 NBA seasons, Omri Casspi… 
 
A leading securities, corporate and M&A attorney, he is a founding partner of the law firm of Wachtell, Lipton, Rosen & Katz, Martin Lipton… U.S. Senator (D-CA) since 1992, Dianne Feinstein… Former DC-based VP of Israel Aerospace Industries, Marvin Klemow… Jerusalem-born 2009 winner of the Nobel Prize for Chemistry and the director of a research center at the Weizmann Institute of Science, Ada Yonath… Retired UK judge who chaired high profile hearings on ethics in media, prompted by the 2011 News of the World phone hacking affair, Sir Brian Henry Leveson… Winner of the 2016 Nobel Prize for Physics, he is a professor at Brown University, J. Michael Kosterlitz… Retired justice on Israel's Supreme Court, she was previously Israel's State Prosecutor, Edna Arbel… U.S. Senator (D-MA), Elizabeth Warren… Member of the California State Assembly since 2012, previously mayor of Santa Monica, Richard Hershel Bloom… AIPAC director for Greater Washington, Deborah Adler… Past President of the UJA Federation of New York, Alisa Robbins Doctoroff… Member of Congress (D-CA-28) since 2001 and the Chairman of the House Intelligence Committee, Adam Schiff… Former member of the Knesset for the Hatnuah and Zionist Union parties, Robert Tiviaev… Founder of tech incubator Playground Global and the creator of the Android operating system, Andy Rubin… Speaker of the Knesset until ten days ago, Yariv Gideon Levin… Director of media strategy at Red Banyan, Kelcey Kintner… Program director at the Harry and Jeanette Weinberg Foundation, Rafi Rone… Senior correspondent and columnist for Haaretz and Netanyahu biographer, Anshel Pfeffer… Israeli jazz vocalist and composer, Julia Feldman… Executive director at Mesivta Netzach HaTorah in Woodmere, NY, Ahron Rosenthal… Recently retired MLB second baseman, he is planning to play for Team Israel at the upcoming Summer Olympics, Ian Kinsler… Co-founder of Russia's largest social network VK, Vaizra Capital investment fund, and Selectel network centers, Lev Binzumovich Leviev… Baltimore-based endodontist, Jeffrey H. Gardyn, DDS… Outfielder in the Washington Nationals organization, he started all three games for Team Israel in the 2016 World Baseball Classic qualifier round, Rhett Wiseman… Director, Communications & Media Relations at American Jewish Joint Distribution Committee, Michael Geller…
 
Email Editor@eJewishPhilanthropy.com to have your birthday included.