Your Daily Phil: Accelerating aliyah for Ukrainian refugees + A letter to Amnesty's Paul O'Brien
Good Wednesday morning!
"Our queen." "The epitome of a woman of valor." "A model of leadership and devotion to the Jewish people."
Those are some of the ways Jews in Canada and beyond have described Julia Koschitzky, who was born in 1943 and died on Monday following a brain ailment. Koschitzky, a philanthropist, served for decades in senior lay leadership positions in the Canadian Jewish community, and those who knew her told eJewishPhilanthropy that she left a mark as one of the most prominent figures in that country's Jewish history.
"She was really the person who defined for me what incredible Jewish leadership meant in practice," Adam Minsky, president and CEO of the UJA Federation of Greater Toronto, told eJP. "When she was meeting with you, she engaged in a way that modeled humility, that modeled a real pride in her Jewishness."
Koschitzky was born in Cardiff, Wales, to a family that had fled Germany in 1939, later moved to Canada, and settled in Toronto in 1956. In 1963, she married Henry Koschitzky, a member of one of Canada's wealthiest and most philanthropic Jewish families. Her first volunteer position was on the Parent Teacher Council of a Toronto Jewish day school, and her lay leadership commitments grew from there, though affordable Jewish education remained a priority for her.
Beginning in 1990, as president of United Israel Appeal/Jewish Federations of Canada, she spearheaded a fundraising drive that raised, in today's U.S. dollars, more than $150 million for Operation Exodus, which brought Soviet Jews to Israel. Key to Koschitzky's success, said Linda Frum, a former Canadian Conservative senator who now serves as chair of Toronto's federation, was that she was willing to do the everyday work of fundraising in addition to giving herself.
"She was a worker," Frum told eJP. "She was a networker. She was a communicator… If she took on a project, she rolled up her sleeves. She attended the meetings. She gave the speeches. She chaired the meetings. She made the phone calls. She wrote the emails. She did whatever was necessary."
Koschitzky also served in senior lay positions at Keren HaYesod and The Jewish Agency for Israel, among many other groups. She was appointed to the Order of Canada in 2015 and, at Canadian citizenship ceremonies, granted citizenship to approximately 1,000 people.
At her funeral on Tuesday, her children recalled workshopping her speeches with her, and paid tribute to her as both a family matriarch and Jewish leader. "She knew that she had fulfilled what she was called to do," her son Jonathan said in his eulogy.
IN TRANSIT
Meet the man in Ukraine helping refugees prove their Judaism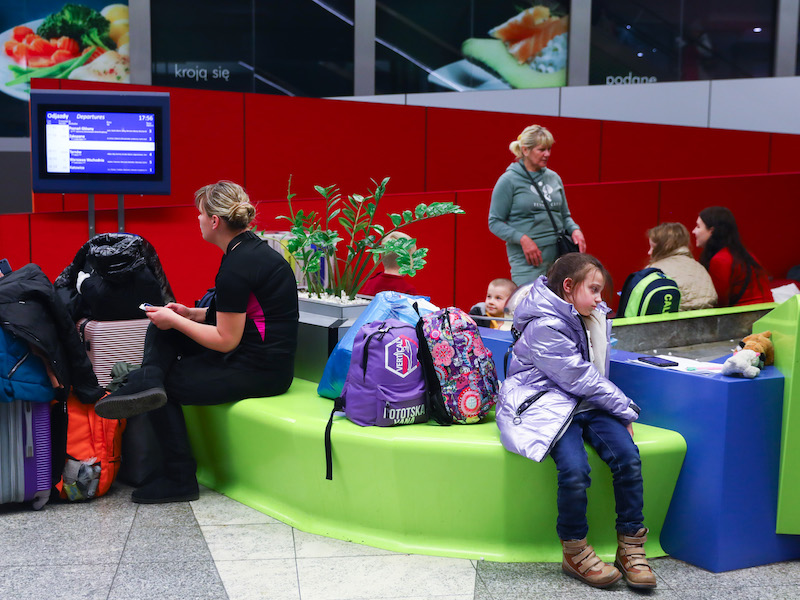 When Gershon Beloritsky sensed that war was coming, he sent his wife and five children on a plane to Tel Aviv — but he stayed in Ukraine. Instead of retreating to safety, Beloritsky told eJewishPhilanthropy's Ben Sales, he spent the past few weeks shuttling around the parts of the country that are still accessible, helping people gather the documents that will enable them to immigrate to Israel.
Seeking papers: Beloritsky has visited archival offices, called government bureaucrats, searched online databases and encouraged everyone he talks to to gather as many identifying papers as possible before heading to the border. "Take all the documents you have related to your family," he tells Ukrainians seeking to move to Israel. "Your birth certificate, your labor documents, documents of your parents and grandparents. People in danger are not thinking about [providing an] explanation [for] more than their current documents, but for Israel… you need to explain much more than your current status."
Who is a Jew?: The paper trail is necessary because Israel's immigration policy is anchored in the Law of Return, which allows anyone with at least one Jewish grandparent (as well as people who converted to Judaism) to gain citizenship in Israel. Beloritsky is a lawyer by training and his employer, Shorashim, is an Israeli group that used to focus on helping immigrants prove their Jewish status. Beloritsky is now focused on helping as many people as possible get out.
Accelerating aliyah: The Jewish Agency for Israel, which handles the Israeli immigration process, has also ramped up its services on Ukraine's borders. Some 8,600 people have called inquiring about immigration, so The Jewish Agency decided to fast-track the process. "We want to send those people to Israel… where they will feel like they're not under a war zone," COO Yehuda Setton said. Now, the whole immigration interview takes five to 15 minutes, and involves three questions.
OPen letter
Dear Paul, I am a Zionist
"Dear Paul O'Brien: 'Let me introduce myself: I'm a Zionist. Clearly, you aren't… As executive director of Amnesty International USA, you recently clarified your position on Israel. American Jews, you told an audience at the Woman's Democratic National Club, don't want Israel to be a Jewish state. They just want a 'safe Jewish space.' Israel, you added, 'shouldn't exist as a Jewish state,'" writes Mark Charendoff, publisher of Sapir and president of Maimonides Fund, in an opinion piece for eJewishPhilanthropy.
Data says: "The data say otherwise — fully eight in 10 American Jews identify as 'pro-Israel,' according to a 2020 survey from the Ruderman Family Foundation — but you insist your 'gut' tells you otherwise. In another context, one might describe your position as 'alternative facts.'"
Part of the problem? "My interest in a Sapir issue on Zionism predates your declaration by about a year," Charendoff writes to O'Brien. "It was then that I and other foundation executives were presented with the results of a survey of attitudes of American progressives regarding Israel. Among other recommendations, we were told to stop using the term 'Zionism': It was irredeemably damaged and would turn off too many Americans, Jewish and non-Jewish alike. When I pushed back that this was essentially capitulation, that we ought to be proud of who we are and what we stand for, I was told by the researcher that I was part of the problem: I refused to accept the reality as it was."
global jewish family
Dispatches from Vienna: Y.U. students reflect on the refugee crisis
From March 13-20, 28 Yeshiva University students traveled to Vienna to volunteer with Ukrainian refugees under the auspices of its Rabbi Lord Jonathan Sacks-Herenstein Center and the Office of Student Life. In an opinion piece for eJewishPhilanthropy, three of the students, Eli Sandhaus, Erica Sultan and Romi Harcsztark, share their individual interactions and thoughts.
Romi Harcsztark: "For those who, by chance or good fortune, happen not to be situated in the middle of this crisis, it can be hard to appreciate what's going on on the ground. The world is watching a brave leader rally his severely outmatched nation to relentlessly resist an unjust foreign invasion. They see millions of Ukrainian refugees being housed, fed, and taken care of by total strangers across Europe."
Erica Sultan: "Yakov, 79, traveled five days from Kharkov to Vienna. He arrived 14 days ago with his wife, Yelena, daughter, Tanya and grandson, Max. I met Yakov and Tanya at a job fair run by the Jewish Viennese community, to prepare for the possibility that most Ukrainian refugees will have to stay in Vienna for the foreseeable future or permanently. Yakov exclaimed that he cannot wait to go back and begin rebuilding his city, his country. It just may not happen."
Eli Sandhaus: "I'm just a 22-year-old university student. I don't know how to rectify the geopolitical situation. What I do know is that there are 500 Jewish Ukrainian refugees in Vienna, with 400 more on the way. Right now, these people have no homes, no jobs and, many of them, no family members with them. What I do know is that the Viennese community, comprised of 8,000 Jews, is now feeding, housing, clothing and providing basic living essentials to all those who have arrived. What I do know is that these people need help. So, I'm trying to help."
Worthy Reads
Philanthropy and Fostering: Many states lack appropriate placement options, including group homes, residential-treatment facilities and other institutional settings for kids in foster care with behavioral and mental-health challenges whose conditions prevent them from living with families on a short- or long-term basis, writes Naomi Schaefer Riley in The Chronicle of Philanthropy. "Philanthropy has an important role to play in improving residential care for the children and adolescents who have no alternatives. That includes supporting more research on the best ways to rehabilitate kids in group settings so that they can be reunited with their families or go on to be adopted or successfully transition into adulthood. Staff at these facilities are also often underpaid and undertrained. Clinical experts should be available to work with staff and develop programs specific to the needs of this vulnerable population. And employees deserve better pay for this difficult but critical work. While funding operating expenses is often low on the list of philanthropic priorities, it is vital to running strong congregate-care programs. That includes maintaining physical facilities." [ChronicleofPhilanthropy]

Oversight for Online Fundraising: A new California law will allow the state's Department of Justice to begin supervising online fundraising platforms starting in 2023, Amanda L. Cole writes in NonProfitPRO. Gov. Gavin Newsom signed the bill into law earlier this month. It will develop two new categories within the state's oversight — "charitable fundraising platforms" and "platform charities": "The law does not apply to sponsor organizations of donor-advised funds or nonprofits that only fundraise on their own behalf. Instead, the law will impact fundraising platforms — like those used in peer-to-peer and crowdfunding efforts, among others — that operate in California or simply solicit contributions in the state…The law aims to protect donors and charities from deceptive or misleading solicitations. The state's Department of Justice already oversees charities and regulates fundraising on behalf of all charitable purposes in the state, but with the surge in online fundraising platforms, the state's law, as written, wasn't sufficient to reach online fundraising. The state found that resulted in deceit and mistreatment of charitable donations in some instances that the state was unable to regulate or enforce via existing oversight laws." [NonProfitPRO]

No Roses for Refugees: "A Legacy of Loss: There Were No Roses There," a new exhibition at American Jewish University in Los Angeles, features artist Jenny Yurshansky's exploration of family migration and the inherited trauma of exile, Deborah Vankin writes in an interview with Yurshansky — whose parents fled Soviet-era Moldova in 1978 — in the Los Angeles Times: "The exhibition's through lines are universal, Yurshansky says. 'To abandon one's home and leave everything behind and come someplace entirely unknown, this brings generational trauma…I think there's a lot of denial in the U.S. because there's this myth of Americanness, that our pasts have been erased and our slates wiped clean. That we belong in this space while others don't. Combined with the fact that our families don't want to talk about it, it's too painful. The exhibition is meant to provide a place to have open discussions about this hard reality.'" [LATimes]
Community Comms
Excel: Applications now being accepted for Spertus Institute's accelerated Master's program for Jewish communal executives. Complete your degree in 18 months.
Be featured: Email us to inform the eJP readership of your upcoming event, job opening, or other communication.
Word on the Street
Prince Harry and Meghan, the Duke and Duchess of Sussex, through their nonprofit Archewell Foundation, have made donations to a number of organizations working on the ground to support the people of Ukraine, including the Jewish organization HIAS, The HALO Trust and a coalition of Ukrainian media…
Vine Ventures, a New York City-based venture capital firm, has donated hundreds of mattresses, pillows, blankets, towels, food and funding for transportation for the thousands of Ukrainian refugees entering Moldova. The aid is being arranged in collaboration with the Moldovan Jewish community in its efforts to assist refugees arriving from the war-torn country…
More than 6,000 individual donors from 26 different countries have contributed nearly $1.5 million to the World Union for Progressive Judaism's Ukraine Crisis Fund…
The number of teenage girls in Israel being diagnosed with depression has nearly doubled since the onset of the COVID-19 pandemic, and their use of antidepressants and antipsychotics has spiked by 40% and 68% respectively…
The Jews of Color Initiative announced its newest grantees…
MacKenzie Scott donated $436 million to Habitat for Humanity International and 84 of its U.S. affiliates — the largest publicly disclosed donation from Scott since she pledged in 2019 to give away the majority of her wealth…
The University of Chicago received a $15 million gift from alumnus David M. Rubenstein in support of the university law school's David M. Rubenstein Scholars Program…
Hoag Memorial Hospital Presbyterian in Newport Beach, Calif., announced a $50 million gift from the Sun Family Foundation to create three medical institutes at the hospital's Irvine campus…
Pic of the Day
Israel's Magen David Adom emergency medical service flew four armored ambulances to Poland, which were then driven into Ukraine to evacuate the wounded from what MDA referred to as the country's "most volatile areas."
Birthdays
Israeli singer-songwriter, actress and musician, she performs in Hebrew, French and Arabic, Riff Cohen…
Actor, director and producer, Mark Rydell … Former National Football League referee for 23 seasons, the only NFL head referee to officiate four Super Bowl games, Jerry Markbreit… Philanthropist Harriette Perlman… Mandolinist and composer, David Grisman… Writer and producer of television series, creator of "Deadwood" and co-creator of "NYPD Blue," David Milch… Tel Aviv native and professor of music at the Juilliard School, Yoheved "Veda" Kaplinsky… Los Angeles-based psychologist and author, her first book is The Blessings of a Skinned Knee: Using Jewish Teachings to Raise Self-Reliant Children, Wendy Mogel… Designer of men's and women's footwear, clothing and accessories, Kenneth D. Cole… Mayor of Austin, Texas, Stephen Ira Adler… Former president of the Jewish Federation of Howard County (Maryland), Beth Millstein… Investor, author and financial commentator, Peter Schiff… Russian-American businessman, Eugene Shvidler… Senior writer for "The Daily Show" with Trevor Noah, he is also the creator of 2018's television series "Liberty Crossing," Daniel Radosh… Board chair of Pro-Israel America, Jonathan Missner… French actress who has appeared in 40 films, her Holocaust survivor grandparents changed their name from Goldreich, Judith Godrèche… Client partner at Meta/Facebook, Scott Shapiro… Member of the Maryland General Assembly since 2011, Craig Zucker… Israeli actress, comedian and television host, Adi Ashkenazi… Three-time Grammy Award-winning record producer, audio engineer and songwriter, Ariel Rechtshaid… Member of the rabbinics faculty at the Academy for Jewish Religion California, Yehuda Martin Hausman… Staff reporter for The New York Times, Sarah Maslin Nir… Chief of staff for the Commonwealth's Attorney in Fairfax County, Va., Benjamin Shnider… Tennis coach at Chestnut Hill College in Philadelphia, as a player she won five singles and four doubles titles on the ITF Women's Circuit, Julia Cohen… Former member of the National Israeli Rhythmic Gymnastics Team, she competed in the 2012 Olympic Games, Moran Buzovski… Television and film actress, Victoria Pedretti…