Michael Douglas to be Awarded $1m. Genesis Prize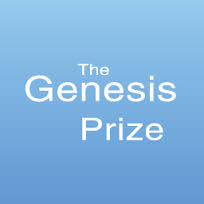 The Genesis Prize Foundation has announced that actor, producer and peace activist Michael Douglas is the recipient of the 2015 Genesis Prize, which will be awarded in Jerusalem on June 18th.
The annual $1 million prize celebrates the richness and diversity of the Jewish culture and aims to strengthen the Jewish community across the globe. Members of the two juries that selected Michael Douglas include Sharansky, Nobel Peace Prize laureate Elie Wiesel, Knesset Speaker Yuli Edelstein, and Chief Rabbi of the UK (Emeritus) Lord Jonathan Sacks.
Winner of two Academy Awards ("Oscars"), four Golden Globes and an Emmy, Michael Douglas has created an unforgettable body of work that challenges and educates as well as entertains. Outside of Hollywood, he is also known for his passionate advocacy as a United Nations Messenger of Peace, focusing on human rights, gun violence prevention, and nuclear anti-proliferation work.
The Genesis Prize is awarded by the Genesis Prize Foundation in partnership with the Office of the Prime Minister of the State of Israel and The Jewish Agency for Israel. It recognizes individuals who have attained excellence and international renown in their fields and whose actions and achievements express a commitment to Jewish values, the Jewish community and the State of Israel. Prime Minister of Israel, Benjamin Netanyahu, presented the inaugural Genesis Prize to Former Mayor of New York City Michael Bloomberg in 2014.
Genesis Prize laureates are encouraged to use their $1 million award to support a worthy initiative of their choice that relates to the goal of the prize's founding partners – inspiring the next generation of Jews to connect to the values and legacy of their people and to be proud of their Jewish identity. Mayor Bloomberg directed his $1 million award to the Genesis Generation Challenge, a global competition that will provide up to ten teams of young adults with seed money for projects, which find innovative solutions to pressing global and community problems.
Douglas plans to direct his prize money toward promoting activities designed to raise awareness of inclusiveness and diversity in Judaism.