Your Daily Phil: On the ground at the GA + Declining rabbinic school enrollment
Good Monday morning!
Hello from the Windy City, where eJewishPhilanthropy is on the ground, bringing you inside this year's Jewish Federations of North America General Assembly. In today's Your Daily Phil, we recap the weighty subject matter that was on tap at yesterday's opening session. We also feature op-eds from Rabba Rachel Kohl Finegold on rabbinical school enrollment and from Rabbi James Greene on avoiding transactional Judaism. We'll start with a report from a dinner on the sidelines of the GA.
Following a day of discussions at the General Assembly about antisemitism, security, polarization, war and mental health at the Hilton in downtown Chicago, some conference participants gathered for dinner at the Ritz-Carlton, about two miles down the road, to celebrate education and philanthropy.
The dinner, held by the Covenant Foundation, honored this year's recipients of the Covenant Awards, which go to three outstanding Jewish educators. The mood among the crowd was schmoozy and upbeat, with guests milling about the tables in between segments of the night's program.
The dinner was held some two months after the death of Harlene Winnick Appelman, who served as executive director of the foundation from 2005 until last year. In her memory, the foundation announced a fellowship in her name, to be given to a practitioner or an academic who works in the field of Jewish family education.
"Harlene set the bar high in everything she tackled," said Barbara Goodman Manilow, Covenant's board president and the board chair of the Crown Family Philanthropies. "Harlene expanded the mission of the foundation and led us all with devotion and vision."
The awards went to Jill Abbey-Clark, who founded and directs a Jewish "Forest School" at Congregation Beth Israel in Charlottesville, Va.; Gabrielle Kaplan-Mayer, the chief program officer at the Philadelphia-area Jewish Learning Venture, who works to create inclusive communities with parents of Jewish children with disabilities; and Yigal Kotler, director of Jewish education for the Council of Jewish Emigre Community Organizations, for his work with Russian-speaking Jews.
"We persevered and we found something unexpected," Abbey-Clark said in her speech, recalling how the first days of her Forest School, which is held outside, included bee stings, a copperhead snake and a thunderstorm. "By practicing improv, and staying open to hineni [here I am] moments, we live each day with a yes, and opening new yet ancient pathways for Jewish education."
DISPATCH
At JFNA General Assembly, a plea for unity faces dire times
Convening in person for the first time in three years, the Jewish Federations of North America General Assembly hoped to demonstrate on its opening day yesterday that, despite the disruptions of our current era, the American Jewish community can serve as an example of what it looks like to unite across differences. But the content of Sunday's sessions at the Hilton in downtown Chicago showed just how challenging that mission may be, reports eJewishPhilanthropy's Ben Sales.
Serious topics: Along with celebrating Jewish organizational successes, speeches and panels were peppered with discussions of hate, division and violence. Meanwhile, attendees told eJP that they came into the conference concerned about issues ranging from mental health in the wake of the pandemic to gun violence.
Health and safety: "Mental health is a big one — that's just top-of-mind for all of us around the country," Lonnie Nasatir, president of the Jewish United Fund, Chicago's Jewish federation, told eJP — also saying that he's concerned about polarization and strengthening Black-Jewish relations. He added, "Again, it's more of the 'oy' rather than the joy, but security — in Chicago, we're good, but I think we could even be better and stronger… The last thing I want is for a mom with a 3-year-old to think twice about taking her kid to an early childhood center."
Consensus issues: The three key areas JFNA leadership outlined for the conference, which has drawn 1,200 people, are issues that a broad swath of American Jews care about and generally agree on: combating antisemitism and securing communal institutions; alleviating Ukraine's humanitarian crisis; and reducing communal polarization. At the plenary, JFNA Chair Julie Platt announced that since last year, 19 more local federations have adopted comprehensive security plans for their communities as part of JFNA's $130 million LiveSecure initiative, for a total of 64.
SPIRITUAL LEADERSHIP
Between the pulpit and the stage
"As rabbinic school enrollment has dropped dramatically over the past number of years, it seems that fewer and fewer young people are looking to make a career in Jewish spiritual leadership. While some have posited that the non-denominational rabbinical schools are faring better than the others, there is still an overall decrease in those currently training as rabbis, which raises the question of what this will mean for the future of Jewish communal institutions," writes Rabba Rachel Kohl Finegold, associate rabba at Congregation Shaar Hashomayim in Montreal, in an opinion piece for eJewishPhilanthropy.
Individual priorities: "Something that is often missing from this discourse is an acknowledgment of the sacrifices we often ask of rabbis and other clergy who choose a career in spiritual leadership. Many rabbis are subject to unfair expectations, colored by the assumptions of the past when it was expected that the rabbi would be available at all hours of the day or night, putting aside family or personal boundaries in order to serve their community's needs. In the age of the Great Resignation, even those who are not leaving their jobs are reexamining their work-life balance, putting a higher priority on family or other fulfillments. It's no wonder that an all-encompassing career is less attractive."
Full selves: "The nature of spiritual leadership also begs the question of whether rabbis can bring their full selves to their work. Rabbis are klei kodesh, the embodiment of 'vessels' for the community, and they often feel that they cannot fulfill that role without sacrificing an important part of themselves in the process. This is a sacrifice that goes far deeper than the sheer number of hours required, and can certainly serve as a disincentive for a young person to pursue a career in the rabbinate."
FUTURE-TENSE
The value(s) of a cup of coffee
"[T]here was a meme that floated around the internet recently of cars lined up around a Starbucks all waiting for their morning coffee. As someone who makes my espresso at home most days, I was somewhat surprised that people would wait in line for 20 minutes and pay $5 for a cup of coffee that could just as easily be made at home. It was just another reminder that people are not just purchasing a product. They are purchasing an experience and the atmosphere on top of the item itself," writes Rabbi James Greene, president of the Reconstructionist Rabbinical Association, in an opinion piece for eJewishPhilanthropy.
The full experience: "Institutional leaders within the Jewish community should be asking: Are we simply providing an item and trying to quantify its value so people will purchase it, or are we considering the full experience when we are looking to engage people in Jewish life? More importantly, are we seeking information from those we hope to engage about the experience they are looking for, and not just the end product they want?"
Transactional Judaism: "We have built models of engagement that are focused on memberships, built religious education models centered around dues and tuition and years required for b'nai mitzvah, and tracked connectivity through quantitative data that explores how Jewish someone is based on whether they light Shabbat candles, keep kosher or observe a fast day. In doing so, we have become a supplier of transactions. It amazes me that there are leaders in the Jewish community who are then surprised that we are struggling to build relationships with folks looking to connect."
Worthy Reads
Big Donations, Big Problems: With smaller donations declining and large foundations providing large grants to big, socially progressive or political causes, James Piereson and Naomi Schaefer Riley write in National Review, some nonprofits may inevitably start to shift their own resources and also their development pitches. "Grants featuring this woke work will be placed on organizations' home pages. And the people who are doing the fundraising — often the very people who have been bred in the rarified circles of charitable foundations — will shift their messaging. This will not only repel donors who don't share the political perspective of the foundations, but may also make small-donor donations seem insignificant. …There are hundreds of thousands of nonprofit organizations in this country. No doubt many of them will engage in political advocacy. But for those who want the broad base of support that comes from having a lot of small donors (not to mention volunteers), political activism might not be the best way to achieve their goals." [NationalReview]

Philanthropy as Disaster Relief: With the increase in climate disasters, and since lawmakers have taken hundreds of votes against storm recovery funding since 2005's Hurricane Katrina, philanthropy is more important than ever, Angela F. Williams, president and CEO of United Way Worldwide, writes in Newsweek. "First, we must build local infrastructure. In the United States, government funding is primarily passed down from the federal level, through state governments, and into localities that use it for community grants, direct support, and a variety of local needs. That federated structure is effective, but only goes so far… As one Houston, Texas official put it: 'The reality is that some tenants don't trust the government… our nonprofit providers and our agencies that are on the ground are the ones who are spreading the message.' If we are going to fill expanding gaps in government services — from housing relief to hurricane recovery — philanthropies must have a deep understanding of local dynamics and needs." [Newsweek]
Community Comms
Natan Fund announces two open grant opportunities: Jewish Connections and Confronting Antisemitism.
Be featured: Email us to inform the eJP readership of your upcoming event, job opening, or other communication.
Word on the Street
The Travis Roy Foundation, created in the name of a Boston University hockey player who was paralyzed 11 seconds into his first college game, made one of its last major gifts Friday before it closes for good next year. The foundation is donating a total of more than $4 million to two of the nation's leading sites for treating spinal cord injuries: Spaulding Rehabilitation Hospital in Boston and the Shepherd Center in Atlanta…
The Wyss Foundation announced a $3.1 million grant to Thomas Jefferson University and Jefferson Health in support of the Hansjörg Wyss Wellness Center. The center works to deliver health care and social services to Philadelphia's immigrant and refugee populations…
Purdue University in West Lafayette, Ind., received a $92.5 million commitment from Eli Lilly and Company to establish a scholarship program and renew research collaboration efforts. The commitment includes $42.5 million over 10 years to fund pharmaceutical manufacturing scholarships for incoming Purdue undergraduate students…
Hagee Ministries held its 42nd annual Night to Honor Israel last week at Cornerstone Church in San Antonio, Texas. At the event, the organization donated $1.7 million to a range of Jewish and Israeli charities. The donations follow the ministry's raising more than $7 million for The Jewish Agency for Israel to aid Ukrainian Jewish war refugees fleeing Russia's invasion of the country…
Four hundred musical works banned by Nazi Germany, including more than 300 songs, 100 chamber music works, 50 orchestral works and numerous film scores, are set to be published as a result of cooperation between American classical music publisher G. Schirmer and the Exilarte Center for Banned Music in Vienna, Austria…
Lewis Kalmans will succeed Jay Kaplan as chair of the board of trustees of the Houston Jewish Community Foundation…
Pic of the Day
Hundreds attended the annual rally to commemorate the assassination of former Israeli Prime Minister Yitzhak Rabin on Saturday night in Jerusalem's Zion Square.
Birthdays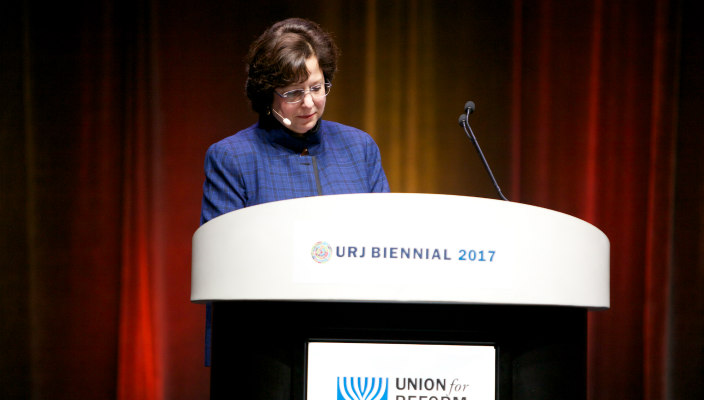 Immediate past chair of the board of trustees at the Union for Reform Judaism, Israel Policy Forum board member and philanthropist, Darryl Messinger…
Actor with a lengthy career in film, television and theater, Ron Rifkin… British historian, born in Baghdad, emeritus professor of International Relations at Oxford, Avraham "Avi" Shlaim… CEO of Feld Entertainment, which operates the Ringling Bros. and Barnum & Bailey Circus and Disney on Ice, Kenneth Feld… Author, historian and writer-at-large for the U.K.-based Prospect Magazine, Sam Tanenhaus… Staff writer for The New Yorker, her 1998 book was made into the award-winning movie "Adaptation," Susan Orlean… Immediate past chair of the board of trustees at the Union for Reform Judaism, Israel Policy Forum board member, Darryl Messinger… Owner of the NBA's Phoenix Suns and professional soccer team Real Mallorca, Robert Sarver… Managing partner of Arel Capital, a private equity real estate firm based in New York City, Richard G. Leibovitch… PAC director at AIPAC, Marilyn Rosenthal… British lawyer who has previously served as CEO of the Board of Deputies of British Jews and COO of World ORT, Marc Jonathan "Jon" Benjamin… Former MLB pitcher, Steven Allen Rosenberg… Founding partner at Lanx Management, former president of AIPAC and past chairman of the Orthodox Union, Howard E. (Tzvi) Friedman… Director of development for Foundation for Jewish Camp, he describes his role as a "gelt-shlepper," Corey Cutler… Chief brand and innovation officer of Ralph Lauren, David Lauren… Film and television director and producer, Ruben Fleischer… Professor, attorney, author, political columnist and poet, Seth Abramson… Member of the California State Assembly, Marc Berman… Actor Eddie Kaye Thomas… CEO at Climate Club, he is the founder of Pencils of Promise, Adam Braun… Rabbi-in-residence at the Solomon Schechter School of Westchester (N.Y.), she is the founder of Midrash Manicures, combining Jewish education and creative nail art, Yael Buechler… General manager at Returnmates, Spencer Herbst… Director of institutional advancement at Yeshiva Schools of Pittsburgh, Masha Shollar… Wheelchair basketball player and social media personality, Peter Berry…
Email Editor@eJewishPhilanthropy.com to have your birthday included.