Your Daily Phil: Gideon Taylor steps down as head of JCRC-NY
Good Friday morning!

In today's edition of Your Daily Phil, we report on the House Foreign Affairs Committee's hearing on antisemitism in international organizations, and feature op-eds from Erica Brown and Betsy Stone. Also in this newsletter: Rebbe Menachem Mendel Schneerson, Alex Edelman and David Cohen. We'll start with Gideon Taylor's announcement he is stepping down as CEO of the Jewish Community Relations Council-New York.
For less-distracted reading over the weekend, browse this week's edition of The Weekly Print, a curated print-friendly PDF featuring a selection of recent Jewish Insider, eJewishPhilanthropy and The Circuit stories, including: Groups launch new push to get couples to 'Wine and Sign' halachic agreements to prevent agunot; Krafting a new angle on Anne Frank; Ramaswamy alleges 'open questions' over Zelensky's 'treatment of religious minorities,' including Jews; and Entering House race in Maryland, Lesley Lopez seeks to 'build on' Trone's work.Print the latest edition here.
Gideon Taylor will step down as executive vice president and CEO of the Jewish Community Relations Council-New York at the end of this summer after just over two years in the role, the organization announced on Thursday, eJewishPhilanthropy's Judah Ari Gross reports.
JCRC-NY said Taylor was leaving to take a "leading role" at the World Jewish Restitution Organization, where he served as chief operations officer until 2021. JCRC-NY's current chief operating officer, Noam Gilboord, was chosen to lead JCRC-NY until a new CEO is found. Taylor will remain involved in the organization by serving as a consultant until his successor comes on board. The selection process has not yet begun.
"It has been a profound honor to serve as executive vice president and CEO of JCRC-NY. I have had the opportunity to work with remarkable partners, a truly outstanding staff, and a dedicated and committed lay leadership," Taylor said in a statement.
Taylor, who also serves as president of the Claims Conference, indicated that he was leaving out of a sense of duty to Holocaust survivors. "I believe that securing a measure of justice for Holocaust survivors and making sure that the lessons that they still have to impart reach a younger generation is a critical priority for the Jewish people," Taylor told the New York Jewish Week after his resignation was announced. "I think the opportunity to do that is compelling. We just don't have long left to have an opportunity to make that difference."
In a statement, JCRC-NY thanked Taylor for having "led [the organization] out of the pandemic back to its central role in the field of community relations in New York."
Disunified front
Hearing on antisemitism in international orgs highlights divides over combating antisemitism
A panel of expert witnesses testified yesterday at a hearing of the House Foreign Affairs Committee's Global Health, Global Human Rights and International Organizations Subcommittee on addressing antisemitism and anti-Israel bias in the United Nations, Palestinian Authority and nongovernmental organizations. Despite its premise, the hearing ultimately touched on broader questions about growing partisan divides over how best to address antisemitism writ large, in addition to policy recommendations regarding the international community, reports Marc Rod for Jewish Insider, a sister publication of eJewishPhilanthropy.
Dueling definitions: In their opening statements, two witnesses raised concerns about the Biden administration's decision, in its national strategy on antisemitism, to praise the Nexus definition of antisemitism — which critics say allows for antisemitic critiques of Israel – while embracing the International Holocaust Remembrance Alliance's working definition. Democrats on the subcommittee defended the administration's strategy. Anti-Defamation League National Board Member Sharon Nazarian, another witness, praised the plan as "a true roadmap for what we need to be doing as a whole of society."
Stay or go?: Rep. Rich McCormick (R-GA) said that the hearing had made him question his support for the entire U.N. system. "They are corrupt and they're governed by dictators and theocracies and other unfair people who administer this 'justice,'" McCormick said. Some subcommittee Democrats pushed back on that notion, arguing that the U.S. can best fight back against antisemitism within the U.N. by remaining at the table.
Read the full story here and sign up for Jewish Insider's Daily Kickoff here.
The Torah of Leadership
Have a little faith: Thoughts on Parshat Hukat

"One of the most debilitating and consequential moments in Moses' leadership occurs in this week's Torah reading, Hukat. It begins with the death of Moses' sister, Miriam, and ends with the death of his brother, Aaron. In between these tragic losses, Moses struck a rock with his staff instead of speaking to it and strangely lost the right to enter the land of Israel. The loss of family and role in such a condensed time period could have shattered Moses' will to bring the people to the edge of the Jordan River. Nevertheless, he persisted. What gave him strength?" writes Erica Brown, vice provost for values and leadership at Yeshiva University and director of its Rabbi Lord Jonathan Sacks-Herenstein Center, in her weekly column for eJewishPhilanthropy, "The Torah of Leadership."
Miriam's death: "Let's turn to the first few verses of the sedra: 'The Israelites arrived in a body at the wilderness of Zin on the first new moon, and the people stayed at Kadesh. Miriam died there and was buried there.' We are given no reason for Miriam's death. It is almost recorded as a passing fact of wilderness life. The people moved. A leader died. The people complained about water."
Erased memories: "As a result, Miriam's death was ignored by those she served. It was she who protected their savior, standing by the reeds when Moses was placed in the Nile. It was she who fetched her mother as a nursemaid for Moses, keeping him connected to his family. It was she who celebrated with joy and timbrels when her brother split the sea for the Israelites to cross to safety. But all of these memories were suddenly erased."
Facing the future
Supporting parents of teens
"Way before the pandemic, I was worried about the parents of teens. I believe them to be the most underserved group in the Jewish world. There is support for other age groups and demographics, whether through schools or senior centers. But the parents of teens are largely on their own, unwelcome in schools and afraid," writes Betsy Stone, a retired psychologist, in an opinion piece for eJewishPhilanthropy.
Kids who can't self-regulate: "Imagine that you were already afraid for your children and then there was a global pandemic. Our children missed regular developmental steps. I am convinced, for example, that we learn self-regulation in middle school – and we now hear so many complaints about kids who can't self-regulate. The national data is terrifying – 42% of teens experience persistent feelings of sadness and hopelessness and 22% have seriously considered suicide. And the data is even worse by gender, with female-identifying teens suffering more often than male-identifying teens."
New mental health positions: "Not surprisingly, our data focuses on kids. And it doesn't tell us much that parents and professionals don't already know… They know that their kids are unmoored. They are afraid for their children. Camps and schools have hired full-time employees to manage both the emotional needs of kids and calls from parents. There are new mental health positions, increased programming for mindfulness and stress reduction. Many camps have full-time staff to address parental concerns, creating daily blogs, sending photos and responding to anxious emails and phone calls."
Worthy Reads
Making White Nationalism Funny: In The Atlantic, Adrienne LaFrance interviews Jewish comedian Alex Edelman about his Broadway play, "Just for Us," about his attendance at a white nationalist gathering, which recently received additional funding from Reboot Studios, which is funded in part by Kate Capshaw and Steven Spielberg's Righteous Persons Foundation. "A few years ago, the comedian Alex Edelman decided on a whim to show up uninvited to a casual meeting of white nationalists at an apartment in New York City, and pose as one of them. Why? He was curious. He wanted to see what it would be like to be on the inside of a gathering that would never have knowingly included him, given that he is Jewish… LaFrance: Okay, but anti-Semitism has gotten really bad… Edelman: Oh it's awful. And I want people to take anti-Semitism seriously. But you know what? Judaism is a tapestry of grief. And it is too complex to be reduced to this prepackaged notion of a turn on the victim wheel for a couple of days. Does that make sense?" [TheAtlantic]
A Pilgrimage to Queens: In eJewishPhilanthropy's sister publication Jewish Insider Gabby Deutch speaks with visitors to the grave of Lubavitcher Rebbe Menachem Mendel Schneerson on the 29th anniversary of his death. "Thursday was the anniversary of Schneerson's death, and tens of thousands of people had come to the Ohel (the structure where Schneerson and his father-in-law, the previous Lubavitcher Rebbe, are buried) to pray. People visit year-round (24/6, as Chabad puts it: every day except for Shabbat, when Jews typically do not visit cemeteries) to pay their respects to the two Jewish giants. But Schneerson's yahrzeit — the anniversary of his death in 1994 — holds a special power, drawing religious pilgrims from around the world each year on the third day of the Hebrew month of Tammuz. They lined up to wait for hours to read handwritten prayers in the presence of the souls of these two rabbis." [JewishInsider]
Preventing Murders Before Shabbat: In Vanity Fair, Marie Brenner profiles the Community Security Initiative and its efforts to combat violent antisemitism in New York City. "On the morning of Friday, November 18, 2022, a threat analyst known by the pseudonym Paulette was at home on Manhattan's Upper West Side when she saw the message…. On her screen: 'I am gonna ask a priest if I should become a husband or shoot up a synagogue and die'…  Just before midnight, two suspects, a 21-year-old named Christopher Brown, with links to online neo-Nazi groups, and his friend Matthew Mahrer, 22, were spotted at Manhattan's Penn Station. They were arrested in connection with Brown's online threat to attack a synagogue. Officials recovered a Glock semiautomatic, a ghost gun with an extended 30-round magazine, a hunting knife, a ski mask, and a Nazi armband… When Paulette finally looked at her phone Saturday evening, more than 100 messages had passed among her intelligence team… 'We stopped a synagogue shooting.'" [VanityFair]
Around the Web
David Cohen was hired by the Jewish Federation of Greater Harrisburg (Pa.) to serve as its new president and CEO this week, following a yearlong search…
The Jewish Federation of San Diego created a new position of community security director in the wake of rising antisemitism, hiring Bill Ganley to serve in the role…
Surfside, Fla., Mayor Shlomo Danzinger and Converge Public Strategies chairman Jonathan Kilman will lead a new political committee in Florida, dubbed 1000 Jews, to advocate on behalf of the state's Jewish community…
Despite the National Library of Israel's new $200 million building not yet being complete, the institution held a farewell event on Wednesday for its current, more modest home on Hebrew University's Givat Ram campus in Jerusalem…
The National Council of Jewish Women is organizing a "Yahrtzeit of Roe" for tomorrow, marking the one-year anniversary of the Supreme Court's decision to strike down the pivotal abortion ruling…
A Jewish Chilean millionaire, Leonardo Farkas, caused a hubbub at the Western Wall in Jerusalem this week when he began handing out what appeared to be $100 bills to visitors of the holy site…
Donniel Hartman and Yehuda Kurtzer, the presidents of the Shalom Hartman Institute, penned an op-ed in The Times of Israel, calling for more civil, understanding debate over the Israeli government's proposed judicial overhaul. Earlier this week, Kurtzer was named a full co-president of the institute, in place of his prior title of president of the Shalom Hartman Institute of North America…
Germany's biggest Jewish educational and cultural complex since the Holocaust, the $43.7 million Pears Jewish Campus, which will be run by Chabad, is due to open on Sunday…
Fredda Isenberg, a former president of Hadassah's Dallas chapter, died this week at 90…
Pic of the Day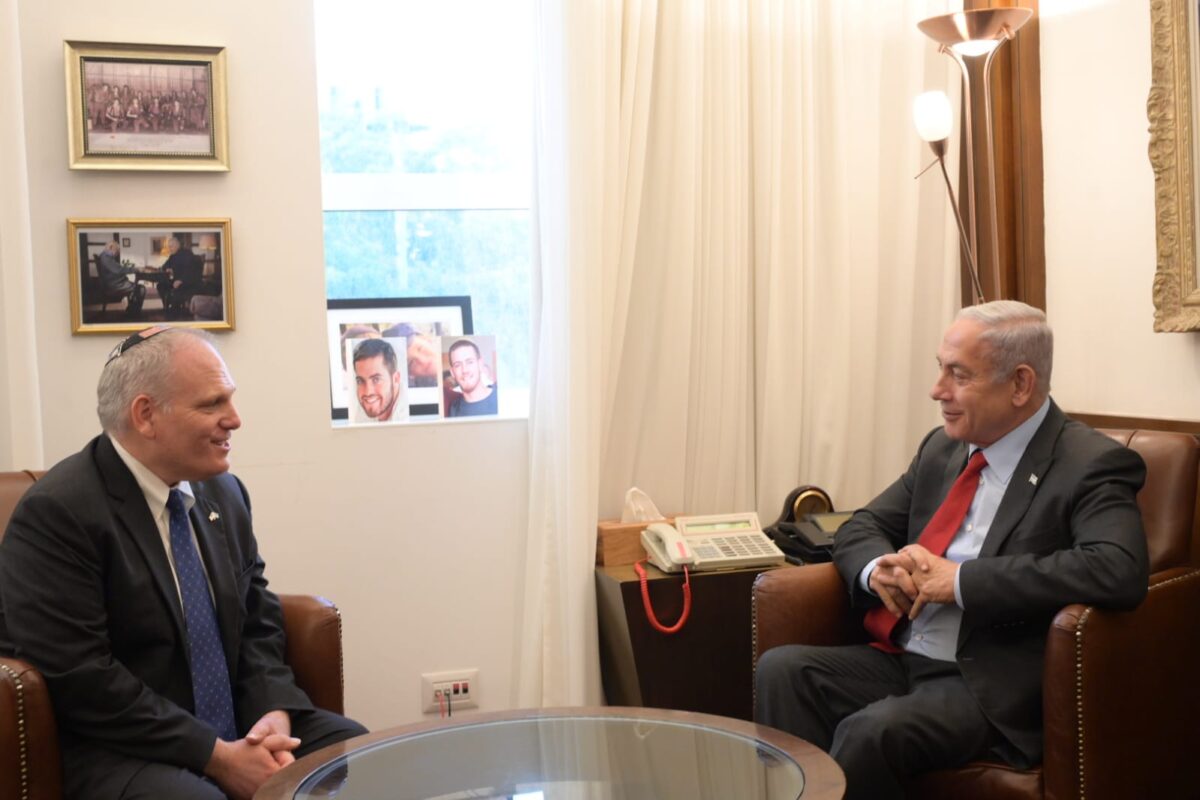 Conference of Presidents of Major American Jewish Organizations CEO William Daroff meets yesterday with Israeli Prime Minister Benjamin Netanyahu in the Prime Minister's Office in Jerusalem. In the meeting, Netanyahu "thanked [the organizations] for their great support for the State of Israel," his office said.
Birthdays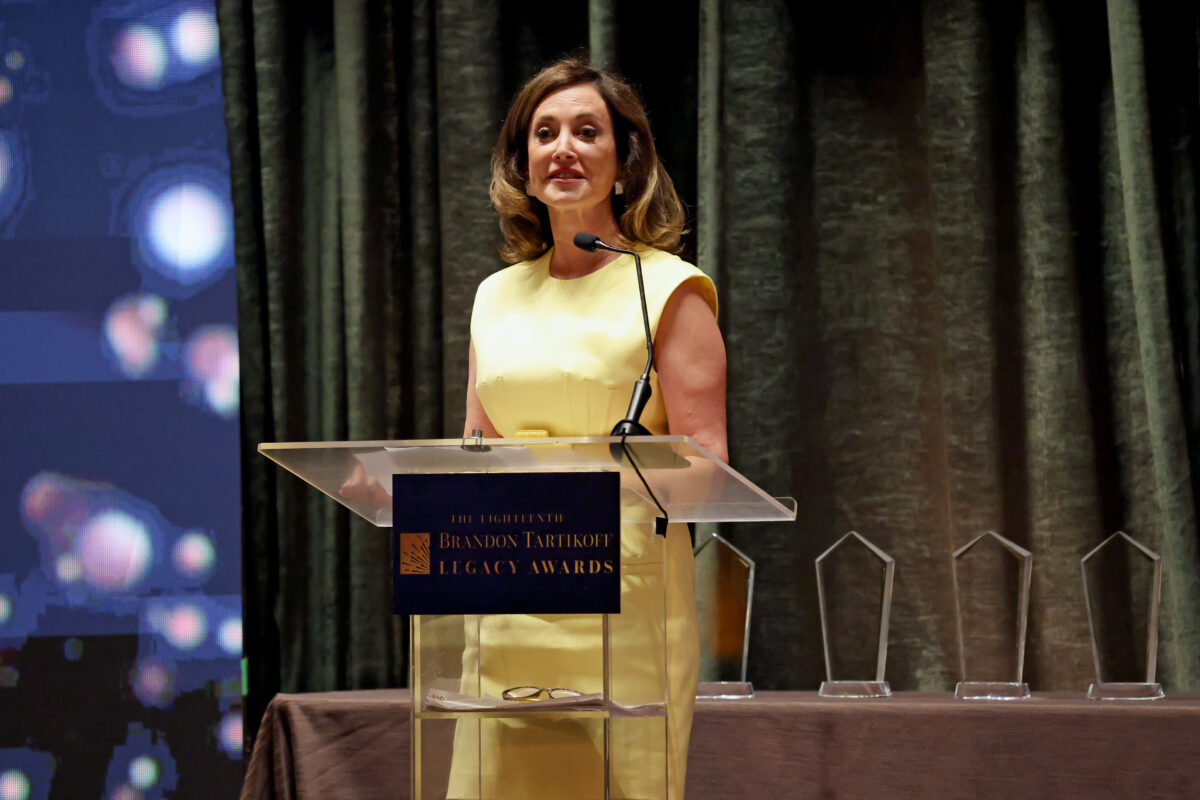 Los Angeles-based activist, restaurateur and breast cancer fundraiser, Lilly Tartikoff Karatz… 
FRIDAY: Professor emeritus of medicine and health care policy at Harvard, he was previously president of Brandeis University and Massachusetts General Hospital, Samuel O. Thier, M.D…. Real estate developer and co-founder of Tishman Speyer, Jerry Speyer… Associate justice of the Supreme Court of the United States, Justice Clarence Thomas… Senior advisor at Eurasia Group and author of 21 books, Robert D. Kaplan… Novelist and journalist, Roy Hoffman… Klezmer expert, violinist and composer, Yale Strom… Senior director of the National Consumers League, Robin Strongin… President of the Harrington Discovery Institute at Case Western Reserve, Jonathan Solomon Stamler… Sports memorabilia marketer, Brandon Steiner… Member of the Pennsylvania State Senate until 2020, now president of Cannabis GPO, Daylin Leach… Former teacher at Golda Och Academy in West Orange, N.J., Stephanie Z. Bonder… Israeli-American professor, journalist and filmmaker, Boaz Dvir… Film and television actress, her Hebrew name is Bat-Sheva, Selma Blair Beitner… EVP and general manager of the NFL's Philadelphia Eagles, Howie Roseman… President of D1 Capital Partners and former deputy director of the White House National Economic Council, Jeremy Katz… Founder of Innovation Africa, Sivan Borowich-Ya'ari… Actress and comedian, best known for playing Dr. Bernadette Rostenkowski-Wolowitz on CBS's sitcom "The Big Bang Theory," Melissa Rauch… Actress, singer and model, Marielle Jaffe… Gila Bublick… Ethiopian-born Israeli model who won the title of Miss Israel in 2013, Yityish Aynaw… Director of major gifts at OneTable, Ely Benhamo… Business development and marketing official at Indagare, Josh Lauder… T.C. Gross… 
SATURDAY: Former congressman (D-NJ) and active real estate investor, Herbert C. Klein… Ruth Weinstein… Co-founder of Trian Fund Management, Nelson Peltz… Professor emeritus in the College of Business at San Francisco State University, Sam S. Gill… Former chairman and CEO of New York Life Insurance Company, Seymour "Sy" Sternberg… Professor of Jewish philosophy at American Jewish University and founding dean of its rabbinical program, Rabbi Elliot N. Dorff… Founder of Yeshivat Chovevei Torah, Rabbi Avi Weiss… Former secretary of labor in the Clinton administration, Robert Reich… Former member of Knesset and former chief of staff of the IDF, Moshe "Bogie" Ya'alon… Early childhood specialist at Columbus City Schools and Columbus School for Girls in Columbus, Ohio, Carol Glassman… EVP at Edelman, Kevin Goldman… Circuit judge of the U.S. Court of Appeals for the Ninth Circuit, Sandra Segal Ikuta… President and CEO of public relations firm Steinreich Communications, Stanley Steinreich… U.S. district judge for the Southern District of Florida, Beth Bloom… Principal of Mount Scopus Memorial College in Melbourne, Australia, Rabbi James Kennard… The first on-air talent of the NFL Network when it debuted in 2003, he has become the face of the network ever since, Rich Eisen… Israeli businesswoman and owner of the soccer team, Hapoel Beer Sheva, Alona Barkat… Author and columnist, Shulem Deen… Singer and songwriter professionally known as Ariel Pink, Ariel Marcus Rosenberg… Film director Todd Strauss-Schulson… Resident fellow at the American Enterprise Institute, Matthew Continetti… Senior social media content manager at Equifax, Brett Rosner… One-half of the husband-and-wife duo known for their YouTube channel h3h3Productions, Ethan Edward Klein… VP of Houston-based RIDA Development, Steven C. Mitzner… A 2015 contestant on "Jeopardy!" who won 13 consecutive episodes, Matt Jackson… Actress and singer, Elizabeth Greer ("Beanie") Feldstein… Tax manager at Mazars USA, Moshe Gruber, CPA… College basketball player for the Harvard Crimson and a graduate transfer player for NYU, Spencer Freedman… Lois Charles…
SUNDAY: New Jersey-based criminal defense attorney, Miles Feinstein… Music publicist and author, Howard Bloom… Founder and CEO of Bel Air Partners, Sheldon J. Sandler… Real estate developer and founder of The Continuum Company, Ian Bruce Eichner… Lake Worth, Fla., resident, Joseph C. Goldberg… Woodland Hills, Calif.-based mentor, coach and consultant for business executives through Vistage International, Gary Brennglass… Chairman and CEO of his family's Chicago-based investment firm, Henry Crown and Company, he is a director of JPMorgan Chase and General Dynamics and the managing partner of the Aspen Skiing Company, James Crown… Former member of the Knesset for the Meretz party, Michal Rozin… Founder and CEO of The Agency real estate brokerage, Mauricio Umansky… Managing director of A-Street, Mora Segal… Senior consultant at West End Strategy Team, Helen Chernikoff… Founder and director of The Biblical Museum of Natural History in Beit Shemesh, popularly known as the "Zoo Rabbi," Natan Slifkin… Fashion model and television presenter, Michele Merkin… Congressional liaison at the U.S. Agency for Global Media, Zachary Silberman… Vice president of public affairs at J Street, Kevin Rachlin… President of Gratz College in Melrose Park, Pa., Zev Eleff… Manager of strategic content at Leidos, Isaac Snyder… VP of strategy at Saint Paul Commodities and co-founder of Veriflux, Daniel "Dani" Charles… Avital Mintz-Morgenthau… Producer and reporter covering the White House for CNN, Betsy Klein… Center fielder in the San Francisco Giants organization, Hunter David Bishop…