Gideon Taylor steps down from JCRC-NY after 2 years, returns to WJRO
Organization thanks him for guiding group out of pandemic; Taylor says he wants to help Holocaust survivors while he can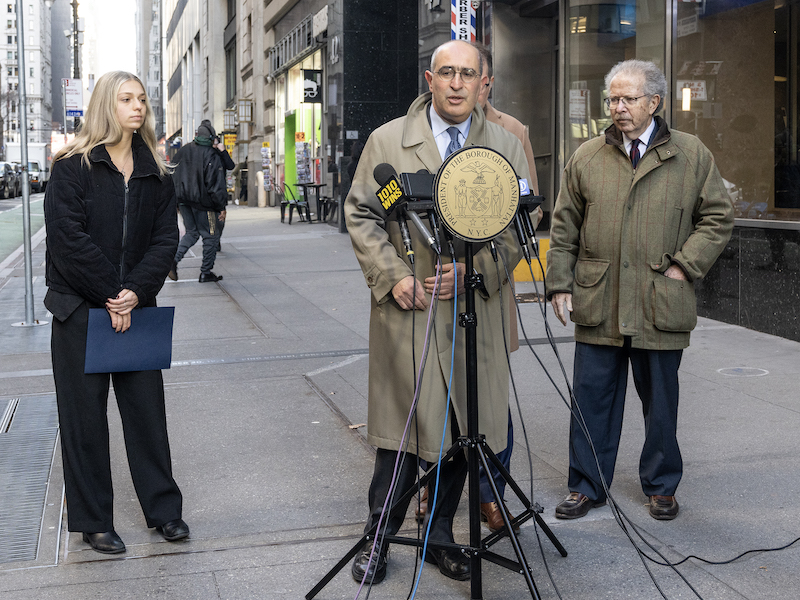 Lev Radin/Pacific Press/LightRocket via Getty Images
Gideon Taylor will step down from his role as executive vice president and CEO of the Jewish Community Relations Council-New York at the end of this summer after just over two years in the role, the organization announced on Thursday.
JCRC-NY said Taylor was leaving to take a "leading role" at the World Jewish Restitution Organization, where he served as chief operations officer until 2021. JCRC-NY's current chief operating officer, Noam Gilboord, was chosen to lead JCRC-NY until a new CEO is found. Taylor will remain involved in the organization by serving as a consultant until his successor comes on board. The selection process has not yet begun.
Taylor's relatively short stint as CEO of JCRC-NY came after his predecessor, Rabbi Michael Miller, served in the role for 35 years, helping grow the organization to a prominent place in the city's politics.
"It has been a profound honor to serve as executive vice president and CEO of JCRC-NY. I have had the opportunity to work with remarkable partners, a truly outstanding staff, and a dedicated and committed lay leadership," Taylor said in a statement.
Taylor, who also serves as president of the Claims Conference, indicated that he was leaving out of a sense of duty to Holocaust survivors. "I believe that securing a measure of justice for Holocaust survivors and making sure that the lessons that they still have to impart reach a younger generation is a critical priority for the Jewish people," Taylor told the New York Jewish Week after his resignation was announced. "I think the opportunity to do that is compelling. We just don't have long left to have an opportunity to make that difference."
In a statement, JCRC-NY thanked Taylor for having "led [the organization] out of the pandemic back to its central role in the field of community relations in New York." The organization highlighted Taylor's efforts to reach out to rising leaders in the city and to expand JCRC-NY's trips to Israel for elected officials, campus administrators and community leaders, organizing "four study tours this past year and six planned in the year ahead."
In his tenure, Taylor also oversaw the return of the Celebrate Israel Parade – a complicated logistical affair – following a two-year hiatus because of the coronavirus pandemic. Last year's event grappled with the complexities of navigating continued public health considerations, while with this year's event – the largest in the parade's history – Taylor had to deal with mediating between rival political camps, split over the Israeli government's proposed judicial overhaul.
"Gideon served as a bridge between various segments of the Jewish community as he helped the organization navigate through a number of complicated and divisive issues while recognizing and including the breadth of Jewish life and thought in New York. He maintained JCRC-NY's critical role as an organization dedicated to the concept of 'klal yisrael' – Jewish peoplehood," the organization said, adding that he also organized JCRC-NY's move to new offices.