Your Daily Phil: Couple who met at BBYO donates $1M for youth group to expand rural reach
Good Wednesday morning!
The Maimonides Fund has named Felicia Herman, managing editor of the quarterly journal Sapir, as its new chief operating officer, eJewishPhilanthropy has learned.
Herman, who will start in October, is currently president of the Natan Fund and director of the aligned grant program of the Jewish Community Response and Impact Fund (JCRIF), founded as an emergency fund in April 2020 to support the Jewish community early in the coronavirus pandemic.
"As we have gotten to know Felicia through her work on JCRIF and Sapir, it became clear that her talent both as a philanthropic professional and a thought leader would be a tremendous asset in helping to strengthen our work," Mark Charendoff, president of Maimonides Fund, said in a statement.
The fund has also named a new program officer, Nechemia Steinberger, and promoted Daniel Gamulka to senior director. Steinberger, who has worked on issues of education and workforce development among Israel's Haredi population, will focus on grantmaking in that community and will be based in Jerusalem. Gamulka will continue in his current role as managing director of Maimonides Fund, Israel.
GRANT NEWS
BBYO receives new funding to bring youth group to small Jewish communities
A couple who met through BBYO, the non-denominational Jewish youth group, has made a $1 million donation to the organization to enable it to better reach teens in "small, rural and outlying communities," Samantha Sisisky, BBYO's senior director of philanthropic engagement, told eJewishPhilanthropy's Helen Chernikoff.
Engaged alumni: Lewis and Sandy Schneider met in 1965 as teens growing up in the Washington, D.C., area, today the sixth-largest Jewish population center in the United States, with a community of almost 300,000 people. "As a teenager, BBYO became my lifeline," Lewis Schneider said. "I participated in BBYO to help me grow up." The Schneiders now live in Savannah, Ga. As longtime supporters of BBYO who wanted to make a larger gift, they decided they wanted to make the youth group's benefits accessible to a broader population.
Coming up on a centennial: "They went from living in a large metropolitan Jewish community to a smaller one, so they've had both experiences," Sisisky said. BBYO has its roots in a social and service group for young men founded in Omaha in 1923. It was taken under the auspices of B'nai B'rith International, which founded a parallel group for young women. BBYO became independent from B'nai B'rith in 2002 and hired its current executive director, Matthew Grossman, in 2004. It now reaches more than 70,000 teens in almost 60 countries, offering such programming as leadership training, social events, camps and travel and, during the pandemic, a digital platform — "BBYO On Demand." In 2020, BBYO had revenue of about $35 million, including almost $20 million from contributions.
Connecting to a movement: BBYO hasn't yet selected the new communities it will enter as a result of the Schneiders' support, and doesn't yet know how many it will target, Sisisky said. The grant, which will be disbursed over five years, funded the hiring of Max Hendrix, a former BBYO regional director in Minnesota, to manage the program. Hendrix himself grew up in a small Jewish community of fewer than 100 families and as a BBYO member helped grow its presence in Minnesota from 10 teens in one chapter to 170 teens in three chapters. It will also support the participation of the new chapter members in BBYO's summer and international programs. "They'll get connected to the larger movement, and then they'll come back and become local leaders," Sisisky said.
NEW MOMENTUM
Rosh Hashanah 5782: Jewish musings on the state of our community
"This is a unique moment in America but also for Jewish Americans. In this season of our spiritual renewal, we have come to this space feeling a deepening anxiety about the battle against this pandemic but also about our religious and political condition as we enter the new year," writes Steven Windmueller, professor emeritus of Jewish communal studies, at HUC-JIR, in an opinion piece for eJewishPhilanthroy.
Fourth-gen Americans: "In connection with our practices as Jews, we are experiencing the realities of being a fourth-generation American community. Our religious resiliency, as identified by the most recent Pew study, shows signs of our community coming apart, as the numbers of synagogue-affiliated Jews continue to decline, resulting in the downsizing of American Judaism. We are increasingly defining ourselves no longer as a single community but rather as individualized pockets of religious and cultural Jewish expressions."
Federal money: "One of the important sidebars to this pandemic involves the increased significance of federal funding for religious institutional life, as represented by the two COVID stimulus packages. Indeed, without such assistance programs, some of our communal and religious organizations may well have collapsed. Beyond such governmental financial intervention, our religious and communal organizations have been increasingly dependent on the health and security guidelines made available by state and local authorities. The historic posture of separation of church and state appears to be giving way to a new set of interactive relationships and partnerships that will likely reshape this equation."
New expressions: "Despite … challenges, one finds a striking level of pride in being Jewish. This ethnic glue seems to point to a deepening sense of personal connection, signaling a level of creative engagement driven less by institutional connections. Even as Jews assimilate, marry out and demonstrate a level of disconnect with Judaism as a faith community, there appears to be a corresponding rise of ethnic and cultural consciousness. The individual Jew is reconstructing different avenues of expressing Jewish connectivity and participation."
Worthy Reads
Elite Workers: In The New York Times, Dror Poleg explains why the increasing pervasiveness of remote work will likely translate to increased income inequality, despite the widespread perception that reduced commutes and increased geographic mobility will most benefit white-collar workers. Instead, remote work will result in increased competition, driving down wages even in industries such as education and tech where, until now, managers had hired from a pool that lived within commuting distance of the job. "When a market expands, the benefits tend not to accrue equally to all participants," Poleg writes. [NYTimes]
In The Spirit: A fundraising technology app company has created a button for Zoom that will enable supporters to donate from within a video call — and the firm that created it doesn't charge for its use, reports Emily Haynes in the Chronicle of Philanthropy. The company, Pledge, has previously designed digital buttons that collect donations from online shoppers, and created the Zoom button while competing in the platform's app-development competition in 2020. Unlike Facebook's button, the Zoom feature shares a donor's name and email address, if the donor gives permission. [ChroniclePhilanthropy]

Collective Punishment: While some new social norms governing attitudes toward race and gender are positive developments, their enforcement on the internet can be unfair, cruel and arbitrary, writes Anne Applebaum, a historian of communism, in The Atlantic. Applebaum sees fear of the "mob" — online, in the office or among a social group — functioning the way an authoritarian state does when it hands down life-altering punishments to rule-breakers who dispute the facts of their alleged violation. "The censoriousness, the shunning, the ritualized apologies, the public sacrifices — these are rather typical behaviors in illiberal societies with rigid cultural codes, enforced by heavy peer pressure. This is a story of moral panic, of cultural institutions policing or purifying themselves in the face of disapproving crowds," Applebaum concludes. [Atlantic]
Community Comms
Advance. Yes, you can move forward in your career serving the community you love. Discover Spertus Institute's MA in Jewish Professional Studies.
Be featured: Email us to inform the eJP readership of your upcoming event, job opening, or other communication.
Word on the Street
Kavita Nandini Ramdas has been named president and CEO of The Nathan Cummings Foundation, effective October 4… Rabbi Ethan Bair has joined Hamilton College and will work with the school's Jewish community… In response to the impact of Hurricane Ida in Louisiana and Mississippi, Arthur M. Blank announced two grants through his family foundation totaling $1 million to the American Red Cross and the Greater New Orleans Foundation… The Massachusetts Institute of Technology received a $50 million commitment from alumnus and professor emeritus Paul Schimmel and his family in support of the life sciences department… In remembrance of 9/11, JNF-USA will facilitate a combination of commemorative and educational events across the country to recognize first responders…
Pic of the Day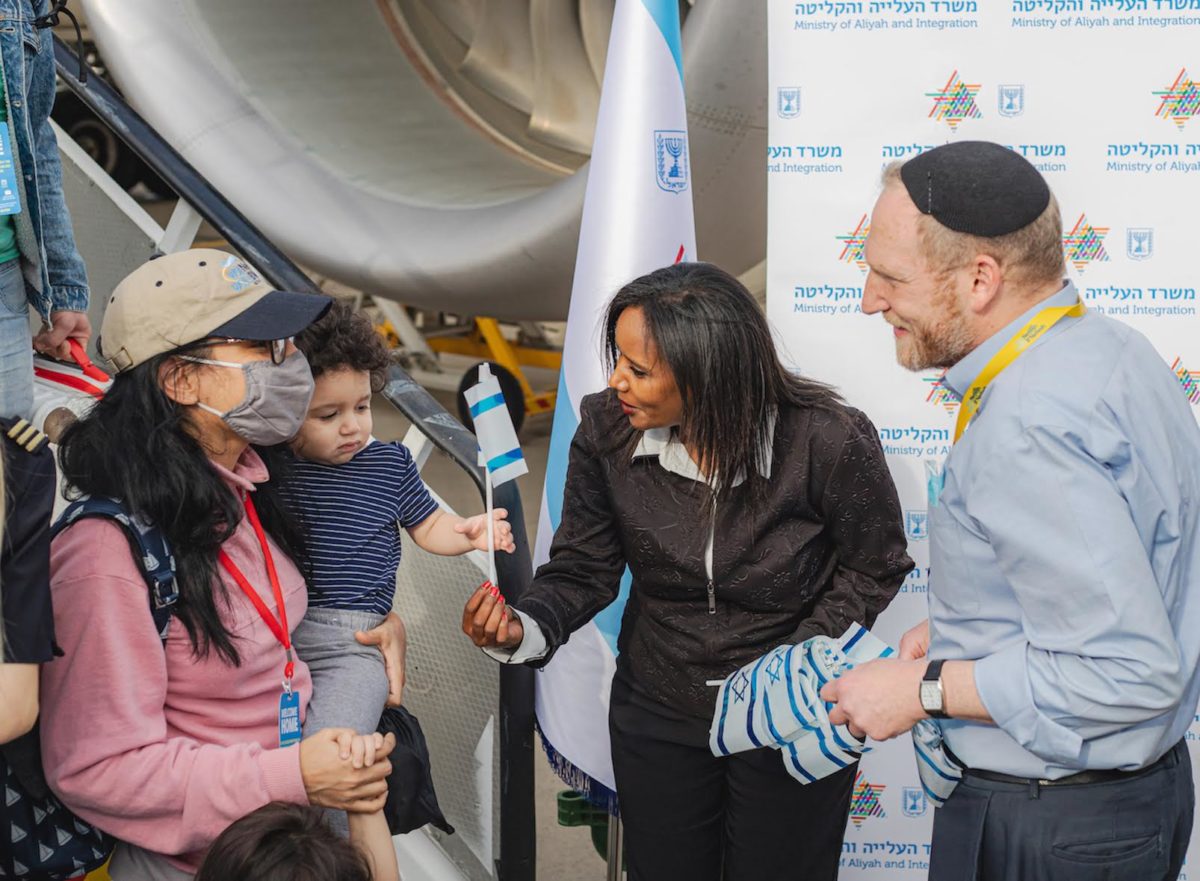 Nefesh B'Nefesh celebrated an historic Aliyah summer, with 1,000 Olim arriving during August.
Birthdays
Israeli rock singer, lyricist and composer, he is often referred to as "The King of Israeli Rock," Shalom Hanoch…
Retired Harvard Law School professor and constitutional scholar, Alan Dershowitz… Conductor, author and composer, Leonard Slatkin… Author and the matriarch of a literary family, Esther Safran Foer… Director of donor travel programs at the U.S. Holocaust Memorial Museum, Nadia Ficara… Former member and Speaker of the Texas House of Representatives, the first Jewish House Speaker in Texas, Joe Straus… White House press secretary during the first two years of the Clinton administration, Dee Dee Myers… Executive director of Detroit's JCRC/AJC and rabbi of Kehillat Etz Chayim, Asher Lopatin… Former clinical sciences group lead in the global product development group at Pfizer, Malca Resnick… Associate professor of religious studies at Stanford specializing in Talmudic literature, Charlotte Elisheva Fonrobert… SVP of public affairs at the Jewish Federations of North America, Elana Broitman… Capitol Hill producer for C-SPAN, Craig Caplan… Director of national outreach for the Jewish Institute for National Security of America, Harris Vederman… Fashion designer, businesswoman and writer, Rachel Zoe Rosenzweig… Novelist and playwright, son of two best-selling authors, Jesse Oren Kellerman… Video producer at MSNBC, Amitai Perline… General manager of Bloomberg Green, Lauren Kiel…

Email Editor@eJewishPhilanthropy.com to have your birthday included.