Your Daily Phil: UJA-Fed NY to start lobbying in Israel + the OU's unsung environmental policy win
Good Wednesday morning!
About half of the 725 full-time Jewish educators surveyed by the Collaborative for Applied Studies in Jewish Education (CASJE) attend a full-day professional development experience in an average year, an indication that the field is behind general education in understanding its importance to educators' growth and improvement, Arielle Levites, CASJE's managing director, told eJewishPhilanthropy.
"Compared to a decade ago, fewer educators today report participating in professional development, being compensated for their time or receiving a stipend to cover the costs," Levites said, citing the 2006 "Educators in Jewish Schools" study.
The Jewish community boasts 31 organizations offering 79 national professional development opportunities for Jewish educators, yet too few practitioners are enabled or encouraged to access these experiences, according to the CASJE report.
The most popular form of professional development in Jewish education is the one-off workshop, despite widespread criticism of this method by experts, especially compared with sustained learning that takes place with colleagues in the workplace, Levites said.
"Professional development that is situated out of the context of where the educator works is unlikely to have the biggest impact," said Miriam Raider-Roth, director of the Mandel Teacher Educator Institute, who recommended such professional development practices as peer classroom observation, co-planning lessons and investigation of published curriculum.
GROWING THE JOB
Meet Itzik Shmuli, UJA-Fed NY's new director-general in Israel
UJA-Federation of New York, the country's largest federation, is expanding the portfolio of the head of its Israel office, Itzik Shmuli, to include government affairs for the first time, CEO Eric Goldstein told eJewishPhilanthropy's Helen Chernikoff. "He is incredibly knowledgeable, and he knows everybody," Goldstein said, adding that Shmuli will also handle all the existing functions of the director-general position, including its grant making.
A young leader: Before serving as Israel's minister of labor, welfare and social services, a job he held until he resigned in February, Shmuli, a member of the Labor party, rose to prominence as a leader of the 2011 street protests against cost-of-living increases and a perceived deterioration in social services. The federation makes its own grants in Israel, in addition to supporting The Jewish Agency for Israel and the American Jewish Joint Distribution Committee.
The American example: The charity's domestic government affairs office, which lobbies lawmakers at the local, state and federal levels, will be the model for Shmuli's work in Israel, Goldstein said, citing federation lobbyists' success in securing funding from New York City to support Holocaust survivors. "We hope that beyond our traditional grant making in Israel, we will be able to influence the government to increase funding for our priorities," Goldstein said.
Underlying trends: The federation's move reflects broader movement in American Jewish life toward decentralization and greater donor control, said Jonathan Sarna, a professor of American Jewish history at Brandeis University. "The largest Jewish donors feel they want to control their own destiny," he said. "And JFNA is not nearly as powerful as it used to be."
ON THE HILL
Senate infrastructure package incorporates decade-long OU project
The Senate's bipartisan $1 trillion infrastructure bill is the most-discussed topic on Capitol Hill this week, as senators scramble to pass the legislation ahead of the body's scheduled summer recess. But one provision getting little attention within the 2,700-page bill represents the culmination of more than a decade of activism led by the Orthodox Union, Jewish Insider's Marc Rod reports.
Background: The Nonprofit Energy Efficiency Act was first introduced in Congress by Sens. Amy Klobuchar (D-MN) and John Hoeven (R-ND) in 2012, and reintroduced twice since then. The proposal would provide $50 million to the Department of Energy for grants of up to $200,000 for nonprofit organizations to upgrade their infrastructure and purchase more energy-efficient equipment, such as generators and heating systems. OU Advocacy Center Director Nathan Diament told Jewish Insider that the legislation, crafted by OU, was borne of the significant expenses that synagogues, day schools and other nonprofits incur from energy costs — generally one of the top two budget items for such organizations — as well as a desire to increase energy efficiency.
Quotable: "I thank the Jewish community for taking a lead in advocating for this legislation. As nonprofits, including our religious organizations, become more energy efficient, they can allocate more resources to their core missions," Klobuchar said. "Many nonprofits have struggled to keep up with demand during the pandemic, which is why I knew it was critical to include this bill in the infrastructure package. This bipartisan legislation is a win-win — it's beneficial for the environment and the communities these organizations serve."
COMPARING NOTES
From the classroom to the boardroom: Engaging Jewish educators in setting community education objectives
"American Jewish education is undergoing a profound evolution due to the unexpected migration to online learning over the past year," writes Rabbi Scott Aaron, Ph.D., associate vice president for JUF Education at the Jewish United Fund of Chicago, in an opinion piece for eJewishPhilanthropy.
Listening 'tour': "I took the opportunity of some pandemic-induced down time to informally query and interview a sample group of 15 colleagues in educational leadership from around the country to try and glean some insight around these concerns. They are all members of the Association of Directors of Communal Agencies–a network of communal professionals leading educational support efforts in their communities–who agreed to speak with me off the record."
Dialogue: "Many communities that have absorbed their communal agencies into their federations would benefit from an ongoing reflection process about what the community's objectives are for Jewish education in their city. Each community will come to their own conclusions, but the important part is that there is a process to reach those conclusions."
Budgets: "The educators reported dialoguing most often with senior federation leadership about budgets. Budgets reflect priorities but without context those priorities are not apparent to all. What can be learned about a community's educational priorities by probing the objectives of the education budget rather than just the amounts?"
Long term improvement vs. short-term outcomes: "Respondents from both federation departments and other communal agencies reported changes over time in communal support prior to the pandemic for varying Jewish education modalities that were often more focused on finding magic bullets than meeting agreed communal education outcomes. For example, many reported an increase in resources prior to the pandemic for teen programming, camping and Israel travel at the expense of support for early childhood education. But the pandemic highlighted the overlooked central role of Jewish early childhood education to working parents in the community when these programs were in danger of permanent closure due to fiscal paucity going into the pandemic."
RESETTING OURSELVES
Shmita: The seventh year
"As we enter the 18th month of the pandemic, we begin the Shmitayear… What does it mean to enter a year of rest after the 18 months we've just had? For some of us, this has been a year of enforced rest – of increased time at home, lack of travel and social obligations, isolation. For others, it has been a year of chaos and improvisation, of uncertainty and adjustment, of pivoting and repivoting," writes HUC-JIR lecturer Dr. Betsy Stone in an opinion piece for eJewishPhilanthropy.
What weeds will grow?: "This Shmita year can be especially meaningful as we digest the losses and changes of the last year and a half. I keep having the image of a fallow field, a field that has been tested by corn or tomatoes or wheat – much as we have been tested by COVID. What weeds will grow in that field when humans no longer seek to impose our will on nature?"
Next normal: "Every time I hear people talking about 'getting back to normal,' I cringe. There is no back to normal. There is only the next normal and the normal after that. And I hope that each of us uses this Shmita year to reset ourselves. To pay attention to the weeds that grow when we rest the soil."
Worthy Reads
Price Of Poverty: Writing in Fast Company, Talib Visram profiles four entrepreneurs who are creating financial products that make it less expensive to be poor as participants in an 18-month venture initiative, largely funded by Wells Fargo, that is the brainchild of Ideas42, a nonprofit that studies the role of behavioral science in poverty. Costs of financial services like banking and insurance are higher for low-income people, who also have no choice but to buy cheaper assets and then pay to fix or replace them. "The work that I'm doing, and the folks I seek to serve: This has been my life," said LaToria Pierce, who is developing a software that would enable single mothers to share a job. "It's not just something that I saw, but that I lived. I watched my mom trying to figure it out." [FastCompany]
Not Again: Apple, DoorDash, Google and Lyft are among the major national employers who have postponed the dates by which they plan to return to working in the office, with Lyft and DoorDash stating they won't get back to working in person until 2022, reports Megan Cerullo for CBS' Moneywatch. DocuSign has set October 4 as a reopening date, but its chief people officer said that might change. "The one thing that remains consistent about the pandemic is that it's evolving and changing so we're reminding our clients that they must retain a certain level of flexibility and agility in how they make decisions," said security expert Allison Wood. [CBS]
Community Comms
Advance. Yes, you can move forward in your career serving the community you love. Discover Spertus Institute's MA in Jewish Professional Studies.
Be featured: Email us to inform the eJP readership of your upcoming event, job opening, or other communication.
Word on the Street
Twenty years after the attack, survivors of the Sbarro bombing dedicated a Shaare Zedek delivery room as a "Symbol of Life"… A proposal to revive the so-called Western Wall compromise has been placed on the Israeli cabinet's agenda… A list of new countries from which even vaccinated travelers must quarantine — including the United States — was approved by a Knesset committee yesterday, as COVID-19 cases continue to climb… The British government has published draft legal guidance which for the first time defines withholding a get as a form of domestic abuse… The Eugene and Agnes E. Meyer Foundation announced grants totaling more than $3 million in support of nonprofits working to build the power of people and communities most directly affected by racial injustice… The James B. McClatchy Foundation announced the launch of the Central Valley Journalism Collaborative, a $1 million effort initiative to preserve independent fact-based news outlets… Tablet magazine senior writer Yair Rosenberg is releasing a video series "to upend our understanding of antisemitism"…
Pic of the Day
Staff of Trybal Gatherings, the nonprofit that creates summer camp experiences for adults to foster Jewish identity and social networks, gather to celebrate the group's first-ever "day camp" offering, held on Sunday near Chicago and attended by 150 people.
Birthdays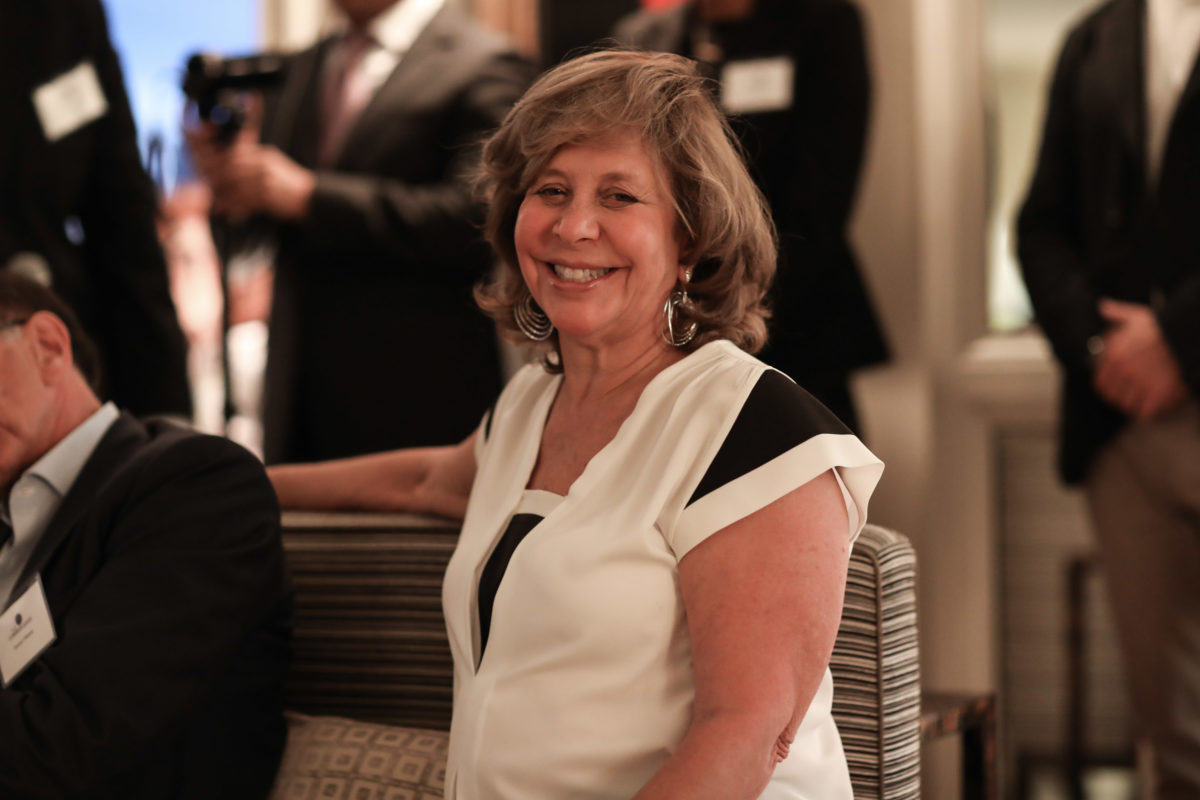 Board chair of the Jewish Funders Network, Marcia Riklis…
Professor emerita of American history at Yeshiva University and Stern College, Dr. Ellen Wolf Schrecker… Talmudic scholar, head of the rabbinical court of Mekor Haim in Queens, New York and a prominent leader of New York's Sephardic Jewish community, Rabbi Eliyahu Ben Haim… President at Salco Mechanical, Michael Salzberg… Former member of the Knesset and mayor of Herzliya, she was appointed yesterday to become Israel's ambassador to France, Yael German… Senior Vice President for Growth at the NYC HQ of the Anti-Defamation League, Frederic Lewis Bloch… Former Ashkenazi Chief Rabbi of Israel, Rabbi Yona Metzger… Long-time member of the Knesset for Likud (1992-2015) including multiple ministerial positions, Silvan Shalom… 44th President of the United States, Barack Obama… Executive producer of "Live with Kelly and Ryan," Michael Gelman… Administrative manager at Edelman, Helen Lapkovsky… Editor-in-chief of PwC's management magazine "strategy+business," Daniel Gross… Editor-In-chief of Cuepoint at Medium, Jonathan Miles Shecter (also known as Shecky Green)… U.S. Representative (D-NY-8), he is the chair of the House Democratic Caucus, Hakeem Jeffries… Broadcast meteorologist at WJLA-TV in Washington, D.C., Steven Rudin… Washington director of Bend the Arc Jewish Action, Rabbi Jason Kimelman-Block… Director-General of UNESCO, Audrey Azoulay… Editor of the Washingtonian, Michael Schaffer… CEO of Aspiration and former White House speechwriter, Andrei Cherny… CEO of leadership coaching and advisory firm Something Major, Randi Braun… Assistant director in the geostrategic business group at EY, Ben-Ari Boukai… Head of sales and operations at Riverside.fm, Jonathan Keyson… Born in Johannesburg, he moved to Florida as a 7-year old where he attended the Donna Klein Jewish Academy in Boca Raton, he is now the placekicker for the NFL's Minnesota Vikings, Greg Joseph…

Email Editor@eJewishPhilanthropy.com to have your birthday included.