Your Daily Phil: Training Holocaust educators + Music from the concentration camps
Good Friday morning.
In today's Your Daily Phil,in honor of International Holocaust Remembrance Day today, we cover a program to train educators on how to teach about the Holocaust at a time of rising antisemitism and other challenges. And we feature a column by Y.U.'s Erica Brown on the weekly Torah portion. Also in this newsletter: Jackie Shimshoni Reese, Alexander Rosemberg, Jenna Fields and Shlomit Naim Naor. We'll start with a concert of music composed during the Holocaust that took place at Carnegie Hall last night.
An orphaned boy trading music for money in the Warsaw ghetto. Widowed women in Bialystok waiting futilely for their husbands to return home. Children whose last thoughts were of the lullaby comforting them as they walked to the gas chambers. These are just a few of the scenes painted by the music of "We Are Here: Songs From the Holocaust," a concert of wartime music that took place last night at Carnegie Hall.
The concert was the creation of music producer Ira Antelis, with the help of Rabbi Charles Savenor, and took place on the eve of International Holocaust Remembrance Day. It was meant as a celebration of remembrance, as well as the need for unity among the Jewish people and beyond.
The pieces — a requiem, a poem, a lullaby, and music from 14 separate songbooks — were all written in the Nazi concentration camps or Jewish ghettos. Some of the composers survived. Most did not, yet their music tethered them to those in attendance.
Staring out into the silent audience before her first note, Tony-nominated singer-songwriter Shoshana Bean spoke nine words: "I want to live, I don't want to die." She continued with the first verse — her voice echoing throughout the five-level, nearly 3,000-seat Stern Auditorium. Then the band began to play. Bean sang again, her tone airy and light, melodic, almost soothing. The Yiddish song, "Main Zawoe" (My Testament), was written by Yasha Rabinovitsh, who was killed in a concentration camp only two hours before its liberation.
"These songs were written 80 years ago, but they have a powerful message for us today," Savenor said in his opening remarks at the concert. "They remind us of the damage evil can do and the power each one of us has to respond. At times of uncertainty, we must work together. At times of uncertainty, we must look out for each other. At times of uncertainty, my friends, we must make every effort to sing together in harmony and the lyrics will begin, 'We are here.'"
teaching the teachers
As knowledge about the Holocaust declines, these educators are learning how to teach it
Nearly every winter since 2004, Ann Mollengarden, the former education director at the Alabama Holocaust Education Center, travels to an advanced seminar held by the Jewish Foundation for the Righteous on best practices in teaching about the Holocaust. It never feels repetitive, and especially didn't this year. "I just can't emphasize how important it is for our teachers in Alabama to be able to have access to this kind of a resource," Mollengarden, who is now an advanced researcher at the center, told eJewishPhilanthropy's Jay Deitcher. "It's sort of like a reboot."
Challenging landscape: Holocaust educators face a challenging landscape. Antisemitism has increased in recent years, according to surveys by the Anti-Defamation League. A recent tally published by Axios found that most states don't require Holocaust education, and a 2020 survey by the Claims Conference found that most U.S. millennial and Gen Z respondents didn't know that 6 million Jews died in the Holocaust, and that 11% believed Jews caused the Holocaust.
'Opposing' viewpoints: Meanwhile, some politicians are pushing to enact laws banning teachers from teaching "controversial" topics such as race without showing "opposing" viewpoints, and are scrutinizing the books provided to schoolchildren, which some fear could have a chilling effect on teaching the Holocaust. One year ago, a school board in Tennessee banned the teaching of Art Spiegelman's graphic novel Maus, about the Holocaust.
The seminar: The seminar, held from Jan. 14-16 at the Hilton in Elizabeth, N.J, taught 22 middle and high school teachers and other Holocaust educators about the geopolitical forces that allowed hatred to fester throughout Europe in the years leading to the Holocaust and showed them how to teach the Holocaust without running afoul of potentially restrictive state legislation. One presenter at the advanced seminar, Nicholas Coddington, director of education and public programs at the National Archives and Records Administration, taught attendees how to access and create lesson plans based on federal documents.
the torah of leadership
Leadership and the prayer community: Parshat Bo

"Crisis makes leaders and breaks leaders. In this week's parsha, Bo, the very mention of a plague of locusts sent Pharaoh and his courtiers into a tailspin. A swarm of locusts is not only unsightly; it can ruin crops for an entire harvest season, decimating an economy and heightening starvation. I learned from a National Geographic website that locusts in the ancient world were both feared and revered. Locusts can travel up to 81 miles in 24 hours and can stay in the air for days at a time. No wonder when Moses and Aaron threatened Pharaoh with a plague of locusts, Pharaoh was initially willing to accommodate their request to go to the desert and worship their God," writes Erica Brown in her weekly column for eJewishPhilanthropy.
Pushing his luck: "'So Moses and Aaron were brought back to Pharaoh and he said to them, "Go, worship your God! Who are the ones to go?" Moses replied, "We will all go — regardless of social station, we will go with our sons and daughters, our flocks and herds; for we must observe the Lord's festival"' (Exodus 10:8-9). Moses, who had the upper hand in this negotiation, pushed his luck and asked that everyone be allowed to leave. Pharaoh was having none of it. He permitted only the Israelite leaders to leave: 'But he said to them, "God will be with you — the same as I mean to let your dependents go with you! Clearly, you are bent on mischief. No! You gentlemen go and worship God, since that is what you want." And they were expelled from Pharaoh's presence' (Ex. 10:10-11)."
Making sure the Jews stay: "Nahmanides explains Pharaoh's ire. Moses asked for too much, he was left with nothing. 'Pharaoh's anger was then kindled on account of the sons and daughters, and he said that under no circumstances will he send the little ones, for they take no part in the offerings. Instead, he would send all the adult males because of the feast which Moses mentioned, while the little ones and the women will remain [in Egypt],' according to the commentator. If Moses and Aaron had led all the Jews out of Egypt, Pharaoh knew that they would have had no intention of coming back."
Worthy Reads
The Metric System: Vanity metrics — numbers that sound impressive and may convince donors to give — may not reflect a charity's work or its value, Robin Pierro writes in The Chronicle of Philanthropy. "Many nonprofits — including the one I work for — tout how many people, partners, communities, and countries their programming reached during a certain period. Such data may show the breadth of an organization's work, but conveys little about its efficacy. Beyond this, nonprofits feel compelled to highlight how little it will cost to achieve an immediate outcome — $5 to feed a child today, $50 to train a farmer, $200 to provide a family with water. All are noble causes, and such metrics provide donors a sense of what's possible through their giving. But metrics like this also obscure the reality of what it takes to address the underlying causes of poverty and inequality, and perpetuate the belief that impact should be immediate. Addressing systemic issues and creating sustainable social change takes time. It requires long-term investment in groups tackling the laws, policies, and societal norms that enable and perpetuate problems such as poverty, inequality, corruption, and the climate crisis… Donors hold the power to make or break these efforts with their support." [ChronicleofPhilanthropy]

Engaged Ukrainian Citizenry: Foreign aid helps, but it's philanthropy from Ukrainian locals and Ukrainian-Americans that is providing assistance on the ground, Judith Miller writes in an opinion piece in The Wall Street Journal. "While the U.S. government alone has committed more than $2 billion in humanitarian aid for Ukraine, much of that has gone to float the government's budget. To supplement this essential official support, Ukrainians have opened their hearts, doors and ever-shrinking wallets to fellow countrymen. I saw fewer people sleeping on the streets of Uzhhorod than New York City. The 1.5 million Ukrainian-Americans have been especially engaged, said Andrij Dobriansky, a U.N. representative for Ukraine's global diaspora who interpreted during our trip. He estimates that Ukrainian-Americans, joined by some 200,000 refugees in America, have raised more than $100 million in emergency aid. But as impressive as that total is the ingenuity with which those funds have been used. By and large, Ukrainians have targeted the aid toward real-world benefits for those most desperately in need." [WSJ]
Around the Web
Since Russia invaded Ukraine nearly one year ago, the International Fellowship of Christians and Jews reports that it has helped bring to Israel more than 382 Ukrainians who were victims of the Nazi occupation during World War II…
The Jewish Federations of North America is allocating $5.4 million to care for Holocaust survivors and other older adults with a history of trauma. The funds come from the federal government's Holocaust Survivor Assistance Program and will be allocated over two years to eight local federations and the Network of Jewish Human Service Agencies. The local federations will raise an additional 50% of their grant amount from private donors…
Jackie Shimshoni Reese has been named chief of staff of the new museum, memorial and educational center to be housed at Pittsburgh's Tree of Life synagogue. She was previously manager of the Holocaust Center of Pittsburgh…
Alexander Rosemberg has been named deputy chief of staff for policy at the Anti-Defamation League. He was previously the deputy regional director of the New York/New Jersey region…
Jenna Fields, formerly California regional director of Sharsheret: The Jewish Breast & Ovarian Cancer Community, is now chief regional officer of the organization; Jessica Jablon, the organization's former program coordinator, is now California regional director…
Shlomit Naim Naor joined M² as Israel program director. She is a published poet and educator with more than 20 years of experience in Jewish education…
Pic of the Day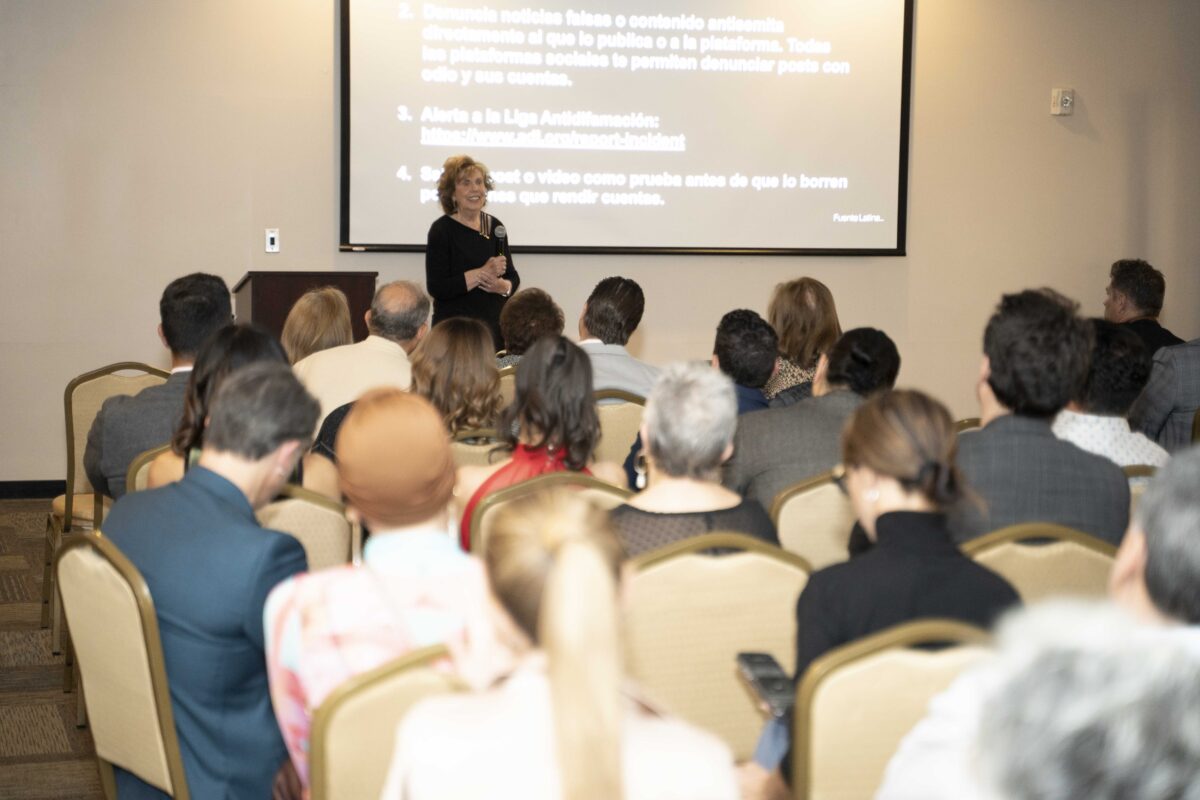 Suly Chenkin, a Spanish-speaking Holocaust survivor whose family immigrated to Cuba after World War II, spoke on Jan. 18 to an audience of non-Jewish Latinos, including influencers, at an event organized by Fuente Latina, a Jewish- and Israel-focused Hispanic media outreach organization. 
Birthdays
Television writer and producer best known as the creator of "Everybody Loves Raymond," he stars in the Netflix series "Somebody Feed Phil," Philip Rosenthal celebrates his birthday today…
FRIDAY: Auschwitz survivor, retired professor of child psychiatry at Harvard and the University of Cincinnati, Anna Ornstein… Senior counsel focused on mergers and acquisitions in the NYC office of Fried, Frank, Harris, Shriver & Jacobson LLP, Arthur Fleischer… Businessman and real estate investor, Paul Sislin… Winner of the 2017 Nobel Prize in Physics, he is a professor emeritus at California Institute of Technology, Barry Clark Barish… NYC resident Priscilla Alexander… Builder and operator of luxury casinos and hotels, Steve Wynn (born Stephen Alan Weinberg)… Corporate venture capitalist and scientist, he served as VP at Intel Corporation where he co-founded Intel Capital, Avram Miller… Topanga, Calif., resident, Joseph Helfer… Columbia, S.C., resident, Charles Geffen… VP at Elnat Equity Liquidity Providers, Eliezer Edelman… Professor of medieval Judaism and Islam at the Los Angeles campus of HUC-JIR, Reuven Firestone… Cookbook author and attorney, she is a co-founder of Foundation for Jewish Camp, Elisa Spungen Bildner… Chief justice of the United States, John Roberts… Member of the Missouri State Senate, representing the western suburbs of St. Louis, Jill Schupp… Founder and chairman of Willoughby Capital, Daniel Och… Communications director at C-SPAN and author of When Rabbis Bless Congress, a history of rabbinical invocations in Congress, Howard Mortman… Founder and managing member of Liberty Peak Capital and co-founder and lead investor of Multiplier Capital, Ezra M. Friedberg… CEO of the Jewish Community Center of Greater Rochester, Josh Weinstein… Editor-in-chief of The Foreign Desk, Lisa Daftari… Jerusalem-born rapper and YouTuber with 231 million views, Rucka Rucka Ali… English fashion model, Daisy Rebecca Lowe… Former college and professional basketball point guard including playing on the Israeli women's national basketball team, she is now a coordinator at Herzl Camp in Wisconsin, Jacqui Kalin… Raleigh, N.C., resident, Grace Kaplan… Co-founder and advisor of Quai[dot]MD and an MBA candidate at Stanford, Lia Michal Weiner Tsur… Financial markets advisory associate at BlackRock, Joshua Henderson… Founder and CEO of anti-disinformation company Alethea, Lisa Kaplan…
SATURDAY: Longtime Baltimore-area dentist now living in Jupiter, Florida, Joel I. Goldberg, DDS… Former chair of the political science department of the Hebrew University (now emeritus), he is a lecturer at the Interdisciplinary Center in Herzliya, Avraham Diskin… 26th national president of Hadassah, Ellen Hershkin… U.S. Senator Jeanne Shaheen (D-NH)… Attorney and lobbyist, Kenneth Levine… Rabbi emeritus of Kehillat Israel Reconstructionist Congregation in Pacific Palisades, Calif., Steven Carr Reuben… Chairman and founder of London-based ICM Stellar Sports, Jonathan Ian Barnett… Model, actress and singer, Barbi Benton… Elayne Z. Wolf… Senior U.S. district judge for the Central District of California, Judge Dean Douglas Pregerson… Freelance writer, Reba Carmel… NYC-based advisor and investor, Donna Redel… Director at UCLA Center for Community Engagement, Shalom David Staub… Angel investor, Mark N. Schwartz… Retired member of the New Jersey General Assembly, Amy H. Handlin… Executive director of The Washington Institute for Near East Policy, Robert B. Satloff… International businessman, he is the chairman of Genesis Philanthropy Group, Gennady Gazin… Founder and CEO of Boca Raton-based Lyons Capital LLC, Jason Lyons… Associate justice of the Supreme Court of the United States, Amy Coney Barrett… SVP at Weber Shandwick, Ariel Bashi… Israeli theatre and movie actress, Adi Bielski… Principal at Aermont Capital, Max Heller… Associate at Goldman Sachs, Perry Bloch… Actress and singer, known for her role as Ashlyn Caswell in the Disney+ series "High School Musical," Julia Lester… Co-chair of the Jewish Federation of the Desert in Palm Springs, Calif., Jacqueline Abelman Cohen…
SUNDAY: Rabbi, mohel and public speaker, Rabbi Paysach Krohn… President of Libitzky Property Companies, Moses S. Libitzky… Singer and songwriter, he is a two-time gold medal winner in the Maccabiah Games in fast-pitch softball, Steve March-Tormé… Regional director in the Houston office of the American Jewish Committee, Randall Czarlinsky… Louisiana resident, Jerry Keller… CEO of the Westchester Jewish Council, Elliot Forchheimer… Senior writer for JCCs of North America, a.k.a. Jane the Writer, Jane E. Herman… Actress known for her role as Amy MacDougall-Barone on the TV sitcom "Everybody Loves Raymond," Monica Horan… Physician and an author of three New York Times best-selling books, he is a professor of medicine and engineering at USC, as well as a CBS News contributor, Dr. David Agus… Former speaker of the United States House of Representatives, Paul Ryan… Founder of multiple tech firms, Sam Lawrence… Robyn Cooke Bash… Writer and occasional Bollywood film actor, he is known for his writing of the popular Jewish children's comic book series Mendy and the Golem, Matt Brandstein… Senior director and global head of the NYC-based Tembo Group, Denielle Sachs… D.C.-based philanthropic consultant, Kari Dunn Saratovsky… Israeli actress, model and television host, Yael Bar Zohar… Senior director for China and Taiwan on the National Security Council, Laura Rosenberger… Associate at Booz Allen Hamilton, Yasha Moz… U.S. Representative (D-MA), Jacob Daniel (Jake) Auchincloss… Swimmer for Israel at the 2016 and 2020 Summer Olympics, Andrea (Andi) Murez… Software engineering analyst at Blackrock, Martha Baumgarten…