Your Daily Phil: Tens of thousands expected at 'March for Israel' in D.C.
Good Tuesday morning.
In today's edition of Your Daily Phil, we report on Birthright canceling December trips because of the war in Israel and Jewish leaders' lukewarm response to a meeting about campus antisemitism with Education Department officials. We feature opinion pieces from Doron Kenter and Andrés Spokoiny. Also in this newsletter: Vivian Silver, Misha Galperin and Jonathan Greenblatt. We'll start with a preview of today's March for Israel in Washington, D.C.
Over 60,000 American supporters of Israel are expected to pack the area from the Capitol's West Front to the Capitol Reflecting Pool today from 1 p.m.-3 p.m. for the March for Israel rally in Washington, D.C., according to the Jewish Federations of North America, which noted that the permit for the event allows for that number of people. The rally is set to feature a lineup of prominent figures, interfaith leaders and more than 100 family members of Israelis being held captive in Gaza by Hamas, reports eJewishPhilanthropy's Haley Cohen in Jewish Insider.
Eric Fingerhut, president and CEO of Jewish Federations of North America, the group organizing the event along with the Conference of Presidents of Major American Jewish Organizations, told eJP that the event aims to rekindle the energy of huge Jewish community rallies on the National Mall in D.C. during the Second Intifada in 2002 and in support of Soviet Jews in 1987, which had turnouts of 100,000 and 250,000, respectively.
Thousands of participants will be coming on flights and buses organized — and in some cases paid for — by local Jewish federations, synagogues, day schools and Jewish community centers, from across the country. Many Israelis are also flying in for the event.
Speakers will include: Fingerhut; JFNA Board Chair Julie Platt; Conference of Presidents CEO William Daroff; Conference of Presidents Board Chair Harriet Schleifer; Israeli President Isaac Herzog; former Jewish Agency Chairman Natan Sharansky; Arielle Mokhtarzadeh of the Milken Institute; Mijal Bitton of the Shalom Hartman Institute; actors Debra Messing and Tovah Feldshuh; among many others.
Two mothers of hostages and the cousin of six hostages will address the crowd, as well two university students who will speak about rising antisemitism on college campuses.
No-fly zone
Birthright cancels December trips to Israel, says working to resume them quickly
Birthright Israel has canceled all of its trips scheduled for next month in light of the ongoing war between Israel and Hamas in Gaza. This marks the first time in its nearly 25-year history that the organization has called off trips because of a war, reports eJewishPhilanthropy's Judah Ari Gross.
As soon as possible: "We currently canceled Birthright Israel trips that were scheduled to arrive in December 2023," the organization told eJP today. "We are working to begin them again as soon as the situation in the country allows it."
Unlike 2014: Gidi Mark, Birthright Israel's CEO, said it was possible that trips could resume in late December-early January, "once things become more stable." Mark said the organization was for now focusing on a new program that it announced last month in which alumni come to Israel for two weeks to volunteer in agriculture or in donation centers. "Yesterday we started bringing the volunteers. We will be bringing thousands [to Israel] from around the world," Mark said, noting that over 1,000 people have already registered for the program. "We'll be strong on volunteering."
Campus beat
Administration officials receive lukewarm reception from Jewish leaders on campus antisemitism
Top officials from the Department of Education met virtually with Jewish community leaders on Monday to discuss the agency's actions to combat rising antisemitism on American college campuses. But several of the attendees left the meeting concerned that the department is not responding with the urgency they feel the antisemitism crisis deserves, reports Gabby Deutch for eJewishPhilanthropy's sister publication Jewish Insider.
Action needed: "??We've repeatedly communicated that this crisis is unlike anything we've seen before, so it requires a response that is unlike what we've seen before, in terms of resources, guidance and — if necessary — direct pressure on schools to ensure their students are safe," said Amy Spitalnick, CEO of the Jewish Council for Public Affairs.
Check the bad apples: "I think the set of tools and the mode of thinking that they have is not matched to the moment of crisis, and they need to shift," a lobbyist at a Jewish advocacy organization who attended the meeting said. "We said, 'Hey, you should be making some high-profile site visits for universities that are doing a terrible job,'" the lobbyist said, pointing to the Massachusetts Institute of Technology, where Jewish students reported being shut out of classes last week by pro-Palestine protesters. "Those university administrations need to be made to feel uncomfortable themselves."
Read the full report here and sign up for Jewish Insider's Daily Kickoff here.
A rare blessing
'Chacham Harazim': Another lesson in perspective
"The March for Israel taking place today in Washington, D.C., will be an important moment of solidarity for the Jewish community, God-willing. … This event could potentially be the largest intentional gathering of Jews in one place in our lifetimes, at least in North America. To channel the old Apple ads: there is, indeed, a blessing for that," writes Doron Kenter, director of North American grantmaking for the Maimonides Fund, in an opinion piece for eJewishPhilanthropy.
Strange word choice: "Why, in this moment of convocation, do the rabbis not direct us to acknowledge the sheer multitude of people, or the impressiveness of the gathering? Why don't we use this opportunity to offer praise to the Almighty for enabling such a massive group to gather as part of a concerted collective effort? An assembly this size presumably evokes God as an all-powerful sovereign, a transcendent ruler before whom we congregate in worship and praise. Why, in this circumstance, do we praise God as 'knower of secrets?'"
Finding our focus: "Today, many of us will be focused on the 'accurate count' of how many people will gather at the National Mall: which network undercounted, which one overcounted; how many old people, how many young people; how many from the left, how many right; how many people didn't quite make it in time because of traffic on I-95, and so on. We run the risk of seeing this collective mass of people as, at best, a series of metrics — a cluster of data points that makes for a headline in the paper and a chyron on CNN, Fox News and MSNBC. It is against this tendency that the rabbis caution us."
Lesson learned
Take care of your own
"Eighty percent of Jewish philanthropy is directed to non-Jewish causes. While that is admirable, events like that of Oct. 7 remind us that, when push comes to shove, Jews can depend only on themselves," writes Andrés Spokoiny, president and CEO of the Jewish Funders Network, in an opinion piece for eJewishPhilanthropy.
Truth stings: "I'm not ungrateful to the United States and other countries that stand with Israel, but I'm talking about the response of the society, how quickly the solidarity disappears. First, it's the 'contextualization' of the massacre, which turns into 'understanding'; next the 'understanding' turns into justification, which then turns into cheering… We rediscovered that, even in the eyes of our allies, Jews are eternally 'on probation,' subjected to a never-ending stream of litmus tests to prove that we belong. That is painful but, in a way, salutary. The Band-Aid was pulled off brutally, but now we know where we stand. Now we know that there's nothing wrong with us prioritizing our own, nothing wrong with us doing what nobody else will do for us. We rediscovered that we are one."
What we owe each other: "In a social contract, an individual has claims on society. In a covenant, individuals have mutual duties. In a social contract, you have a bill of rights. In a covenant you have that too, but you also have a bill of duties. This terrible crisis should help us rebuild our Jewish covenant, understanding that we have not only rights but also obligations towards each other. What can we do today to actualize our covenant? I have a few ideas…"
Worthy Reads
The Other Victims: In Jewish Insider, Ruth Marks Eglash visits a joint Bedouin-Jewish volunteering and donation-collection center in the southern Israeli Bedouin town of Rahat. "'It is not easy for us to talk about,' Daham Ziyadna, from the Ziyadna tribe near Rahat, told JI. 'We are talking about people who were murdered, we are talking about people who were kidnapped by Hamas.' 'Hamas came into Israel and attacked everyone, including people who were clearly Muslims, women wearing hijabs and speaking Arabic,' continued Ziyadna, whose cousin, Yousef, 53, and his three children, Hamza, 23, Bilal, 18, and Aisha, 17, were taken hostage by the Palestinian terrorists from their workplaces on Kibbutz Holit… Despite the outpouring of help, [Hanan Alsanah, an attorney who helped start a Bedouin-Jewish volunteering center,] said there is a concern that the attack – and now the war – will damage an already delicate relationship that exists here between Jews and Arabs. 'Only with partnership initiatives like this, can we rebuild and maintain that trust,' she said, adding that 'Hamas does not represent everyone in Gaza' and all Israelis need to push back against these extreme voices." [JewishInsider]
The Man Behind the Footage: In the Financial Times, Neri Zilber interviews Mattan Harel-Fisch, the editor who compiled the roughly 45-minute video of raw footage from the Oct. 7 massacres. "'This was Israel's 9/11 moment,' Harel-Fisch told the Financial Times from the army base in Tel Aviv where he works. But 'it wasn't captured in this one [image of a] plane blasting into a building?.?.?.?which, horrific as that is, it's something that you grasp the enormity of. Here it was captured by hundreds and maybe thousands of different clips?.?.?.?across a massive crime scene. I think [this makes it] harder to grasp how enormous this event was'… Harel-Fisch — a former director and editor of films and commercials who is also a specialist in what is known in the tech world as "user interaction and experience" — has sewn together a compilation of raw, uncensored footage from both Israeli and Hamas sources. The effect is sparse, relentless, unforgiving… Earlier, at the gate to the army base where Harel-Fisch works, a young soldier asked a visiting journalist if he was there to watch the video. The journalist had already seen it, but had the soldier? 'No. And I won't,' he replied. 'I want to be able to sleep at night.'" [FT]
Time to Speak Up: In Time magazine, Anti-Defamation League CEO Jonathan Greenblatt decries the lack of forceful response to the more than three-fold rise in antisemitic incidents in the United States in the past month. "After deep hate-fueled tragedies in recent years, like the murder of George Floyd, the Pulse nightclub massacre, the assault of Asian-Americans on our city streets, and the call for a Muslim ban, there was collective outrage. People from all walks of life locked arms and made it known that this extremism won't be tolerated. In contrast, in the days following the brutal massacre of more than 1,200 men, women, and children in Israel, the worst violence committed against the Jewish people since the Holocaust, there was a noticeable silence… We are experiencing a moral failure of our supposed friends and our so-called leaders. With some notable and appreciated exceptions, overall, standing up against hate is not as clear cut when it's targeting Jews." [Time]
Around the Web
Vivian Silver, a 74-year-old Canadian-Israeli peace activist who was initially believed to have been taken hostage on Oct. 7, has been identified as one of the people murdered in the attack on her hometown of Kibbutz Beeri…
Israel revised its estimated death toll from the Oct. 7 massacres from 1,400 to 1,200 as more bodies have been identified, including some that were initially believed to be Israeli victims but were later found to be Hamas terrorists…
At least 10 survivors of the Oct. 7 massacres have been forcibly hospitalized in psychiatric wards, an Israeli official told the Knesset's Health Committee during a special session on the severely strained state of the country's mental health services…
Misha Galperin announced he is stepping down as president and CEO of the Weitzman National Museum of American Jewish History in Philadelphia. A successor has not yet been announced…
Elizabeth Tsurkov, a Russian-Israeli doctoral student at Princeton University who was taken hostage by an Iran-backed Iraqi militia group, appeared in a recently filmed video for the first time yesterday. Her family said it was "encouraging" to see that she was still alive…
The Washington Post reviewed a new book by Daniel Schulman, The Money Kings, about the role that Jewish immigrants played in creating the modern Wall Street and the American financial system in general…
Manhattan's Center for Jewish History hosted the first-ever Jewish Comics Experience this weekend. (Read more about the event here)…
The Tepper Foundation started a new security fund with $2 million that will go towards security at colleges, community centers, synagogues, Jewish federations and other Jewish communal groups…
The Israeli Ynet news publication profiled five babies born to residents of Kibbutz Mefalsim near the Gaza border since the community was attacked by Hamas terrorists on Oct. 7…
Dozens of Israeli academics sent a letter to the heads of social media and technology companies calling on them to address rising antisemitism on their platforms…
Students and faculty from schools in Israel, the United States and Australia mourned the death of Yossi Hershkovitz, the principal of the ORT Pelech High School for boys in Jerusalem, who was killed while fighting in northern Gaza on Sunday…
The Massachusetts Institute of Technology will not expel or suspend students who took part in a protest in which Jewish students said they were blocked from attending classes, though some will be barred from "non-academic campus activities"…
A new survey by Independent Sector found that the nonprofit sector is "surviving, but it's not thriving" as a result of declining public trust, worker burnout and a decrease in advocacy efforts…
The Times of Israel spotlighted volunteer efforts on Israeli farms near the Gaza border, which are facing major challenges as a result of the war…
Alan Hevesi, a former New York City comptroller found guilty of corruption who championed Holocaust restitution, died last week at 83…
Pic of the Day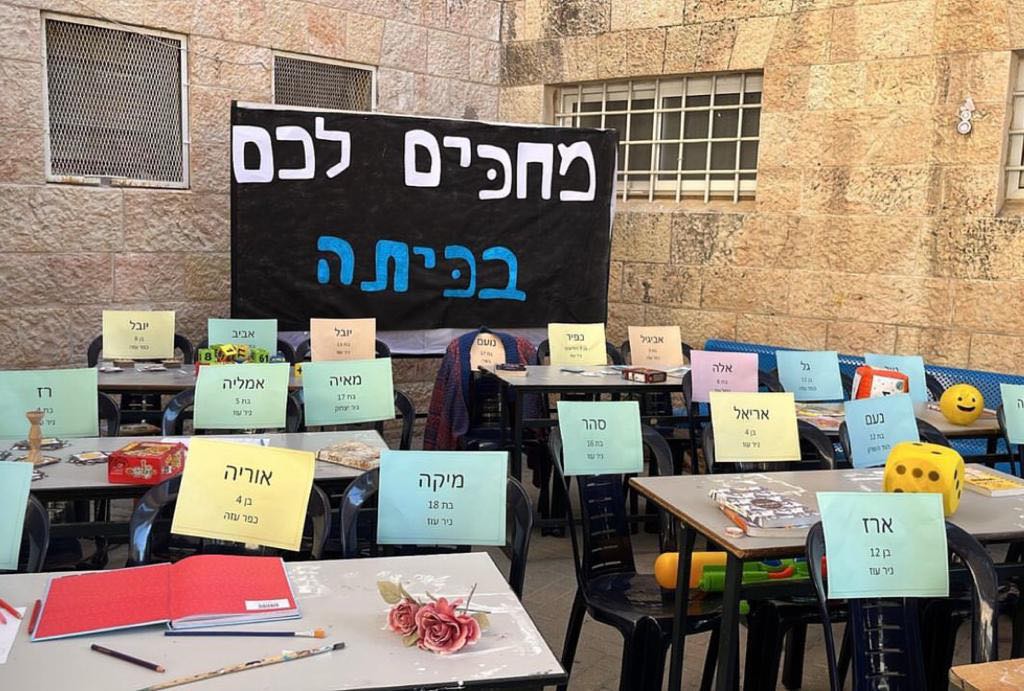 "We are waiting for you in the classroom," says the sign outside Evelina de Rothschild Secondary School in Jerusalem. School desks are set up in front of the sign, and each chair bears the name, age and community of a child taken hostage by Hamas on Oct. 7. Photo by Eliana Hoffman
Birthdays
Actress and comedian best known for her eight years as a cast member on "Saturday Night Live," Vanessa Bayer…
Cellist and professor at Moscow Conservatoire, Natalia Gutman… Former professional bodybuilder who played for two seasons with the New York Jets, Mike Katz… Los Angeles businessman and activist, Stanley Treitel… Retired member of the U.K.'s House of Lords, Baron Jeremy Beecham… Former British Labour Party MP who resigned in 2019 in protest of Jeremy Corbyn, Dame Louise Joyce Ellman… Television director and producer, her neurotic text messages to her daughter are the subject of the CrazyJewishMom Instagram page, Kim Friedman… Editor-at-large for Bloomberg View, Jonathan I. Landman… Former Democratic member of the New York State Assembly from Brooklyn, Steven H. Cymbrowitz… Former U.S. secretary of state, now on the faculty of Stanford University and the director of the Hoover Institution, Condoleezza Rice… Senior advisor to President Barack Obama throughout his eight-year term in the White House, she is now president of the Obama Foundation, Valerie Jarrett… Detroit-based communications consultant, Cynthia Shaw… President of Middlebury College in Vermont, Laurie L. Patton… Partner at the Santa Monica-based law firm of Murphy Rosen, Edward A. Klein… Senior fellow at the Brookings Institution and professor of political science at The George Washington University, Sarah A. Binder… Vice chairman of The Atlantic and managing director of media at Emerson Collective, Peter T. Lattman… and his twin brother, SVP at Forman Mills, Brian Lattman, both turn 53… Member of the Colorado House of Representatives until seven weeks ago when she became a Colorado state senator, Dafna Michaelson Jenet… Former deputy national security advisor for President Barack Obama, Ben Rhodes… Head of public policy and government affairs for Lime, Joshua Meltzer… Senior advisor for strategic communications to the Secretary of the Army, Jacob Freedman… Rabbi of the Sha'ar Hashamayim Synagogue in Indonesia, Yaakov Baruch… Israeli conductor and pianist, Nimrod David Pfeffer… Founder of White Light Strategies, Lana Talya Volftsun Fern… Actress and producer, she is a daughter of Bette Midler, Sophie von Haselberg… First baseman for the Toronto Blue Jays, he played for Team Israel in the 2023 World Baseball Classic, Spencer Elliott Horwitz…