Your Daily Phil: 'Shine a Light' campaign against antisemitism launches + Israel border closure to affect upcoming trips
Good Monday morning and Happy Hanukkah!
Honeymoon Israel, the travel program that brings groups of newly married couples to Israel, was set to restart its trips this coming Friday after a hiatus of almost two years due to the pandemic — until Israel closed its borders to foreigners over the weekend for at least two weeks due to the emergence of a new coronavirus variant, the group's CEO, Mike Wise, told eJewishPhilanthropy.
"My phone blew up with people who are in the travel business texting me, knowing that we had trips going this week," Wise said. "After 21 months of waiting, to be shut down like this at the last minute was pretty painful."
The first trips were to have served more than 70 people from Atlanta, Denver and New York City whose travel had been postponed by the pandemic. The organization hopes to reschedule the trips once the country reopens, Wise said. More than 170 people are scheduled to go to Israel with the organization in January.
Wise, who is a founder of the Israel Travel Alliance, noted that the shutdown will also affect Birthright Israel, the larger provider of Israel trips, and Passages Israel, which runs tours for Christian college students. Birthright has postponed trips scheduled to depart before Dec. 12, a spokesperson said.
FIGHTING DARKNESS
'Shine a Light' campaign asks corporations to include antisemitism in their DEI work
Last night was the first night of Hanukkah — and the kickoff to "Shine a Light on Antisemitism," a wide-ranging, broadly supported campaign against antisemitism spearheaded by eight foundations and attracting the support of more than 60 organizations, most of them Jewish. The timing was no coincidence, Carly Maisel, the global CEO of the Kirsh Foundation, told eJewishPhilanthropy's Helen Chernikoff.
Festival of light: "We felt like we needed a way to come together and find a positive way to engage around antisemitism," Maisel said from the national menorah-lighting ceremony at the White House, one of the campaign's launch events. "The point of this is not victimhood. It's American Jews saying we have a problem, and a way to engage meaningfully across society. It's not a headline, and it's not a 'gotcha.'"
Coming together: The campaign was inspired by communal concern about the increase in antisemitism during and after the conflict last May between Israel and Hamas, Maisel said. Philanthropists noticed both widespread fear and a lack of a plan for how to bring the community together and unite during a difficult time. "American leadership felt that, for the first time, the Middle East conflict had been imported to the streets of America, and was affecting the lives of everyday Jews," Maisel said.
Stepping up in support: The campaign includes five target areas: corporate culture, government policy, education, partnerships and media. Its goals for corporations are two-fold. The campaign is asking businesses to publicly support it, as the NBA, American Eagle Outfitters Inc., Chelsea Football Club and YouTube already have. Part of the ask is pushing corporations to reflect on the question of why antisemitism isn't included in many office Diversity, Equity and Inclusion (DEI) initiatives. "Because of the very real need to get in engaged in DEI, education about antisemitism has dropped off," Maisel said. "It's not included in DEI, so it's not included anywhere."

Read more here.
MUTUALLY REINFORCING
The power of peoplehood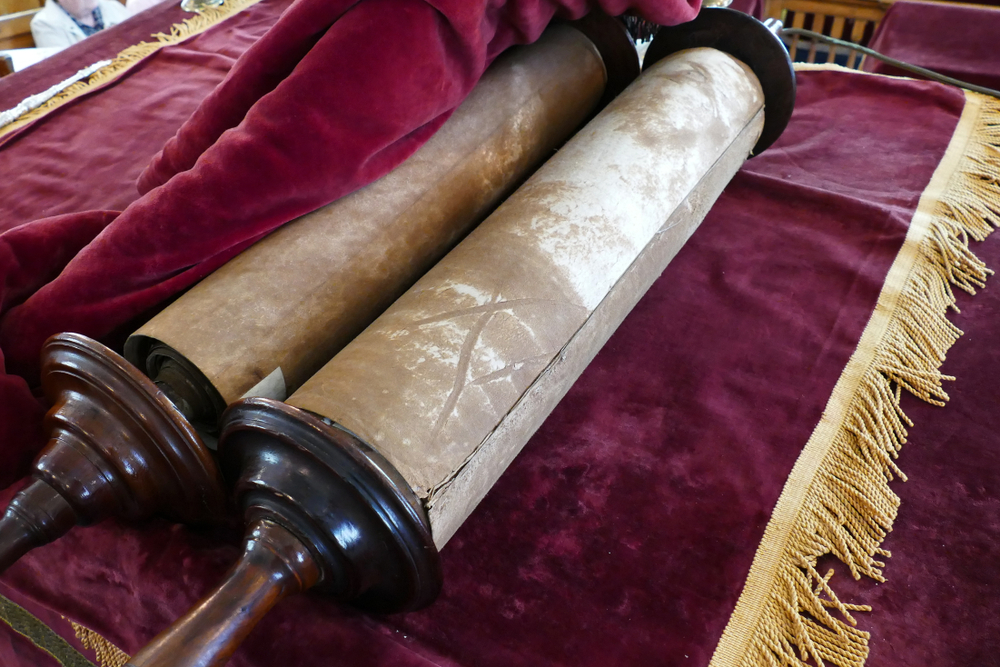 "Our era of unrivaled Jewish success — in Israel and across the Jewish world — has generated a paradox alongside the many positive metrics of health, wealth, freedom and security: Diaspora Jews and Israeli Jews are pulling apart. The myriad signs of drift and distancing pose a defining challenge that requires an adaptive response that is appealing and authentic," write Amnon Rodan, a director of the Rodan Family Foundation, and Jeffrey Solomon, the former president of the Andrea and Charles Bronfman Philanthropies, in an opinion piece for eJewishPhilanthropy.
Challenges in Israel: "There is nothing arrogant or conceited in recognizing the obvious: Israel has evolved into a strong and prosperous country, almost unrecognizable from the trying times of its early decades. Recognizing Israel's unprecedented achievements does not deny that the country continues to wrestle with challenges of social cohesion and peace. Yet, alongside Israel's growing strength, its society reflects a surprising degree of ignorance and lack of familiarity with world Jewry."
And in the Diaspora: "For its part, Diaspora Jewry is also experiencing unprecedented achievements. Jewish communities, especially in North America, now live largely integrated, prosperous and secure, which has heightened our commitment to liberal and democratic ideals yet also produced new challenges. Many of our legacy frameworks are hemorrhaging members and failing to address the challenges of a diversifying Jewish community. Existing platforms have also been unable to unite increasingly pluralistic views about Israel and Israeli policies."
Consequence: "If left unattended, these sources of discord and division could turn catastrophic. A growing rift only weakens the resilience and sense of solidarity and collective responsibility (arvut hadadit) that was a signature of the Jewish people's recovery from the calamities and dislocations of the 20th century."
LADDER OF GIVING
Elevate your charitable giving to Israel
"As GivingTuesday approaches and recognizing that December charitable giving exceeds that of all other months, we want to share some experiences and observations from our decades of nonprofit work to elevate your charitable giving to Israel, and have it be the most impactful," write longtime Israel-based philanthropic consultants Arnie Draiman and Jonathan Feldstein, in an opinion piece for eJewishPhilanthropy.
The Rambam: "Rabbi Moses Maimonides, the Rambam, was among the greatest Jewish scholars of all time. His teachings and global perspective of 1,000 years ago are still studied and widely embraced. He was a philosopher, physician, political adviser and legal authority. Maimonides balanced parallel worlds of Jewish law and (then) modern thinking. Maimonides gave us the ladder of giving, enunciating the eight highest categories of giving. He taught that giving was an obligation, one about which we need to be particularly scrupulous, providing a hierarchy from most noble to the least best. In his law code, the Mishneh Torah, Maimonides said, 'We must be especially careful to observe the mitzvah of tzedakah, more so than any other positive mitzvah.'"
But they do such good work: "Don't be swayed just because an organization talks about, or someone told you about, 'all the good work they do in Israel.' While doing good work is a necessary criterion for supporting an organization, it is not a sufficient one. Per Maimonides, you must be very, very careful in your giving."
Worthy Reads
Top Dollar: Last year, Americans gave nearly $2.5 billion on GivingTuesday, the first Tuesday after Thanksgiving, writes Bryan Walsh in an Axios report that urges readers to consider donating to charities that give cash directly to people in need — the new "gold standard" in anti-poverty philanthropy. Such charities tend to be very efficient, with low administrative expenses, and the money they disburse has ripple effects into the recipients' communities. "While donating to nearly any charity beats not giving at all, a growing number of studies indicates that giving to charities that channel as much cash as possible to the very poor gets the most value per philanthropic dollar," Walsh concludes. [Axios]
Formative Moments: In The New York Times, David Gelles interviews Jake Wood, the college athlete and Iraq War veteran turned social entrepreneur who cofounded Team Rubicon, a disaster response nonprofit that has deployed veterans to more than 700 catastrophes around the world. Now Wood is starting another organization that aims to democratize corporate philanthropy, and his desire to do good in the world goes back to a childhood trip to the Mauthausen concentration camp, he told Gelles. "When you're that age, you don't really understand what evil is outside of a cartoon depiction of it. But that really put it in perspective," Wood said. [NYTimes]
Community Comms
Use Your Imagination. Take part in an online workshop for Jewish educators on imagination in education and leadership. December 6 presented by Spertus Institute.
Be featured: Email us to inform the eJP readership of your upcoming event, job opening, or other communication.
Word on the Street
For the 43rd year, the annual lighting of the 30-foot National Menorah in Washington, D.C., took place last night, the first night of Hanukkah, on The Ellipse, just south of the White House; speakers included Second Gentleman Doug Emhoff, who brought greetings on behalf of President Joe Biden… The Jewish Agency for Israel named Rabbi Joe Schwartz director of Makom and educational innovation… Deborah Lipstadt will join The Jewish Education Project's David Bryfman tomorrow for a conversation about the challenges antisemitism presents to the Jewish community… Israeli government ministers approved the immigration of thousands of Ethiopians who have been waiting for years to fly to Israel, many spending the period in transit camps; reports indicate the number of those waiting to leave is around 8,000… The family of Jeff Bezos is providing NYU Langone Hospital–Brooklyn $166 million in support of efforts to enhance the health and wellness of diverse populations across the local community… Bloomberg Philanthropies committed $19 million to the Cities for Financial Empowerment Fund in support of government-led efforts to improve the financial stability of low- and middle-income families… The Henry Luce Foundation announced grants totaling $8.8 million in support of women studying and teaching STEM disciplines in which they are underrepresented… More than a third of large and midsize nonprofits in 10 countries report exceeding their fundraising goals in the past year, a report from Salesforce.org finds… A new report from the Charities Aid Foundation found the share of people giving to charity in the United Kingdom continued its downward trend last year, further exacerbated by the COVID-19 pandemic…
Pic of the Day
The Golem Theater and Center of Jewish Performing Arts, a combination theater, artisan café and community space located in Budapest's District 7, a section of the city with Jewish and multicultural traditions dating back several hundred years, recently opened.
Birthdays
Co-founder of Knowledge Universe and founder of the TAP System for Teacher and Student Advancement, Lowell Milken…
Former lord mayor of Westminster, philanthropist and heiress of the UK's Tesco supermarket chain, Lady Shirley Porter… Management analyst for the City of Los Angeles, Lou Loomis… Women's volleyball coach at Penn State University since 1979, Russell David Rose… Senior half of the renowned filmmaking team of the Coen Brothers, Joel David Coen… Chairman of Yad Vashem, Dani Dayan… Comedian, host and judge on NBC's "America's Got Talent," Howie Mandel… Chief rabbi of Safed, Rabbi Shmuel Eliyahu… Rabbi and author, currently president of the National Jewish Center for Learning and Leadership, Rabbi Irwin Kula… Mountain states regional director of the Anti-Defamation League, Scott Levin… Co-owner and CEO of Covenant Wines in Napa, Calif., Jodie Morgan… Former congressman, White House chief of staff, mayor of Chicago, his nomination as U.S. ambassador to Japan is pending Senate confirmation, Rahm Emanuel… CEO of the Georgetown Business Improvement District, Joseph Sternlieb… Brooklyn resident, Andrea Glick… Actress, singer and comedian, Jacqueline Laura "Jackie" Hoffman… Foreign policy and public diplomacy advisor to seven consecutive Israeli prime ministers (1990-2016), now a nonresident senior fellow at the Atlantic Council, Shalom Lipner… New York Yankees Hall of Fame relief pitcher and pro-Israel activist, Mariano Rivera… Former Olympic alpine skier, now a reporter for Sirius XM Radio, Carrie Sheinberg… Louise Rothschild… Research scientist, Gregory Ferenstein… Former development director at Faith and Freedom Coalition, Orit Sklar Kwasman... Chanoch Ben Yaacov… Abigail Langer… Chief operating officer of the Rofeh Cholim Cancer Society, Rabbi Chaim Rapfogel…

Email Editor@eJewishPhilanthropy.com to have your birthday included.