Your Daily Phil: One year on, Jewish groups ready to support renewed Iran protests
Good Wednesday morning!

In today's edition of Your Daily Phil, we report on Jewish organizations' efforts to support protests against the Iranian regime on the first anniversary of the death of Mahsa Amini, and feature opinion pieces from Elana Beame and Denise Moyes Schnur. We'll start with IsraAid's efforts to bring potable water to drought-stricken Kenya.

In the coming months, the IsraAid humanitarian aid organization hopes to provide clean drinking water to some 55,000 people in the Turkana region of northwestern Kenya, one of the areas hardest hit by a brutal drought that has ravaged the Horn of Africa for the past several years, reports eJewishPhilanthropy's Judah Ari Gross.

Over the weekend, the organization broke ground on one borehole, which is now in the process of being turned into a functioning well, and is breaking ground on a second now, Gayle Deighton, IsraAid's country director for Kenya, told eJP on Tuesday.

In addition to these two new wells, the organization plans to rehabilitate or improve between five to seven existing wells, replacing hand pumps for solar-powered ones, fixing broken pumps or running new pipelines to communities that have not had access to water, Deighton said, speaking to eJP over Zoom from Kenya.

In total, the initiative will cost roughly $550,000. The bulk of the funding is coming from the United Methodist Committee on Relief, with additional support from the Seed the Dream Foundation and the Kirsh Foundation. (IsraAid would not disclose the exact amounts donated by each group.)

To provide water to the roughly 55,000 Turkana people in Kenya, IsraAid partnered with two other organizations: Geophysicists Without Borders and BGC Engineering, which assisted with the technical aspects of the drilling project.

In addition to the digging and repair of wells, Deighton said that IsraAid is working with the communities in the area to educate them about proper water supply maintenance and hygiene. The organization is also providing water purification tablets, soap and clean jerricans to store water.

"It's really important that you don't just provide clean water but that they know how to look after that clean water supply and ensure that hygiene and sanitation are followed into the future," she said.

Read the full story here.
Woman Life Freedom
Iran-focused Jewish groups mark first anniversary of Mahsa Amini's death, prepare for new protests
This Rosh Hashanah — Sept. 16 — marks the one-year anniversary of the death of 22-year-old Mahsa Amini after she was detained by Iran's morality police for improperly wearing a hijab. The moment sparked mass protests that cut across sex, creed and class. School girls tore off their hijabs, businesses shuttered in national strikes and women across the Iranian diaspora chopped their locks in support. The year has been trying for many Iranian Jewish leaders working in the nonprofit sector. Activists are putting new initiatives in place to prepare for a new wave of protests inspired by the anniversary, and many are calling for help from the greater Jewish community, reports Jay Deitcher for eJewishPhilanthropy.

Protest grants: "Most revolutions are not consistently in the same level of dynamism," Nazee Moinian, a Middle East Institute analyst and member of the steering committee for the Jewish Committee to Support 'Woman Life Freedom' in Iran (JCWLF), told eJP. "They are heated at one point and they go into a plateau situation, which is where we are now, and then they pick up again." Her organization, which launched in March, distributes microgrants to support Jewish protestors, no matter their background. Three grants have been handed out so far with many more under review, Moinian said.

Unfortunate timing: Yet it has been difficult for many Jewish activists to attend protests over the past year because they are regularly held on Shabbat. Major anniversary protests are scheduled to be held when many Jews will be attending High Holiday services this year. "It's like a slap in the face from the non-Jewish Persian community," Rabbi Tarlan Rabizadeh, vice president for Jewish engagement at American Jewish University, told eJP. As an activist in both Jewish and Iranian circles, she often feels "homeless," she said, "never Persian enough, never Jewish enough, never nothing enough," especially because she also doesn't see many in the greater Jewish community speaking out about the atrocities Iran is involved in, which includes funding much of the terrorism against Israel.

Read the full story here.
Enter adulthood
You are so invited to my mitzvah project
"When you think of the average seventh grader, altruistic is not usually the adjective that comes to mind. According to the new Netflix film 'You Are So Not Invited to My Bat Mitzvah,' seventh grade is a time of awkwardness, growth, exploration and the occasional jump off of a cliff into the local river. But lessons learned in middle school have a way of staying with us, and in Judaism, we provide a scaffolding for kids to wrestle with what it means to grow up through the process of becoming b'nai mitzvah," writes Elana Beame, who oversees the Mitzvah Project Central program at Tzedek America, in an opinion piece for eJewishPhilanthropy.

Committing to the world: "The term 'b'nai mitzvah' literally means 'children of the commandment,' and with this comes a responsibility to engage in acts of tikkun olam, repairing the world. The mitzvah project becomes a tangible embodiment of this commitment, offering young individuals the chance to make a genuine impact in their communities. It is a platform to connect with a cause they deeply care about, demonstrating their readiness to give back and make a difference. In the end, it is a celebration of not only personal growth but also a commitment to the broader world."

Growing up: "'You Are So Not Invited to My Bat Mitzvah' is a poignant reminder that the b'nai mitzvah project isn't just about completing a task. It's about embracing responsibility, discovering the power of selflessness and laying the groundwork for a lifelong commitment to tikkun olam. Just as [lead character] Stacy Friedman's journey evolved from fleeting desires to genuine altruism, so too can the b'nai mitzvah project, guided by resources like the staff of Mitzvah Project Central, evolve young individuals into proactive, compassionate and engaged members of their communities and the world at large."

Read the full piece here.
Back to School
A higher education partnership to elevate Jewish early childhood education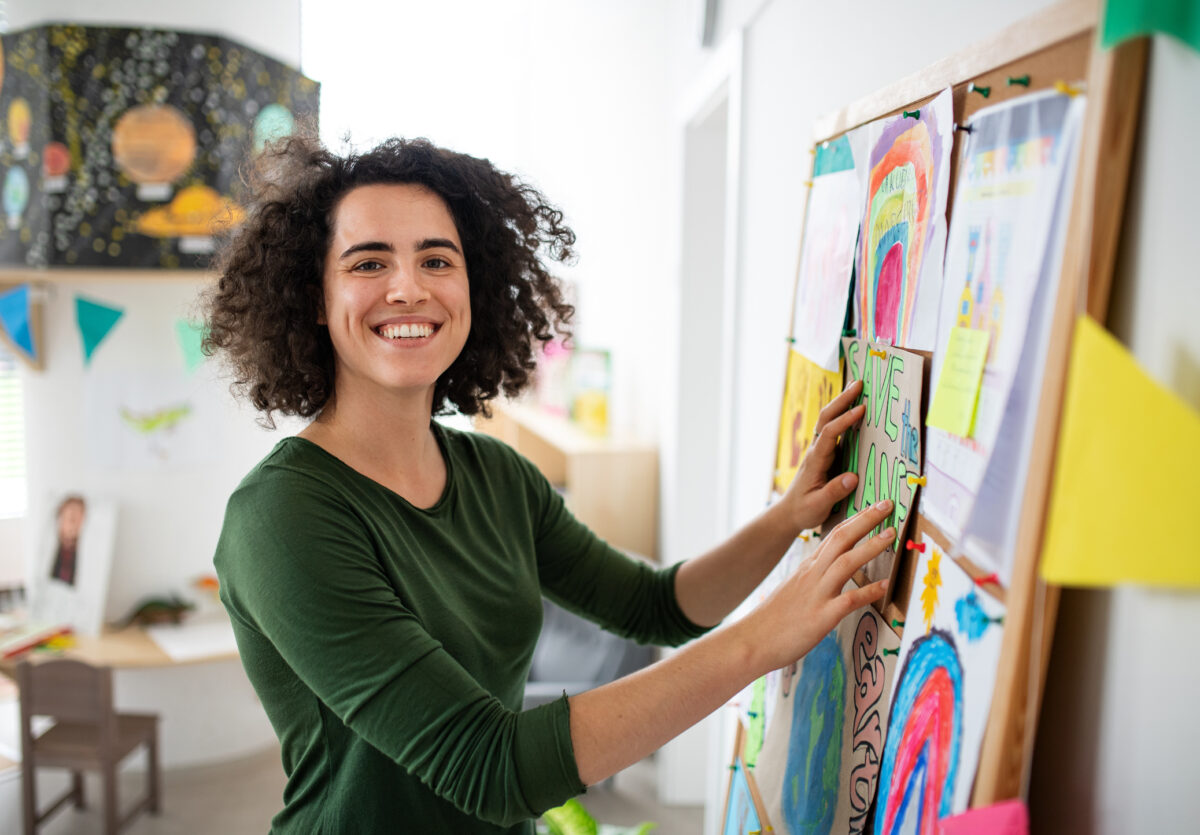 "Early childhood Jewish education is a connector unlike any other entry point into Judaism. Young families are drawn to early childhood Jewish schools for friendships, Jewish experiences, a sense of community and more. But behind the scenes in these settings, educators are struggling," writes Denise Moyes Schnur, a consultant and coach in early childhood Jewish education, in an opinion piece for eJewishPhilanthropy.

A new effort: "Enter 'To Teach and To Learn: A Partnership with the San Francisco Federation and American Jewish University,' which offers an affordable way for educators in Jewish preschools to obtain an advanced degree in early childhood education (ECE) through a Jewish lens… More than two years ago, the Jewish Community Federation and Endowment Fund in San Francisco launched this new initiative, supported by the Rodan Family Foundation, designed to raise the quality, professionalism and compensation of early childhood educators in East Bay Jewish preschools."

A model to follow: "There is no single, easy fix to challenges facing Jewish ECE. In our community, we have taken a huge step forward in the education and compensation of our early childhood educators in Jewish preschools. Based on its first two years, 'To Teach and To Learn' is a success locally and, we believe, is a template for a national model as well. We are continuing to assess and evaluate its ongoing impact and hope other communities and local funders consider their own higher education initiative. Together, these initiatives would have the potential to elevate Jewish ECE as a field — and our talented, committed educators who help our youngest learners and their parents thrive."

Read the full piece here.
Worthy Reads
Teach Your Children Well (About Hashem): In J. The Jewish News of Northern California, rabbinical student Max Antman argues that Jewish educators need to start teaching students about God, or non-Jews will do it. "As educational programs prepare to resume this fall, we must correct this massive educational failure, helping Jewish students fully appreciate the innumerable Jewish conceptions of God… Jewish children are raised amid a deluge of non-Jewish God language and imagery. They grow up seeing portraits of Jesus on posters and watching Zeus send thunderbolts down from heaven… Furthering the problem is our general uneasiness with discussing God. Many Jewish educators don't know how to effectively teach about the Divine. So while God may be mentioned in connection to Jewish text or prayer, students' understanding and relationship remain surface-level… The result is an overabundance of Jewish children who either understand God in non-Jewish terms or abandon belief altogether. But this need not be the case, as Judaism has a rich history of wrestling, engaging and redefining God." [J.]

From Teaching to Saving to Building Resilience: In The Jerusalem Post, Jewish Agency for Israel CEO Amira Ahronoviz discusses her recent trip to Ukraine and her organization's efforts to help the country's Jewish community over the past 18 months. "Although Ukrainians are still very much reeling from the violence that erupted last year when Russian troops invaded the country, they live in a reality of emergency and normalcy at the same time. A reality where much of their lives are out of their control. And still, they are in need of tools to prepare them for the unexpected on a psychological, physical, and spiritual level. Children need to be able to return to school and community members should be able to gather in peace, knowing they have a safe place to run to… Eighteen months ago, the outbreak of violence in the country was a watershed moment at the Jewish Agency for Israel. Overnight, we had to pivot from an organization that provided strength and education to the local Jewish community, to one that provided robust rescue and evacuation efforts." [JPost]
Around the Web
Clarence Jones, a friend and adviser of Rev. Martin Luther King Jr., who helped pen the famous "I Have a Dream" speech, will speak at an event today at Manhattan College in Riverdale, a heavily Jewish area in the Bronx, N.Y., about the neighborhood's connection to the 1963 March on Washington and his commitment to Black-Jewish unity…

U.S. Ambassador to the United Nations Linda Thomas-Greenfield, joined by U.S. Special Envoy to Monitor and Combat Antisemitism Ambassador Deborah Lipstadt, met with leaders of Jewish organizations from across the country for a town hall. During the meeting, Thomas-Greenfield answered questions and "highlighted the United States' efforts to counter antisemitism and anti-Israel bias at the UN"…

Eliav Barr, and his husband, Paul Koulogeorge, pledged $1 million to Washington University in St. Louis in honor of Barr's mother, Miriam, a Holocaust survivor, to support a librarian focused on Jewish and Near Eastern studies…

A new study by the Young, Black & Giving Back Institute found that most Black-led nonprofits operate on budgets of less than $500,000 and 53% said they would shut down if they lost one or two key donors…

Israel won its first-ever gold medals at the rhythmic gymnastics world championships in Spain last weekend, taking the top spots in both the all-around group category and combined exercise…

Hundreds of shellfish were dumped in front of the Alpha Epsilon Pi house at the University of California, Berkeley and thrown through a window over the weekend in what police are calling an "act of antisemitic vandalism"…

Federal Emergency Management Agency Administrator Deanne Criswell warned Floridians to take the incoming Hurricane Idalia "seriously," stressing that the storm is "very strong" and will get stronger before it reaches landfall today…

Jewish philanthropists Steve Tisch and Elaine Wynn donated more than $20 million and $50 million, respectively, to the Los Angeles County Museum of Art to fund the construction of its new David Geffen Galleries… 

Mishpacha magazine eulogized Rabbi Aharon Schechter, the head of Yeshiva Rabbi Chaim Berlin and a former leader in the Agudath Israel of America movement, who died last week, recalling his compassion and dedication to the Jewish people…

New Jersey's Jackson Township will pay $575,000 to settle a state lawsuit alleging that it used local ordinances to discriminate against Orthodox Jews…

The Hawaii Community Foundation's Maui Strong Fund has raised more than $66.1 million and distributed more than $9.2 million in emergency funds to local groups in response to the wildfires that torched the island earlier this month…

Claire Golomb, a Holocaust survivor and psychologist focusing on children's art and imagination, died last month at 95… 
Pic of the Day
Hundreds of participants take part in a Havdalah service earlier this month at the Rohr Jewish Learning Initiative's National Jewish Retreat at JW Marriott Resort and Spa in Desert Springs, Calif.

Over 1,200 people attended the six-day gathering for discussions, speeches and events about "Jewish inspiration, community, and connection."
Birthdays
Actor, comedian and television director, David Paymer…

Author and genealogist, Judith R. Frazin… Basketball star in both the U.S. and Israel, he was a first-round pick of the Baltimore Bullets in the 1965 NBA draft, Tal Brody… Israeli actress known for her role as Chaja Dresner in "Schindler's List," Miri Fabian… Israeli right-wing activist and a former mayor of the Kedumim settlement, Daniella Weiss… Stand-up comedian, Lewis Niles Black… Author of the novel Dead Poets Society, which is based on the movie of the same name, Nancy H. Kleinbaum… Hasidic rebbe of Zvhil-Mezhbizh, based in Boston, Miami and Jerusalem, Rabbi Yitzhak Aharon (Ira) Korff… Producer for CBS News, Murray Weiss… Israeli vocalist who sings in Hebrew, Turkish and Spanish, he was a judge in the inaugural season of "The Voice Israel," Shlomi Shabat… Rosh yeshivah at Yeshivat Maale Gilboa and the rabbi of Kibbutz Lavi, he served as a member of the Knesset for the Meimad party, Rabbi Yehuda Gilad… Co-founder of Maoz leadership network in Israel, Deborah Cogen Swartz… U.S. senator (R-NC), Thom Tillis… Business manager of the Perth Amboy (N.J.) Free Public Library, Herschel Chomsky… Partner at N.J.-based law firm, Rubenstein, Marucci & Shinrod, Richard B. Rubenstein… Corporate strategist and author of best-selling First Friends: The Powerful, Unsung (and Unelected) People Who Shaped our Presidents, Gary L. Ginsberg… Member of the U.K.'s House of Lords, former executive editor of The Times of London where he remains a weekly political columnist, Baron Daniel Finkelstein … Israeli venture capitalist and social entrepreneur, Elie Wurtman… Eldad Yaron… Israeli television presenter, actor and singer, Tal Mosseri… Director of search and analytics for Politico, Mitchell Schuler… Politician who founded the anti-Trump resistance movement Daily Action, Laura Moser… Principal at Neuberger, Quinn, Gielen, Rubin & Gibber, Simon Marciano… Political fundraiser in Massachusetts, Julia Hoffman… Actor, following in the footsteps of his father Dustin Hoffman, Max Hoffman… Member of the New York City Council representing a portion of Brooklyn, Inna Vernikov… Director of external affairs at Upstream USA, Margy Levinson… Project manager at Shalom Bayit Construction in Beverly Hills, Mati Geula Cohen…