Your Daily Phil: Nonprofit lender fills void to help cash-strapped Israelis
Good Thursday morning!
In today's edition of Your Daily Phil, we report on a new Anti-Defamation League campaign to combat antisemitism in the workplace and Jewish leaders' response to Turkish President Recep Tayyip Erdogan's defense of Hamas. We feature opinion pieces by Barak Sella and Rabbi Liz P.G. Hirsch. Also in this newsletter: Rabbi Yonah Hain, Richard Fishman and Evan Gershkovich. We'll start with a new initiative to help Israelis hurt financially by the ongoing war.
More than 2,000 Israelis have applied for no- or low-interest loans from the nonprofit lender Ogen this week, as the ongoing war with Hamas has displaced tens of thousands of Israelis and wreaked havoc on the national economy, the organization's CEO told eJewishPhilanthropy's Judah Ari Gross.
This week, Ogen — formerly known as the Israel Free Loan Association — launched the Swords of Iron Emergency Economic Relief Fund, referring to the Israeli military's official name for the war, which is meant to provide assistance to Israeli individuals, small businesses and nonprofits. Ogen has already raised $10 million for the fund through philanthropy, which CEO Sagi Balasha said the organization can "leverage" to provide several times that in loans. However, Balasha said this amounts to a "drop in the bucket" in light of growing needs.
The goal of the fund is to provide at least 1,000 no-interest loans to individuals and families, 300 loans to small businesses, and 133 loans to nonprofits, which they estimate will help more than 30,000 people, according to Ogen.
"This crisis started on the 7th and a day after it started, on the 8th, we already met and understood that… there will be an enormous economic crisis in the entire country, not just in the Gaza periphery," Balasha told eJP this week. "Of course, the Gaza periphery is the center of this war, but businesses all around the country are shut down. More than 350,000 people were called up to the reserves, and many, many types of small businesses are inactive or losing a big chunk of their revenue. And people who cannot make a living."
The government's response to the economic ramifications of the war has been limited so far, according to John Gal, a Hebrew University professor and the chair of the social welfare policy program at the Taub Center think tank in Jerusalem.
The emergency fund launched on Oct. 22 and "within 24 hours, there were like 2,000 applications. Not all of them fit, not all of them meet the criteria, not all of them will end up getting lonas, of course, but we are bombarded because we are practically the only ones right now," Balasha said.
SCOOP
More than 100 firms sign new ADL pledge to combat antisemitism
More than 100 companies have signed the Anti-Defamation League's Workplace Pledge Against Antisemitism, which it launched following the Oct. 7 terror attacks and subsequent global rise in antisemitic incidents, with "the list growing by the day," the organization told eJewishPhilanthropy's Haley Cohen.
Jewish support: As part of the pledge, corporations agree to "incorporating antisemitism in [diversity, equity and inclusion] efforts, updating religious accommodations, and supporting the development of Jewish employee groups." The signatories include Adidas, Google, the United Parcel Service, the National Basketball Association, Accenture, NASCAR and Tripadvisor.
Relying on allies: "It's really gratifying to see so many large companies and brand names making a firm commitment to fight antisemitism in the workplace and beyond," Jonathan Greenblatt, ADL's CEO, said in a statement sent exclusively to eJP. "At a time when antisemitism is surging around the world, it is comforting to know we have powerful allies in the business community who are willing to use their bully pulpits to prevent workplace prejudice and take a stand against hate."
Turrkey talk
American Jewish leaders denounce Erdogan for defending Hamas
American Jewish leaders are forcefully denouncing Turkish President Recep Tayyip Erdogan after he canceled a previously planned visit to Israel and claimed that Hamas is not a terrorist organization but a liberation group waging a battle to protect its land and people, reports Matthew Kassel for eJewishPhilanthropy's sister publication Jewish Insider.
From cordial to this: Erdogan's comments — a sharp reversal from his recent, friendlier rhetoric toward Israel — sparked an immediate uproar among American Jewish leaders who had met separately with the Turkish president last month for an hour-long conversation that several participants had characterized as encouragingly cordial.
His true face: "When Erdogan embraces Hamas and criticizes Israel for defending itself, what we are seeing is the real Recep Erdogan," William Daroff, the CEO of the Conference of Presidents of Major American Jewish Organizations, told JI on Wednesday. "We now know that he is a charlatan who is much more interested in promoting the murder of Jews than he is in being a man of peace who's interested in engaging in a positive way in the Middle East."
Read the full report here and sign up for Jewish Insider's Daily Kickoff here.
A new school of thought
The war with Hamas must be a moment of reckoning for elite American universities
"I've researched anti-Israel sentiment on college campuses for years and co-authored a study documenting the connection between radical progressives and the Muslim Brotherhood. Still, I never imagined that students from the best university in the world would wholeheartedly support the killing of infants and kidnapping of the elderly," writes Barak Sella, a former director of the Reut Institute and current student at the Harvard Kennedy School of Government, in an opinion piece for eJewishPhilanthropy.
What is happening: "If American universities lack the ability to oppose terrorism, how can they fulfill their mission as the epicenter of democracy? Hamas' horrific acts must be a breaking point, separating actual progressive ideas from the lies masquerading as radical leftism. Journalist Alexander Nazaryan described it precisely: 'The reason you're seeing paralysis from so many elite figures and institutions right now is because they never thought they would have to apply their social justice precepts to Jews. Faced with that prospect, they simply don't know what to do.'"
Time to reallocate: "After four months at Harvard Kennedy School, I've been to lectures on almost every type of inequality and oppression — except that directed at Jews. Instead of waiting for universities to change, we should consider developing more Jewish alternatives to higher education that will be open to Jews and non-Jews alike and attract the best minds worldwide."
Listen to your partners
To support Israel right now, tap into deep relationships
"One of my first calls following the initial shock of Hamas' attack was to our partners at the Israel Movement for Progressive Judaism (IMPJ). … I approached my call with our partner with no assumptions. I was calling with a willingness to learn and a commitment to making a difference. As a grant-making body with strategic, long-term partnerships with progressive and feminist organizations, I knew to turn to these relationships," writes Rabbi Liz P.G. Hirsch, executive director of Women of Reform Judaism, in an opinion piece for eJewishPhilanthropy.
Make the most of your bond: "Fundraising can be both broad-based and targeted. For targeted appeals, relationships are at the foundation. Relationships take the guessing out of problem-solving from a distance, often catching the nuances that may have otherwise been lost. Through the strength of relationships, in addition to asking good questions and responding to specific and potentially unmet needs, we can make the biggest difference."
Worthy Reads
In the Wreckage: Jewish Insider's Ruth Marks Eglash reflects on her recent visit to one of the hardest hit communities on the Gaza border, which was decimated on Oct. 7. "Nothing prepared me for a visit on Monday to the scene of one of the worst Hamas atrocities on that awful Saturday: Kibbutz Be'eri. Known for the blooming red flowers that cover the landscape each spring, this fall, the fields and communities surrounding the Palestinian enclave were covered in red blood… The destruction and the smell of death, even two weeks later, were everywhere. Around the kibbutz's wire perimeter fence, which Hamas terrorists easily tore down, the army had erected mounds of dirt to stop any future infiltrations. On the day I was there, army tanks raced back and forth preparing for a likely ground invasion into Gaza. Soldiers, weapons ready, were everywhere… How will the kibbutz ever be able to rebuild after this? I thought with a shudder. Would they even want to?" [JewishInsider]
Don't Forget Us Now: In The Baltimore Banner, Rachel Garbow Monroe, president and CEO of The Harry and Jeanette Weinberg Foundation, commends Baltimore community members and leaders and Maryland state officials for showing up to express solidarity with the Jewish community following the Oct. 7 attacks by Hamas. She also urges people to continue being mindful and supportive as incidents of antisemitism continue to rise rather than let their attention taper off with time. "This is not a moment for silence. Each of us must challenge these acts of antisemitism and Islamophobia, which is also on the rise, to show those feeling vulnerable how much we care and how loudly we will use our voices to say no to hate. In the words of the late Rabbi Jonathan Sacks: 'For though my faith is not yours and your faith is not mine, if we each are free to light our own flame, together we can banish some of the darkness of the world.' We all have a voice. Let us use our collective voices to demand safety and support for all who tremble in the shadow of terror and hate. That is how we banish darkness in our community. That is how we say to the world, 'Never again.'" [BaltimoreBanner]
The Day the Clown Cried: In The Times of Israel, Renee Ghert-Zand interviews medical clowns about their work in the wake of the Oct. 7 attacks. "'I've been a medical clown for decades. I've worked during the COVID pandemic, military operations, other wars — but this is different,' [medical clown David] Barashi said. 'The entire society is traumatized. It's not just those receiving medical treatment, it's also those giving it,' he said… 'My stomach has been in knots, but I still need to be here for others. One day after the start of the war I came into the hospital. I was still in my street clothes and I was bawling. I was really stressed and having panic attacks,' [another medical clown, who goes by the moniker Olive Emla, Iris Lia] Sofer shared. 'But when I changed clothes and put "Olive" on, everything changed. She is a whole different character. She does for me what I do for other people. She's healing my soul,' she said." [TOI]
Around the Web
Ahead of tomorrow's five-year anniversary of the Tree of Life shooting, the families of the 11 people who were murdered told the Pittsburgh Jewish Chronicle how the Jewish community can honor their loved ones' legacies…
Brandeis University's student government failed to pass a resolution condemning Hamas and calling for the terrorist group to release its more than 220 hostages, which one member who resigned in protest called "absolutely infuriating"…
The Brooklyn Community Foundation is dropping the word "foundation" and adopting the moniker Brooklyn Org because "there's a perception that we're hearing from the next generation of givers that 'foundation' feels a little old and a little controlling," according to its president, Jocelynne Rainey…
Seven House members who are alumni of The George Washington University penned a letter condemning a protest on its campus this week in which anti-Israel slogans, including "glory to our martyrs," were projected on the side of a library and criticizing the university's response to it…
The Chan Zuckerberg Initiative is donating $250 million over the next 10 years to create a new biomedical research hub in New York…
Rabbi Yonah Hain, the campus rabbi of Columbia/Barnard Hillel, wrote an opinion piece in the Columbia Spectator, saying the university had "lost its moral compass" by tolerating support for the Hamas terror group…
An assailant armed with a knife broke into a Jewish family's home in Los Angeles and attempted to murder them before the husband forced the man outside, where he was arrested by police…
The Public Health Regenerative Leadership Synergy (PHEARLESS) initiative, the product of an $8.5 million investment from the Kresge, Robert Wood Johnson and de Beaumont foundations, launched yesterday. The initiative aims to strengthen public health systems, address health inequities and boost health outcomes…
Bloomberg Philanthropies is awarding $1 million grants to eight U.S. cities for temporary public art projects that "address an urgent civic issue"…
A new art exhibit highlighting the alliance between the Black and Jewish communities is being displayed at the Skirball Cultural Center in Los Angeles…
Richard Fishman, a longtime member of the American Israel Public Affairs Committee and architect of its shift to political fundraising, died on Tuesday at 62…
Pic of the Day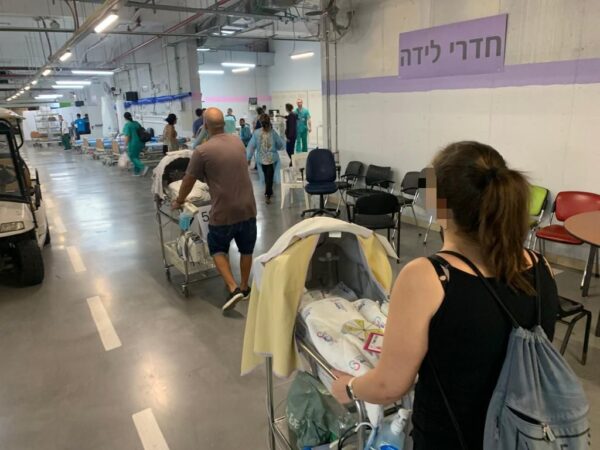 Two of 20 premature babies, patients at Sheba Medical Center in Ramat Gan, Israel, are shown here being moved this week to the medical center's underground parking deck. Sheba has relocated its Pediatric and Cardiac Intensive Care Department to this spot because it is fortified and deep enough to withstand direct rocket attacks.
Birthdays
Journalist for The Wall Street Journal, now unlawfully detained in a Russian prison, Evan Gershkovich…
Former chief justice of the New Jersey Supreme Court, Deborah Tobias Poritz… South African judge who led the 2009 U.N. fact-finding mission on the Gaza conflict of that year, Richard Goldstone… Veteran Israeli war correspondent, winner of the 2018 Israel Prize, Ron Ben-Yishai… Actress best known as one of Charlie's Angels, she now develops and markets her own brands of clothing and perfume, Jaclyn Smith… Chiropractor in White Plains, Leonard Linder, DC… Certified life coach and hypnotherapist, Evie Sullivan… CEO at MDI Real Estate Services in Grand Blanc, Mich., Gary Hurand… Former secretary of state Hillary Rodham Clinton… Media critic at The Baltimore Sun, assistant professor at Goucher College and the author of The Jews of Prime Time, David Lee Zurawik… Aventura resident, Cecilia Kleiman… Illustrator and graphic memoirist, he is an emeritus professor at Kutztown University of Pennsylvania, Martin Lemelman… Rabbi of Congregation K.I.N.S. and Dean of Ida Crown Jewish Academy in Chicago, he is a past president of the Rabbinical Council of America, Rabbi Leonard Matanky, Ph.D.… Senior counsel in the antitrust division of the USDOJ, Perry Howard Apelbaum… Director of communications at The Washington Institute for Near East Policy, Jeffrey Rubin… Pulitzer Prize-winning author, Stacy Madeleine Schiff… Cultural commentator and mathematician, Eric Ross Weinstein… Founding partner and president of Global Strategy Group, Jefrey Pollock… Screenwriter, director, producer and editor, Jessica Sharzer turns 51… Canadian-born television and film actor, David Julian Hirsh… Staff writer for The New York Times Magazine, her 2019 novel Fleishman Is In Trouble hit the best-seller lists, Taffy Brodesser-Akner… Author and broadcast journalist for NBC, Katherine Bear Tur… Figure skater who won a 2006 Olympic silver medal, plus three World Championship medals and the 2006 U.S. Championship, Alexandra Pauline "Sasha" Cohen… Executive director of product management at Politico, Danielle Feldman… Tel Aviv resident, Dr. Alberto Calo…