Your Daily Phil: New efforts to transform the b'nai mitzvah project
Good Friday morning!
In today's edition of Your Daily Phil, we report on how Jewish teens across the country are transforming the b'nai mitzvah project, and feature an opinion piece from Andrés Spokoiny. Also in this newsletter: Alex Soros, Elisabeth Lerner and Steven J. Sidewater. We'll start with the latest developments in the Biden administration's national strategy to combat antisemitism. Shabbat shalom and chag sukkot sameach!
For less-distracted reading over the weekend, browse this week's edition of The Weekly Print, a curated print-friendly PDF featuring a selection of recent Jewish Insider, eJewishPhilanthropy and The Circuit stories, including: U.S. groups laud Israel's entry into the Visa Waiver Program, say it heralds deeper ties; Menendez's legal woes could reshape direction of Democratic foreign policy; Israel's new antisemitism envoy primed for battle in 'ongoing war.' Print the latest edition here.
A new set of policy directives issued by the Biden administration on Thursday aims to counter antisemitic discrimination in federally funded programs and activities, including public transportation, food programs and federal housing programs. The move is one of the most significant policy steps taken by President Joe Biden since the White House released a national strategy to counter antisemitism in May, report Gabby Deutch and Marc Rod for eJewishPhilanthropy's sister publication Jewish Insider.
Eight federal agencies announced a broad expansion of a key protection in the Civil Rights Act of 1964. Title VI of the landmark legislation will now extend to certain forms of antisemitism, Islamophobia and other religious discrimination.
Similar guidance has been in place at the Department of Education since 2004. A 2019 executive order issued by former President Donald Trump required agencies that enforce Title VI to consider the International Holocaust Remembrance Alliance's working definition of antisemitism.
"I am absolutely delighted that this policy to protect Jewish students has been reinforced today and extended to a wide range of agencies, and also used in a way that can protect [people] from other ethno-religious backgrounds as well," said Ken Marcus, the founder of the Louis D. Brandeis Center for Human Rights Under Law, who helped author the 2019 policy as the then-assistant U.S. secretary of education for civil rights.
Jewish groups hailed the White House's decision. The Conference of Presidents of Major American Jewish Organizations said in a statement that the new directives "ensure that antisemitism is not treated as a second-class form of bigotry in the eyes of federal agencies, particularly with regard to antisemitism on college campuses." The American Jewish Committee said the designations would allow it to work with "leaders across sectors… [to] mount a more effective response to rising antisemitism."
Read the full report here and sign up for Jewish Insider's Daily Kickoff here.
MITZVAH PROJECT MANIA
New initiatives look to help Jewish teens connect to themselves and their community before becoming adults
As Jewish youth learn the cantillation for their Torah portions, worry about the notes of the haftarah and navigate the social pressures of the parties, they are also giving back to their communities as part of their b'nai mitzvah training, raising funds and awareness for favorite causes, learning new skills and developing their passions, in a shift away from more one-dimensional mitzvah projects of old, reports eJewishPhilanthropy's Esther D. Kustanowitz.
Not just fundraising: Todd Shotz, founder of b'nai mitzvah prep company Hebrew Helpers and the Mitzvah Learning Fund, which provides grants for Jewish learning opportunities, said his organization's students are encouraged to pick an ongoing project, to "use this moment as a launching pad for a life dedicated to tikkun olam." Hebrew Helpers also asks its students — now more than 1,200 b'nai mitzvah trained — to go beyond fundraising and actively volunteer for their chosen cause if possible. "It is always engaging to a student if the charitable cause is centered around an interest or passion of theirs," Shotz said.
Pick a project: Elana Beame, who spearheads the mitzvah project program at Tzedek America, recalled a student in Southern California who was passionate about food waste. "He learned how grocery stores and markets will throw away produce no longer at selling standards. This produce was still completely edible. He took the initiative to go to his local grocery stores, markets and farms and started rescuing the produce that would be thrown away and instead donated them to local food banks," Beame said. "He used rescued produce to create table centerpieces at his celebration, which were then donated to a food bank immediately following the party."
A FRAGILE SUKKAH
'Out of many, one' is the aspirational metaphor of Sukkot — and the cost of embracing divisiveness is its cautionary tale
"In the time of the Second Temple, the Jews were, as usual, divided. The Sadducees, comprised of the priestly class and the wealthy, stood opposed to the Pharisees, who included the rabbis, the sages, the Essenes and other sects, and most of the people. The tension between these groups was high; but on Sukkot, divisions would be forgotten and the liturgy carefully designed to contemplate the sensitivities of each faction. … On one particular Sukkot, however, all that would change," writes Andrés Spokoiny, president and CEO of the Jewish Funders Network, in an opinion piece for eJewishPhilanthropy.
A pivotal moment: "Tens of thousands of pilgrims had participated in the Water Ceremony and were now massed on the Temple esplanade, carrying their 'Four Species' and waiting for Yannai, as High Priest, to pour the ritual water over the altar. The Sadducees didn't believe in that ritual, but they were a minority. The masses were tense, and the air was pregnant with hope and anticipation. The pouring of the water would beseech a loving God to bless His people with a good year: one with rains and crops, peace and health. Yannai took up the golden jar, looked at the crowd, and then defiantly poured the water on his own feet as the Sadducees clapped and laughed."
Strengthening our 'sukkah,' together: "As funders and leaders, each of us can contribute to making this Sukkot a feast of unity and togetherness instead of one of division and internecine hatred. Maybe we can show ourselves and the world that we learned something from that Sukkot 2,000 years ago. Maybe we can realize that our shared home is fragile, like a sukkah, and needs all the care and love that we can give it."
Worthy Reads
The Synagogue as a Home: In J. The Jewish News of Northern California, Brooke Wirtschafter discusses the decision by her Los Angeles synagogue, IKAR, to build affordable housing on its property. "How should a Jewish community build a sacred home? What should be included in a physical space that will serve as a container for the community members' shared life?… We knew we wanted flexible meeting spaces that we could share with our wider multifaith, multiracial L.A. community, classrooms and play space for our children, outdoor space for gathering and gardening. We also wanted to build an expression of our deepest values… At IKAR, we decided the best thing we could do with our land in West L.A., which is rich in transit and other amenities, was to build affordable homes for those who are struggling alongside the home we envision for ourselves." [J.]
Putting the Cart Before the Horse: While a personal passion can be channeled into meaningful and impactful philanthropic endeavors, letting it be the guiding engine of one's philanthropic strategy can actually lead to underwhelming outcomes, writes Garrett Garcia, president of the Garcia Family Foundation, in a blog post for Philanthropy Roundtable. "Sadly, the reality is the philanthropic world is riddled with inefficiencies, and leading with a personal interest you are passionate about can perpetuate this problem. … To be an effective philanthropist, one must first identify the end, that is, the beneficiary they seek to serve, then work backward to assess their needs, and only then identify how the needs can be met." [PhilanthropyRoundtable]
A (Small) Breath of Fresh Air: According to a report from the Clean Air Fund covered in Philanthropy News Digest, 2021 was the first time international development funding for clean air projects exceeded aid-related funding for fossil fuel projects. Nevertheless, "the analysis showed that between 2015 and 2021, only 1 percent ($17.3 billion) of international development funding and only 2 percent ($11.6 billion) of international public climate finance went toward investments in clean air. Moreover, the small success in cutting development assistance for fossil fuels remains overshadowed by government subsidies for domestic oil, gas, and coal use and production, which amounted to $7 trillion in 2022, according to an International Monetary Fund study highlighted in the report." [PhilanthropyNewsDigest]
Around the Web
Camp Kinder Ring is spinning off from the Workers Circle to become an independent nonprofit organization…
U.S.-based nonprofits spend an estimated $7.8 billion to $9.2 billion annually to address climate change, according to a new survey by Indiana University Lilly Family School of Philanthropy…
Acting on behalf of the FBI, Peruvian authorities arrested a citizen of the country, Eddie Manuel Nunez Santos, for allegedly trying to obtain child pornography and making hoax bomb threats to over 150 institutions across the United States, including a number of Jewish ones, in recent weeks…
Hadassah hosted a briefing with Rep. Debbie Wasserman Schultz (D-FL) on the role of American women in the Zionist movement and the need for U.S. support for Israel…
Elon Musk said he was open to visiting Auschwitz during a live-streamed event on antisemitism and free speech that was hosted on his social media platform X by conservative commentator Ben Shapiro…
A Torah scroll that was evacuated from a synagogue in the Ukrainian city of Kharkiv during a period of heavy Russian artillery strikes last year has been repaired and returned by Project Kesher ahead of next week's Simchat Torah holiday. The effort was funded by philanthropist Elisabeth Lerner and her father, Laurence, in honor of her mother and great-grandparents who were killed in Ukraine during the Holocaust…
Alex Soros has put Open Societies Foundations grant-giving on hold for the next five months as the $25 billion nonprofit brings in Deloitte to help restructure the organization…
The Florence Melton School of Adult Jewish Learning is partnering with the Jewish Deaf Resource Center to provide online learning classes in American Sign Language…
The Atlanta Jewish Times profiled Marcus Brodzki, who for years worked as a fundraiser for Jewish causes but gave up that career to become a professional poker player…
Jason Moss, executive director of Jewish Federation of San Gabriel and Pomona Valleys, Calif., was appointed to a four-year term as a commissioner to the ?Los Angeles County Commission on Human Relations…
Steven J. Sidewater, a women's clothing mogul and major donor to Philadelphia Jewish causes, died earlier this month at 79…
Pic of the Day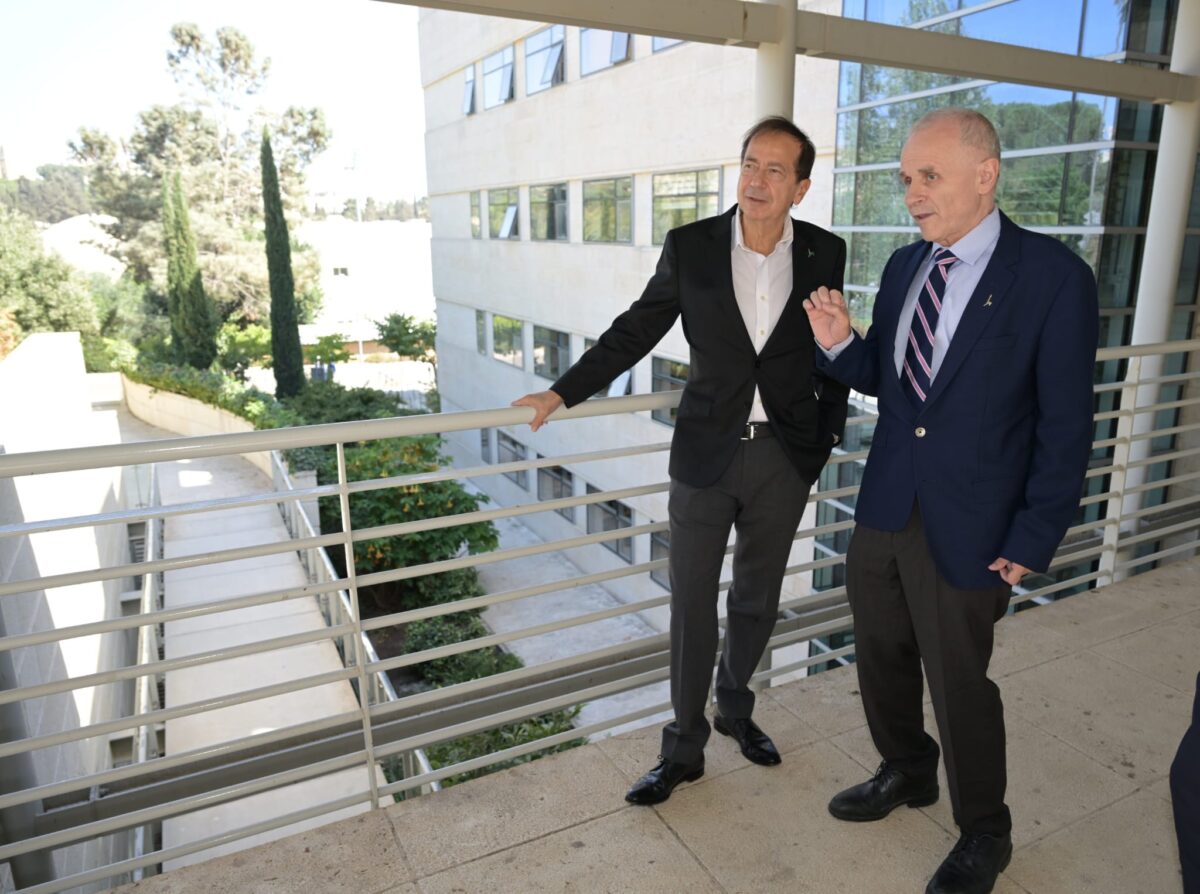 John Paulson (left), an American hedge fund manager, stands with Hebrew University President Asher Cohen on the institution's Givat Ram campus in Jerusalem yesterday during an event celebrating a $27 million donation by the Paulson Family Foundation toward the construction of a new building for the Rachel and Selim Benin School of Computer Science and Engineering.
"The new building will provide these sharpest of minds, who are present on campus around the clock, with modern learning and research spaces to the highest international standards, and will also be the home of an AI research center that we are in the process of establishing," Sara Cohen, dean of the school, said in a statement.
Birthdays
President and CEO of Hadar Institute in Manhattan, Eliezer "Elie" Kaunfer celebrates his birthday on Saturday…
FRIDAY: Professor of physics emeritus at MIT, he is a 2017 Nobel Prize laureate in Physics, Rainer Weiss… Israeli author, translator, journalist and restaurant critic, Avital Inbar… Retired CEO of Southern California-based LinQuest Corporation, he is the finance VP at Temple Sinai, Leon Biederman, Ph.D…. Former member of the Knesset, he serves as the executive director of Beit El Yeshiva and as chairman of Arutz Sheva, Ya'akov Dov "Katzele" Katz… Past treasurer of the Board of Trustees of The Jewish Federations of North America, Harold Gernsbacher… Tony Award-winning actor and singer, Roger Bart… Composer and pianist, he is the winner of the 2020 Azrieli Foundation Prize for Jewish Music, Yitzhak Yedid… Chief strategy director for national affairs at AIPAC, Brian Shankman… Director of the Smithsonian Institution's office of international relations, Aviva Rosenthal… City controller of Philadelphia until 2022, Rebecca Rhynhart… YouTube-based yoga instructor with almost 1.4 billion views, Adriene Mishler… Program manager at NYC's Neighborhood Restore, Aron Chilewich… Research director at DC-based S-3 Group, Shawn Pasternak… Film and television actress, Clara Mamet…
SATURDAY: Former prime minister of Israel, Ehud Olmert… IT developer and business analyst, Sanford Kadish… Chairman and CEO of AMC Entertainment, he is a co-owner of the Philadelphia 76ers, Adam Maximilian Aron… Actress and activist, she was elected in 2021 as president of the SAG-AFTRA trade union and re-elected a few weeks ago, Fran Drescher… Co-founder and CEO of Avenue Capital Group and the co-owner of the NBA's Milwaukee Bucks until earlier this year, Marc Lasry… Professor of mathematical logic at Oxford, Ehud Hrushovski… Founder and president of the Menomadin Group and president of the Menomadin Foundation, Haim Taib… Journalist for Haaretz, Allison Kaplan Sommer… Professor of healthcare economics at MIT and an architect of Romneycare and Obamacare, Jonathan Gruber… Leora Lily Ihilevich Usman… Lisa K. Robbins… Israel's U.N. ambassador, Gilad Menashe Erdan… SVP of digital product management at The Advertising Council, Anastasia Goodstein… Russia and Eastern Europe editor for the Washington Post, David Herszenhorn… CEO of Via Trading Corporation, Jacques Stambouli… Founder of Artemis Strategies, a boutique consultancy, Hildy Kuryk… Host of NPR's "All Things Considered," Ari Shapiro… Screenwriter, director, producer and actor, Jonathan Peter Kasdan… Computer scientist and a co-founder of Palantir Technologies, Stephen Cohen… Deputy coverage chief of speed and trending news at The Wall Street Journal, Steven Russolillo… Mixed martial artist who competes in the lightweight division in the Ultimate Fighting Championship, Natan Levy…
SUNDAY: MLB second baseman who appeared in 18 straight All-Star Games, he is immortalized as Jewish in Adam Sandler's "Chanukah Song," Rod Carew… Senior judge of the U.S. Court of Appeals for the Ninth Circuit, Andrew David Hurwitz .. Professor at the Technion, he won the 2004 Nobel prize in Chemistry, Aaron Ciechanover… Copy editor at Politico, Andrew Goodwin… Film, stage and television actress and, since 2009, an ordained Jewish cantor, Lorna Patterson… The first ever Jewish chief justice of the Washington State Supreme Court, Steven C. González… Reality television personality, model and actress, Cynthia Dawn "Cindy" Margolis… Director of philanthropic partnerships at the Bill & Melinda Gates Foundation, Robert A. Rosen… Film director, screenwriter and producer, Stacie Passon… SVP at FGS Global, Robert Bennett Seidman… Director at the National Security Network of the Foundation for Defense of Democracies, Samantha J. Greenberg… Consultant at Deloitte focused on critical infrastructure risk, Samuel Koralnik… Business development manager at Cympire, Yossi Raskas… Scott Rosenthal…