Your Daily Phil:  Nearly 300,000 said to march for Israel in largest rally of its kind
Good Wednesday morning.
In today's edition of Your Daily Phil, we interview JSpace Canada Chair Joe Roberts, and feature opinion pieces from Tyler Gregory and Paul Bernstein about yesterday's March for Israel. Also in this newsletter: Rabbi Seth Winberg, Dr. George Breitberg and Adam Lehman. We'll start with Tuesday's march in Washington, D.C.
A pro-Israel crowd estimated to be nearly 300,000 packed the area from the West Front of the U.S. Capitol to the Reflecting Pool for what is being described as the largest such gathering in U.S. history, report eJewishPhilanthropy's Haley Cohen and Jewish Insider's Gabby Deutch from the scene.
Supporters waved Israeli and American flags by the thousands, and an equal number of signs signaled support for the Jewish state at a fraught moment and drew attention to the hundreds of hostages being held in Gaza.
Speakers, including congressional leaders, high-profile celebrities and the families of those being held hostage in Gaza, took to the stage to voice support for Israel's right to defend itself after Hamas' Oct. 7 terrorist attack, as well as to condemn the subsequent rise of global antisemitism.
Israel supporters came from near and far to Washington for the march, which was planned in just over a week by the Jewish Federations of North America and the Conference of Presidents of Major American Jewish Organizations. The organizers estimated that there were at least 290,000 attendees – a larger turnout than the two largest Jewish community rallies on the National Mall in D.C., during the Second Intifada in 2002 and in support of Soviet Jews in 1987, which drew 100,000 and 250,000, respectively. Conference of Presidents CEO William Daroff said that an additional 250,000 people watched the livestream of the rally online.
Buses and planeloads carrying attendees to D.C. were organized by local Jewish federations, schools, synagogues and Jewish community centers, including an estimated 12,000 day school students from across the country, according to Prizmah, the network for Jewish day schools. The historic turnout would have been larger if not for a delegation of 900 people organized by the Jewish Federation of Detroit that was left stranded at Washington's Dulles Airport after their buses were canceled when the drivers reportedly refused to drive them into the capital, according to a local Federation leader, who alleged that the drivers had deliberately staged a "malicious walk-off." Some buses chartered by the Israel American Council in New York reported similar issues.
The State Department's antisemitism envoy, Ambassador Deborah Lipstadt, told the crowd that the Biden administration "stands shoulder to shoulder against Jew-hatred."
"Today in America we give antisemitism no sanction, no foothold, no tolerance, not on campus, not in our schools, not in our neighborhoods, not in our streets or the streets of our cities. Not in our government. Nowhere. Not now, not ever," Lipstadt said.
Q&A
JSpace Canada's Joe Roberts discusses moving from 'far-left' to the Zionist majority, without changing his opinions
The Oct. 7 massacres in southern Israel and the subsequent war between Israel and Hamas has revealed, reinforced and clarified dividing lines within the North American Jewish community, separating a Zionist majority from a far smaller anti-Israel minority. This sudden realignment can be seen starkly on the X account of Joe Roberts, the chair of JSpaceCanada and Meretz Canada. Until Oct. 7, Roberts' page was largely filled with criticism of the Israeli government, but since the Hamas attacks, Roberts has emerged as a strident supporter of the Israeli military's aim of toppling Hamas in Gaza and a fierce critic of anti-Zionist groups and rhetoric, particularly from the left.
Earlier this month, eJewishPhilanthropy's Judah Ari Gross spoke with Roberts about this current moment, how it feels to be allied with people and organizations that were once ideological rivals and how his group is now using the liberal political capital it's earned to go to bat for Israel.
Judah Ari Gross: We appear to be in a moment where groups and individuals who in the past were considered far-left and beyond the pale as it relates to Israel issues are suddenly finding themselves on the same page and working in tandem with mainstream organizations. Is that a fair assessment?
Joe Roberts: I think in some ways the thesis of the liberal Zionist movement or progressive Zionist movement, whichever you want to call it, has been proven to be true.
I lived through the birth of J Street in the United States and then the launching of J Space here in Canada, and there's been a lot of rhetoric of "Oh, they're anti-Israel, they don't love Israel, they're not Zionists." And it's not true. I think that this proves that it couldn't have been farther from the truth, that criticism of the policies of the government of Israel have been with the best intentions. Because when push comes to shove, here we are, right? We're fighting for the Jewish future of Israel.
After the March
We came to Washington united. We left with our work cut out for us.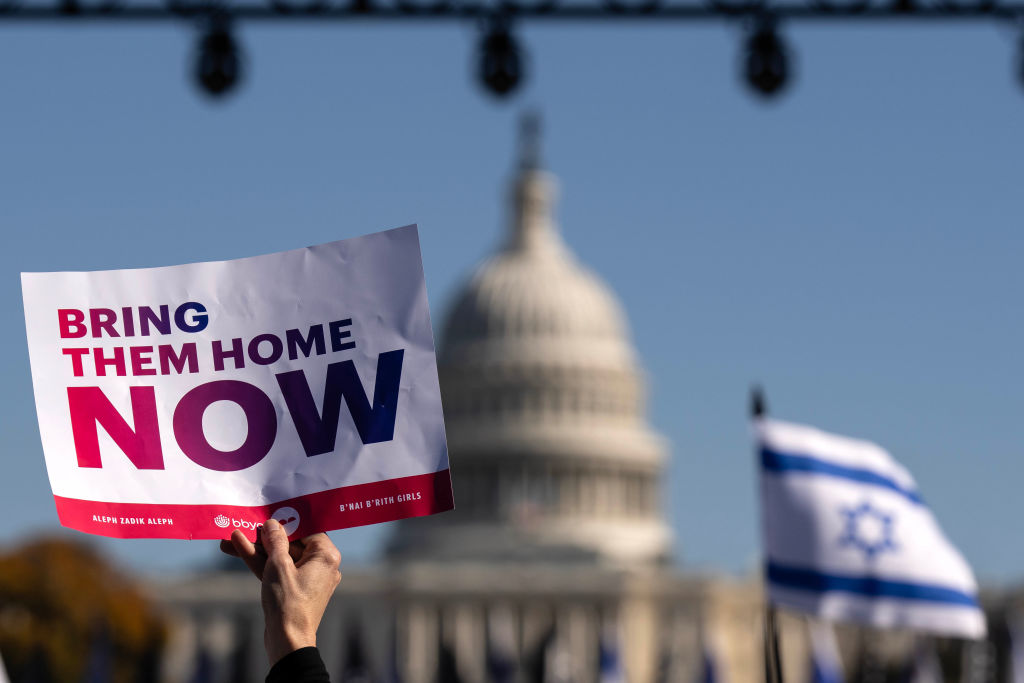 "Only a little more than five weeks ago, Jews in the U.S. were a fractious people. In addition to wide disparities in our religious practices and political beliefs, our visions for Israel's future divided us. Unfortunately it took the Oct. 7 catastrophe to serve as the wake-up call we needed to unite us in ways most of us have never seen in our lifetimes. That feeling of unity was palpable as we flooded the National Mall in Washington, D.C., on Tuesday," writes Tyler Gregory, CEO of the Jewish Community Relations Council Bay Area, in an opinion piece for eJewishPhilanthropy.
Stay involved: "In her address to the hundreds of thousands gathered, Rachel Goldberg-Polin, the mother of 23-year-old hostage Hersh Goldberg-Polin, asked how 240 human beings held captive underground have become a 'footnote' in worldwide discourse. As we all travel home from Washington, Rachel's call to action must remain with us, newly united, to ensure that Hersh and all of the hostages' lives stay front of mind for civic and elected leaders across the country. Only by staying united in this fight can we bring them home."
School spirit
85 years after Kristallnacht, we're building a strong Jewish future
"Yesterday I joined more than 12,000 Jewish day school students, along with faculty and families from roughly 100 schools, convening in Washington, D.C., for the March for Israel. … Entire schools canceled classes to attend and chartered dozens of buses. Students traveled enormous distances to take a powerful stand for Israel. For anyone who doubts the commitment of young people to Israel, or the ability of our schools to foster confidence and pride, here was their answer," writes Paul Bernstein, CEO of Prizmah: Center for Jewish Day Schools, in an opinion piece for eJewishPhilanthropy.
A personal significance: "As I listened to speaker after speaker show solidarity for Israel and for the hostages, and condemn the rising tide of antisemitism, I could not help but travel back just one week in my mind to a different yet equally historic event. … To mark the anniversary of Kristallnacht, I had the honor of accompanying my mother to Buckingham Palace, where she received the prestigious honor of Member of the Order of the British Empire from King Charles III for her impactful work in Holocaust education and remembrance. Never has her devotion to Jewish life and education felt more important than it does today."
Jewish education's critical role: "Combating antisemitism is indeed best done through education, awareness and connection to the world around us. 'We work for these things in our Jewish schools,' [Rabbi Lord Jonathan Sacks] wrote. 'We give our children confidence in who they are, so that they can handle change without fear and keep learning through a lifetime… Schools are about more than what we know and what we can do. They are about who we are and what we must do to help others become what they might be. The world our children will inherit tomorrow is born in the schools we build today.' As I reflect on this great honor bestowed on my mother and the strong state of Jewish schools, I am hopeful about the future of the Jewish community."
Worthy Reads
Time For a Change: In addition to calling for the ouster of Hamas in Gaza and warning against a premature ceasefire, Hillary Rodham Clinton calls for new leadership and a new government in Israel in an opinion piece in The Atlantic. "Instead of the current ultra-right-wing government, it will need a government of national unity that's rooted in the center of Israeli politics and can make the hard choices ahead. At home, it will have to reaffirm Israeli democracy after a tumultuous period. In Gaza, it should resist the urge to reoccupy the territory after the war, accept an internationally mandated interim administration for governing the Strip, and support regional efforts to reform and revive the Palestinian Authority so it has the credibility and the means to reassume control of Gaza. In the West Bank, it must clamp down on the violence perpetrated by extremist Israeli settlers and stop building new settlements that make it harder to imagine a future Palestinian state. Ultimately, the only way to ensure Israel's future as a secure, democratic, Jewish state is by achieving two states for two peoples. And in the region, Israel should resume serious negotiations with Saudi Arabia and others to normalize relations and build a broad coalition to counter Iran. For now, Israel should focus on freeing the hostages, increasing humanitarian aid, protecting civilians, and ensuring that Hamas terrorists can no longer murder families, abduct children, exploit civilians as human shields, or start new wars. But when the guns fall silent, the hard work of peace building must begin. There is no other choice." [TheAtlantic]
Don't Cut Corners: In The Chronicle of Philanthropy, Chris Maddocks lays out three mistakes to avoid in year-end fundraising. "No matter how tempting they may seem, here are three tactics to avoid as we seek gifts in the final quarter of the year. Do not engage in competitive advertising on search engines… We believe this is not an ethical practice, nor is it particularly effective. Tricking a donor is not a strategy for long-term or sustainable revenue growth.Instead of competitive bidding, we recommend investing in other forms of brand and digital advertising… Do not escalate matching-gift levels beyond credulity… At first glance, ever-escalating matches may seem to help a cause stand out in a crowded charitable market. However, these approaches do little to differentiate the vibrant missions and programs that are improving the world… Do not send marketing emails without permission… Don't let the pressure to hit goals cause you to abandon proven practices and professional ethics. Avoid tactics that lead only to short-term wins. Focus on long-term value, donor trust, relationship building, transparency, and collaboration (both with donors and other organizations) on New Year's Eve and every other day of the year." [ChronicleofPhilanthropy]
Around the Web
Contributions to donor-advised funds rose to a record-high $85.5 billion last year, despite an overall decline in charitable giving in 2022…
The House of Representatives screened the roughly 45 minutes of raw footage that was assembled by the Israeli military from the Oct. 7 attacks for lawmakers, some of whom said they were left feeling "absolutely gutted"…
The Wall Street Journal spotlighted the Haredi Israelis who have joined the Israel Defense Forces since the Oct. 7 attacks…
Family members of hostages being held by Hamas began a march from Tel Aviv to Jerusalem yesterday, demanding answers and action from the government…
Meanwhile, the Chabad-Lubavitch movement chartered a flight for 170 other relatives of hostages from Israel to New York, where they were brought to the grave of the movement's rebbe, Rabbi Menachem M. Schneerson, in Queens…
A Yale University dance troupe, Ballet Folklórico Mexicano de Yale, apologized after encouraging people to donate to a group that is openly affiliated with Hamas…
A British charity, Global Relief Trust, is being investigated for allegedly employing a high-ranking Hamas member in Gaza…
In The Forward, Rabbi Seth Winberg, the executive director of Brandeis University Hillel, wrote in support of the school's decision to ban Students for Justice in Palestine and Jewish Voice for Peace, accusing the groups of "blurring the line between non-violent and violent activism"…
The George Washington University suspended its Students for Justice in Palestine chapter for three months for projecting anti-Israel statements on the university's library last month…
The Cleveland Jewish News interviewed Hillel International President and CEO Adam Lehman about his efforts to combat antisemitism on campus over the past months…
Creative Artists Agency dropped Saira Rao and Regina Jackson as its clients, apparently due to their claims that Israel was committing "genocide" in Gaza…
The Jerusalem Post profiled Dr. George Breitberg, an Australian expert in medical toxicology and bioethics, who has been volunteering at Hadassah Hospital Ein Kerem since last month…
Philanthropist Len Blavatnik has threatened to halt his donations to the University of Pennsylvania in protest of the institution's response to antisemitism on campus…
The Israel Police indicted seven people for allegedly carrying out an arson attack on an Arab-owned bicycle shop that had donated bicycles to Jewish children after the Oct. 7 attacks…
Pic of the Day
An estimated 290,000 people fill the National Mall during the March for Israel yesterday in Washington, D.C.
Birthdays
Executive director of the Simon Wiesenthal Center and Museums of Tolerance, Rabbi Meyer H. May…
Author of dozens of children's books and young adult fiction, frequent NPR guest, Daniel Pinkwater… Pianist and conductor, formerly music director of the Chicago Symphony Orchestra, Daniel Barenboim… Boca Raton, Fla., resident, Stephen Wolff… Former Chairman and CEO of Film and Music Entertainment, Lawrence (Larry) Lotman… NYC-based consultant for nonprofit organizations, Perry Davis… Retired immigration and nationality attorney in Southern California, Michael D. Ullman… Past president of Gratz College in Melrose Park, Pa., he is the author or editor of more than 50 books, Paul Finkelman… Executive producer and director of television programs, including "Friends," one of the most popular TV programs of all time, Kevin S. Bright… Member of the Knesset for the Yesh Atid party, Meir Cohen… Partner in Toronto-based accounting firm Fuller Landau, he is the immediate past president of Beth Avraham Yoseph of Toronto Congregation (BAYT), Jeffrey M. Brown… Senior project manager at T-Mobile, Michael A. Lewine… Member of the Florida House of Representatives, Michael Alan Gottlieb… Former member of Knesset for the Likud party, Nava Boker… Founder and chairman of Perilune Capital and founder of Harspring Capital Management, Carey Robinson Wolchok… Mortgage executive, Joshua Shein… CEO of the Riverdale Y in the Bronx until 2022, she is now a leadership coach, Deann Forman… As a 12-year-old baseball fan in Yankee Stadium, he interfered with a ball batted by Derek Jeter in the 1996 ALCS that was ruled to be a game-tying home run, Jeffrey Maier… Professional golfer, he won the gold medal at the 2013 Maccabiah Games, Ben Silverman… White House reporter for The Associated Press, Zeke Miller… Press secretary for Maine Gov. Janet Mills, Ben Goodman… Senior client recruiter at SingleSprout, Alison Borowsky… 3L student at Harvard Law School, Micah Rosen…