Your Daily Phil: LA Federation taps Rabbi Noah Farkas as next CEO + Meet Wendy Rhein, Repair the World's new development director
Good Thursday morning!
The Jewish Federation of Greater Los Angeles announced yesterday that Rabbi Noah Farkas will be its next CEO, succeeding Jay Sanderson on Jan. 1, 2022. Farkas serves at Valley Beth Shalom (VBS), a synagogue in the San Fernando Valley. He led a campaign to address homelessness in Los Angeles County, is a former chairperson of the L.A. Homelessness Services Authority and currently chairs its finance contracts and grants committee.
"While I am sad for VBS, I am ecstatic for every Jew in Los Angeles," Danny Corsun, a VBS congregant, told eJewishPhilanthropy. "They are about to feel the transformative power [Farkas] has brought to the community these past 13 years." Corsun praised Farkas as a teacher of Torah who helps his students.
Assemblyman Jesse Gabriel, also a VBS congregant and chair of the Jewish caucus in California's State Assembly, said he sought Farkas' advice when he was deciding whether to run for office. "He's one of the few rabbis I've met who can offer thoughtful spiritual guidance and good political advice, often at the same time," Gabriel said, adding that his children think Farkas is "hilarious.
"Noah is an excellent selection for this role, and will be a strong and representative voice for the Los Angeles Jewish community, which, like the American Jewish community, is dedicated to domestic social justice and Zionism," said Amanda Berman, founder and executive director of Zioness. Farkas was a founding board member of the organization.
The Appropriations Committee declined to increase funding for the Nonprofit Security Grant Program (NSGP) in its 2022 budget proposal, despite appeals from numerous Jewish community organizations and a large bipartisan group of House members. The Homeland Security funding bill, released Tuesday, includes a total of $180 million in funding for the NSGP, a Department of Homeland Security grant program that provides funds for houses of worship and other nonprofits to enhance their security. That would hold funding for the program even with 2021 levels, falling short of the $360 million Jewish advocacy groups and the House group requested, even amid a trend of rising antisemitic and other hate crimes.
Jewish community leaders said they plan to continue to lobby Congress for more funding for the NSGP, and some seemed optimistic that the funding level could increase. They'll be joined by advocates on Capitol Hill. "We requested funding be doubled again this year because now is not the time for half measures," Rep. Bill Pascrell (D-NJ), one of the leaders of the House group requesting a funding increase, said in a statement to JI. "We cannot let up our efforts to expose and crush the poison of antisemitism that has been awakened."
NEW DEVELOPMENT
Wendy Rhein will become Repair the World's senior development director
Repair the World, the Jewish service organization for millennials, was already planning to scale up its work when it received a $7 million grant from MacKenzie Scott in June, Wendy Rhein, the organization's new senior director of philanthropy, told eJewishPhilanthropy's Helen Chernikoff.
Advisor and volunteer: Rhein comes to Repair the World from World Food Program USA, the United States division of the United Nations's food assistance arm, where she served as chief of staff. She also worked as a regional managing director for UNICEF USA, and a chief strategy and engagement officer for Points of Light, a global network of volunteer organizations of which Repair the World is a member; Rhein first encountered the organization while at Points of Light. She became a Repair the World volunteer herself, and also helped advise its president and CEO, Cindy Greenberg, on building the group's fundraising capacity.
A major moment: "We are incredibly fortunate to have Wendy join our team at such an exciting moment for the Jewish service movement," said Greenberg. "We can't wait for her to share her vision and hear directly from our stakeholders." Repair the World connects Jews to volunteer opportunities in the hope of both making needed change in local communities, and inspiring the volunteers with a love of service and Jewish values, Greenberg has said. Its flagship program supports young adults working to make social change in 13 cities, including Atlanta, Chicago and Miami, under the guidance of a local director. The organization plans to use the Scott grant to expand to 20 cities, and will add the roles of chief operating officer and senior racial justice advisor this year.
Values in church and synagogue: For Rhein, taking her first job within the Jewish community is a milestone on a journey she started in her early 20s, when she first contemplated converting to Judaism. Growing up in the Detroit area in the 1970s in a liberal Presbyterian church, she became intrigued by Judaism after attending a Passover Seder at the age of 13. "The conversations across all generations about enslavement, and our obligations as human beings — I was blown away," she said. When she was in her early 20s, her sister converted, and Rhein sometimes accompanied her to conversion classes. She gained some familiarity with Hebrew, and over the next decade learned more through conversations with various rabbis. It wasn't until she was in her early 30s and became a mother to the first of two sons that she felt inspired to pursue a more formal Jewish education. "I realized I was responsible for the spiritual development of another person," she said. She and her sons, now 16 and 11, formally converted in 2014 at Temple Emanuel in Kensington, Md.
USING TECHNOLOGY WISELY
Can technology be guided by Tikkun Olam values?
"Making the world a better place by using the latest advances in technology. It sounds so simple, but how do we turn it from a concept into a reality as we face the future after this period of unparalleled uncertainty?," writes Liora Zyman, academic director of technology and innovation at the Colegio Israelita de Mexico ORT in Mexico City in an opinion piece for eJewishPhilanthropy.
At the core: "The concept of Tikkun Olam — healing the world — is at the core of our Jewish identity, and a priority for us in our school and across our global ORT network. Being part of a quest to make the world a better place is powerful for me and my students."
Responsibility: "But with this depth of change in our societies, homes and classrooms comes the need for responsibility. We are all familiar with concerns around data leaks, misuse of facial recognition tools, and the misuse of technology for anti-democratic activities or human rights abuses."
A force for good: "It is essential that we use technology as a force for good, and provide our students with not just the proficiencies and skills needed to adapt to the modern working world, but also the moral understanding and global outlook to use these opportunities for positive purposes."
VIRTUAL GATHERING BLOCK
How Jewish organizations can tap into spatial audio sites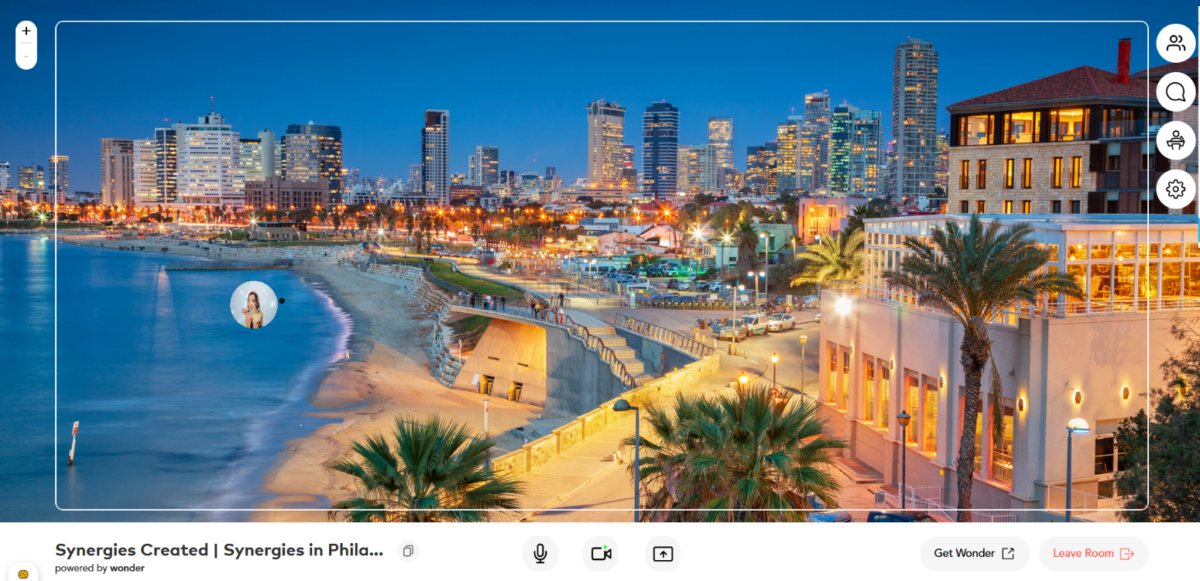 "Spatial audio sites are the newcomers on the 'virtual gathering block' set out to empower users to co-create an online experience with the event hosts," writes fundraising consultant Tanja Sarett in an opinion piece for eJewishPhilanthropy.
Stakeholder engagement: "These innovative technology platforms hold many engagement possibilities for small to large Jewish nonprofits and congregations, especially Jewish organizations with a national and international mission or donor base. For example, American Friends and affiliates of Israeli amutot will find value in spatial audio platforms. Staying in touch with your constituencies and transcending geographic barriers has never been as easy and exciting as today."
What are spatial audio sites? "Spatial audio sites are virtual spaces and venues that mimic the physical experience where online guests can meet and talk. These platforms are online gathering sites that recreate in-person networking and social events and real-life social interactions. Your program and event participants can organically chat in pairs or form and dissolve groups to converse and exchange ideas. The spatial audio sites seamlessly accommodate multiple parallel conversations using spatial audio technology.
360 degree experience: These spatial audio platforms put your attendees into a 360-degree soundscape where they will only hear other guests within a certain range. The platforms invite your participants to freely move around and meet up with other members, donors, or alumni… Spatial audio technology makes it easy to break the ice, meet and chat with guests, and personally engage with each participant. The spatial audio sites welcome friends and contributors from all walks of life: Introverted or extroverted donors, tech-savvy or tech-avoider supporters, Baby Boomer or Gen Z funders, and prospective and longtime donors."
Worthy Reads
How-To: Writing in the Chronicle of Philanthropy, Lisa Schol consults a range of experts about how to reopen an office post-pandemic, and what to avoid — mainly, making decisions without staff input and sticking rigidly to a plan that has developed problems. Leaders should consider appointing a task force that includes staff from across the organization to create buy-in for the return-to-office plan and try to be as flexible and transparent as possible, Schol writes. "No one knows what they're doing," said Kira Khazatsky, chief operating officer at Jewish Vocational Service in Boston. "Everyone is using all of the wisdom that they've accumulated throughout their career to make the best possible decisions." [InsidePhilanthropy]
Breaking Through: In an era of information overload, nonprofits need to work harder to educate uninformed or apathetic members of the public, lest political or ideological opponents capture the narrative and make those people impossible to reach, writes Derrick Feldmann in a blog post at PhilanTopic. Feldmann offers a series of tips on how to find the right carrier of a nonprofit's message; how to craft that message and how to move the audience from intrigue, to education, to action. "Communicating about your cause with an audience that lacks knowledge isn't necessarily the same as talking with those who actively oppose you on the issue," Feldmann states. "The key is not to raise the defenses of the uninformed by being polarizing in your attempts to educate them." [PhilanTopic]
Materials Costs: Habitat for Humanity has suffered several pandemic-related blows to its operations, from a decline in volunteers to construction delays, and now the price of lumber has more than tripled since April 2020, reports Haleluya Hadero in the Associated Press. Local donors are stepping up to help, Hadero writes, but the organization's network of affiliates are also taking out loans and using alternative materials. "You know what's going through my head right now? Staying alive. We're working hard on staying alive," said Virginia Ohler, the executive director of the West Tuality Habitat for Humanity in Forest Grove, Oregon. [AP]
Community Comms
Apply! Want to join the team at Jewish Insider/eJewish Philanthropy? We're looking for a top-notch philanthropy editor. Learn more here.
Be featured: Email us to inform the eJP readership of your upcoming event, job opening, or other communication.
Word on the Street
United Hatzalah unveiled the Dr. Miriam and Sheldon Adelson Ambucycle Unit in Jerusalem with a donation of 150 vehicles… The Jewish Agency for Israel is launching a new program for informal Hebrew language education at summer camps throughout the Jewish world… The "Secret Room," an animated series about Jewish culture, has been released in Russia… The New York Women's Foundation announced 28 grants totaling nearly $3 million in support of community-based organizations led by women and gender-expansive people and addressing critical issues in underinvested communities… The Bill & Melinda Gates, Ford, and Open Society foundations announced commitments of $2.1 billion, $420 million, and $100 million, respectively, over five years in support of efforts to advance gender equality globally… The Andy Warhol Foundation for the Visual Arts said $3.8 million will be granted to 50 museums and arts organizations from 20 states, the District of Columbia and Canada, whose programs and exhibitions reflect our current times and rethink existing structures and systems…
Pic of the Day
Israel's Minister of Foreign Affairs, Yair Lapid, and a rabbi in the United Arab Emirates, Rabbi Levi Duchman, attaching the mezuzah at the Israeli Embassy in Abu Dhabi on Tuesday.
Birthdays
NASA astronaut, on her 2019 trip to the International Space Station she took along socks with Stars of David and menorahs, Jessica Meir… 
Former U.S. Assistant Secretary of Education, Diane Silvers Ravitch… Nobel laureate in Economics for 1997 and co-creator of the Black-Scholes model for valuing options and other derivatives, Myron Scholes… Noted British art dealer and founder of an eponymous London art gallery, Victoria Marion Miro… Born in a DP Camp to her Holocaust survivor parents, she is the first Jewish woman to serve on the Canadian Supreme Court (she is retiring today), Rosalie Silberman Abella… Former U.S. Ambassador to Israel and Assistant Secretary of State for Near East Affairs, now at the Council on Foreign Relations, Martin Indyk… Partner in the Century City-based law firm of Greenberg Glusker, Douglas E. Mirell… Hall of Fame player and coach in the Women's National Basketball Association and now an NBA broadcaster, Nancy Lieberman… National editor at The Forward, Rob Eshman… President of the Orthodox Union and a partner at Ropes & Gray, Mark Irwin "Moishe" Bane… Under Secretary of State for Political Affairs, Victoria Jane Nuland (family name was Nudelman)… Journalist, filmmaker and educator, he is the co-founder of Aish[dot]com, Shraga Simmons… Professor of Jewish thought at Hebrew University, Benjamin Brown… Member of the Virginia House of Delegates, Marcus Bertram Simon… U.S. Senator (R-IA), Joni Ernst… Screenwriter, producer and film director known for romantic comedy films, Marc Silverstein… Co-founder of Edgeline Films, Elyse Steinberg…

Email Editor@eJewishPhilanthropy.com to have your birthday included.