Your Daily Phil: JCPA head makes first major hire + Ontario Hillel hones in on mental health
Good Wednesday morning!

In today's edition of Your Daily Phil, we report on a new study on antisemitism released by the Anti-Defamation League, and feature an opinion piece from Rabbi Seth Goren. Also in this newsletter: Lily Ebert, Bezalel Smotrich and Bernard Osher. We'll start with the hiring of Karen Elam as the senior vice president of the Jewish Council for Public Affairs.

The Jewish Council of Public Affairs has tapped Karen Elam, the founding executive director of the Levine Center to End Hate at the Jewish Federation of Greater Rochester, as senior vice president, the organization exclusively told eJewishPhilanthropy's Haley Cohen.

The move comes at a pivotal juncture for the umbrella group for 125 Jewish Community Relations Councils across the country as it restructures and implements a new strategic plan focused on building coalitions with other communities, mainly other minority groups, with the goal of "strengthening our democracy and commitment to an inclusive and just society," as the organization announced in December.

"We are thrilled to have Karen join us," JCPA CEO Amy Spitalnick told eJP. "She has an incredible track record and so much of that lays the groundwork of what she'll be doing at JCPA."

Spitalnick said Elam, who is set to assume her position on Sept. 5, is expected to launch coalition efforts focused on combating hate and extremism, as well as protecting and advancing democracy, "specifically bringing together national and local Jewish organizations and partners across communities in support of those goals," Spitalnick told eJP.

Read the full story here.
A Global problem
ADL report finds left-wing antisemitism penetrating political mainstream in Europe
A new report by the Anti-Defamation League delves into the rise of left-wing antisemitism in four Western European nations, finding that "its penetration into the political mainstream is cause for concern and has in some cases alienated Jews and other supporters of Israel." The challenges facing European Jewish communities, the report suggests, "can be a bellwether for what is to come for the U.S. Jewish community," reports Melissa Weiss for eJewishPhilanthropy's sister publication Jewish Insider.

Across Europe: The ADL partnered with four European organizations — the U.K.'s Community Security Trust, French magazine K., The Jews, Europe, the 21st Century, German NGO Amadeu Antonio Foundation and Spain's ACOM — to look at how left-wing antisemitism manifests in each country.

America next: The case studies, the ADL suggests, "demonstrate that the prevalence of antisemitism within elements of the political left in Western Europe is shaped by post-WWII political trajectory, by individual political leaders, and by left-wing non- governmental groups." Above all, the report "highlight[s] the need for the American Jewish community and supporters of Israel more broadly to pay close attention to the trends happening in elements of the political left in Europe and to remain alert to the potential for them to spread around the world."

Read the full story here and sign up for Jewish Insider's Daily Kickoff here.
Fresh focus
Mental health, wellness and career opportunities: New paths in student engagement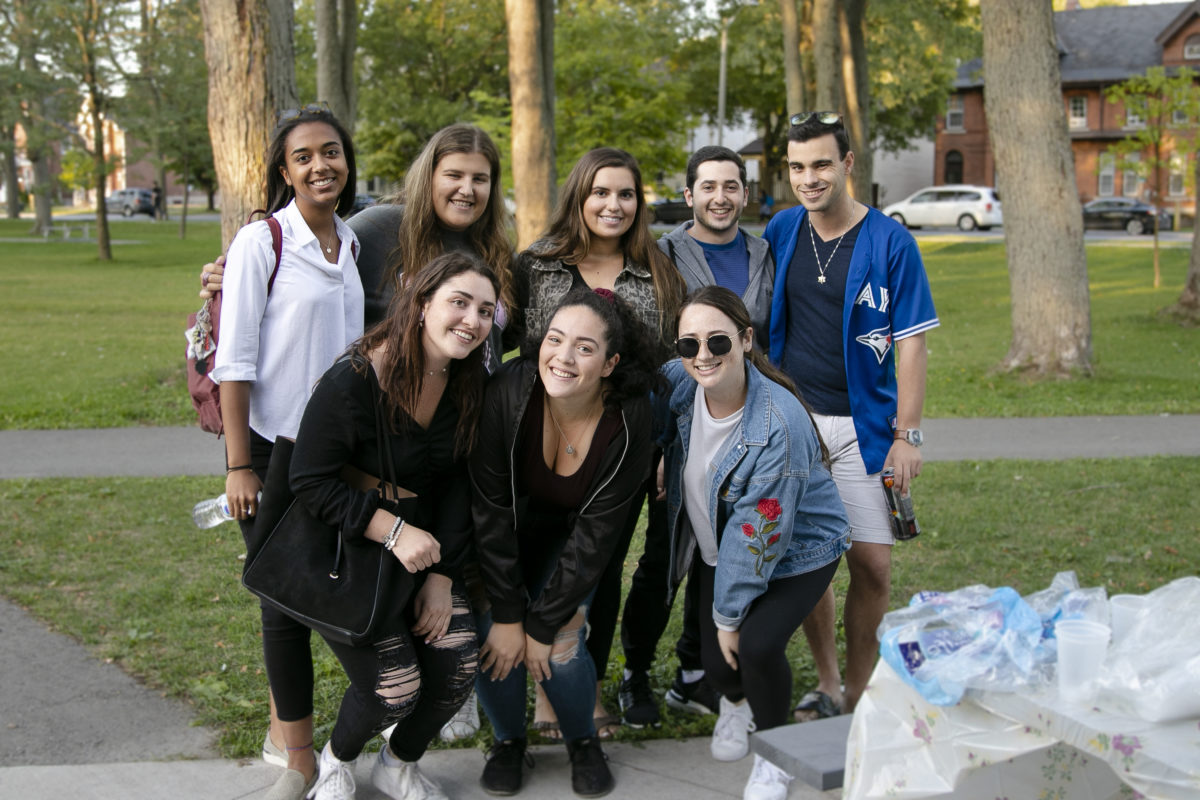 "Over the past year, Hillel Ontario engaged in a strategic planning process to determine our organization's priorities and course for the next three years… Four of the six areas under this priority are relatively unsurprising: Hillel has traditionally put an emphasis on Jewish learning, empowerment, inclusion and community… The remaining two focuses, however, have garnered more attention – and a certain degree of apprehension – among some of our stakeholders: guiding students to career opportunities and training, and boosting emotional wellness and mental health," writes Rabbi Seth Goren, CEO of Hillel Ontario, in an opinion piece for eJewishPhilanthropy.

Students choose: "In selecting organizational priorities, Hillel is first and foremost a student-centered organization, and we take our lead from what students articulate as most important to them. Students responding to our survey last fall identified mental health, well-being and career as being their top concerns, with antisemitism following closely behind. This mirrors broader trends around fraying social networks, loneliness epidemic and uncertainty about future personal possibilities; it also reflects the long waiting lists at campus career services and counseling centers, where delays for scheduling non-urgent appointments can be six months or longer."

Read the full piece here.
Worthy Reads
An Heirloom Makes Its Way Home: In The Washington Post, Sydney Page recounts the return of a book of scripture that belonged to a Jewish boy killed in the Holocaust to his family. "Bela Englman arrived at Auschwitz concentration camp on July 9, 1944, in Nazi-occupied Poland. He was murdered in gas chambers that day, along with his mother and sister. He was 13. Bela's few family members who survived the Holocaust — including three sisters and a brother — had no record of his existence; no birth certificate or photograph to prove that he was ever even alive. All they had were memories, some too harrowing to think about. Recently that changed, when one of Bela's childhood belongings suddenly surfaced about two months ago in the family's hometown of Bonyhad, Hungary. It was a Book of Exodus that belonged to Bela, his name stamped inside the book of scripture in blue ink next to his neatly written signature… When [Dov Forman, 19,] showed his great-grandmother [Bela's sister, TikTok star Lily Ebert, 99,] the photo of Bela's signature, she was completely stunned. She never expected to find a relic of her brother. 'This is the only link I have to my youngest brother,' said Ebert. 'I am so emotional about this book.'" [WashPost]

Yet More Ado About Pickleball: In J. the Jewish News of Northern California, Emma Goss profiles the exceedingly, but not officially, Jewish sport of pickleball, which has quickly become a mainstay of Jewish community centers. "Wendy Sims, a 56-year-old video editor, wasn't interested in learning to play mahjong with her Jewish friends. She craved the social, fast-paced fun of a game. Last year she found it on the pickleball court. For Sims, who lives in Foster City, the sport has not only offered the fun she was seeking; it's connected her family in a way no other activity has before… Pickleball has become such a fixture in Jewish circles that it's spurred the creation of Jewish tournaments. The first 'Kosher Dills' Jewish pickleball tournament is set for Aug. 13 in Park City, Utah. The volunteer-organized event includes time for schmoozing at the bagels-and-lox station, followed by a 'warm-up stretch & kvetch.' There's a Mensch's Oath and a group l'chaim, followed by the ceremonial sounding of a shofar to kick off the tournament. Susan Sims will compete there, along with her older sister who lives in Park City. 'Everything has a Jewish theme. It's really cute,' said Susan, 58, a Los Altos real estate agent." [J.]
Around the Web
Three Jewish political staffers — Moshe Davis, Adrien Lesser and Eva Wyner — are launching a new group for fellow members of the tribe working in government or related fields, New York Jews in Politics, which they told eJewishPhilanthropy is meant to provide a "fun social setting to network and kibitz"…

Israeli Finance Minister Bezalel Smotrich is withholding hundreds of millions of shekels in funding for Arab towns and for educational programs for Palestiniains in East Jerusalem, prompting criticism from within the government and accusations of racism…

The Bernard Osher Foundation donated $1 million to Clark Atlanta University for a scholarship fund, as well as an additional $50,000 grant to support recipients until the full endowment matures…

Israeli pop star Noa Kirel, who came in third in this year's Eurovision Song Contest, will make her U.S. debut next year with a concert in Madison Square Garden scheduled for June 30, 2024…

The Lustgarten Foundation, created in honor of Jewish businessman Marc Lustgarten, who died of pancreatic cancer, has distributed $23 million in 17 new grants to researchers at 13 institutions to study the disease…

The Cleveland-based Jack, Joseph and Morton Mandel Foundation announced that it will match, dollar for dollar, up to $4 million through 2024 in a challenge grant to Karamu House, the oldest African-American theater in the United States, as part of an effort to build up Cleveland's Fairfax neighborhood…

DJ Casper, the creator of the "Cha-Cha Slide" — a favorite hit at bar and bat mitzvahs in the early 2000s — died this week at 58…
Pic of the Day
The Ukraine Maccabi delegation, including athletes, coaches and trip leader, stand outside the FLA Live Arena on Monday before the opening ceremony of the 41st JCC Maccabi Games in Fort Lauderdale, Fla.

Nearly 2,000 Jewish teenagers are taking part in this year's games, most of them from the U.S., but some from Ukraine, Canada, Mexico, Argentina, South Africa, Israel and Great Britain.
Birthdays
Two-time Grammy Award-winning operatic soprano, songwriter and actress, Hila Plitmann…

Prominent Sephardic rabbi in Tel Aviv, he was a member of the Knesset for the Shas party, Rabbi Moshe Maya… Physicist and venture capitalist, co-founder and general partner emeritus of New Markets Venture Partners, Donald M. "Don" Spero, Ph.D…. Comedian, actor, writer and director, David Steinberg… Romance novelist with 22 books on the NYT bestseller lists, Barbara Delinsky (born Barbara Ruth Greenberg)… Author of 36 Jewish-themed books, Seymour Rossel… Telecommunications consultant based in Chattanooga, Tenn., Mark Shapiro… Psychologist and bestselling suspense novelist, Jonathan Kellerman… Southern California resident, Faith Schames… Brigadier general (res.) in the Israeli Air Force and protest leader, Amir Abraham Haskel… Director of the Steinhardt Family Foundation in Israel and president of the World Zionist Organization, Tova Dorfman… U.S. senator (R-KS), Roger Marshall, M.D…. Member of the Minnesota State Senate since 2007, Ronald Steven "Ron" Latz… Professor of French at Yale University, he is the inaugural director of the Yale Program for the Study of Antisemitism, Maurice Samuels… Chief of staff for Rep. Jerrold Nadler (D-NY), Amy Beth Rutkin… Founder and CEO of AFC Gamma, Leonard M. Tannenbaum… Kyiv-born, member of the Maryland House of Delegates since 2007 from Montgomery County, Kirill Reznik… Reporter in the Washington bureau of The New York Times, Kenneth P. Vogel… Founding partner of New Deal Strategies, Rebecca Kirszner Katz… Chair of JEWELS (Jewish Education Where Every Level Student Succeeds), Jules Friedman… Drummer, popular on YouTube with 344 million views, Meytal Cohen… CEO of the Israel on Campus Coalition, Jacob Baime… Real estate investor based in Cleveland, Amanda Isaacson… Associate at Ropes & Gray LLP, Isaac Lederman… Israeli actor, best known for his role as Yanky Shapiro in the 2020 Netflix miniseries "Unorthodox," Amit Rahav… Southern California resident, Giovanna Fradkin… VP at Dezenhall Resources, Fred Brown… Elise Aronson… Dan Zimerman…