Your Daily Phil: Defibrillators for Ontario's Hillels + Nurturing Jewish leaders
Good Thursday morning!
In today's Your Daily Phil, we report on Neil Spears, the new executive director of a network for LGBTQ Jewish philanthropists, and feature an op-ed by Beloved Garden's Rabbi Sara Luria on nurturing leaders. Also in this newsletter: George Soros, Marcy Fink and Elli Krandel. We'll start with an initiative to place lifesaving devices throughout a Hillel network.
Alongside Jewish books and free food, the seven buildings of Hillel Ontario will now each feature an additional mainstay: an automatic external defibrillator.
The AEDs have been donated, at a cost of $2,000 each, by a Toronto-based nonprofit called the Mikey Network. That organization, in turn, is sponsored by Heathwood Homes and Herity, a construction company that has donated to the Hillel Ontario network in the past. Jay Solomon, Hillel Ontario's chief communications and public affairs officer, said the AEDs are a companion to first aid kits.
"We want to makeour spaces as safe as we can," Solomon told eJewishPhilanthropy. "We know that heart issues and cardiac arrest can happen to anyone at any time. And we want to ensure that, God forbid we should need this, we have the ability to do that… It's not just for Hillel students, it's for the wider campus. We've got Hillel houses, Hillel spaces on campus, and just like in a public building or at a gym, these AEDs are accessible."
A spokesperson for Hillel International told eJP that there was no policy across the system to install defibrillators at Hillel facilities. But as the largest regional Hillel network in the world, with 14,000 students across nine universities, it may set an example. The spokesperson called the initiative "a great project."
Overall, the Mikey Network has placed defibrillators in more than 2,500 locations, according to the group's website, which says the devices have saved ??more than 40 lives. The group was founded in 2003 and is named after Mike Salem, a partner in the construction company who died of cardiac arrest. The group calls its devices "Mikeys" in his memory.
The devices will be placed in the Hillel buildings this month, and Solomon told eJP little to no training is needed: "It's the kind of thing that is written right on it, so it's not really something that requires training, but we'd certainly be open to that if our staff wanted it," he said.
A shocking example of the danger of cardiac arrest came this week, when Buffalo Bills safety Damar Hamlin, 24, collapsed on the field on Monday night after being hit in the middle of a game against the Cincinnati Bengals. As of Thursday morning, he is in critical condition.
Along with sparking a national conversation about the risks to NFL players' bodies, Hamlin's dire injury has led more than 200,000 people to donate to a crowdfunding campaign he set up two years ago for a toy drive in his hometown, which raised more than $7 million as of Thursday morning. The fourth-largest donation has come from the New England Patriots and their team owner, Jewish philanthropist Robert Kraft, who donated $18,003 dollars. As first reported by ESPN reporter Mike Reiss, 18 signifies life in Jewish tradition, and three is Hamlin's number.
the ask
Meet Neil Spears, inaugural director of the Jewish LGBTQ Donor Network
In 2021, three longtime Jewish donors with deep ties to major Jewish organizations felt that there was something missing in the Jewish philanthropic landscape — a space where funders who identified as both LGBTQ and Jewish could get together and fund causes that focused on that dual identity. Since then, the Jewish LGBTQ Donor Network's three founders — Alex Greenbaum, Stuart Kurlander and Jeff Schoenfeld — have recruited 50 members, and just hired the network's first executive director, Neil Spears. Spears spoke with eJewishPhilanthropy's Esther D. Kustanowitz about his vision for the role.
In the co-founder's words: "Jeff, Alex and I have been funding in this area for a number of years at the intersection of Jewish and LGBTQ, and always felt that there was a greater opportunity to do more," Kurlander told eJP. "So we brought together a number of people who indicated interest from throughout the country, and they joined us on calls focused around education [and] developing a mission statement. And it became clear to us over time that there was this opportunity to do more, specific to the LGBTQ Jewish community."
Spears' mission: "The people who have these identities, LGBTQ and Jewish, are also the ones who have the lived experience of what's needed, and what's possible in a queer Jewish space," Spears said. "We're lucky there's a lot of improved attention to LGBTQ Jewish life in Jewish spaces — a lot of synagogues, community centers and other organizations are doing inclusion training, you see pronouns much more often on people's name tags. There's a greater awareness of what it means to be LGBTQ and Jewish. And at the same time, we're not there yet in terms of what's possible with LGBTQ Jewish life."
Background in education: "I taught middle school here in [the] LA Unified [School District]; my background as an educator prepares me well to structure education opportunities for network members. My background at the JCC in Silverlake has taught me a tremendous amount about community and what it means to live in and build sustainable, nutritive, joyful community. My experience leading nonprofits for the past many years has shown me what good philanthropy can do and also has shown me [what] the cost of philanthropy done in a silo can be. I've lived on the grantee side of the equation, and I will bring that perspective now that I'm going to be in the position of helping guide the grantors."
sowing the seeds
A seven-year cycle of investment to cultivate courageous Jewish spiritual leaders
"Many years ago, in a Jewish leadership program, I found myself struggling with the program structure and the demands placed on the participants. I knew from conversations with my peers that I was not the only one experiencing a disconnect between the stated goals and the actual experience. I approached M, the head of the program, to share my thoughts. M responded, 'I haven't heard about any issues from anyone else. You just have to try harder.' Or — as Taylor Swift similarly phrased it — 'It's me, hi, I'm the problem, it's me.' Unwittingly, M had taught me a crucial leadership lesson that day: questioning the status quo can be risky and wildly lonely," writes Rabbi Sara Luria, a rabbi and leader of Beloved Garden, a network of spiritual leaders planting new projects and communities, in an opinion piece for eJewishPhilanthropy.
Leaders as source of the solution: "Today, I lead Beloved Garden, an organization that supports and nourishes open-hearted spiritual leaders — some ordained clergy, seminary students and other leaders — as they create and sustain new spaces of sacred belonging. They have heard and responded to a fierce call to experiment beyond the bounds of institutions despite the reputational, financial and emotional risks. Most operate in a kind of wilderness, often marginalized by mainstream institutions and foundations. At Beloved, we encourage them to see themselves not as the problem but as the seed of the solution."
Wrap-around support needed: "One of our Beloved leaders founded a community less than five years ago that grew very fast, even during the pandemic. Despite a robust volunteer system, this blossoming community was too much for any one spiritual leader to handle. Even with close to $100,000 per year coming in from the community, which covers salaries, space rental, direct program costs and basic operations, she doesn't yet have the capacity to hire an executive/operations director. This beautiful, thriving community is still very much in danger of sinking under the pressure of too few staff, despite talented leadership and passionate lay-people. These brave leaders need robust, wrap-around support that can meet their technical needs (i.e. fiscal sponsorship, budgeting, fundraising skills) and emotional, psychological and spiritual needs. They need reminders of their visions, abilities and inner strength to keep going in work that is often intimidating and doesn't always bear immediate fruit."
Worthy Reads
This Was (Probably) Written by a Human: As artificial intelligence applications such as ChatGPT — which generates text based on a few key words — begin to influence the technology and social landscape, they will also influence the philanthropic sector, Daniel Hadley writes in The Chronicle of Philanthropy. "On the fundraising side, A.I. will create efficiencies and simplify work that was previously done by experts, such as gathering information about potential donors and developing marketing campaigns… A.I. will likely reduce the cost per dollar raised, especially for smaller, scrappier organizations that don't have resources to communicate regularly with donors. It will help with bookkeeping, research, hiring, and even more abstract tasks, such as designing a theory of change and demonstrating a program's impact. The overall effect could be one of leveling the playing field, giving historically marginalized organizations the resources to compete for funding against the biggest and best-endowed nonprofits. The downsides of embracing ever-more-powerful A.I. are harder to predict. As many on social media have discovered, ChatGPT can be both confidently wrong and oddly persuasive in its incorrect reasoning." [ChronicleofPhilanthropy]

Competition and Contributions: According to Hugh Brady, president of Imperial College London, one of the world's top-ranking science research?institutions, attitudes towards taking gifts from wealthy donors have "changed immeasurably" in the past decade, Bethan Staton reports in the Financial Times. "Imperial was one of a number of institutions seeking to take advantage of growing interest from wealthy donors in ensuring the global competitiveness of British universities, Brady told the Financial Times. 'The high net-worth community and government are now much more willing to talk about it,' he said. 'It allows us [Imperial] to compete with the very best in the world in a way we couldn't if we had to rely on just the student contribution'… Brady pointed out that money from charitable organisations, alumni and wealthy donors often helps to attract further funding for particular research areas, creating a 'leverage' effect that could help UK institutions compete with their US counterparts. US institutions traditionally hold large endowments — funds that are comprised in part from donations and used to generate income — compared with British universities." [FT]

Half-Billion-Dollar Advocate: A nonprofit financed by billionaire George Soros quietly donated $140 million to advocacy organizations and ballot initiatives in 2021, plus another $60 million to like-minded charities, Brian Schwartz reported for CNBC, adding that the total of Soros' contributions to political campaigns and causes since January 2020 is at least half a billion dollars, mostly supporting Democratic-aligned political causes. "Soros' nonprofit donations don't always go directly to political causes. The funds sometimes flow from one of his nonprofits, then to another, before being spent on the advertising, organizing and social media campaigns that directly reach voters. Many of the Open Society Policy Center's 2021 donations weren't necessarily earmarked to help sway the midterm elections, according to the foundation's website. At the same time, Tom Watson, an editorial director at the Open Society Foundations, conceded in an email to CNBC that 'there are definitely some OSPC grants that went to organizations working to combat voter suppression, support voter registration and expand civic participation.' Those are all core Democratic principles." [CNBC.com]
Around the Web
The Wexner Foundation and Jim Joseph Foundation announced the seventh cohort of the Wexner Field Fellowship — a three-year leadership development program for Jewish professionals. The 15 fellows and the fellowship's alumni work for organizations ranging from Jewish federations to advocacy and social justice organizations to day schools.
Keshet DAFannounced a new partnership with ICON – Israel Collaboration Network, a Silicon Valley nonprofit comprised of people who share an interest and passion for Israeli tech and innovation.
Marcy Fink was promoted to director of the business and professionals network and corporate partnership at Jewish Federation of Greater MetroWest New Jersey. She was previously the division's assistant director…
Elli Krandel was named director of development at Svara. Krandel previously served as senior institutional advancement officer at JCFS Chicago…
Mark Bodzin was named program associate at Aish HaTorah Detroit…
Pic of the Day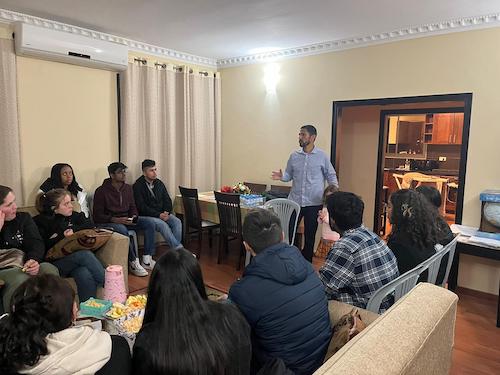 Ishmael Khaldi, a Bedouin Israeli diplomat, speaks to a delegation of College Democrats and College Republicans at his home in the northern Israeli village of Khawalid.
Birthdays
Tennis player ranked No. 1 in Israel for most of 2022, Yshai Oliel…
Author of four novels including Mitzvah Man and five collections of short fiction including Minyan: Ten Interwoven Stories, John Jacob Clayton… Former member of the Knesset for the Likud party and former speaker of the Knesset, Dan Tichon… Sports journalist, author and former ombudsman for ESPN, Robert Lipsyte… NBA superfan, James F. Goldstein… Former member of the Knesset for the National Religious Party, Eliyahu Gabai… Former mayor of Philadelphia and governor of Pennsylvania, currently a special counsel at Ballard Spahr, Ed Rendell… Retired attorney from Latham & Watkins, Paul Israel Meyer… San Diego-based attorney, she served as a member of Congress and later as chief of staff for former California Gov. Gray Davis, Lynn Alice Schenk… Former attorney general of the U.K., now London co-managing partner and chair of the European and Asian litigation practice at Debevoise & Plimpton, Lord Peter Goldsmith… CEO of Legacy Interactive / Legacy Games and president of HitPoint Studios, Ariella Lehrer, Ph.D…. Founder and principal of D.C.-based Mager & Associates, Mimi Mager… Retired chairman of the Jewish National Fund, Daniel "Danny" Atar… Writer, John F. Solomon… Actress and television personality, Heather Paige Kent Dubrow… Partner of both the law firm Davis Goldberg & Galper PLLC and the PR firm Trident DMG, Joshua P. Galper… Professional poker player who won the 2010, 2012 and 2018 World Series of Poker Players Championship, Michael Mizrachi… Producer of in-arena promotions and productions at Madison Square Garden, Alexandra Lauren Sall…