Your Daily Phil: Are Israeli universities the answer to rising antisemitism on U.S. campuses?
Good Monday morning.
In today's edition of Your Daily Phil, we report on divisions at the Jewish Social Justice Roundtable assembly last week and the Anti-Defamation League's decision to continue advertising on X, and feature an opinion piece from Liz Fisher. Also in this newsletter: the Lauder family, Maayan Zin and Yuval Schlafman. We'll start with an initiative to get Jewish college students to transfer to Israeli universities.
Looking to test the waters, Michael Eisenberg, an Israel-based venture capitalist and philanthropist, created a Google Form last week for American Jewish college students interested in transferring to an Israeli university in light of rising antisemitism on campuses in the United States, reports eJewishPhilanthropy's Judah Ari Gross.
"If you are a Jewish student at Massachusetts Institute of Technology or Harvard University, Princeton University, University of Pennsylvania, Cornell University, The Cooper Union for the Advancement of Science and Art or other university and you would be interested in exploring moving to an Israeli university to finish your studies with a scholarship. Please fill out this form. You can also come serve your people and get an internship," Eisenberg wrote in a post last week on LinkedIn.
Eisenberg said he had first tried to get the Israeli government to take on this issue, but when that failed to gain traction, he set out to do it himself. "I called two philanthropists and said, 'Would you fund this?' And I spoke to Reichman University and Tel Aviv University and said, 'Can you take these students and teach them in English?' Eisenberg told eJP. (He said he could not disclose the names of the philanthropists.) "They said yes, but we need to know what we're dealing with. So I did what I do in technology, which is a test."
Eisenberg said he anticipated less than a handful of students to fill out the form, but got 32. "I'm shocked by the response," he said. "I'm working with all of the universities to figure out if there's a match."
"I'm not suggesting that this is a panacea," he said. "What I really believe is that this is a tiny, little step toward something that [will come to fruition] three to four years from now."
INTERNAL DIVISIONS
Cease-fire chants reveal divides at Jewish Social Justice Roundtable assembly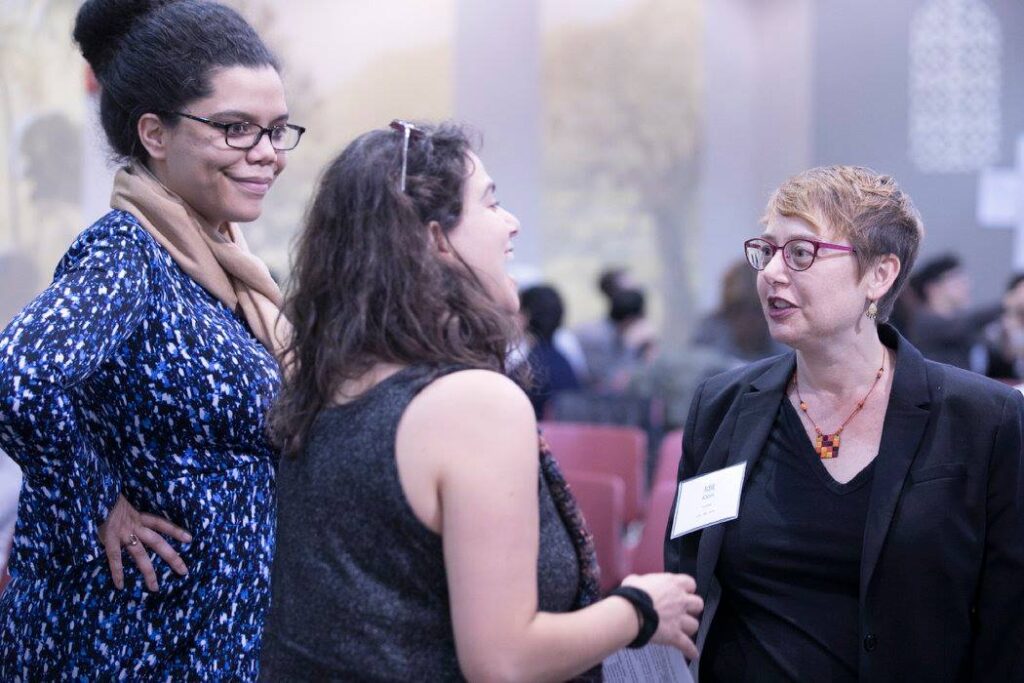 Israel's war against Hamas drove a wedge between the members of the Jewish Social Justice Roundtable at last week's three-day assembly in Baltimore, with some representatives starting a chant calling for an immediate cease-fire during one of the sessions, which other attendees considered alienating, reports eJewishPhilanthropy's Haley Cohen.
Not inclusive: As the Wednesday session was wrapping up, chants for an Israel-Hamas cease-fire broke out from a small group of participants, according to attendees at the closed-press event, leading others to express feelings of isolation. Amy Spitalnick, CEO of the Jewish Council for Public Affairs, told eJP that it's "critical [the roundtable] remain truly inclusive for all its members, which Wednesday evening was not." Spitalnick added: "This has been a particularly painful time to be a progressive Zionist –— with the grief of Oct. 7 and its aftermath compounded by a failure to recognize that grief and complexity in certain progressive spaces."
Natural divisions: Abby Levine, executive director of the Jewish Social Justice Roundtable, a network of 76 Jewish organizations, said that the assembly was expected to include disagreement. "Of course there were divisions; we are a diverse community," she said. "We have organizations with a lot of different views; there's a lot of differences between these groups… many of our groups do work in coalition with each other, for example in LGBTQ equality [or with refugees]. We thought this was a more important time than ever to convene the field."
STAYING PUT
As more companies pull ads from X over Musk's endorsement of an antisemitic theory, the ADL says it's not
As several major companies pull their advertising from the social media platform X in recent days after its owner, Elon Musk, was seen supporting an antisemitic conspiracy theory, one notable organization is refraining from doing so: the Anti-Defamation League, reports eJewishPhilanthropy's Judah Ari Gross.
Where the people are: "ADL needs our message to be where the antisemites and extremists are and those who may be influenced by them," an ADL spokesperson told eJP. "Twitter/X remains a major social media platform with a massive general audience, the majority of whom do not wish to be exposed to hateful content, including those who are looking for ways to help protect themselves and others from that content."
A tricky history: The ADL's decision to continue advertising on X follows months of fraught interactions with Musk and his platform. In September, Musk accused the ADL of costing his company billions in advertising revenue after the organization reported on a major rise in antisemitic and hate-filled rhetoric on X since he purchased the company and altered its policies. The following month, in an apparent signal of rapprochement, after earlier pulling its ads from X, the ADL announced it would again advertise on the platform.
Criticism and praise: In the most recent dustup, ADL's CEO, Jonathan Greenblatt, criticized Musk for his endorsement of a post that accused Jews of pushing "dialectical hatred against whites" and for writing that the ADL "unjustly attacks the majority of the West." Greenblatt said it is "indisputably dangerous to use one's influence to validate and promote antisemitic theories." A day later, Greenblatt hailed Musk's decision to treat comments like "from the river to the sea" as inherently calling for genocide, saying he had shown "leadership in fighting hate." This latter tweet drew criticism from ADL board member Peter Fox, who accused Greenblatt of undermining the organization's work.
FOR EVERY THING A TIME
Doubling down — in a healthy way — during a crisis
"On Oct. 7, when the horrific attack on Israel took place, our team at Jewish Federations of North America was one month away from what was going to be our largest-ever professional conference. As part of a generous investment from the Jack, Joseph and Morton Mandel Foundation, FedPro 2023 was not only going to bring together hundreds of Jewish federation professionals, but it was also going to be our opportunity to launch several new system-wide talent initiatives," writes Liz Fisher, chief talent officer for JFNA, in an opinion piece for eJewishPhilanthropy.
JFNA's decision: "While others might have decided to cancel the FedPro conference with everything else going on, we made the opposite decision. … In the process, we learned several lessons about the importance of investing in professionals in the Jewish community and being able to hold multiple truths at once…"
Worthy Reads
Promises, Promises: A new report from the Institute for Policy Studies finds that billionaire donors, including American signatories to the Giving Pledge, are increasingly putting their money into "intermediaries" — private foundations and donor-advised funds — rather than giving money directly to working charities. "Many Pledgers establish foundations and DAFs with the best of intentions. But the result is that money can end up warehoused in these intermediaries — giving vehicles which are charitable in name, but not always in deed. Donors legally give up control over their donations when they go into intermediaries, but in fact retain a considerable amount of practical control over the investment, management and destination of the funds. Private foundations slow the flow of charitable funds to active nonprofits; allow wealthy donors and their families to continue to benefit financially through loans, reimbursements and trustee salaries; and enable those donors to retain significant managerial control over billions of philanthropic dollars. And since DAFs have no payout requirement at all, they can bring the movement of money to active charities screeching to a halt. … Like the Giving Pledge, there are a number of voluntary efforts to increase foundation and DAF payout in the face of urgent needs. These include Half My DAF, started by Jen and David Risher, and the Crisis Charitable Commitment, started by Alan Davis. We urge people with foundations and DAFs to sign on to these efforts." [InstituteforPolicyStudies]
A Mother's Love: In The Washington Post, Maayan Zin, whose daughters were kidnapped by Hamas and remain captive in Gaza, pleads to be allowed to see them again, whatever it takes. "I can see that the ideology of hatred that drove Hamas to kidnap my daughters continues to grow stronger around the world. The soldiers fighting their way to Dafna and Ela face people who would rather die than let my girls go free. Thousands of miles away from here, strangers scream into the sky for more violence, another intifada, another war to push us into the sea. The posters of my girls are torn down, their dignity as victims denied. Every passing hour feels like an hour closer to the phone call telling me that they have not survived, that this world is too cruel to let them live. I am but dust and ashes, and if I must be, then I want to meet my fate together with Dafna and Ela. I have nothing left to ask of this world but this: Take me to my girls. Take me to Gaza." [WashPost]
Around the Web
CASA, a Maryland-based immigrants' rights organization, walked back and apologized for its claim that Israel was committing "ethnic cleansing" in Gaza following pushback from its largest private donor, the Baltimore-based Harry and Jeanette Weinberg Foundation…
The head of the University of Alberta's sexual assault center, was fired after signing a letter that denied Israeli women had been raped by Hamas terrorists on Oct. 7…
President Joe Biden penned an opinion piece in The Washington Post, explaining why his administration supported both Israel and Ukraine. "Both Putin and Hamas are fighting to wipe a neighboring democracy off the map… America cannot, and will not, let that happen," he wrote…
The Wall Street Journal examined the rifts, disputes and intrigues within the Lauder family amid a brewing succession fight…
Marvin and Eva Schlanger are halting their donations to Rutgers University over the school's response to antisemitism on campus…
The Times of Israel spotlighted Arab-Jewish cooperation in Haifa through a bomb shelter renovation project in the northern Israeli port city…
Maribel Perez Wadsworth was hired as president and CEO of the Knight Foundation. She is the first woman to lead the organization…
Investment firms are scaling back their environmental, social and corporate-governance (ESG) funds amid shrinking returns…
Sam Altman was fired by the board of the artificial intelligence firm OpenAI, where he'd served as CEO. He was quickly hired by Microsoft to lead an AI research team…
Pic of the Day
Yuval Schlafman, a United Hatzalah volunteer, shares his experience as a first responder on Oct. 7 at the organization's young professionals gala at Lavan Midtown in New York City last Thursday.
According to United Hatzalah, some 700 people attended the event, which raised roughly $500,000.
Birthdays
Art dealer and former owner of MLB's Miami Marlins, Jeffrey Loria…
Professor of biochemistry and biophysics at the University of Southern California, he won the 2013 Nobel Prize in Chemistry, Arieh Warshel… President of the United States, Joe Biden turns 81… Singer and songwriter best known for writing and performing the song "Spirit in the Sky," Norman Greenbaum… Former national security advisor in the Trump administration, John R. Bolton… Major-general (res.) in the IDF, he is a former combat pilot and head of Aman (the IDF's Military Intelligence Directorate), Amos Yadlin… Longtime spokesman (now emeritus) to the foreign press at the Jewish Agency for Israel, Michael Jankelowitz… Pulitzer Prize-winning national affairs writer for The Wall Street Journal during the 1990s and the author of six well regarded books, Ronald Steven "Ron" Suskind… White House official in both the Bush 41 and Bush 43 administrations, now a partner at Kirkland & Ellis, Jay P. Lefkowitz… Pianist, composer and author, Robin Spielberg… Fashion designer, hotelier and real estate developer, active in his native Buenos Aires and Miami Beach, Alan Faena… Vice chair of the board of the Jewish Federation of Greater Los Angeles and a trustee of the Jewish Community Foundation of Los Angeles, Heidi Monkarsh… Deputy assistant director at the National Science Foundation, Graciela Narcho… American-born former member of Knesset for the Likud party, he campaigned for expanding Jewish access to the Temple Mount, Yehudah Glick… Rapper and founding member of the hip hop group the Beastie Boys, he is known as Mike D, Michael Louis Diamond… Hedge fund manager, founder and president of Greenlight Capital, David Einhorn… Boston-based real estate attorney at Goulston & Storrs, Zev D. Gewurz… Anchor for Yahoo Finance, Julie Hyman Schnee… Opposition research specialist and founder of Beehive Research, Devorah Adler… Executive director at Aish HaTorah, Rabbi Benjamin Gonsher… Outfielder for four MLB teams over eight years, he played for Team Israel at the 2017 World Baseball Classic, he is now the general manager of the Philadelphia Phillies, Sam Fuld… Director for North America at the Saban Family Foundation and the Cheryl Saban Self-Worth Foundation for Women & Girls, Jesse Bronner… Actress and writer, her decision to convert to Judaism was the subject of a 2006 article in The Sunday Times of London, Margo Stilley… Actress and playwright, Halley Feiffer… Deputy health care editor for Politico, Dan Goldberg… Alexis Weiss…