Opinion
To Dismantle Gender Inequality, We Must Empower Our Most Crucial Allies: Young Men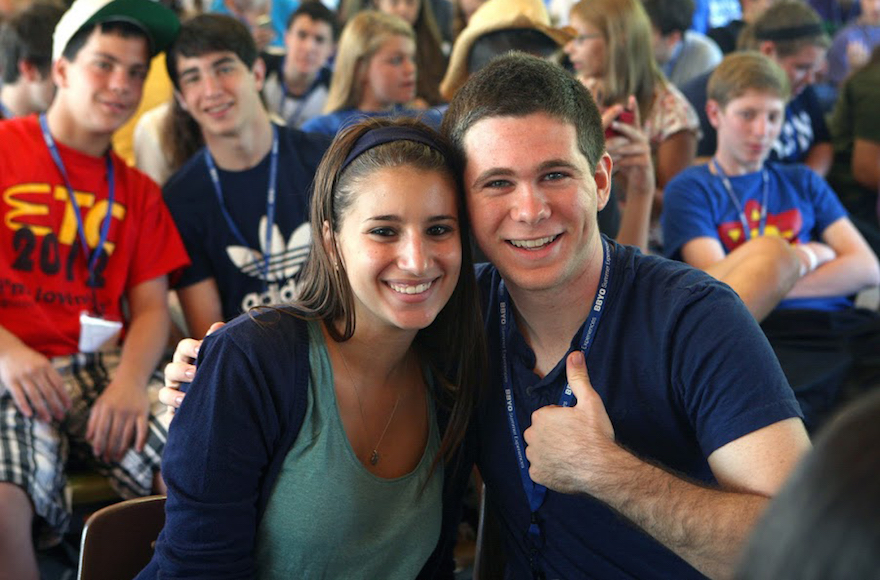 By Amanda Cohen
Shock, confusion, embarrassment – for every #MeToo account that comes to light, many in our community have pondered why those with Jewish perpetrators hit us the hardest. We often think to ourselves, "things like that can't happen here." And yet, systemic gender inequality permeates every corner of the Jewish community. Whether it's an abuse of power by executives or clergy members, instances of sexual assault on college campuses, campers ranking their peers on physical attractiveness, or a disproportionate lack of women in senior leadership roles, we are not immune.
Educators, philanthropists, and parents have largely directed resources to empower young women to take on leadership roles and speak up in the face of injustice – and these tactics are vitally important for moving the needle. But we're still missing a crucial piece of the puzzle. Consider the shift in rhetoric around sexual assault that has taken place since I graduated from college nine years ago. My generation was taught "how not to get assaulted." Today, we've shifted the conversation towards "teaching others not to assault."
To dismantle the diverse manifestations of gender inequality in the Jewish community, we must support, positively challenge, and empower young men to be our allies. In movement-building, you'll have the early adopters, early majority, late majority, and laggards. Similarly, we'll have young men for whom the obligation to fight gender disparity is preaching to the choir and others for whom this may not resonate. To reach the tipping point, we must activate the early majority – the late majority will soon follow. And rhetoric that labels men as witting or unwitting perpetuators of male supremacy will only alienate this group. In order to best catalyze young men to action, our default assumption must be to treat them as partners rather than potential predators.
The Jewish community provides some of the best platforms to reach young men because of the rich, immersive, life-changing experiences we offer, particularly camps and youth movements. As both an educator and a manager, I've learned the most sustainable way to enact change and empower others is to put trust in them: more often than not, they'll rise to the occasion.
Zeta Beta Tau Fraternity (ZBT), an inclusively Jewish fraternity, has demonstrated success in this area through their partnership with Jewish Women International (JWI) and by devoting resources to educational and prevention programs. "Safe Smart Dating," developed with JWI and Sigma Delta Tau Sorority, has brothers and sisters dive collaboratively into gender dynamics, healthy relationships, and bystander intervention. "Green Light: Go!" is a campus-wide engagement event and fundraiser for JWI that transforms the game of "Red Light, Green Light" into a conversation about consent, power dynamics, and gender inequity. Through an approach that positions brothers as "men of integrity" who serve as role models on campus, ZBT reports measurable changes in shifts in brothers' attitudes and skills.
Similarly, in BBYO, teens created a grassroots chapter initiative called Lean In Together, focused on how Alephs (members of the Aleph Zadik Aleph – or the fraternity arm of BBYO) can be strong allies to BBGs (members of the B'nai B'rith Girls – or the sorority arm of BBYO), as well as related programming on domestic violence and sexual assault prevention. In my region specifically, we brought in facilitators to run programming on positive masculinity and emotional bravery for Alephs. We continue to do this across other regions and at our annual International Convention, in the hopes of building as many male-identifying allies as possible for their female-identifying counterparts. Collaborative working relationships have also demonstrated success in cultivating empathy and allyship: at all levels of BBYO, Alephs and BBGs collaborate on projects and programs, and work together as equal counterparts in elected board positions.
Though we've come far as a community, we still have a long way to go. We're taught that to build empathy, we must put ourselves in the shoes of those we wish to reach. Young men may have, at times, felt alienated by or worried about some of the rhetoric around the #MeToo movement. And we also recognize that when attention and resources shift from a privileged group to a more marginalized group, this group can feel left behind and less inclined to support a cause. By providing resources to young men and considering them as part of the solution, we're more likely to empower and activate the majority critical to movement-building. At the same time, we must be malleable and consider how these ideas can be applied and evolve as our community increasingly recognizes that we live in a non-binary world, and that anyone from any gender can be a victim or a perpetrator.
Let us leverage this moment to re-focus our efforts and build a sustainable strategy that positions us all as partners in tackling this challenge. I encourage educators, parents, and philanthropists to continue the crucial work of empowering our young women while also adding programs and resources that challenge our young men to be the best versions of themselves. The return on investment potential is enormous. We know from our tradition that changing one life is akin to changing the world. Through our experiential education platforms, we will empower one young man at time, marching hand in hand, past that tipping point and towards a more equitable future for all.
Amanda Cohen is the Regional Director of BBYO Central Region West. She is committed to empowering Jewish teens to lead social change in their communities.
This piece is part of a series from members of Voices for Good, a Bay Area fellowship, sponsored by Jewish LearningWorks, that amplifies the voices of women working in Jewish professional life.