JTFN Launches Foundation Board Incubator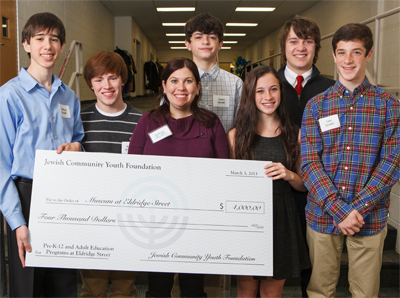 The Jewish Teen Funders Network (JTFN) is excited to announce a new initiative, the Foundation Board Incubator. The JTFN Foundation Board Incubator, funded by Laura Lauder and the Maimonides Fund, will establish up to 10 new deeply rooted Jewish teen foundations in major cities around the world by 2016. The JTFN Foundation Board Incubator will accept three cohorts and will work closely with each community, providing substantial educational and financial resources, for up to five years to ensure program sustainability.
Teen foundations bring together groups of 10 – 25 young people, ages 13-18, to serve as a "foundation board." Community-based teen foundations attract teens with varying levels of Jewish engagement to work together to develop a mission, fundraise, evaluate grant proposals, and allocate real money for real change. At JTFN, we believe these group experiences with strategic philanthropy will both strengthen a teen's engagement with Jewish life and ensure his or her commitment to lifelong giving, based on Jewish values.
While existing Jewish teen philanthropy programs employ a variety of methods and structures, best practices from the field have emerged and the Foundation Board Incubator seeks to utilize those learnings to create new programs, adding to the field of successful youth philanthropy programs. The incubator will focus on introducing programs that have the potential to grow to multiple boards in one city, that engage a diverse group of teens, and that will become ingrained in their communities.
As our first cohort – The Jewish Fund of Detroit and the Jewish Community Foundation in San Diego – programs launch this fall, JTFN is now opening the application process for the second cohort of the Foundation Board Incubator. We invite professionals, lay leaders, and potential funding partners to join an informational call on either September 16 (4:00 pm EST) or September 17 (1:00 pm EST). Applications will be available upon request after September 16 and due on November 21, 2014. RSVP for an informational call.
Unable to attend a call? Learn more at www.jtfn.org/foundation-board-incubator or contact Briana Holtzman, Program Director – JTFN Foundation Board Incubator at 212-726-0177 x207
About JTFN: The Jewish Teen Funders Network (JTFN) serves as a central resource for the quickly growing field of Jewish teen philanthropy. We work to grow and strengthen the field of Jewish teen philanthropy in North America. We support professional and lay leaders to create and improve Jewish teen philanthropy programs in synagogues, Jewish federations, summer camps, JCCs, Jewish community foundations, social service agencies and day schools. We provide training and networking opportunities, educational and programmatic resources, and one-on-one consultations to help troubleshoot challenges or brainstorm new ideas.
JTFN was created in 2006 as a program of the Jewish Funders Network, an international organization dedicated to maximizing the quality and impact of Jewish philanthropy.