Your Daily Phil: New lawsuit looks to block 'antisemitic' ethnic studies in Calif.
Good Monday morning.

In today's edition of Your Daily Phil, we report on a new lawsuit challenging a California school district's controversial ethnic studies curriculum, and feature opinion pieces from Rabbi Elan Babchuck and Rebecca Leeman, as well as Rabbi Morey Schwartz. Also in this newsletter: Andrew Cushnir, Matanyahu Englman and Prince Harry. We'll start with efforts by Jewish nonprofits to assist Morocco after the country's massive earthquake over the weekend.

Jewish aid groups from around the world dispatched teams to Morocco to contribute to the massive humanitarian relief effort underway in the country's center, which was rocked on Friday night by a powerful 6.8-magnitude earthquake that has killed more than 2,100 people, injured upwards of 2,400 and affected hundreds of thousands more, reports eJewishPhilanthropy's Judah Ari Gross.

Rescue teams from Israel have been heading to Morocco since Saturday night, first with small advance teams who assessed the needs of the community and coordinated the larger groups that began arriving yesterday.

"Our initial team on the ground aims to create a situation assessment, connect with local resources and government agencies, as well as meet with community leaders to gauge what assistance is needed," Dov Maisel, vice president of operations for United Hatzalah, said in a statement.

Humanitarian aid from Israel has been limited to nonprofit organizations for now, as Morocco has not yet approved offers of assistance from the Israeli government, leaving Israeli military and civil search-and-rescue teams, who are ordinarily some of the first to deploy to disaster areas, on standby.

IsraAid said its teams brought basic relief items with them to Morocco but were primarily looking to partner with "local NGOs to support vulnerable communities."

There do not appear to be any fatalities among the Jewish community of Marrakesh, which has some 200 members, but the city's Jewish quarter was significantly damaged by the tremors.

IsraAid said it was "in close contact with the Jewish community in Marrakesh and exploring opportunities to partner in relief efforts."

The American Jewish Joint Distribution Committee, which has operated in Morocco since 1947, said it was working with the local Jewish community to provide immediate relief — food, medicine, temporary shelter, medical support, evacuation — to those affected by the quakes, using funds from Jewish Federations of North America and individual donations.

The American Jewish Committee said it had allocated $100,000 for immediate contributions to IsraAid and other groups on the ground. Additional fundraising efforts are expected to launch in the coming days.
Pacific petitions
New lawsuit looks to block 'antisemitic' ethnic studies curriculum in Calif. school district
A coalition of national and international organizations filed a new lawsuit to block the implementation of an ethnic studies curriculum in the Santa Ana, Calif., school district, which it considers to be antisemitic and anti-Israel, on the grounds that the school board violated state transparency laws. The lawsuit was filed jointly by the Anti-Defamation League, the Louis D. Brandeis Center for Human Rights Under Law, the American Jewish Committee and Potomac Law Group with the goal of preventing "antisemitic material from being taught in Santa Ana schools," the organizations told eJewishPhilanthropy's Judah Ari Gross.

Procedural grounds: This is not the first lawsuit against a school district aiming to implement a controversial curriculum in California that, among other things, refers to Israel as a "settler colonial' and "racist" state. However, unlike other cases that focus on the content, the lawsuit filed on Friday by argues that the school board in question deliberately obscured the details of the curriculum from the public in order to prevent debate over the topics and that when it did allow discussion, the board permitted Jewish speakers to be "harassed, humiliated and heckled," L. Rachel Lerman, one of the attorneys leading the case from the Brandeis Center, told eJP.

The Jewish question: In the petition, the organizations note that the school board was aware that the Jewish community would oppose aspects of the curriculum. In a subcommittee meeting on Oct. 4, 2022, the board members cited a need to "address the Jewish question." Lerman said the board looked to keep the topic "under the radar," knowing that "the Jewish community is not going to be happy about being the minority group thrown under the bus." James Pasch, ADL's senior director of national litigation, said in a statement that the board's tactic of using closed-door sessions to discuss the curriculum "prevented input from marginalized communities – in direct contrast to the goal of the ethnic studies program, which is to support marginalized communities."
No more hiding
Why 'employee resource groups' are the next big thing in Jewish life
"The Jewish community's innovators, funders and creatives have worked diligently to ensure that no evening gets left behind when it comes to Jewish engagement, and our institutions have kept pace with an abundance of weekend offerings, too. But for all of the time, talent and treasure that have been poured into the hours of 5-to-9, we have completely ignored 9-to-5," write Clal Executive Vice President Rabbi Elan Babchuck and Clal Associate Rebecca Leeman in an opinion piece for eJewishPhilanthropy.

Not your zayde's workplace: "In today's cultural context, and despite fears of discrimination (or worse), we know that more young Jews want to bring their whole selves to work rather than bifurcating their identities as their parents and grandparents were once encouraged to do. Nevertheless, due in large part to the lack of clarity around whether or not Jewish identity falls into the scope of Diversity, Equity, and Inclusion (DEI) efforts, many corporations have missed the mark on creating pathways for Jews to create Employee Resource Groups (ERGs), let alone incorporating training around antisemitism into their suite of workshops."

PwC as a case study: "Today, J-IBIN boasts more than 500 active members and has produced a myriad of creative programs, enriching the 9-to-5 experience for a broad swath of Jewish PwC employees and their allies. The impact of this ERG has been transformative for employees. 'This is the first professional setting that I've worked in where I have been able to express and celebrate my Judaism at work,' says current J-IBIN member Ari Abramson. 'This chapter has also been a critical support network for me as we've witnessed incidents of antisemitism.'"

Read the full piece here.
Not just for kids
Remember that back-to-school thrill? It's still waiting for you
"So much of what makes school a formative experience is not the information covered in the classroom but the interactions with teachers and fellow students. The discussions and the sense of community that accompanies the learning is not something that only children seek. Adults are searching for these experiences as well," writes Rabbi Morey Schwartz, international director of the Melton School of Adult Jewish Education, in an opinion piece for eJewishPhilanthropy.

Group learning benefits: "What is so significant about learning within a group? Within the context of a group, we are able to share our thoughts and perspectives, listen to the thoughts and insights of others, and thereby sharpen our own understandings. It facilitates acquiring Torah in a much deeper and richer way."

Read the full piece here.
Worthy Reads
Down With Popularity Contests: In The Chronicle of Philanthropy, Jeremy Snyder argues against crowdfunding campaigns in the wake of natural disasters, which can fail to distribute aid efficiently and fairly. "Crowdfunding tends to operate as a popularity contest. Rather than distributing donations according to who needs them the most or where they can do the most good, factors such as the recipient's race, age, education, and perceived need affect where the dollars flow… Having a relatively wealthy and visible social network also helps, as it allows those seeking funds to draw on that network for potential support. As a result, people living at the margins of society and with less ability to get noticed online are at a disadvantage. These biases reflect and exacerbate existing social inequities… People experiencing perhaps the most calamitous event of their lives, including the loss of loved ones, shouldn't have to convince strangers that their needs are legitimate and their stories are real." [ChronicleofPhilanthropy]

A Close-Knit Community: In the U.K.'s Jewish Chronicle, Hannah Gillott profiles an Israeli nonprofit that creates knitting groups in cities and towns across the country, offering social interaction to participants and knitted goods — yarmulkes, blankets, flowers, stuffed animals — to the surrounding community. "[Taube Panigel's] group is one of over 120 across Israel, who meet 'in every city, in every neighborhood, village and rural area,' according to the founder of the Knit a Community project, Aviv Wasserman. He works for the local council in the Hefer Valley and began the project primarily to combat loneliness in the community. 'I thought that knitting together, and gathering people together, can really empower women,' he says. He was right and the idea spread across Israel. 'It's a social event for the women,' Panigel tells me. 'They help each other if they're having problems'… Wasserman owes his idea for Knit a Community to a Brit, Dame Hilary Blume, who had previously set up Knit For Peace in Rwanda… [Wasserman's] charity work may have Jewish roots, but it's grown into a much more diverse community. 'The majority of knitters are Jewish,' he says, 'but it attracts other people as well.'" [JewishChronicle]
Around the Web
Andrew Cushnir was selected to serve as the next president and CEO of The Associated: Jewish Federation of Baltimore. Cushnir, the vice president and chief development officer of the Jewish Federation of Greater Los Angeles, will succeed Marc B. Terrill, who has served as president for more than 20 years…

In the wake of the devastating earthquake in Morocco, Israeli State Comptroller Matanayahu Englman again warned that the State of Israel is woefully unprepared for a major tremor. "Instead of waiting for a commission of inquiry after a disaster has occurred, the prime minister and the relevant ministers must correct any deficiencies immediately," Englman said in a statement…

Israeli-American philanthropist Haim Saban told the Israeli newspaper Yediot Aharonot that President Joe Biden "breaks out in hives" over extremist politicians in the current Israeli government, days after having lunch with Biden in the White House…

The Israeli Supreme Court will hear a petition this week that looks to block a NIS 400 million ($104 million) food subsidy program that was specifically directed toward the country's Haredi population on the grounds that the funds should be distributed equally among Israeli citizens and not to individual communities…

Stacy Ryan was named the next chief development officer of the United States Israel Education Association…

Twenty Israeli disabled veterans from the Zahal Disabled Veterans Organization traveled to Dusseldorf, Germany, last week to participate in this year's Invictus Games, which kicked off on Saturday night. This is the first year that Israeli athletes have participated in the games, which were created by Prince Harry, Duke of Sussex, who is a U.K. military veteran…

The American Society of the University of Haifa hired Scott Brockman and Kevin Leopold as vice presidents of development…

Conservative commentator and personal liberty activist David French wrote a scathing opinion piece in The New York Times regarding Elon Musk's attacks on the Anti-Defamation League, arguing that the billionaire isn't in favor of free speech but in amplifying hate speech… 

Israeli officials are visiting Saudi Arabia as observers to the UNESCO World Heritage Committee meeting. This is the first time that Israeli government officials have publicly visited the kingdom, which does not have diplomatic ties with Israel, though a U.S.-led effort to normalize relations between the countries is underway…
Pic of the Day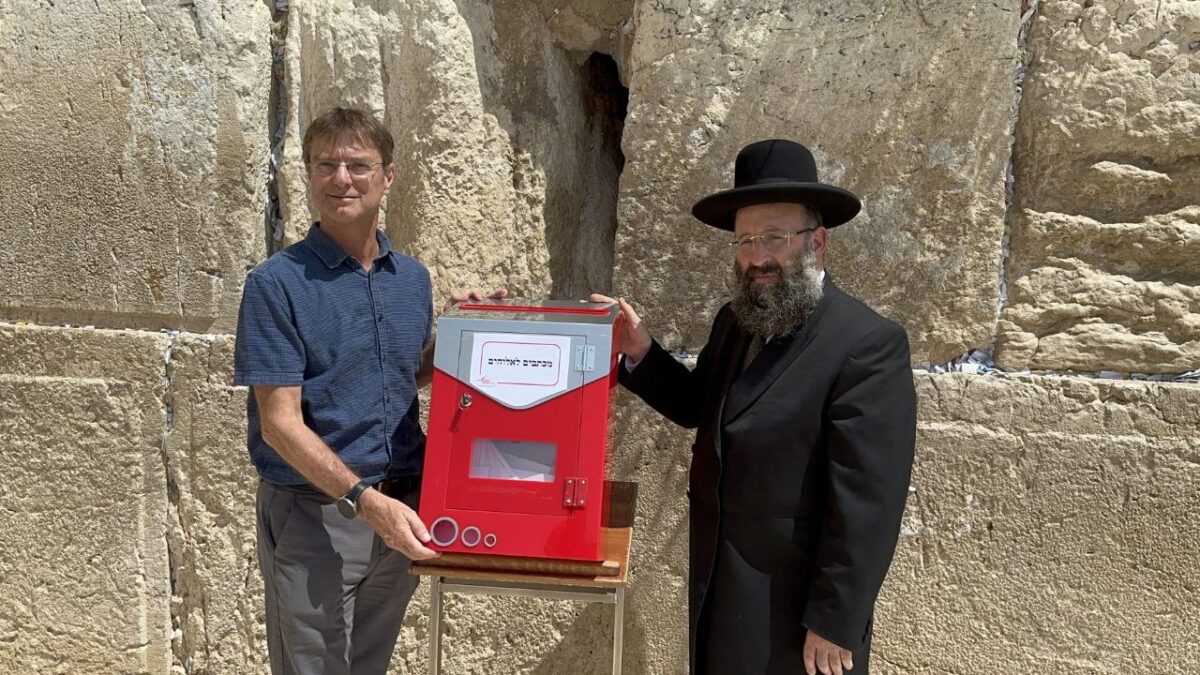 David Laron, CEO of the Israeli postal service, stands with the chief rabbi of the Western Wall, Shmuel Rabinovitch, in front of the Western Wall in Jerusalem on Friday, holding a box labeled, "Letters to God." The mailbox contain notes sent from around the world over the previous year that are tucked into the cracks of the Western Wall before the High Holy Days.
Birthdays
Owner of the NFL's Carolina Panthers, he is also the founder and president of Appaloosa Management, David Tepper…

Lyricist and songwriter, together with his late wife he won four Emmys, three Oscars and two Grammys, Alan Bergman… Wisconsin resident, Janis Gershon Kohlenberg… French physicist who was awarded the 2012 Nobel Prize for Physics, Serge Haroche… 7-foot basketball center who played for the Bulls and Hawks in the NBA, David L. "Dave" Newmark… Senior U.S. District Court judge for the Southern District of Ohio based in Cincinnati, Judge Susan J. Dlott… Pediatric nephrologist, Dr. Jonathan Heiliczer… Member of the New Jersey General Assembly, he is the first Orthodox Jew to serve in the New Jersey Legislature, Gary Schaer… Television producer and executive producer, Jon Meyersohn… Global real estate advisor at ONE Sotheby's International Realty, Rosy Lofer… Director of sales and marketing at Hillcrest Royale Senior Living in Thousand Oaks, Calif., Marian Rubinstein… Pennsylvania Commonwealth Court judge, Ellen Ceisler… Co-founder of the U.K. hedge fund Brevan Howard Asset Management, he is a former director of the Conservative Friends of Israel, Alan Howard… London-based CEO and founding partner of Stanhope Capital, Daniel Pinto… CEO of the Foundation for Defense of Democracies, Mark Dubowitz… Israeli journalist, political commentator and investigative reporter, Raviv Drucker… CEO of NYC's 92nd Street Y, Seth William Pinsky… Executive director at JP Morgan Chase, Daniel E. Berger… Former member of the Illinois Legislature, now the CEO of NYC's Chevra Hatzalah Volunteer Ambulance Service, Yehiel Mark Kalish… Arbi Tatevosian… Artificial intelligence researcher and writer on decision theory and ethics, Eliezer S. Yudkowsky… Jessica Sebella Setless Spiegel… Writer and leader of the Altneu synagogue on Manhattan's Upper East Side, Avital Chizhik-Goldschmidt… Director of partnerships at Masa Israel Journey, Gali Gordon… Udi Ben Zeev…