Your Daily Phil: Lipstadt's first speech as ambassador + A look at the Israel Prize controversy
Good Friday morning!
On arrival at the Luxe Sunset Boulevard Hotel in Los Angeles earlier this week, there was joyful reunion in the form of cautious hugs, elbow bumps and smiles from participants at the Jewish Funders Network (JFN) West conference, as some 50 philanthropists and fundraising professionals from the western United States gathered for nearly two days of discussion and writing.
The group met entirely outside, a concession to ongoing concerns about COVID-19, but the L.A. weather cooperated — making the experience feel "idyllic," according to one participant. The setting was speckled with umbrellas for those who wished for shade and open patches for those seeking California sunshine. During meals and workshops, small tables encouraged participants — who ranged in age from their 20s to their 60s — to move around and converse with different groups of people.
Instead of flowers on the tables, the organizers provided seeded paper as both decoration and something that could be taken home and planted after the conference. Throughout, participants took notes in a journal provided by the organizers and inscribed with the conference's theme — "Be the Story."
The regional conference —the second of its kind and the first one to be held entirely in person, following a virtual gathering last year — was not meant to duplicate the efforts of March's JFN Conference in West Palm Beach, Fla. This more intimate gathering was envisioned as an opportunity for peers to meet and hone the skills needed to create effective stories, JFN West Director Tzivia Schwartz Getzug told eJewishPhilanthropy.
"Not everybody has the same kind of life experience," Schwartz Getzug told eJP. "People understood that putting themselves in the story as they communicate about their work, their passion, their philanthropy, makes others so much more interested and open to whatever it is that they're talking about."
The first day launched with a screening of "Blewish," a short film about biracial Jewish identity from filmmaker Ezra Edmond. A keynote address and workshop followed from Andy Goodman of the Goodman Center, which coaches communications and marketing professionals. Participants practiced storytelling with each other in smaller groups, with some presenting to all the attendees. Tuesday's plenary featured filmmaker Roberta Grossman, producing director of Jewish Story Partners, which supports independent films that tell stories about a diverse spectrum of Jewish experiences, cultures and encounters.
HEARD YESTERDAY
Lipstadt makes first public appearance as antisemitism envoy
In her first public address since being sworn in as the State Department's special envoy to monitor and combat antisemitism, Ambassador Deborah Lipstadt on Thursday noted the connection between antisemitic sentiments expressed by individuals who committed attacks in the U.S. and those employed abroad, Jewish Insider's Melissa Weiss reports.
Both foreign and domestic: "The actual accusation by the Charlottesville ['Unite the Right' march] organizers that Jews were and are behind an attempt to destroy white, Christian America has been adopted and adapted by racially or ethnically motivated violent extremists in Europe and beyond," Lipstadt, previously the Dorot Professor of modern Jewish history and Holocaust studies at Emory University, said at the United States Holocaust Memorial Museum in Washington, D.C., adding that the January hostage situation in a Texas synagogue was carried out by an individual who was radicalized abroad. "It's increasingly hard to differentiate between antisemitism that's foreign and that which is domestic."
??Antisemitism alert: Lipstadt also addressed the increasing confluence of antisemitism and anti-Zionism, pointing to individuals who, she said, "use Israel as a foil for their antisemitism." Lipstadt said, "Let me state something, that which the United States government has repeatedly affirmed: Criticism of Israeli policies is not antisemitism… But when there is an imbalance in the criticism, a failure to see the wrongs of others and attributing the blame to only one party, and the use of double standards, one is compelled to ask, 'What's the basis for this imbalance?' When Jews are denied rights that are afforded to every other group, one is compelled to ask, 'Why this imbalance?' The answer is often self-evident."
ACTIVIST AWARDEE
Court battle and donation bring politics to the Israel Prize
The Israel Prize, given annually to a collection of laureates in a state ceremony full of pomp and circumstance, is meant to unite the country in a celebration of the best in Israeli innovation and brain power. But this year and last, the prestigious prize became mired in politics, reports Linda Gradstein for eJewishPhilanthropy.
The backstory: The controversy surrounds the 2021 prize laureate in mathematics and computer science, Oded Goldreich, a professor at the Weizmann Institute of Science and an outspoken progressive who has advocated a European Union boycott of Ariel University, which is located in an Israeli West Bank settlement. The two most recent education ministers accused Goldreich of supporting the Boycott, Divestment and Sanctions movement against Israel (BDS) and tried to rescind the prize. Goldreich denies the charge, and after a yearlong court battle, Israel's Supreme Court ruled in late March that Goldreich should be given the prize.
In response: Last month, Goldreich responded to his critics with his own political statement: He announced that he would donate all of his prize money – NIS 75,000, or roughly $21,750 — to five human rights organizations, including prominent left-wing groups. Now, both Goldreich and his opponents are accusing each other of politicizing an honor that is given for achievement in fields ranging from math to Talmud, and was supposed to remain above the fray.
In their own words: "I was driven into a political situation and I thought it appropriate to donate to these organizations in order to signal my commitment to my political positions, which are promoted by these organizations," Goldreich told eJP. But some in Israel counter that Goldreich's decision is an insult to the prize. "The organizations that he chose to support undermine the very existence of Israel as a Jewish homeland and the safety and security of people living here," attorney Shlomo Zwickler, a right-wing activist, told eJP.
PARSHA PHIL
Behar: Amplifying tasks in the public sphere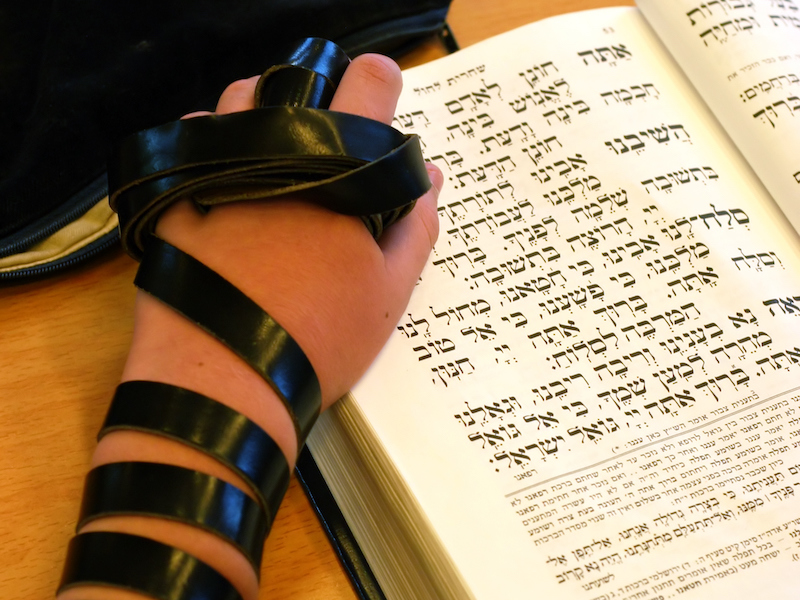 "To give or not to give has never been a question in Judaism. But whether it should be anonymous or not has. While there is clearly merit in both, an idea in this week's parsha, Behar, illuminates how giving publicly can, in many cases, extend the gift," writes Rabbi Benji Levy, a founder of both the philanthropic advisory group Israel Impact Partners and the interdisciplinary mental health center Keshev, in this week's Parsha Phil column.
Reflecting and sounding the shofar: "This mitzvah [of Jubilee] ennobles one with both divine purpose and a sense of humility, while enabling reflection on everyday morals, ethics and individual accountability. Interestingly, this momentous occasion is heralded by the blowing of a shofar. The obvious question is why? What is the significance, at this moment, of the shofar?"
Where individual action meets the collective: "In this difficult moment, the blowing of the shofar presents an unexpected voice of support and comfort for people who are experiencing challenges, the shifting of their entire operating system because of a matter of faith: so when the Jubilee begins, and each person steps outside to blow their shofar, they are immediately bombarded by numerous other shofar blasts from their surrounding neighbors. This sense of communal unity and combined dedication offers solace and support – a true feeling of being in the same boat, for 'The distress of the masses is comforting [for the individual]' (command 331). In biblical times, the sounding of the shofar was a mechanism for announcing something to the world. While the Jubilee task was extremely difficult to implement, it was reassuring to realize that everyone was experiencing the same struggle together."
Sharing a vision, dreaming together, amplifying impact: "Many revolutionary movements have begun simply because a few individuals shared a vision and dreamed in the same direction. To truly harness the positivity that can be found within the context of peer support, it is important to seek and build networks of people who share similar values, share our angst in moments of trial and help foster and reinforce that which is important to us. This underscores the benefit of our Jewish communal infrastructures, philanthropic partnerships, and funding collaboratives."
DIGITAL FINANCING
Trust equity and the metaverse

"A few months ago, in an article on eJewishPhilanthropy, I publicly pushed Jewish groups to think about using crypto-financing to inspire innovative thinking and integrate a new language used by Gen Z-ers. I privately encouraged them to allow donors to give in bitcoin and eurytherm. I still stand by those convictions, however, now I believe that the Jewish world has an even bigger role to play," writes Rebecca Dinar, a former Jewish communal professional, in an opinion piece for eJewishPhilanthropoy.

Trusted philanthropies: "In 2017 I led an effort to validate the financial integrity of 167 Jewish federations. It was part of a plan to secure universally high GuideStar rankings, which had already been achieved by larger federations. Throughout the process, I gained a greater appreciation for the layers of accountants and financial systems that at first glance had seemed like bureaucratic impediments. With very few exceptions, every federation relied on highly reputable accounting teams and volunteer oversight committees to certify their financial health. That's why they are trusted philanthropies."

Trust equity: "In all industries, trust may be the most sought-after asset – and the Jewish world has it in spades. Wouldn't they also have trust equity in the digital world? If there is a way to navigate the complexity of digital financing, the Jewish community can figure it out and when they do there is every reason to believe they will benefit from the trust they have earned over the past hundred years (and throughout time)."

Read the full piece here.
Worthy Reads
The (Philanthropic) Joy of Text: Nonprofits should implement text messaging in their communication strategy, Larry Talley writes in NonProfitPRO: "Text messaging helps to re-engage current volunteers with whom organizations have lost touch. Keeping them updated on new volunteer opportunities and upcoming events quickly and easily by text message can motivate them to stay involved with the organization. Text message is also key in quickly updating volunteers on last-minute changes while, at the same time, volunteers can text back any questions or issues of their own…An additional benefit from texting with volunteers is the ability to gather their feedback on how everything went and also offer appreciation for their efforts." [NonProfitPRO]

Don't Call it 'Philanthropy': In Israel, few donors call themselves "philanthropists" and prefer the terms "social investor" or "social entrepreneur," writes Dafna Meitar-Nechmad in The Jerusalem Post: "A survey conducted in 2017 found that most Israelis dislike philanthropists, suspecting them of non-kosher motives. Moreover, when donors are substantially involved in the organizations to which they have contributed, it seems to fuel the suspicion that the gift is only serving the donor's own financial or political agenda… Contrary to common belief, honor and recognition are not always the motivation to give but rather a sense of satisfaction, solidarity and, of course, the ability to make things happen. For example, for supporters of academia like myself and many others, every scholarship awarded improves not only the student's own life, but also the life of her future family; every new laboratory enables scientific discoveries and medical breakthroughs that will impact lives everywhere." [JPost]

'Righteous' Mission: After the invasion of Ukraine began, the Jewish Foundation for the Righteous mobilized funds and volunteers to rescue 15 Ukrainians who had been designated "Righteous Gentiles" for risking their lives to save Jews during the Holocaust, Stewart Ain reports in the Jewish Telegraphic Agency: "After speaking with the Righteous Gentiles — each of whom has been verified and recognized by Yad Vashem, Israel's Holocaust memorial — the foundation prepared to send the money as it normally does through Western Union, which has offices throughout Ukraine. But typically, each rescuer is sent a form each April 1 that he or she is asked to fill out along with their May or June pension statement and a notarized affidavit that must be returned by July 1. Those affidavits constitute proof that the rescuers are alive — a requirement that [foundation executive Stanlee] Stahl said exists in both her foundation's funding program and the one in Germany that distributes funds to living Holocaust survivors. The foundation wasn't going to ask elderly Ukrainians to find a notary in wartime. So instead it asked rescuers to submit 'proof-of-life' photos: pictures of themselves along with a copy of that day's newspaper, a time stamp taken by the camera or a television displaying the date and time." [JTA]
Community Comms
Be featured: Email us to inform the eJP readership of your upcoming event, job opening, or other communication.
Word on the Street
More than 100 participants attended the second annual Jews of Color Mishpacha Project Shabbaton, held at the Pearlstone Retreat Center in Baltimore County, Md…
The Koret Foundation is providing a $10 million grant to establish the Koret Center for Jewish Civilization at Tel Aviv University, a partnership between the foundation, the university and ANU – the Museum of the Jewish People…
The Charles and Lynn Schusterman Family Philanthropies announced the seventh cohort of Schusterman Fellows…
The Muslim World League in Riyadh, Saudi Arabia, hosted a meeting this week that included 12 rabbis along with leadership from the Catholic Church, Orthodox Ecumenical Patriarchate, evangelical Christianity, Hinduism and Buddhism, in addition to religious leaders from countries across the Muslim world. The event was dedicated to charting ways to promote interreligious cooperation and solidarity in response to conflict and tensions between faith communities…
Menachem Z. Rosensaft has been appointed chairman of the advisory board of the Lower Saxony Memorials Foundation. The foundation is responsible for designing, managing and maintaining the Bergen-Belsen and Wolfenbüttel Prison Holocaust memorials…
The Bill & Melinda Gates Foundation announced a commitment of up to $125 million to help end the acute phase of the COVID-19 pandemic and prepare for future pandemics…
Swiss Jewish financier and philanthropist Nessim Gaon died at 100. Gaon had a significant influence on several of Israel's social welfare and education programs and was a persuasive force in developing relations between Israel and Egypt…
Pic of the Day
One hundred sixty participants from 33 organizations across Los Angeles went "back to camp" on Thursday for a daylong event that inspired professionals with new ideas and built connections between them. The event was designed by Trybal Gatherings and supported by The Jewish Community Foundation of Los Angeles in partnership with the Foundation for Jewish Camp.
Birthdays
Gold medalist for Israel in rhythmic gymnastics at the 2020 Olympics in Tokyo, Linoy Ashram…
Friday: Attorney based in London, Sir Sydney Lipworth QC… Actress Zohra Lampert… Actor and producer, Harvey Keitel… Ophthalmologist in South Florida, Dr. Joel Sandberg… Chief scientific officer for COVID-19 response in the Biden administration, David A. Kessler… Forty-year professional in the Jewish world, author of 75 and Fabulous: Reflections, Sherri Morr… Founder and former CEO of LRN legal research, ethics and compliance management firm, Dov Seidman… Chair of JFNA's National Women's Philanthropy Board and chair of the Hartford (Conn.) Federation, Carolyn Gitlin… Retired NFL defensive lineman who played for the Raiders and Panthers, Josh Heinrich Taves… Ice hockey player, she won a gold medal at the 1998 Winter Olympics and a silver medal at the 2002 Winter Olympics, Sara Ann DeCosta… U.S. Sen. Tom Cotton (R-AR)… Chief community and Jewish life officer at The Jewish Federations of North America, Sarah Eisenman… Managing director of public affairs and advocacy at Edelman UK, Luciana Berger… Co-founder of Asana, Justin Rosenstein… Retired NFL offensive lineman, Brian de la Puente… Creator, writer and star of the HBO series "Girls," Lena Dunham… Hannah Sirdofsky… Co-founder of Manna Tree Partners, a private equity firm focused on healthy food, Gabrielle "Ellie" Rubenstein… Product marketing manager at Dive, Bela Galit Krifcher… Program officer at a private foundation in NYC, Dore Lev Feith… Director of external affairs at the Manhattan Institute, Jesse Martin Arm… Program manager at Jigsaw, Raquel Saxe… Senior diplomatic advisor to Israel's minister for regional cooperation, Yael Patir …
Saturday: Born in Casablanca and raised in Paris, Midtown NYC hair stylist and owner of La Boîte a Coupe salon, Elie Laurent Delouya… The Green Party's nominee for president of the United States in the 2012 and 2016 elections, Jill Stein… Professor of computer science at Technion, Orna Grumberg… Dean of UC Berkeley Law School, Erwin Chemerinsky… Los Angeles city attorney, Mike Feuer… Author of six international bestsellers, Robert Greene… Head of school at the Gideon Hausner Jewish Day School in Palo Alto, Daniel L. Lehmann… ESPN's "SportsCenter" anchor and football sideline reporter, Suzanne Lisa "Suzy" Kolber… Masters candidate at Johns Hopkins SAIS, Robert Levinson… Chief compliance and integrity officer at Yale New Haven Health, Gayle Slossberg… Education program lead of Bloomberg Philanthropies, Howard Wolfson… Managing partner of Alexandria, Va.-based MVAR Media, Jon Vogel… Emmy Award-winning executive producer of CNN's political and special events programming, David Philip Gelles… Director of media relations at Chabad Lubavitch, Rabbi Mordechai "Motti" Seligson… Chairman, CEO and co-founder of Meta / Facebook, Mark Zuckerberg… Bloomberg News and Bloomberg Businessweek reporter, Josh Eidelson… Actress Sasha Rebecca Spielberg… Managing director of government relations at The Blackstone Group, Alex I. Katz… J.D. candidate in the 2022 class at Stanford Law School, Andrew Ezekoye… Forward for the NHL's New Jersey Devils, he was the first pick in the 2019 NHL Entry Draft and is the son of hockey star Ellen Weinberg-Hughes, Jack Hughes…
Sunday: Principal of Queens-based Muss Development, Joshua Lawrence Muss… Chairman emeritus of The Raoul Wallenberg Committee of the United States, Rachel Oestreicher Bernheim… VP of the American Zionist Movement and chairman of the Religious Zionists of America, Martin Oliner… Retired major general in the IDF, he served as Israel's National Security Advisor and is now a senior fellow at the Jerusalem Institute for Strategic Studies, Yaakov Amidror… CEO of Emigrant Bank, real estate developer, financier and philanthropist, Howard Philip Milstein… Owner of Midnight Music Management, Stuart Wax… Deputy editorial page editor at The Washington Post, Ruth Allyn Marcus… Five-time Emmy Award-winning journalist, producer and filmmaker, Giselle Fernandez… Owner/president of the NFL's Minnesota Vikings and chair of The Jewish Federations of North America, Mark Wilf… Former member of the Nevada Assembly, she served as secretary of the National Association of Jewish Legislators, Ellen Barre Spiegel… Founder of Reeves Advisory, she is a senior fellow at Brown University, Pamela R. Reeves… Actor David Krumholtz… Noam Finger… Grants administrator in the office of crime victim services at the Wisconsin Department of Justice, Shira Rosenthal Phelps… Executive director at the Mercatus Center at George Mason University, Daniel M. Rothschild… Actress Jamie-Lynn Sigler… Pulitzer Prize-winning reporter and author, Eli Eric Saslow… Rochelle Wilner… Ofir Richman…
Email Editor@eJewishPhilanthropy.com to have your birthday included.