Your Daily Phil: Jewish Fertility Foundation expands + Brooklyn gets a new hub for Jewish life
Good Wednesday morning!
The Goldring/Woldenberg Institute of Southern Jewish Life will announce a strategic plan today that aims to make the organization's operations more efficient and its mission easier to grasp, Beth Kander-Dauphin, director of communications, told eJewishPhilanthropy.
Founded in 1986 as the Museum of the Southern Jewish Experience,the organization expanded its mission in 2000 to serve communities in 13 Southern states by preserving history and providing Jewish education and cultural programming. In May, the museum reopened as a separate entity in New Orleans.
In addition to the Goldring and Woldenberg families, supporters include the Stanford and Joan Alexander Foundation, the Elaine and Emanuel Crystal Charitable Fund and the Zadeck Family. The M.B. & Edna Zale Foundation funded the listening tour.
Over the years, Kander-Dauphin said, the institute grew in response to the needs of the communities it was serving, but it started to get questions from funders about its sustainability. "It's been a grassroots organization, but it was a tough elevator pitch," she said.
The plan announces a shift from six departments to three service areas — culture, education and spirituality — and a reduction in staff from 24 full-time positions to 18 due to the decision not to renew some term-limited positions. The institute has also moved within Jackson, Miss., from offices to a space within Beth Israel Congregation.
A task force consisting of CEO Michele Schipper, two board members and two staff people created the plan with input from other staff, from at least one focus group in each of the 13 states the institute serves and from the results of a survey completed by 200 people.
In Brooklyn, a new Jewish community center called "The Neighborhood" that aims to attract locals who are curious about Jewish life but don't attend a synagogue has named Rebecca Guber its founding director, Guber told eJewishPhilanthropy. "It's hard to imagine in a community with such a gigantic population, but there isn't a space that is pluralistic and open," she said.
She will come to the job from her post as founder and director of a global network of Jewish artists, Asylum Arts, that will become part of the new center. Part of The Neighborhood's mission will be to provide a home for Jewish groups that don't have their space, but it doesn't have a permanent address of its own yet. Starting in the fall, it plans to start offering pop-up programming, Guber said.
UJA-Federation of New York provided the $125,000 seed funding for The Neighborhood. Board members and others are also supporting its first phase of operation, which involves creating a group of community advisors and fundraising. "We feel we need to build support and excitement before we can start raising money," Guber said.
BRANCH OFFICES
The Jewish Fertility Foundation is expanding to Alabama and Florida
The Jewish Fertility Foundation (JFF), a provider of financial and emotional support for people suffering from infertility, is expanding to two new locations this summer and has obtained, for the first time, funding that will support its plan to operate across the country, JFF CEO and founder Elana Frank told eJewishPhilanthropy's Helen Chernikoff.
Milestone gift: The Natan Fund, a giving circle that supports innovative projects, is the donor of the $20,000 grant, said Adina Poupko, Natan's executive director. "The Natan Fund is honored to be the first foundation to support Jewish Fertility Foundation's national expansion," Poupko said. "Jewish communities should be supportive of couples and individuals on their path to creating a family, and it is wonderful to see JFF create that space for them."
A lack of infrastructure: Frank founded JFF in 2016 with help from Lynn Goldman, a reproductive law attorney. Both women had struggled with infertility. Because there were no Jewish support groups at the time, Goldman attended one in a church before starting a group at her synagogue. Frank had received fertility treatment in Israel, where insurance covers the high-cost procedures, and wanted to help people who couldn't afford treatment. "There's no infrastructure here for people who are experiencing infertility," said Lauren Schwartz, executive director of Collat Jewish Family Services (CJFS) in Birmingham, Ala., JFF's local partner.
Picking up the pace: JFF is based in Atlanta and aims to help more of those who need its grants and services by replicating itself, with slight variations, in Jewish communities across the country. It already operates in Cincinnati; will start operating in Birmingham in July, and will open in Tampa, Fla., later this summer. In 2022, it will open in three additional cities. After CJFS expressed interest in offering JFF's program, Frank made certain there was both sufficient need and enough qualified clinics, Schwartz said. The Birmingham Jewish Foundation and CJFS together are paying the staff person who will launch the operation by developing relationships with the clinics and doing outreach to families.
DELIVERY HERO
The hurricane-chasing Jewish chef who is feeding first responders in Miami
The night the Champlain Towers South condo collapsed last week, Daniel Arshadnia was staying with a friend in Surfside, across the street from the disaster site. The next morning, he was at the scene. Arshadnia isn't technically a first responder, but as a chef whose business involves going to disaster zones — "chasing storms," as Arshadnia puts it, since he usually travels to places hit by hurricanes — he is often one of the first people at the scene of a crisis, setting up a grill or a smoker to feed rescue workers and survivors of the latest tragedy. "I called all my guys up first thing in the morning, and I said, 'Everyone, this is a volunteer opportunity. We're not making any money doing this,'" Arshadnia told Jewish Insider's Gabby Deutch.
Close to home: Arshadnia's work has taken him to Tennessee, Louisiana and northern Florida, but this is his first time working a disaster so close to home. "Everybody was there on one site working for the same goal, so it's nice to see that," said Arshadnia. "It sucks that it happens in my own backyard." He lives near Surfside in North Miami Beach, another small municipality in the patchwork of communities that make up Miami-Dade County.
Jewish side: Working in Surfside, a heavily Jewish town where 40 Jews are known to be among the dead and missing, Arshadnia has shown his employees his Jewish side, which they are not used to. "It brings me a lot of joy for my people that work with me to see it, because it kind of defines some of the qualities that I think that I have in myself, but they just don't get," Arshadnia said. "Like, 'Why do you have to be so nice all the time? Why do you have to be so helpful?' Because [these are] the things that are instilled upon us — when things happen, you stay together, you work together, you support your law enforcement, you support your local officials."
MAH NORAH HAMAKOM HAZEH
Opening our gates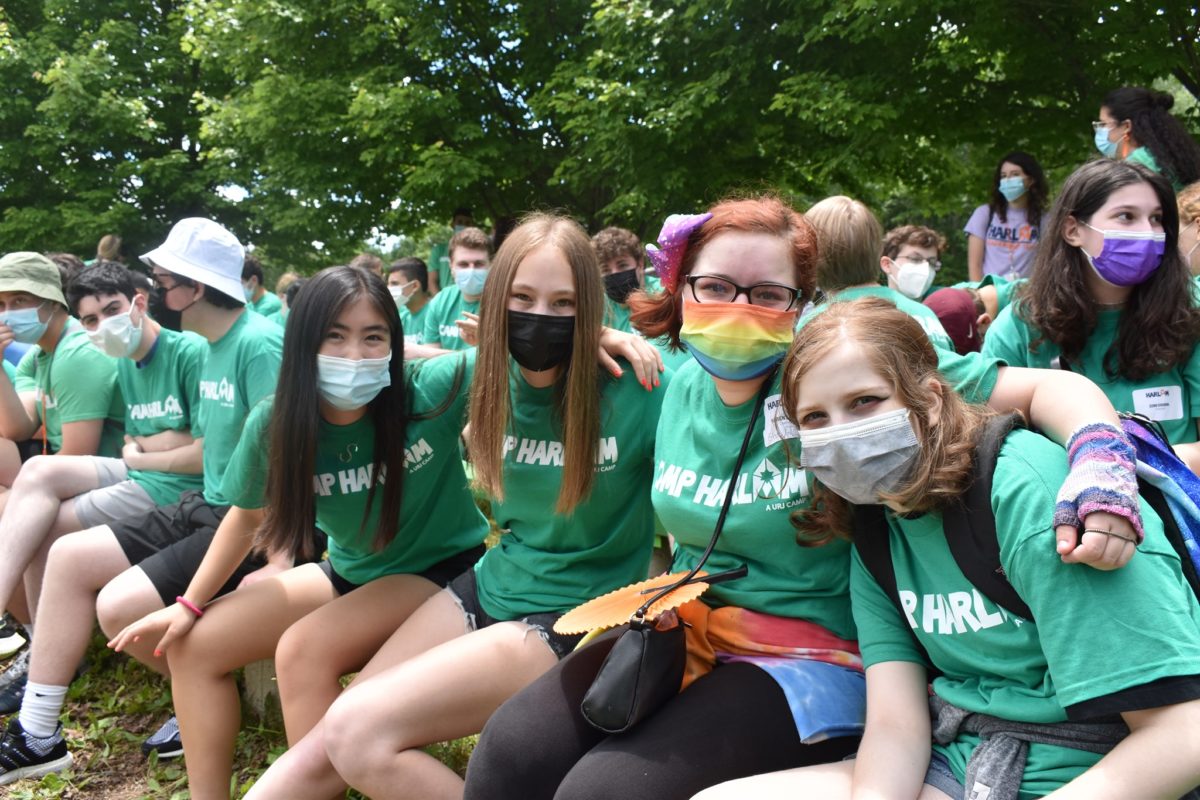 "Here we are, we've come so far. Look up and down, breathe in, breathe out. Now we know this place is holy, and now we see that we are holy… Mah Norah Hamakom Hazeh. How Awesome is this Place," writes Rabbi Stacy Rigler, senior program manager of Jewish education at Foundation for Jewish Camp, in an opinion piece for eJewishPhilanthropy.
Holiness: "With these words, Foundation for Jewish Camp's (FJC) Cornerstone Fellowship 2021 theme song kicked off the summer season, reminding us of what the past 22 months have proven. As songwriter and cornerstone educator Chana Rothman described, there is a profound holiness found within the Jewish summer camp community."
Celebrating our campers: "As camps open, there is much to celebrate – both as a broader Jewish community and with the unique identities that our campers bring. We are not only celebrating campers arriving at camp, we are celebrating who they are and how they are showing up. This month as camps open their gates, some may feature Pride celebrations. Raising the pride flag is now a ritualized part of opening camp in June. Our camps are amplifying LGBTQ+ voices and sharing in Pride Shabbat. Pride month reminds us that being allies and leaders means more than community education and policy change; it means standing together in celebration… The past 18 months also gave us time to reflect on who our communities are, and to recreate rituals, to ensure our camp community celebrations are inclusive of multiple ethnic and cultural identities."
RECONNECTING
Digging deeper into the Jewish engagement of parents during the pandemic
"The COVID-19 pandemic created a unique set of challenges for Jews, Jewish families, and Jewish communal organizations. With in-person gathering on pause, Jewish organizations had to get creative to provide opportunities for engagement in High Holiday services and other programming in 2020," write Gage Gorsky, an educational measurement and statistics-trained Ph.D, and foundation professional Stacie Cherner, in an opinion piece for eJewish Philanthropy.
The survey: "From December 9-27, 2020, Benenson Strategy Group surveyed 1,414 Jews, 18 and older, living in the United States. Respondents who opted in were granted access to the questionnaire. However, only individuals self-identifying as Jewish in at least some way were eligible to complete it."
Initial analysis: "The initial analysis revealed surprising trends regarding how and why American Jews chose to participate in Jewish life during the pandemic. Rather than serving as a barrier to engagement, it seems that American Jews were feeling more connected to their Jewishness and more active during the High Holidays than in years prior."
Key finding: "A key finding was that parents with children under the age of 18 consistently stood out as feeling more connected to their Jewishness, more active in their participation, and more hopeful for their future Jewish lives during the pandemic, compared to their counterparts without children. Compared to Jews with no children, they had the highest praise for the efforts of Jewish organizations to provide high-quality, relevant, and meaningful COVID-safe programming."
Worthy Reads
Self Interest: Writing in The Guardian, Celina Ribeiro interviews Peter Singer, the Australian philosopher who argues that most people have more than they need to live comfortably, and should donate the excess. Singer said he doesn't yet see enough being done in a practical sense to effectively help people who are bearing the brunt of the pandemic and climate change, but there's reason to hope that will change: "If people think about what's important to them … they will realise it is important to think their lives have a larger purpose beyond themselves, and that it's immensely satisfying." [Guardian]
Bigger Mission: The pandemic spurred the Common Market, a food charity that had used hospitals and schools to expand access to fresh produce, to shift its focus first to emergency food aid and then to advocacy, reports Nicole Wallace in the Chronicle of Philanthropy. The organization realized it needed to move into policy work when it discovered the positive impact of a rule that allowed government officials to consider whether an emergency food contract benefitted local farmers. "We have such a diversity of partners in our work across that geography with diverse experiences and a profound potential to impact the direction of public policy to improve urban and rural communities," said Haile Johnston, Common Market's chief development officer. [ChroniclePhilanthropy]
Windows On The World: In Barron's, Eric J. Savitz focuses on digital transformation and the future of work in an interview with Microsoft CEO Satya Nadella, who said that the pandemic has accelerated the adoption of digital technologies in a way that will help the world survive the next crisis. The global online workforce will demand a new definition of productivity, Nadella said, that includes collaboration, learning and well-being. "Employees are working longer hours and often feeling disconnected from colleagues," Nadella said. "Companies can address this by equipping people with tools to rebuild social capital, focus, and stay healthy." [Barrons]
Community Comms
Lead. Be part of the fall cohort of the Certificate in Jewish Leadership, presented by Spertus Institute in partnership with Northwestern University.
Apply! Want to join the team at Jewish Insider/eJewish Philanthropy? We're looking for a top-notch philanthropy editor. Learn more here.
Be featured: Email us to inform the eJP readership of your upcoming event, job opening, or other communication.
Word on the Street
University of Pennsylvania President Amy Gutmann, whose father fled Nazi Germany before WWII, will reportedly be nominated to become the next U.S. ambassador to Germany… A new study published by theU.K.'s Institute for Jewish Policy Research analyzes mortality levels among British Jews throughout the pandemic… Nefesh B'Nefesh has launched the Institute for Aliyah Policy and Strategy, to be headed by former Member of Knesset Michal Cotler-Wunsh… Social media platform Instagram has added a new feature to its fundraising capabilities that allows users who have created fundraisers to invite other individuals to become co-sponsors of their efforts… The Ford Foundation announced an additional $75 million commitment to nonprofit and advocacy organizations across the U.S. South… Tufts University in Medford, Mass., received a $10 million gift from former Tufts Entrepreneurship Center director Jack Derby and his wife, Jan, to support the Center's work… BNY Mellon Wealth Management appointed Crystal Thompkins head of philanthropic solutions….
Pic of the Day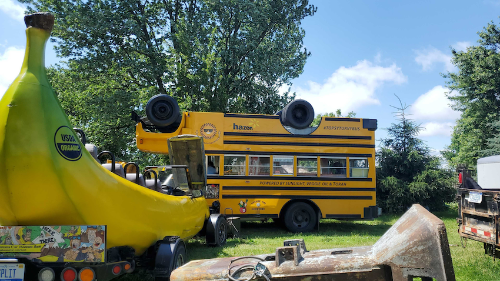 A specialist in unconventional vehicles, who drives a car in the shape of a banana, jump-started environmental organization Hazon's Topsy Turvy Bus last week. Hazon uses the bus, which runs on solar power and vegetable oil, as a mobile classroom in the Detroit area. A book about the bus is coming out in January 2022.
Birthdays
Reggae and alternative rock musician, Matisyahu (born Matthew Paul Miller)…
Nobel Prize laureate in chemistry and professor emeritus at Stanford University, Paul Berg… Rapid City, South Dakota resident, Leedel Chittim Williamson… Executive coach to nonprofit leaders, he was the founding director of the Museum of Jewish Heritage, David Altshuler… Former New York State Assemblyman (83-18), Dov Hikind… Former Harvard professor and author of books on the Holocaust and antisemitism, Daniel Goldhagen… Staff writer at The Atlantic and author of ten books, David Frum… Chief Justice of the New Jersey Supreme Court, Stuart Jeff Rabner… Professor of astrophysics at McGill University, Victoria Michelle Kaspi… Professor at Penn State University, he is the co-editor of a handbook on 25 different Jewish languages, Aaron David Rubin… Columnist, author and screenwriter, Matthew "Matthue" Roth… Chief of staff for U.S. Senator Josh Hawley (R-MO), Kyle Justin Plotkin… Actress, Elizabeth Anne "Lizzy" Caplan… Senior software engineer at Bloomberg LP, Noam Lustiger… Chief program officer at the Conference of Presidents of Major American Jewish Organizations, Stephanie Hausner… Rhythmic gymnast who represented the U.S. at the 2012 Olympic Games, Julie Ashley Zetlin… Planner analyst at The TJX Companies, Michal Adar… Associate area director for the North Shore of Long Island at AIPAC, Abbey Taub… Founder and co-executive director of JOIN for Justice: the Jewish Organizing Institute and Network, Karla Van Praag…

Email Editor@eJewishPhilanthropy.com to have your birthday included.