Your Daily Phil: JCRCs put to the test with war in Israel, rising antisemitism
Good Tuesday morning.
In today's edition of Your Daily Phil, we report on how Jewish Community Relations Councils are responding to the war in Israel and rising antisemitism in the U.S., as well as the Austrian government's new compensation package for Holocaust survivors. We feature opinion pieces by Elliot Karp and Aharon Ariel Lavi. We'll start with American Jewish leaders meeting with the White House about antisemitism on campuses.
Jewish leaders suggested the Biden administration strip federal funding from universities that fail to address antisemitism on their campuses during a meeting at the Department of Education on Monday to discuss steps to counter the noted rise of antisemitic incidents on college campuses — which comes amid a 388% increase nationwide since the Oct. 7 terror attacks in Israel, reports eJewishPhilanthropy's Haley Cohen.
Second Gentleman Doug Emhoff, Education Secretary Miguel Cardona, Special Envoy to Monitor and Combat Antisemitism Ambassador Deborah Lipstadt and other members of the administration met with 13 Jewish leaders – from across the political and religious range of the community – who have been focused on the rise of antisemitism on campus. The administration pledged to make a plan within two weeks to address the wave of antisemitism.
Sheila Katz, CEO of the National Council of Jewish Women, proposed that universities lose their federal funding under Title VI of the Civil Rights Act, which prohibits discrimination on the basis of race, color or national origin. Nathan Diament, executive director of the Orthodox Union Advocacy Center — an organization that often does not see eye to eye with NCJW — said he had in mind to suggest the same. "The whole community is on the same page here," he told eJP. "[Universities should be] made to understand that there are consequences to failing to serve your Jewish students appropriately."
"It was very clear that both the Department of Education and the Biden administration saw this as a worthwhile use of their time and something they needed to be at," Julie Rayman, managing director of policy and political affairs at the American Jewish Committee, said, adding that the discussion was a "combination of voicing angst and anxiety of the community but also trying to provide some real, tangible recommendations for what we hope to see from the Department of Education."
"You put a defined timeline on something and direct your staff to do it, hopefully you can expect that will be the case," Diament told eJP. "There will be follow-up conversations, for sure."
Poison Ivy: Columbia University and Barnard College have yet to respond to a letter signed by 144 faculty members on Saturday that called Israel an apartheid state and referred to Hamas' terrorist attacks as a legitimate "military action," reports Haley Cohen for eJewishPhilanthropy's sister publication Jewish Insider.
Policy check
Stress test for JCRCs' strategy in wake of Hamas attacks
Across the country, Jewish Community Relations Councils and the umbrella group the Jewish Council for Public Affairs have based their efforts on coalition-building and on "being in relationship" with different communities — minority groups, religious denominations, LGBTQ organizations and others. That overarching strategy has been put to the test this past month following the Oct. 7 attacks in Israel and the ensuing rising in antisemitism across the United States (and the rest of the world), laying bare the successes, failures and challenges of that JCRC system and identifying likely focuses for the organizations going forward, reports eJewishPhilanthropy's Judah Ari Gross.
Schools, a challenge: "I think there's a lot that has been heartbreaking, but elected officials on the national level and also on the local level have been showing up in many places and, in many cases, in places that matter," Amy Spitalnick, CEO of JCPA, told eJP last week. "And that is the result of deep relationships with the JCRCs and others." At the same time, schools — both K-12 and higher education — have emerged as areas of significant difficulty, with institutions releasing equivocating statements about the Oct. 7 attacks and failing to address antisemitism on campus. "That's going to be one of the biggest takeaways from this is our high schools in particular need a lot more attention," Tyler Gregory, CEO of the JCRC Bay Area, told eJP.
Successes and struggles: Gregory said his JCRC has seen particular success with its outreach to the Asian American community in recent years, particularly following the COVID-19 pandemic, which saw an increase in hate crimes against Asian Americans. Jeremy Burton, executive director of the Jewish Community Relations Council of Greater Boston, said Black, Latino and many Christian and Catholic groups have been supportive. "I would say that the last couple of weeks have really shown that investing in quality relations in the Christian faith community and particularly in the Black community have really resulted in the kind of relationships of solidarity and understanding and comfort that one would expect and hope to see in times like this," Burton said. "We've also seen some places… and some communities where it's been really hard and problematic, frankly."
Compensation package
Austria agrees to pay Holocaust survivors additional $5,330, twice that for those in 'special need'
The Austrian government has agreed to pay every living Austrian Holocaust survivor an additional $5,330 and an additional payment of the same amount for those deemed to be in "special need," following negotiations with the Claims Conference, reports eJewishPhilanthropy's Judah Ari Gross.
For the future: The Claims Conference, which works to secure financial compensation for Holocaust survivors, said the Austrian government also promised to double its Holocaust Survivors Emergency Assistance Program to $3.2 million for next year and to fund Holocaust education programs. Additional direct payments for Austrian survivors were also guaranteed for those who are determined to be in special need, the organization said.
Greg Schneider, executive vice president of the Claims Conference, praised the "milestone" results of the negotiations with the Austrian government. "While the Claims Conference has been supporting Austrian Jewish survivors with critically needed assistance for home care and other welfare services, these additional payments from the Austrian government, while symbolic, will go a long way for some of the more vulnerable in that waning population," he said in a statement.
The mission continues
Two Octobers: 1973 and 2023
"The emotions I felt on Oct. 7, 2023 brought me back 50 years to Oct. 6, 1973. It was the first day of the Yom Kippur War and my 18th birthday. I had just spent the previous summer in Israel on my first-ever trip," writes Elliot Karp, the former CEO of Hillels of Georgia, in an opinion piece for eJewishPhilanthropy.
Start of a path: "Back in 1973, I considered what I could do. How could I help? I wondered if I should return to Israel to volunteer or remain at college and mobilize campus support for Israel. I ultimately made the decision to stay in school and do whatever I could to help Israel on campus at SUNY Stony Brook. My decision led me to become Hillel president and a youth advisor and religious school teacher at a local synagogue — and, most importantly, to make a lifetime commitment to serve the Jewish people, Israel and the Jewish community."
In the passenger seat: "On Oct. 7, however, I was glued to cable TV news and reading every post and tweet that came across my iPhone. Where I once led organizing efforts to mobilize community support for Israel with rallies, letter writing and fundraising, I found myself sitting in attendance at those very same events. Instead of soliciting donations, I wrote my check. Instead of being able to lobby my elected officials I found myself yelling at the talking heads on the TV. And then… something happened."
Ready. Aim. Donate.
Know how to give effectively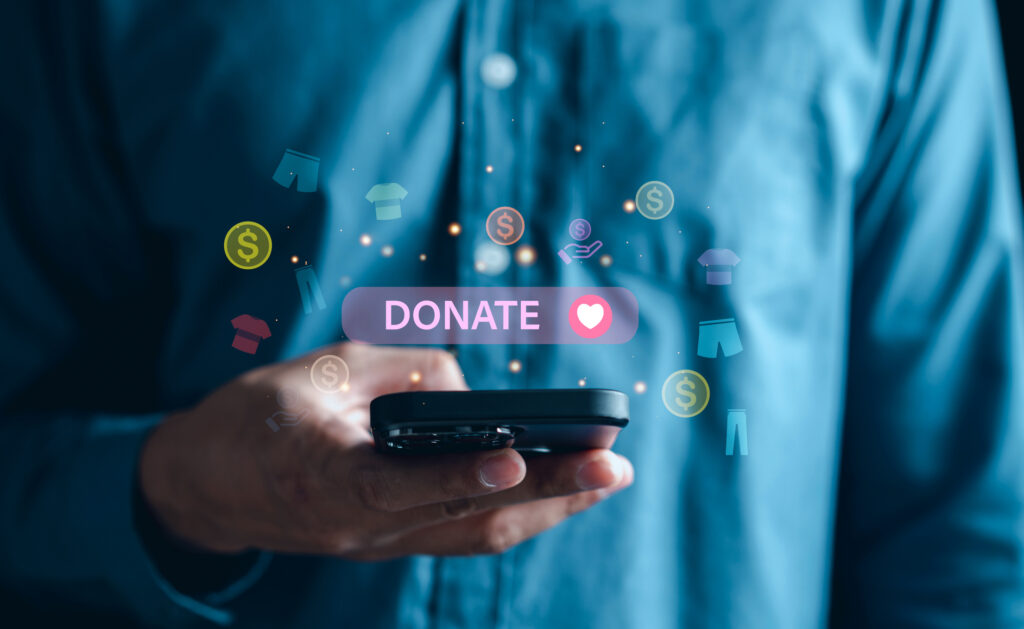 "I live on the Gaza border. As a combat medic, I was preoccupied with caring for wounded soldiers and civilians on Oct. 7; then, after nightfall, I joined my IDF unit in the north, where we were flooded with donations of toothpastes, food and, of course, socks," writes Aharon Ariel Lavi, manager of the Hakhel Community Network and the Ohr Torah Interfaith Center, in an opinion piece for eJewishPhilanthropy.
Best of intentions: "People abroad also started raising money for military equipment (or as they like to refer to it, 'tactical gear'). While the impetus came from a good place, in most cases those who were raising money had no idea what was really needed — and then, even after they raised the money, they had no idea where to buy this tactical gear. … You could also easily be deceived by crooks, like the ones arrested two weeks ago for supplying defective equipment after taking millions of dollars donated by good people. It was recently published that only 500 out of tens of thousands of vests donated were actually approved and accepted by the IDF."
Worthy Reads
Pandemic Impacts on Giving: A project of the Equitable Giving Lab, the Women & Girls Index tracks the amount of philanthropic support women's and girls' organizations in the U.S. receive from individuals, foundations and corporations. Charitable giving to these organizations has represented less than 2% of all philanthropic activity in the U.S. every year between 2012-2020, according to the latest data available for use in the 2023 WGI — but the $8.8 billion in philanthropic support in 2020 (1.8% of overall charitable giving) was a 9.2% increase over 2019. "Contributions to family and gender-based violence organizations rose by 17.9% between 2019 and 2020, suggesting that donors were potentially motivated to give to these organizations as incidents of domestic violence increased following pandemic stay-at-home orders. … . The newest WGI data provide an opportunity to understand how giving to women's and girls' organizations changed during the momentous events of 2020." [WGI]
Do Your Homework: Kiplingers offers tips for people who want their donations to have an impact on a community or a cause in another country. "As investors weigh the benefits of transferring capital to worthy 501(c)(3)s or those outside of the United States, they must proceed with caution. When giving internationally, it's important to determine that the organizations in question have an American Friends designation, or a U.S. affiliate of the foreign charity. The designation ensures that the organization is in good standing with the United States government and that tax benefits are accounted for on the investor side. … Many employers also match donations, so it's worth contacting your HR department to better understand the philanthropic benefits that they can extend on top of your own. In times of global need, conduct some research to better understand if your dollars can go further with mega donor matching programs. … Is it wrong to want to give one-off donations? No. But if you want to make a bigger impact, think more strategically. Smart, targeted grants to international organizations and on a long-term basis can change the way the world operates." [Kiplingers]
Around the Web
Nearly 2,500 Holocaust survivors and their descendants sent President Joe Biden a letter thanking him for supporting Israel following the Oct. 7 massacres as part of an initiative by the Jewish Federations of North America. "Today is different. Today we have Israel. Today we have the United States of America and a President willing to support the State of Israel and denounce antisemitism at home and abroad. Your unwavering affirmation of Israel's right to defend itself is meaningful to us," they wrote…
Michael Bloomberg will donate nearly $44 million to Magen David Adom, in a donation-matching program, following Oct. 7 attacks in southern Israel and ensuing war. American Friends of MDA said the $88 million total represents the largest donation it has ever received…
In light of continued missile and rocket fire from Lebanon at Israeli border towns, the International Fellowship of Christians and Jews has distributed 4,100 flak jackets, 500 first responder kits and positioned 30 new mobile shelters in northern Israel. IFCJ has also allocated $500,000 for 400 military families with loved ones injured in battle…
The Jewish Federation of Greater Washington hired former FBI executive Russell "Rusty" Rosenthal as its executive director of regional security…
Israeli security forces rescued one of the Israeli hostages being held by Hamas, Pvt. Ori Megidish, in an overnight raid this week. Megidish was reunited with her family…
J. The Jewish News of Northern California interviewed Craig Newmark (of Craig's List fame) about his philanthropy and efforts to combat misinformation…
Representatives of the Vancouver Holocaust Education Centre, the Jewish Federation of Greater Vancouver and the Centre for Israel and Jewish Affairs in British Columbia, Canada, as well as Holocaust survivors and their descendants, hailed the local government's decision to require Holocaust education as part of the province's K-12 curriculum…
The Mike and Sofia Segal Family Foundation donated $17 million to the Leukemia & Lymphoma Society for research into the treatment of chronic myelomonocytic leukemia…
The Shabbat Project, started by South African Chief Rabbi Warren Goldstein, launched a campaign to get Jews around the world to observe Shabbat in "an expression of solidarity and support for Israel and the Jewish people"…
The Sha'ar Hanegev and Eshkol regional councils — representing two of the hardest-hit areas in the Oct. 7 attacks — are calling for "all of the Jewish people (Am Yisrael)" to go out to their balconies with flashlights and sing "Hatikvah" at 7 p.m. on Saturday night in a show of solidarity with the more than 230 hostages being held by Hamas in Gaza…
In The Chronicle of Philanthropy, Perry Cammack of the Rockefeller Brothers Fund, calls for philanthropists to support civil society peace-building organizations in response to the ongoing Israel-Hamas war…
Todd and Gina Schwartz donated $5 million to Tulane University to fund programs and a renovation to create the Schwartz Family Center for Experiential Business Learning…
Maj. (res.) Yinon Fleischman, 31, an educator at the Shalom Hartman Institute's Charles E. Smith High School for Boys in Jerusalem, was killed in a tank accident while he was on reserve duty in northern Israel on Sunday…
Gershon David Hundert, a Canadian scholar of Jewish history, died last Friday at 78…
Bob Gries, an Ohio-based philanthropist and former minority owner of the Cleveland Browns, died on Sunday at 94…
Pic of the Day
IDF Spokesperson Dan Hagari (in uniform) stands behind his brother, Yoni, at the ADI Negev-Nahalat Eran rehabilitation village in southern Israel last week, alongside ADI Negev-Nahalat Eran CEO Avi Wortzman (second from left) and a group of residents and National Service volunteers.
In light of the war with Hamas and the large number of people injured in the Oct. 7 attacks, the rehabilitation village has opened a new 28-bed emergency ward for wounded civilians and soldiers.
"During these difficult days of fighting, we need to harness the true spirit of Israeli society. This place, which I have known from the day it was built, highlights the goodness and strength of Israeli society," Hagari said during his visit. "I am always so happy to see the empowerment techniques employed here and the dedicated care. It gives us a lot of strength and reminds us what we are fighting for."
Birthdays
CEO at Climate Club, he is the founder of Pencils of Promise, Adam Braun…
Actor with a lengthy career in film, television and theater, Ron Rifkin… Historian, born in Baghdad, emeritus professor of International Relations at Oxford, Avraham "Avi" Shlaim… CEO of Feld Entertainment, which operates the Ringling Bros. and Barnum & Bailey Circus and Disney on Ice, Kenneth Feld… Co-founder and co-chairman of Heritage Auctions, James L. Halperin… Author, historian and writer-at-large for the U.K.-based Prospect Magazine, Sam Tanenhaus… Staff writer for The New Yorker and author, Susan Orlean… Former owner of the Phoenix Suns, Robert Sarver… Managing partner of Arel Capital, Richard G. Leibovitch… PAC director at AIPAC, Marilyn Rosenthal… British lawyer who has served as CEO of the Board of Deputies of British Jews and COO of World ORT, Marc Jonathan (Jon) Benjamin… Former MLB pitcher, now a managing director at Rockefeller Capital Management in Boca Raton, Steven Allen Rosenberg… Founding partner at Lanx Management, former president of AIPAC and past chairman of the Orthodox Union, Howard E. (Tzvi) Friedman… Director of development for Foundation for Jewish Camp, Corey Cutler… Chief brand and innovation officer of Ralph Lauren, David Lauren… Founder and CEO of MercadoLibre, Marcos Eduardo Galperin… Film and television director and producer, Ruben Fleischer… Professor, attorney, author, political columnist and poet, Seth Abramson… Member of the California State Assembly since 2016, Marc Berman… Actor Eddie Kaye Thomas… Rabbi-in-residence at the Solomon Schechter School of Westchester (N.Y.), she is the founder of Midrash Manicures, combining Jewish education and creative nail art, Yael Buechler… General manager at Returnmates, Spencer Herbst… Director of institutional advancement at Yeshiva Schools of Pittsburgh, Masha Shollar… Wheelchair basketball player and social media personality, Peter Berry…