Your Daily Phil: Housing for people with disabilities in Los Angeles + The future of Ben & Jerry's kosher certification
Good Friday morning!
North American interest in immigration to Israel between Jan. 1 and June 30 declined by 36% in 2021 compared with the same time last year, but is still more than double what it was in 2019, Dan Elbaum, head of The Jewish Agency for Israel North America, told eJewishPhilanthropy.
"Remote work is becoming the norm and many professionals can seamlessly move their careers to Israel," Elbaum said, also citing Israel's strong economy and the success of its health care system in combating the coronavirus as factors. The agency is also studying whether rising antisemitism in the United States is also playing a role.
The agency tracks interest in immigration to Israel by the number of "open files," which represents the beginning of the immigration process, and leads to immigration about 60% of the time, Elbaum said. A sister agency, Nefesh B'Nefesh, promotes immigration and helps with the logistics of the move.
The number of open files rose during 2020 compared with 2019 in every region except South Africa and Russia, where about 7,000 open files fell to about 4,000 when the pandemic forced the cancellation of activities that build Jewish identity and promote immigration to Israel. For the period between January and May, the total number of immigrants worldwide has risen by 22% from 7,886 in 2020 to 9,586 in 2021.
WHAT IT TAKES
The Village in Los Angeles reinvents the model of housing for people with disabilities
An upscale new building designed for adults with autism or related disabilities is scheduled to break ground later this year in Los Angeles' coveted Pico-Robertson area, known for its thriving Jewish community, Michael Held, executive director and founder of ETTA, a charity that serves people with physical and intellectual disabilities, told eJewishPhilanthropy's Helen Chernikoff. "It's a flagship type of building, to inspire and show what's possible in a meaningful way," he said.
Housing shortage: The 64-unit building, called "The Village," is a joint effort by ETTA, established in the city in 1993 to provide services such as housing, case management and job training to people with disabilities, and Cornerstone, a nonprofit housing developer. It's an upscale project, conceived as a model boasting such strong appeal and smart execution that its founders hope enthusiasts will be eager to replicate it. "There are not enough housing or job opportunities for people who are neurodiverse or have other disabilities," said Jennifer Laszlo Mizrahi, co-founder and president of Respectability, an advocacy organization for people with disabilities. "More options is a good thing."
Job opportunities: While The Village will offer up to 15 units to residents who don't have intellectual disabilities who would like to be a part of the community, its mission is to provide a desirable home for people with autism or related disabilities who can live independently, but who struggle with social challenges like making friends and obtaining and keeping a job, Held said. Located at 9224 West Pico Boulevard between Cardiff Avenue and Glenville Drive, the Village is also intended to function as a neighborhood hub. The facility will host community activities, and a retailer who has committed to hire The Village's residents will occupy the ground floor. Held couldn't disclose the name of the retailer, as the deal has not yet been finalized.
Room to socialize: "We see this as a deep dive into the soul of a neighborhood," Held said. "It changes the feeling in a community where there is a full and active community of people who are diverse." The building will also be near a bus stop, which is important because many people with disabilities don't drive, Mizrahi said. The six-floor building will feature communal spaces on the second floor, including a café funded by Alan and Barbara Gindi in memory of Barbara's parents, Alan Gindi said. His mother-in-law worked in a school for children with disabilities, and the mugs will be decorated with her pet sayings. "My wife and I do a lot of charitable giving, and we need to find partners," Gindi said. "It's hard to find great projects. It's fortunate for us that we have this opportunity."
DAIRY & POLITICS
Will Ben & Jerry's lose its kosher stamp of certification?
As many members of the American pro-Israel community have looked for a way to register their disapproval of Ben & Jerry's decision to stop selling its ice cream in what it referred to as the "Occupied Palestinian Territory," some have called on the Teaneck, N.J.-based Kof-K, one of the largest kosher certification agencies in the country, to rescind its certification of the company's products. Kof-K has not yet decided whether to cease its kosher certification of Ben & Jerry's products, an employee told Jewish Insider's Gabby Deutch on Thursday.
Complicated contracts: "We do have a contract that cannot just be arbitrarily broken, so it's not so simple," said a person who picked up the phone at the Kof-K but declined to give his name. "We are definitely doing stuff to address it," the Kof-K employee said. "We have reached out to the Yesha Council" — the organization representing Jewish settlers in the West Bank — "we've spoken to them. We're trying to speak to the Prime Minister's Office, which we will probably get through today. We've got calls and emails back and forth with the president of Unilever and Ben & Jerry's."
Not too complicated: One person with knowledge of kashrut certifications told JI that they expect the Kof-K to find a way out of the contract with Ben & Jerry's. "While likely contractually complicated, Kof-K will probably find a way to drop them as a client for their kosher certification," the source said. "If that were to happen, the company will probably scramble to find some third-rate kosher certifier as a fig leaf — showing that, despite their anti-Jewish boycott, they somehow care about Jews."
Growing campaign: The campaign to decertify Ben & Jerry's follows other actions taken this week against the company. Several kosher supermarket chains have announced that they will no longer stock Ben & Jerry's. The Vaad Harabonim of Queens, the Orthodox religious authority in the New York borough, sent an email to the local community urging people "not to purchase any Ben & Jerry's product" and praising "those stores who make the courageous decision to not stock any Ben & Jerry's product."
Reaching too far: "Were I a Ben & Jerry's customer," said Rabbi Levi Shemtov, executive vice president of American Friends of Lubavitch (Chabad), who noted that he has not tried the ice cream because its American products do not have the more stringent Cholov Yisroel certification, "I would stop buying it." But Shemtov expressed concern that removing the hechsher, or kosher certification, from Ben & Jerry's products that meet kashrut guidelines brings politics into a realm where it does not belong. "A kashrut authority or a hechsher determines whether whatever's in the container is kosher to eat, because kashrut authorities shouldn't do politics, nor should they do issues beyond the kosher certification of the contents," Shemtov explained. "So I understand the Kof-K choosing to maintain the hechsher despite Ben & Jerry's politics."
CHALLENGES AND OPPORTUNITIES
Ice cream, apartheid and intermarriage
"It's been a challenging month to be a pro-Israel American Jew," writes educator, technologist and activist Russel Neiss in an opinion piece for eJewishPhilanthropy.
First blow: "The first gut punch came with the release of a survey noting that only half of American Jews think that the statement 'Israel is an apartheid state' is false, with one quarter saying such a description is appropriate, and another quarter unsure."
Second blow: "The second came when a beloved company founded by two Jews announced that, 'it is inconsistent with our values for Ben & Jerry's ice cream to be sold in the Occupied Palestinian Territory.'"
Initial reaction: "The reaction to these dual blows has been mostly one of shock and disappointment. Some communal leaders have blamed Jewish education, while others have lamented a broader American culture that appears inconsistent and in direct conflict with our Jewish values. Many of us don't even have the intellectual framework to make sense of these events and have simply chalked both instances up as evidence of rising antisemitism."
Too large to continue to ignore: "Increasingly I find it impossible to ignore the parallels between how the organized Jewish community is responding to this latest contentious issue with how we responded to a series of high-profile demographic studies in the 80's and 90's showing that the rate of Jews marrying non-Jews had escalated dramatically."
#SUMMER2021
Camp & the impact of 'insignificant' interactions
"I'm an Israeli. I'm an adventure specialist. I'm a counselor. Most importantly, I'm a former camper at URJ Camp Harlam," writes Itamar Sabag in an opinion piece for eJewishPhilanthropy.
The diabolo: "Back in 2010, one of my counselors, Brian, taught us how to play with the Diabolo, also called the Chinese yo-yo… At first, I struggled with it. I couldn't really wrap my head around it, but Brian kept patiently instructing over and over until after many attempts, I finally got it! That experience was so significant and so fun for me."
My obsession: I practiced at home for many hours. It became a small obsession of mine. I took it with me everywhere, and I mean everywhere: high school, trips, camping, holidays, youth group activities, friends and family gatherings, and more. It became a part of my 'image' and identity. I was 'the Diabolo guy…' I took it with me when I was a counselor at a boarding school in Kibbutz Ein Gedi near the Dead Sea. There, I had the opportunity to teach the kids just as Brian taught me. I even took it with me while serving in the IDF (Israeli Defense Force)."
The kicker: "But here is the kicker: Brian doesn't remember any of this."
Worthy Reads
Check You Out: Writing in the Tampa Bay Times, Sue Carlton explores the phenomenon of cash register charity, in which retailers ask customers for a donation as they pay for their purchases, and why it makes her uncomfortable. In 2020, she reveals, more than $605 million was raised by a group of 76 such campaigns, but a Howard University review of 30-plus studies about the practice shows that many buyers see the requests as a violation of the social contract with the retailer — who is a purveyor of goods, not a charitable advisor. Carlton concludes that people go ahead and give if they find the cause compelling, citing advice from Leslie Lenkowsky, professor at the Lilly Family School of Philanthropy at Indiana University: "If somebody asked me to put something in for a charity I knew nothing about, or I didn't have any particular identification with, I wouldn't do it — no matter how many people are behind me in line." [TampaBayTimes]
Confusing Move: Community foundations are taking the wrong stance in opposing the Accelerating Charitable Efforts Act, which would encourage faster distributions by donor advised funds (DAF) — and also passing up the opportunity to create a competitive advantage for themselves compared with DAFs, writes Alan M. Cantor in the Chronicle of Philanthropy. Due to a carve-out for community foundations, the bill wouldn't affect them directly, but it would help the causes they support by facilitating donations, and also enable them to differentiate themselves from commercial gift funds like Fidelity and Schwab. "The King-Grassley measure would allow community foundations to return to their roots," Cantor concludes. "Many donors would come to community foundations in part because there would be fewer restrictions than at commercial donor-advised-fund sponsors." [ChroniclePhilanthropy]
Strategic Partnerships: While development officers are a donor's primary conduit to an organization, going solo to donor meetings often a wastes an opportunity to deepen the relationship, suggests Aaron Brown in Philanthropy Daily. Development professionals should consider bringing along a program staff member or a vice president to improve the donor's perception of both the fundraiser and the organization, although it's important to make sure the partner is a good fit and to prepare with that person beforehand. "Not every donor and not every meeting requires a partner and they should be used strategically," Brown concludes. "But when leveraged properly, they can pay dividends in building relationships with donors and increasing their affinity for the organization." [PhilanthropyDaily]
Community Comms
Apply! Want to join the team at Jewish Insider/eJewish Philanthropy? We're looking for a top-notch philanthropy editor. Learn more here.
Be featured: Email us to inform the eJP readership of your upcoming event, job opening, or other communication.
Word on the Street
Israeli Consul General to New York Dani Dayan will be appointed chairman of Yad Vashem, the Holocaust Martyrs' and Heroes' Remembrance Authority… Israel will ban its citizens from flying to the UK apart from exceptional circumstances as part of measures to curb a surge in coronavirus cases… The Andrew W. Mellon Foundation announced a Latinx Artist Fellowship, the first significant prize of its kind to celebrate the plurality and diversity of Latinx artists and aesthetics… On the eve of the Tokyo Olympic Games, and with participation of Olympic medal winners, March of the Living, Maccabi World Union and the Maccabiah launched a campaign to combat the global rise in antisemitism… Yad Vashem, the World Holocaust Remembrance Center, is marking the opening of the Tokyo Olympic games with two online exhibitions to commemorate both Jewish and non-Jewish athletes during WWII…
Pic of the Day
Activists with Dayenu: A Jewish Call to Climate Action delivered a letter on Wednesday containing 300 signatures to the Manhattan office of Sen. Charles Schumer (D-NY) that thanked him for bringing the issue of climate change to the Senate floor in the infrastructure bill and recovery packages.
Birthdays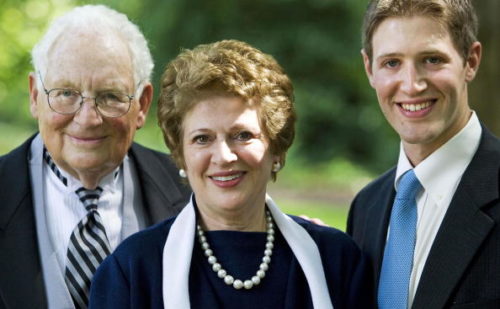 Former U.S. Ambassador to the Netherlands, she is the Chair of the Harry and Jeanette Weinberg Foundation, Fay Hartog-Levin…
FRIDAY: US District Judge for the Eastern District of Michigan and a past president of the Jewish Federation of Metropolitan Detroit, Judge Avern Levin Cohn… Banker who distributed $60 million to his 400 employees when he sold City National Bank of Florida in 2008, Leonard L. Abess… Retired appellate court judge, born in Bucharest, Romania, raised in Los Angeles, he was appointed to the U.S. Court of Appeals for the Ninth Circuit at age 35 by President Reagan, Judge Alex Kozinski… Businessman and real estate investor, Alexander Rovt… Academy Award-winning film producer, Jon Landau… Proprietor of Oy Vey Jewish Bakery and Delicatessen in Terre Haute, Indiana, Chavah Stair… Freelance journalist, she is the widow of Daniel Pearl and wrote a book about his kidnapping and murder in Pakistan in 2002, Mariane Pearl… Director of the Smithsonian's Arts and Industries Museum, Rachel Eva Goslins... U.S. Senator (D-GA), Raphael Warnock... Freelance writer and author of two books, Joel Stein… Psychologist in private practice in both Manhattan and Great Neck, Long Island, Lynn Glasman, Ph.D…. Activist and fashion designer, Monica Lewinsky… Music producer and songwriter, Jonathan Reuven "J.R." Rotem… Professor at Georgetown University Law Center, Itai Grinberg… Mayor of Minneapolis, Minnesota, Jacob Lawrence Frey… Reporter for The Washington Post covering education issues in the District of Columbia, Perry Stein… Starting right fielder for Team Israel at the 2017 World Baseball Classic, Zach Borenstein…
SATURDAY: Former U.S. Ambassador to Romania and senior counsel at Covington and Burling, Alfred H. Moses… Founder and chairman at The Habitat Company, Daniel Levin… Pulitzer Prize-winning investigative reporter who worked for ABC News and CBS's 60 Minutes, Lowell Bergman… Israeli physician, author and playwright, he is the younger brother of former PM Benjamin Netanyahu, Iddo Netanyahu… Political consultant known for his role in both of President Obama's presidential campaigns, Joel Benenson… Los Angeles-based attorney, Michael Jeffrey Bordy… Radio anchor and reporter on both CBS nationally and NYC's WCBS, Michael Sugerman… Member of Congress (D-FL-13), Charlie Crist… Russian real estate investor and the Chairman of the Board of Patrons of The Conference of European Rabbis, Boris Mints… Judge of the United States Court of Appeals for the Third Circuit, Judge Patty Shwartz… Director of the AIPAC Fellows program for the Florida regional office, he is a retired NFL player who played for the Packers (1986-1990) and the Cowboys (1991-1992) where he won in Super Bowl XXVII, Alan Shlomo Veingrad… Partner in the Kentucky-based law firm of Frost Brown Todd and author of "The Liberal Case for Israel," he was the first-ever Jewish statewide elected official in Kentucky, Jonathan Miller… President of Access Computer Technology in West Bloomfield, Michigan, he is a rabbi, entrepreneur and social media expert, Jason Miller… Rabbi at Valley Beth Shalom in the San Fernando Valley, next January he will become CEO of the Jewish Federation of Greater Los Angeles, Noah Zvi Farkas… Chief financial officer of Morgan Stanley, Sharon Yeshaya… Actress, screenwriter and director, Lauren Miller Rogen… Co-founder and partner at Orfin Ventures, Adam Finkel… Senior account executive at RpR Marketing Communications, Sarah Citrenbaum… Law clerk for Judge Steven J. Menashi on the Second Circuit Court of Appeals, Shlomo Klapper…
SUNDAY: Journalist, writer and author, Midge Rosenthal Decter… Cinematographer Peter Suschitzky… Member of the New York City Council, Alan N. Maisel… Entrepreneur and film producer, he produced "The Woman in Red" and "Weekend at Bernie's," Victor Drai… Former IDF Brigadier General and member of Knesset, now President of Genie Oil and Gas, Efraim "Effi" Eitam… Voiceover artist, Peter Grossman… Chairman of Vibrant Capital Partners and the National Museum of American Jewish History in Philadelphia, Philip Darivoff... Pulitzer Prize winning author and journalist, she is a staff writer at The Atlantic, Anne Applebaum… Retired MLB pitcher (1988-1997) from the small Jewish community in the Dominican Republic, José Bautista… Israeli journalist, television news anchor and author, Oshrat Kotler... National director and CEO of Friends of the Israel Defense Forces, Rabbi Steven Weil… NYC-based criminal defense attorney, Arkady L. Bukh… Head coach of the men's basketball team at Kent State University, Rob Senderoff... Senior director of PR at St. Jude Children's Research Hospital in Memphis, Erin Seidler… Baseball pitcher on the Israeli national baseball team, Joseph "Joey" Samuel Wagman… Founder and former publisher/editor in chief of Jewish Lights Publishing, co-founder and former lay spiritual leader of the Woodstock (VT) Area Jewish Community/Congregation Shir Shalom, Stuart Matlins…
Email Editor@eJewishPhilanthropy.com to have your birthday included.