Your Daily Phil: Birthright program gets 'seven-figure' gift + Helping the Ivory Coast help itself
Good Monday morning!

In today's edition of Your Daily Phil, we report on a new Israeli-led multinational effort to develop Ivory Coast's pediatric cardiac surgery capabilities, and feature an op-ed from Rabbi Rachel Putterman and Anita Davis. Also in this newsletter: Susie Gelman, Michael Milken and Sen. Kirsten Gillibrand. We'll start with a new donation by the Schneider-Lesser family to Birthright Israel.

The Schneider-Lesser family will fund Birthright Israel's "Social Diversity Module," a program that teaches its tens of thousands of participants about Israel's diverse ethnic makeup and the challenges and benefits that come with it, the Birthright Israel Foundation told eJewishPhilanthropy's Judah Ari Gross on Sunday.

The family declined to reveal the exact amount of the donation, but a Birthright Israel Foundation spokesperson told eJP it was a "seven-figure," transformational endowment gift.

"The gift is part of a new strategic partnership between Birthright Israel and the Schneider-Lesser family and is emblematic of both sides' visionary leadership," the foundation said in a statement. The donation comes after Birthright Israel was forced to scale back its offerings this summer, which it has blamed on higher costs and inflation. The Adelson Family Foundation, one of Birthright Israel's main funders, recently reduced its financial support for the organization, forcing it to find new donors.

Mindy Schneider, who is making the contribution with her husband, Michael Lesser, said in a statement that the donation is meant to expose people to Israel's different populations. "Many people don't understand what Israel is. Israelis actually work together, and to see these people from these distinct communities collaborate is a remarkable thing," said Schneider, who is best known today for her family's funding of the Schneider Children's Medical Center in the central Israeli city of Petach Tikva.

The program includes encounters with Ethiopian Israelis, Arab Israelis, Druze Israelis, LGBTQ+ Israelis, among others, as well as a visit to Schneider Children's Medical Center.

Birthright Israel CEO Gidi Mark said the Social Diversity Module is meant to offer deeper insight into Israeli society. "Birthright Israel does not propagate any specific political, religious, or ideological stance. Instead, it introduces and discusses certain key issues vital to understanding the intricate nature of Israel's overall social reality," Mark said in a statement. "The Schneider-Lesser family's generous gift will help Birthright Israel to educate young Jews and strengthen their Jewish communities. They'll be exposed to people of different cultures throughout Israel, and that will broaden their perspectives and enrich them."
Impact investment
Israeli-led international effort looks to give Ivory Coast ability to heal its children's hearts
The Ivory Coast government, the Israeli Mitrelli Group consulting firm (and some of its subsidiaries), the Israeli NGO Save a Child's Heart and a French medical nonprofit have teamed up to develop the West African nation's pediatric cardiac surgery capabilities with a new $4.7 million initiative over the next five years, they told eJewishPhilanthropy's Judah Ari Gross.

Do it yourself: The goal of this effort is both to make Ivory Coast self-sufficient with regards to pediatric heart surgeries — currently children who need such operations must travel abroad — and to turn the country into a hub for such treatments for Africa, which would be both a boon to the continent and a potential source of medical tourism money for Ivory Coast, one of the leaders of the project, Eva Peled, Mitrelli's partner in Ivory Coast, told eJP. Until Ivory Coast's own surgical capabilities are up and running, the Mitrelli Group, Save a Child's Heart and the Ivorian Health Ministry agreed that 30 Ivorian children will come to Israel for heart surgeries each year for the next five years.

Effective triangle: This joint initiative was the result of years of collaboration between the four participating organizations. Haim Taib, who both runs the Mitrelli Group and serves as president of Save a Child's Heart's Africa branch, brought the effort together. Simon Fisher, executive director of Save a Child's Heart, also hailed this collaboration, which he said was a form of impact investment. "This triangle of having government, [private] companies and philanthropy is a triangle that works," Fisher told eJP.

Read the full story here.
It takes teamwork
Antisemitism and diversity, equity and inclusion: Solidarity is the answer
"As professionals at Trinity College — an on-campus Hillel director and a vice president of diversity, equity and inclusion — we wanted to respond to the recently released U.S. National Strategy to Counter Antisemitism. We applaud the strategy's stated goals of: 1) incorporating antisemitic bias and discrimination training programs into diversity, equity and inclusion work; and 2) increasing cross-community solidarity and collective action to counter antisemitism and other forms of hate. We have already begun to successfully implement this strategy at Trinity, and we offer our approach as a potential model for other campuses to adopt," write Rabbi Rachel Putterman and Anita Davis of Trinity College in an opinion piece for eJewishPhilanthropy.

One of a kind: "This fall, all first-years and student leaders will be required to attend antisemitism training sessions as part of an orientation schedule that includes training programs on microaggressions, sexual consent and other valuable tools for good citizenship on campus. While a few other campuses offer antisemitism training sessions that are either optional and/or incentivized, Trinity's mandated training sessions focused exclusively on antisemitism are unprecedented."

All together now: "We have found that like all on-campus endeavors, relationships are key. Our offices have been able to work closely together because of our relationship, and the relationships among student groups, particularly communities of color and Hillel."

Read the full piece here.
Worthy Reads
My Friend, the Hostage: In The New York Times, Rachel Sharansky Danziger discusses her friend, Russian-Israeli researcher Elizabeth Tsurkov, who was kidnapped earlier this year in Iraq by an Iran-backed militia group and continues to be held captive. "It's a beautiful summer day at my in-laws' house in Los Angeles. The sun is out. My kids are playing on the grass with their grandparents, a rare treat since we live in Jerusalem. But I can't enjoy it. One of my oldest friends, Liza — Elizabeth Tsurkov — is being held by a militia in Iraq, and I'm terrified… Liza used her Russian passport to travel to Iraq, but she knew that entering the country as a dual Russian-Israeli citizen could put her in danger. But she also believed that you can't really understand people watching from the sidelines… Will the liberal world stand up for her, as it did for her [Refusenik] parents, and fight for her release? As I look at Liza's face in the newsreels today — and in our childhood photos — I hope that the answer is yes." [NYT]
Around the Web
President Joe BidenappointedSusie Gelman, the former board chair of the Israel Policy Forum and former president of the Jewish Federation of Greater Washington, the next commissioner of the Commission on International Religious Freedom…

The U.S. Department of Homeland Securitytold lawmakers last week that Israel does not yet qualify for the Visa Waiver Program. Israeli officials and many American Jewish leaders have been pushing for Israel's entry into the program to make it easier for Israelis to visit the U.S….

House Democratic leadershipdenounced remarks by Congressional Progressive Caucus Chair Rep. Pramila Jayapal (D-WA) in which she described Israel as a "racist state" over the weekend. Jayapal later retracted her comment, partially, saying that while Israel "as a nation" is not racist, its government includes "extreme racists"…

Rabbi Samuel Rosenbaumwas appointed assistant dean of American Jewish University's Ziegler School of Rabbinic Studies…

In The Atlantic, Yair RosenbergexaminedRobert F. Kennedy Jr.'s claims that the COVID-19 virus may have been "ethnically targeted" to spare Ashkenazi Jews and Chinese people. Kennedy's remarks have been widely denounced by American Jewish groups…

The Wall Street JournalprofiledMichael Milken, looking at his business activities, troubles with the law, his eponymous think tank and his family's philanthropy…

Sen. Kirsten Gillibrand (D-NY) announced plans to designate the Fort Ontario military base as a national monument. The complex served as the U.S.' only refugee camp for people fleeing the Holocaust…

The Tel Aviv Museum of Art is again examining its acceptance of a donation a decade ago from Ingrid Flick, whose father-in-law was a Nazi war profiteer. This comes after the museum refused a donation from the sale of Heidi Horten's jewels because Horten's first husband made his fortune by taking advantage of the Nazis' Jewish victims…

Marga Minco, a Dutch novelist who wrote about Jewish life under Nazism, died last Monday at 103…
Pic of the Day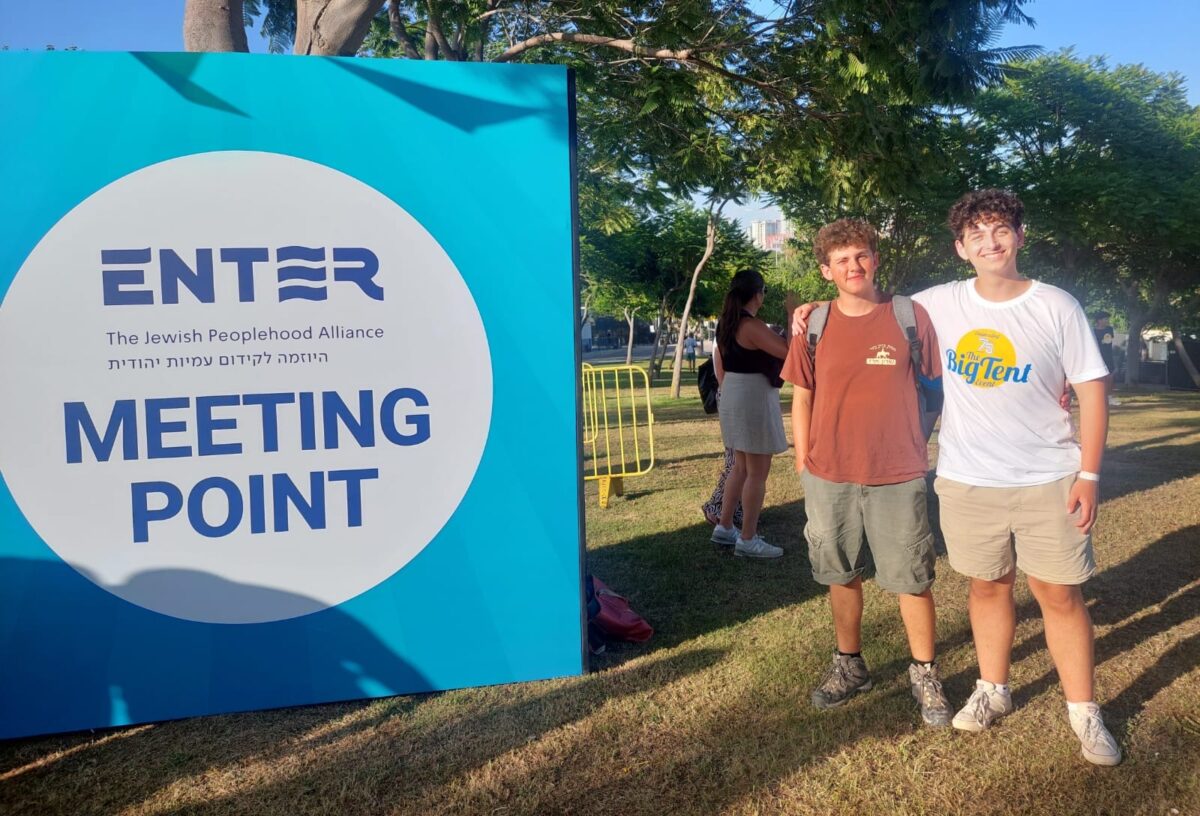 Dael Dolev (left) and Dylan Goldberg pose on Sunday evening during the RootOne Big Tent event in the central Israeli city of Rishon LeZion, which brought together thousands of American teenagers who are in Israel on RootOne-supported summer programs, along with hundreds of Israeli teens.

Dolev and Goldberg are part of Enter: The Jewish Peoplehood Alliance's One2One program, which pairs American and Israeli teens to develop grassroots ties between the two Jewish communities and to allow the Israelis to practice their English.
Birthdays
Chair of Samson Energy Company, co-founder of Granite Properties and co-chair of the Charles and Lynn Schusterman Family Foundation, Stacy Helen Schusterman…

Founder of the Frommer's series of travel guides, Arthur Frommer… Professor emeritus at Tel Aviv U., he served as a member of Knesset, minister of foreign affairs and Israeli ambassador to Spain, Shlomo Ben-Ami… Emmy Award-winning play-by-play announcer on radio for the Los Angeles Dodgers, Charley Steiner… Retired associate general counsel of The Hartford and former chairman of the Board of the Jewish Federation of Greater Hartford, he is now a lecturer at UConn law school, Robert K. Yass… Rabbi emeritus at Reform Congregation Keneseth Israel in Elkins Park, Pa., Lance Jonathan Sussman, Ph.D…. Managing general partner and co-founder of Pitango Venture Capital, he serves as chairman of The Peres Center for Peace & Innovation, Nechemia (Chemi) J. Peres… Business development team lead at Quorum, Steven Lebowitz… Television and film director, Joshua Seftel… Actress best known for playing Sharona in the television series "Monk," Elizabeth Natalie "Bitty" Schram… Founder and CEO of Zeta Global, David A. Steinberg… Stand-up comedian, he was a finalist on the NBC reality-talent show "Last Comic Standing" in two seasons, Gary Gulman… Treasurer of Australia until 2022, he has previously served as minister for the Environment and Energy, Joshua Anthony "Josh" Frydenberg… Blogger, journalist and science fiction author, Cory Efram Doctorow… Executive director of the Foundation to Combat Antisemitism, Matthew E. Berger… Public television host, Shannan Butler Adler… Member of the Knesset for the Yesh Atid party, Boaz Toporovsky… Emmy Award-winning actor, comedian, podcaster and writer, Brett Goldstein… Healthcare reporter for Barron's, Josh Nathan-Kazis… Associate at Compensation Advisory Partners, Jared Sorhaindo… Virtual banking strategy lead and executive director at JPMorgan Chase, Melanie Ettleson…