Japanese Living Amidst Continued Quakes, Threat of Nuclear Disaster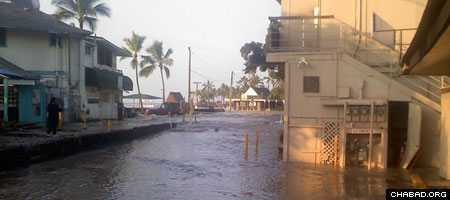 by Joshua Runyan and Tamar Runyan
As an international effort representing 70 countries and a host of non-governmental organizations directs aid to the troubled island nation of Japan, locals who survived an initial 8.9-magnitude earthquake and devastating tsunami only to face the prospect of the worst nuclear disaster since the 1986 Chernobyl meltdown are living in a near constant state of fear, doing what they can to make it through the day.
Electricity and water shortages, spotty telephone and cellular service, and scores of aftershocks as high as 6.2-magnitude underscored the fact that the tragedy continues to unfold. At the Tokyo home of Rabbi Mendel and Chana Sudakevich, each shockwave that thundered through their building sparked wails and whimpers from some of their six children.
"There isn't much destruction in Tokyo; they built the buildings well here," Mendel Sudakevich, director of Chabad-Lubavitch of Japan, said early Sunday morning local time. "I only see a little damage out the window: broken glass, cracked roads.
"But there are many, many aftershocks and the kids are in shock," added the rabbi, who coordinated housing for displaced members of the country's 2,000-strong Jewish community after the close of the Sabbath Saturday night. "For now, we're trying to figure out if my wife and children should evacuate or not. Today, there was supposed to be a big pre-Purim event at the Hebrew school, but the authorities are telling everyone to stay at home."
All around the world, from the United States – which dispatched an aircraft carrier battle group to the Sea of Japan with tons of heavy equipment to help in search, rescue and recovery efforts – to Europe, one of the world's worst humanitarian disasters sparked a collective desire to help. During an appearance on CNN's "State of the Union" program Sunday morning, Japanese Ambassador to the United States Ichiro Fujisaki specifically thanked the American Red Cross for its assistance and directed concerned citizens to make donations there.
In Israel, The Jerusalem Post reported that the humanitarian organization IsraAID-First was dispatching a civilian medical and search and rescue team that would reach Japan from South Korea, and that teams from ZAKA were already on their way. On Friday, the American Jewish Joint Distribution Committee and Jewish Federations of North America each announced the launch of fundraising efforts on behalf of the Japanese people.
Two days after the initial quake and monster wave virtually wiped out whole swaths of populated areas near the coast, the official death toll stood at more than 1,000 lives lost. But officials hinted that ultimately, more than 10,000 people may have lost their lives.
Reports that Israeli tourists were unaccounted for immediately after the quake gave way to assessments that all members of the Jewish community in Japan survived. In Sendai, which apparently suffered the worst of the disaster, the few Jews that live there are okay, said Sudakevitch.
Fears that nuclear meltdowns were underway at two reactors of the Fukushima nuclear power plant prompted authorities to evacuate more than 200,000 people living near the more-than 40-year-old facility. Images of men donning radiation suits and scanning children with Geiger counters transfixed a nation and a world.
"We don't know what will happen with the nuclear plant," stated Sudakevitch.
Thousands of miles away in the center of the Pacific Ocean, Rabbi Avraham Chazanow, director of Chabad of the Big Island, said from his Hawaiian home that everyone was praying for the people of Japan. Although Hawaii sustained a lot of property damage when the tsunami reached the island chain, things didn't compare to the magnitude of what was happening in Asia, he said.
"The Chabad House is 700 feet above sea level, so it's intact," detailed Chazanow. "But many Israeli shop owners lost everything and are staying over at Chabad for now."
Added the rabbi: "Our thoughts and prayers are with the Japanese people."
courtesy Chabad.org News
Also see, Deadly Tsunami Appears to Have Spared Tokyo Jewish Community.