In near-universal display, U.S. Jewish groups express solidarity with Israel, launch fundraising drives
Groups from across the political spectrum voice support for Israelis following the deadliest attack on civilians in the country's history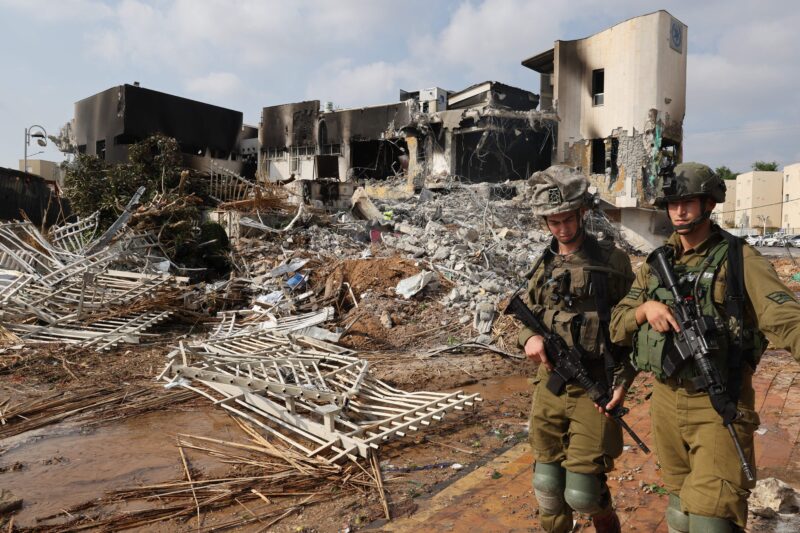 Jack Guez/AFP via Getty Images
In a near wall-to-wall display, American Jewish organizations from across the political spectrum came out in support of Israel following an unprecedented assault by Palestinian terrorists from the Gaza Strip on Saturday morning, releasing statements and launching fundraising campaigns despite the attacks taking place on Shabbat and Shemini Atzeret.
"American Jewry stands shoulder to shoulder with the people of Israel and the brave men and women of Israel's security services," the heads of Conference of Presidents of Major American Jewish Organizations said in a statement. "We grieve with those who have lost loved ones and pray for the injured and those taken hostage by terrorists."
Around dawn on Saturday morning, teams of Hamas gunmen, on foot, in cars, motorbikes and — in a few cases — gliders, breached the security fence in multiple points from Gaza, entering Israeli communities as residents barricaded themselves inside saferooms and attacking an outdoor music festival attended by thousands of young people.
Inside Israel, the terrorist fighters slaughtered an as-yet unknown number of people, mostly civilians, injured over 1,500 people and took hundreds of hostages, including children. Thousands of rockets and mortar shells have been fired from Gaza toward Israeli cities and towns since Saturday morning, most of them targeting areas close to the border but some reaching Tel Aviv and its suburbs.
The surprise assault was, without parallel, the deadliest single attack on Israeli civilians in the country's history. As of Sunday morning, more than 24 hours after the initial assault, armed terrorists were still inside Israeli communities, with Israeli forces working to rescue residents.
In the wake of the attacks, a number of Jewish federations created "crisis funds," to raise money for projects related to the war.
The Jewish Agency for Israel, which operates the Fund for Victims of Terror, has called for donations and is already in contact with JFNA — its primary donor — and other funders.
"There is tremendous desire to give," the head of the fund, former Knesset member Ayelet Nahmias-Verbin, told eJewishPhilanthropy.
The fund was established in 2002, in the midst of the Second Intifada, to provide financial assistance to victims of terror and their families, who often have sudden expenses resulting from the attacks. In addition to an immediate grant of NIS 4,000 ($1,080), victims are also eligible for up to NIS 25,000 ($6,750) in payments for up to three years, though this was extended beyond that time limit during the COVID-19 pandemic.
Nahmias-Verbin said the fund had not yet begun distributing grants to victims and their families due to the scale of the attacks and the confusion.
"I hope that we will begin soon. We are still collecting information," she said. "It's very hard this time. It's a very hard period."
The Magen David Adom and United Hatzalah emergency medical services have also launched fundraising drives, as have many Israel hospitals, which have already been inundated with patients from the initial attacks and subsequent rocket fire. Within Israel, various organizations — some established, some makeshift — have sprung up to provide tactical gear, food and other supplies to Israeli soldiers.
In light of the unprecedented scale of the attack, Jewish groups of all types violated their normal policies of abiding by religious prohibitions against the use of electricity on Shabbat and holidays to release their statements of support for Israel and condemnations of Hamas.
The statements of support came from large umbrella organizations, individual federations, museums, community security groups, religious movements, left-wing groups, right-wing groups, socialist groups and Jewish community centers, as well as Jewish senators and representatives. Most expressed their support unequivocally, including liberal groups like J Street, Americans for Peace Now and T'ruah, but a small number of far-left groups, such as IfNotNow, condemned the loss of Israeli civilian life but also put blame on Israel for its treatment of Palestinians.
"Once again, on a holy day of the Jewish calendar, the people of Israel have come under attack," Jewish Federations of North America said in a statement. "Once again, the brave military forces of the State of Israel are responding and will defend our beloved Jewish state. And once again the Jewish communities of North America stand in total and complete solidarity with our Israeli brethren."
Several American Jewish leaders were in Israel during the attacks, including Conference of Presidents CEO William Daroff and the CEO of UJA-Federation of New York, Eric Goldstein, who said he was working with Israeli partners on the ground to "help get assistance to where it is needed most."
In addition to issuing statements and launching fundraising campaigns, Jewish communities across the United States announced that they would hold vigils in solidarity with Israel in the coming days, with more expected to organize such events after Simchat Torah ends on Sunday night.