BBYO as a Case Study in Jewish Teen Engagement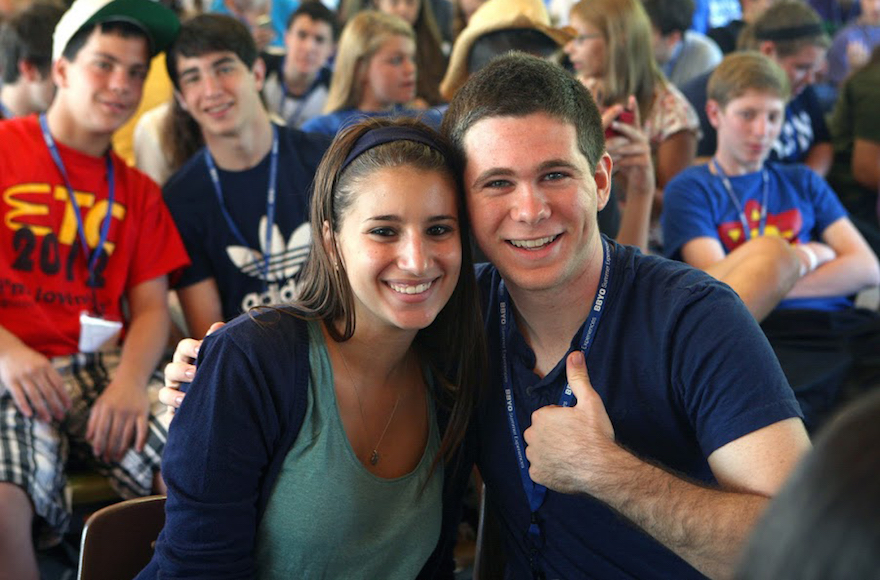 "Just my ancestors planted for their children, so I must plant for my offspring"
T.B., Taanit 23a
By Steven Windmueller, Ph.D.
It is no accident that the leaders of many of our religious, communal and policy-making bodies trace their commitment to their respective youth movements. But more particularly, the singular impact of BBYO on American Jewish communal and religious leadership ought not to be minimized. As I travel around the country, lay leaders and professional colleagues reference their early exposure to Jewish life through their involvement as teens with AZA and BBG.
BBYO will soon observe its 100th anniversary as one of this nation's oldest Jewish youth movements. Its 33,000+ teen members, being served by over 700 chapters located in 50 countries, reflects the depth and strength of this movement. Today, BBYO serves as the Jewish community's largest and most valuable platform for engaging teens. Its 400,000 alumni are among the most prominent figures in business, politics, academia, the arts, and Jewish communal life. The scope of its international impact, as an example, is demonstrated through its program partners for its international conventions. This list includes commercial entities, nonprofit institutions and funders, and community-based organizations.
Creating a Movement:
A group of Omaha Jewish teens in 1923 would organize a fraternity, naming it "Aleph Zadik Aleph," employing Hebrew letters to mimic the Greek fraternities that at the time were blackballing Jews from admission. On May 3, 1924, the "Mother Chapter of AZA" would be chartered; the Supreme Advisory Council would also be formed, naming Sam Beber, one of the organization's founders, as its president. The Grand Order of the Aleph Zadik Aleph was established! The early years of AZA established much of the foundation that BBYO members around the world know today.
In 1925, B'nai B'rith adopted AZA as its youth organization. By 1927, AZA became an international order, with the establishment of its first international chapter in Calgary Alberta. In turn, "B'nai B'rith Girls" would be formally created in April of1944, with ten initial chapters being chartered.
In 2002, BBYO Inc. would formally separate from its parent organization, B'nai B'rith.
Building Identity and Community:
What are the ingredients essential for creating a successful teen movement?
A youth movement, according to a number of studies, serves to enhance a person's "collective identity" while strengthening their "commitment to the movement" and promoting "a network of personal relationships" and connecting with his/her peer group and the larger society.
The ideas introduced above operate in a specific Jewish context. In his work "The Philosophy of Jewish Informal Education,"[1] Barry Chazan suggests that
Informal Jewish education is inherently about affecting the lifestyle and identity of Jews. Informal Jewish educators are inherently shapers of Jewish experience and role models of Jewish lifestyle…
Chazan succinctly defines the ingredients associated with informal Jewish education as being designed to advance an individual's growth. This takes place when a teen is "experiencing a diversity of Jewish moments and values." For Professor Chazan learning opportunities are created when there exists a "curriculum of Jewish values and experiences that is presented in a dynamic and flexible manner." For each participant, the learning outcomes need to "evoke pleasurable feelings and memories." These learning experiences, in Chazan's model, can operate in a number of settings but the environment that is created encourages a highly interactive and participatory culture.
Indeed, Chazan's notions of engagement and participation are core to the work of BBYO. An example of this type of connectivity can be seen in the 2018 involvement of some 27,600 participants in "movement-wide" BBYO events that included Fall Fest, Global Shabbat and J-Serve. Occurring throughout the school year, these programs served to connect teens across the world through Tikkun Olam, community service, Shabbat and social events.
Examining Teen Involvement:
As another recent study has affirmed: "Contrary to critical expectations that youth are uninterested in politics, nearly three quarters of youth engaged in some sort of political activity!" The value of youth organizational membership is borne out by the political engagement of teen participants. BBYO's focus on individual participation, community service, and advocacy supports this proposition. The findings of a national study on teen involvement confirm the value of youth engagement:
Of youth who are members of an organization, over 80% engage in institutional activity, as opposed to less than 50% of non-members. Similar patterns exist for social movement, volunteer, and participatory political activity, with organizational members roughly twice as likely to engage in the activity as non-members. …Organizational ties do significantly bolster engagement.[2]
"Developing young people as decision-makers and citizens" is affirmed in a report on the impact of youth organizations as valued assets.[3] BBYO's emphasis on teen-directed service and programming contributes toward enhancing such outcomes.
Background Data:
While personal assessments have value, the true test of institutional durability and credibility rests on organizational and personal growth. Social science researchers have identified a number of core features essential in promoting what they define as positive youth development.[4] In each of the categories identified, BBYO is actively enhancing teen learning while also making a contribution to the broader society.
Empowers Youth: BBYO Connecticut Valley Region members were involved in supporting legislation mandating Holocaust and Genocide Education in Connecticut schools. Their testimonies served to change the perspectives of several legislators.
Provides Opportunities for Recognition: BBYO programming emphasizes collective participation but also promotes individual leadership development, enhancing different access points by which youngsters can grow their involvement, while also gaining acknowledgment and recognition.
Allows Participants to Build Skills: BBYO's International Leadership Network (ILN) brought together in 2018 over 950 youngsters, the largest number ever to participate.
Engage in Real and Challenging Activities: BBYO teens participated in Jewish Disability Advocacy Day, learning about the status of United States disability policies. Participants shared BBYO's commitment to welcoming all Jewish teens, including those with a range of intellectual, emotional and physical abilities.
Broaden their Horizons: 15,000 Jewish teens participated in J-Serve, the international day of Jewish service. 58,000 community service hours were performed.
Research on Jewish Teens:
If the general data, as reflected above, endorses the benefits associated with youth engagement, then one can identify specific trends today in connection with serving the needs and interests of Jewish teens. In analyzing the impact of teen organizational practice, these standards provide a helpful measure in evaluating Jewish teen services in general and more directly, BBYO's program on its members. The results taken from the Gen Now Study (2016), conducted by The Jewish Education Project, reaffirm the general principles introduced above. In connection with BBYO teens that were polled in this survey, some 65% indicated that they were "engaged, highly engaged or fully engaged." The data here affirms the following essential components: building friendships, gaining stronger sense of self, learning things that enable teens to be active participants within the Jewish community, and developing leadership skills and language, among other acquired tools. Indeed, among teen leaders these findings confirm the specific impact and sustaining value of the BBYO model of practice.
Other Data:
In recent years, in light of the higher rates of intermarriage and assimilation, the Jewish community has invested in several significant studies. Among the more recent reports includes one conducted by Michael Whitehead-Bust in 2010, entitled: "Current Trends in Jewish Teen Participation." Among its findings are these outcomes: [5]
Teens Need Authentic Leadership Opportunities and Meaningful Adult Leadership: Youth need to have their opinions valued and have an authentic role in designing and developing programs but need adult leadership and ultimate control. Research has shown that teens are turned off when leadership opportunities are in-authentic or "dumbed down."
One of key attributes associated with BBYO's reputation is represented by the quality of its professional staff and lay leadership, including its chapter advisors, regional and national staff and its international board.
Teens Evolve (Research Proves It): The research is clear that teen's needs and interests clearly evolve during the high school years. Programming that is designed to be responsive to these changes, or that targets a more highly focused subset of the teenage population is more likely to be successful than programming that offers a one-size-fits-all approach to teen programming.
BBYO offers selective programs at summer camps, college campuses, and in countries around the world. These initiatives are designed to encourage teens to grow and develop as leaders while connecting with their Jewish peers. Last year, there were 2100 teen participants and travelers to Israel with BBYO.
Less Is Not More, More Is More: The research demonstrates that as involvement with after school activities increases among Jewish teens, so does their willingness to participate with Jewish-focused activities. Perhaps counter-intuitively, organizations targeting Jewish teens may have increased marketing success by targeting those teens already involved with other activities.
The more time teens spend with Jewish programming, the more significant the impact, so while some "gateway" programming will likely be important it will be infinitely more impactful when it leads to sustained and on-going engagement. This same conclusion was confirmed in the Gen Now report, cited above where BBYO interviewees affirmed the importance of "intensity of involvement."
Unengaged or Uninspired: There appears to be a potentially sizable population of Jewish teens who are interested and willing to participate more fully in Jewish life activities, but have not been engaged effectively. In some cases, data suggests that there are some who are simply unaware of offerings, or for whom the marketing approach has been ineffective – but the programs themselves may be appealing.
BBYO is continuing to reach out to uninvolved Jewish teens as a way to introduce these young people to Jewish life and culture and community service, while creating opportunities for these disconnected kids to make lifelong friendships and connections with the Jewish community.
Collaboration or Competition, Engaging the Next Generation Is Vital. Many researchers cite the need for increased coordination across the portfolio of organizations serving the needs and interests of Jewish teens and that the current competition and fragmentation often observed does not serve the needs of teens, nor ultimately of the Jewish community.
For the first time in 2017, a delegation of BBYO teens attended a sold-out Active Jewish Teens International Conference in Kharkov Ukraine, as part of JDC and BBYO's global partnership, focused on building a worldwide movement of Jewish young people.
Other Findings:
In the National Study on Jewish Teens, sponsored by the Jewish Education Project and Rosov Consulting, and supported by the Jim Joseph Foundation, Charles and Lynn Schusterman Family Foundation, and Lippman Kanfer Foundation for Living Torah also reveals some telling data on the attitudes and practices of Jewish teens. Some of the findings from this research are posted below.[6]
That study found that teens active in a Jewish youth group "tend to flourish socially, emotionally and spiritually" as compared with those who are not. The report findings also confirmed that Jewish teens felt "more connected to being Jewish," experienced "higher self-esteem" and "better relationships" with family, friends and other adults, and were empowered to "make positive change in their world."
In exploring other outcomes from this research, the following findings must be seen as significant, verifying BBYO's own reporting. In analyzing the importance of Israel, some 71% expressed a "strong or very strong connection to Israel" (such a finding confirmed BBYO's own assessment of its members). In addition, some 45% noted that anti-Semitism represented a problem, although few feel personally threatened. As reported in most teen surveys, the respondents acknowledged academic pressures, self-esteem concerns, and the fear of failure as particular challenges. The study confirmed that teens find social media as a having mixed value, on the one hand causing stress but on the other linking them with friends and providing a framework for them to help change the world.
Personal Reflections:
For full disclosure, my own involvement in Jewish life was directly strengthen and enhanced by my active involvement with AZA. When BBYO, some years ago, elected to bestow upon me the Sam Beber Distinguished Alumnus Award, it allowed me to retrace my personal journey beginning with Monarch AZA Chapter 438 (Richmond, Virginia).
In conversations with my peers, the overwhelming take-away from their involvement was the active leadership learning that occurred. Participants were exposed to opportunities to create programs and plan conferences, organize and lead meetings, and manage relationships. The particular mentoring roles, performed by BBYO chapter advisors and regional and national staff persons in connection with these basic training experiences, may have represented the most valuable resources that a teen could acquire. Years after leaving high school, colleagues concluded that outside of the lifelong friendships that had resulted from their participation, the skills sets and the Jewish experiential opportunities offered by BBYO would serve them well.
Dr. Steven Windmueller is the Rabbi Alfred Gottschalk Emeritus Professor of Jewish Communal Service at the Jack H. Skirball Campus of HUC-JIR, Los Angles. His writings can be found on his website: www.thewindreport.com.
[1] http://infed.org/mobi/the-philosophy-of-informal-jewish-education/
[2] Thomas Elliot & Jennifer Earl: "Organizing the Next Generation: Youth Engagement with Activism Inside and Outside of Organizations" (February 1, 2018), https://journals.sagepub.com
[3] https://movementstrategy.org/b/wp-content/uploads/2015/08/Taj_James-Kim_McGillicuddy-Building_Youth_Movements_for_Community_Change.pdf
[4] https://www.ncbi.nlm.nih.gov/pmc/articles/PMC5222537/
[5] https://pdfs.semanticscholar.org/fc42/725adb9b1266e43aa3203ad4e1ce93ffbe96.pdf
[6] https://www.rosovconsulting.com/learning/news/national-study-jewish-teens-explore-programs-helping-flourish-todays-world/