The face of anti-antisemitism
ADL chief: WH hesitation to call out anti-Zionism in antisemitism strategy rollout 'a miss'
'Ultimately, the administration will be judged not by what they say, but by what they do,' Greenblatt tells JI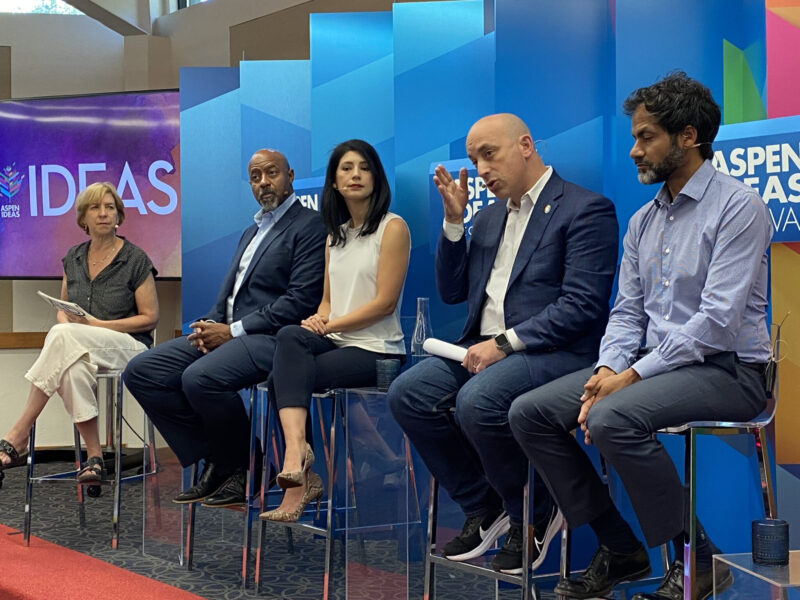 Twitter/Jonathan Greenblatt
In the exclusive environs of elite conferences such as the Aspen Ideas Festival in Aspen, Colo., or the Milken Institute Global Forum in Beverly Hills, Calif., Anti-Defamation League CEO Jonathan Greenblatt has become a mainstay alongside the business executives and philanthropists who frequent the events.
In a recent interview between speaking engagements at Aspen, Greenblatt talked to eJewishPhilanthropy about why business leaders should take antisemitism and extremism seriously, and why he thinks it's a "miss" that the White House isn't talking about Israel in its rollout of its National Strategy to Combat Antisemitism.
This conversation has been edited and condensed for length and clarity.
Gabby Deutch: You're on the circuit of these big marquee conferences — Aspen, Milken, etc. What's your pitch to them for bringing you in to speak about antisemitism?
Jonathan Greenblatt: I don't think of myself as being on the circuit, quote, unquote. But often, I've been asked to speak at these conferences on issues like antisemitism and hate, on issues like extremism, on issues like the role of technology. Some of that I believe draws on the work that I'm doing at ADL. Some of that I believe draws on my background. The other topic they often want to talk about is antisemitism, extremism, technology and the role of business and civil society in combating these things. So again, I think it's a function of the work I'm doing as the CEO of ADL. I think it's a function of my background in public service and the private sector. It is a good thing that conferences like the ones you mentioned, Aspen or Milken or others, are putting these issues on the agenda — that they see and understand that, for example, the rise of antisemitism is dangerous to the Jewish community, and it's a harbinger of more forms of hate. They see that extremism is no longer extreme, but that it poses a deep threat to individuals and towards institutions. I think there's a dawning awareness in all of these different venues, and people want to understand what's behind these trends, and want to understand, 'What do we do about it?'
GD: There's often a very unique audience at these kinds of events, the business crowd in particular. When you were a business executive, how much were you thinking about these issues?
JG: Not at all. I don't think these issues were on the radar, just a few years ago, for CEOs. Suddenly many of them are struggling with these broader societal challenges, and how do they respond? But I think they're also worried because, as it turns out, antisemitism is a bit of an early — it's like a leading indicator of larger dysfunction in society. And it turns out that extremism is not just destabilizing for democracy. It's bad for business. It undermines the confidence in markets, it creates lots of uncertainty, which is one thing that chief executives and people just want to avoid as much as possible. We've watched antisemitism intensify dramatically in recent years. We've watched extremism be normalized in recent years. And these were problems before, but now they are, like, clear and present dangers. And that's why CEOs are concerned about them.
GD: These crowds are often a different kind of audience than, for instance, the people who might come to an ADL gala in New York, or an ADL event at a synagogue. So what do you hope that the folks in the room at Aspen take away from your talks and from learning about these issues?
JG: Certainly when I speak to a synagogue, or to a typical audience of ADL supporters, these are people who often are living through this moment, who are experiencing the rise of antisemitism, who might have kids on a college campus who are facing marginalization, who might have kids in middle school or high school who are also again experiencing prejudice and bias because they're Jewish, who have just been thinking about these things for a long time. When you come to a place like Aspen, you go to an environment like Milken, you're talking to a much more diverse audience. These issues might not be historically front and center for them. They might not have any firsthand experience vis-a-vis anti-Zionism. They might not have a personal connection to, say, [the] Tree of Life [attack]. It hits them very differently. They're open to the message, which is great. And I also say, for what it's worth, that people want to know what they can do. People are genuinely concerned, and want to be constructive and want to be helpful. And that's a good thing.
GD: You mentioned anti-Zionism just now. We reported this week in Jewish insider about the way that the White House has avoided talking about that issue. It's something you have been talking about for a long time. What do you make of the White House not really talking about it since the national antisemitism strategy was released? Why do you think that is? And is it something that concerns you?
JG: Look, I think the vice president alluded to it at the event the Israeli Embassy hosted in Washington, D.C., around Yom Ha'atzmaut. But I will tell you, I don't get it. I think it is addressed in the strategy, and I think the administration needs to continue, when they talk about the issue of antisemitism, [to] acknowledge that it's a multidirectional threat, that it comes from all sides. There is so much that is meaningful and historic in the strategy. There's so much that's consequential and just groundbreaking in the strategy. It elevates antisemitism to a national priority. I think what's important is that when the administration then talks about it, as they implement policies around the recommendations in the strategy, as they continue to maintain the sort of balance here they did in the paper, which is, again, antisemitism, whether it's directed against the Jewish people, or to the Jewish state, needs to be countered, forcefully and firmly and without hesitation, and so hesitating to call it out, I think it's a miss.
GD: Is it something that you have spoken about with people in the White House?
JG: I wouldn't divulge those conversations. But I think suffice to say the ADL has and will continue to make the case publicly about the need to again maintain this kind of focus.
GD: After Second Gentleman Doug Emhoff and Homeland Security Advisor Liz Sherwood-Randall spoke on a public panel, they hosted a private roundtable on the antisemitism strategy. What was your impression from that meeting?
JG: The conversations are certainly action-oriented. The conversations are talking about specific elements of the strategy — how it's organized, how the issues are framed, and then pushing organizations and individuals to think in a very tactical way about what they're going to do, what they would commit to do about fighting antisemitism, and helping to realize the objectives of the strategy itself. Now we're not talking in the abstract, what a plan should look like. We're talking, again, in more sort of real terms: 'OK, How do we now get this work done?'
GD: Overall, are you pleased with how the White House has been rolling things out, and with the way things have gone since the strategy was released?
JG: It's only been a couple of weeks. So it's probably a little too soon to say. It seems like the second gentleman is on the road quite a bit connecting with communities and communicating the strategy itself, making sure that people understand it and that organizations and different elements in the Jewish community and beyond are actually doing something about it. So I think that probably makes sense. They need to get on the road, make sure everyone understands it. But at the end of the day, the plan, like I've already said, is incredibly historic and meaningful. However, ultimately, the administration will be judged not by what they say, but by what they do. At the ADL, we'll be monitoring closely not only how the administration follows through on the 100-plus recommendations, all of which have dates on them. They're very specific. We'll be looking at how they deliver on those initiatives, in terms of the stuff of it, as well as the dates. And we'll be looking at how outside of the steps the administration committed to take, how Congress, how state and local governments, how businesses and civil society will step up as well.