Your Daily Phil: With new ED and board chair, Natan sharpens focus + Conservative synagogues to require vaccination cards for High Holidays
Good Wednesday morning!
Many Conservative Jews will need to bring vaccination cards along with their tickets to synagogue on the High Holidays, and most will be required to wear masks as well, Jennifer Stofman, the United Synagogue of Conservative Judaism's (USCJ) director of synagogue consulting, told eJewishPhilanthropy.

"Although we are eager to return to our sanctuaries, our synagogue leadership knows we need to do what's necessary to ensure safety," Stofman said.

Three consultants who advise over half of the movement's 562 congregations — two based on the East Coast, and one on the West Coast — said most of the synagogues they work with are requiring individuals who attend indoor services to be vaccinated.

In the Western district, which includes California, clergy and synagogue administrators and leaders are still debating whether they should require proof of vaccination, said Rachel Sisk, the consultant for the Pacific Southwest and Northern Pacific regions.

On the East Coast, that debate is being increasingly won by those who want to require documentation, said both Linda Sussman, who advises the metropolitan region of New York, and Stofman, who serves as the consultant for the mid-Atlantic region, which includes New Jersey and Pennsylvania.

Sussman said 80% of the synagogues in the New York regionwill require proof of vaccination, and most want to collect it before the holidays start instead of checking it at the door. Synagogues are uniformly requiring masks indoors, and many will require masks outdoors as well, the three women said.
NEXT PHASE
Natan's new executive director sees more co-funding in its future
The Natan Fund is one of the rare grantmakers that offers open calls for applicants, and offers feedback on every one. Now the fund's new executive director, Adina Poupko, intends to take that ethos one step further, by helping connect both rejected applicants and grantees with other foundations who might be interested in their work, she told eJewishPhilanthropy's Helen Chernikoff in her first interview since taking the position in February.
 
Two new leaders: "We offer exposure to larger philanthropic entities," she said. "We want to be a little more proactive about that." The fund is in "early-stage" conversations with larger foundations interested in Natan's open-call process, Poupko said. Poupko, previously Natan's associate director, succeeded Felicia Herman, its first executive director. Herman will remain involved in Natan, and is also the director of the Aligned Grant Program of the Jewish Community Response and Impact Fund, founded as an emergency fund in April 2020 to support the Jewish community early in the coronavirus pandemic. Real estate investor Tony Felzen was named the fund's new board chair, replacing David Steinhardt, a Natan co-founder who has led the board for nearly 20 years, since a group of young professionals established the giving circle in 2002.
 
True to the mission: The group's aim was to create a community around the support of new ideas that it felt had the potential to achieve broad change. The fund has 70 members, who make a suggested minimum contribution of $18,000. Most of the members serve on at least one of three committees that focus on the grant areas of confronting antisemitism, Jewish connections and Jerusalem.
 
Focus on startups: While Natan funds some longtime grantees that are beyond the startup stage, it focuses on organizations with annual budgets of less than $1.5 million, and has disbursed more than $15 million to over 270 organizations. Poupko declined to disclose Natan's operating budget. Because Natan is fiscally sponsored by FJC: A Foundation of Philanthropic Funds, and is not itself an independent 501(c)(3), it does not need to file the form 990 to the Internal Revenue Service that is required of all nonprofits. Natan also occasionally offers additional grants at the discretion of the board. The committees only offer grants after reaching a consensus on both whom to fund, and at what level. The average grant size is about $25,000, Poupko said.
 
Read the full article here.
The story spark
'As if you were there': Finding a new way to bring the Jewish holidays to life for families stuck at home (again)
"As we approach the High Holidays, families face another holiday cycle with trepidation and exhaustion. Concern over the Delta variant leaves many with more questions than answers, especially those with children under the vaccination age," writes Jonathan Shmidt Chapman, co-founder of K'ilu Kits, in an opinion piece for eJewishPhilanthropy.
 
Reimagining tradition: "Synagogues and individual families can use the challenge of being isolated as an invitation to innovate, build inter-family connection, and reimagine the ways we introduce Jewish tradition to very young children in the absence of our typical community gatherings. Early childhood arts education research suggests that when children explore narrative in a hands-on, multi-sensory way, they experience a deep sense of connection, memory-making, and social bonding. I have experienced this first-hand throughout my career in theatre for young audiences, watching how creative drama and imaginative play can transform early childhood learning."
 
Immersive experience: "I've spent the last 18 months thinking about how I can apply this methodology from early childhood arts education to Jewish holiday engagement, both for my own 4-year-old son and for others stuck at home. Alongside a team of like-minded innovators, artist-educators, and parents, I created K'ilu Kits as a unique way to bring Jewish holiday stories to life at home. We asked: 'How could we immerse children in the story, making them feel as if they are guiding baby Moses across the Nile, or getting swallowed up by the whale alongside Jonah?'"
 
Read the full piece here.
ON THE MARGINS
How Jewish adults with disabilities are changing the religious landscape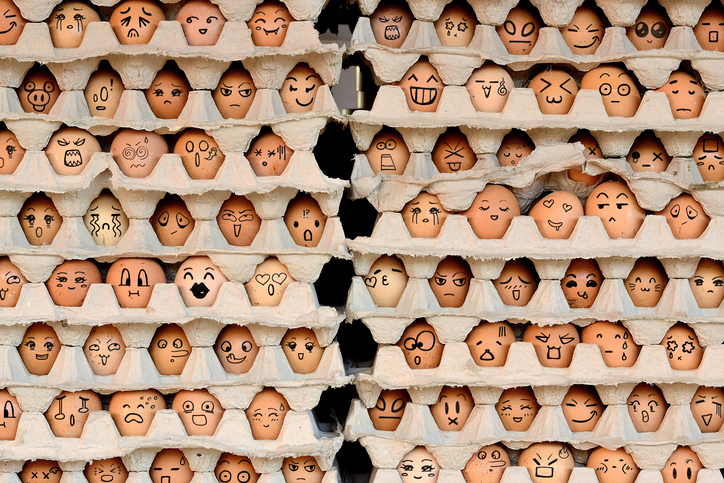 "As a young Jewish 30-something living in Los Angeles, I am not unique. With a population of 1.5 million Jews, California is bursting at its seams with a vast array of Jewish life. Having spent 30 years in Los Angeles, I have tasted everything on the menu when it comes to Yiddishkeit, writes Jonah Sanderson, a resident chaplain at a medical center, in an opinion piece for eJewishPhilanthropy. 
 
I did my 'homework': "From Aish Hatorah and Chabad to The Jewish Federation of Greater Los Angeles and Valley Beth Shalom, and from the LGBTQ Jewish community to Open Temple in Venice, one could say I have lapped up my Jewishness like your dog does her kibble. In the last 10 years, one constant has been missing. It keeps me up at night, and I am on a mission to not only bring awareness to its lacking, but to add my voice to a nuanced conversation. What is missing is twofold: A community for men and women on the margins in progressive Jewish spaces, as well as a place for young adults and singles outside of the standard organizations."
 
Self-confidence: "Have you ever felt like an outsider within Jewish spaces? Though this term has been overly used during the last many years, one area where it's gotten almost no play is in the life of someone like myself… I have a non-verbal learning disability. In May of 2021, I became the first graduate of the Academy for Jewish Religion California to receive my MA in Jewish studies. I was also the first young leader to bring change into the Jewish landscape for young adults and Jewish people who struggle on the margins. Once told that the best I could hope for in my life was to bag groceries, I graduated with five job offers and an incubator project that reached 2,000 people in three years!"
 
Read the full piece here.
Worthy Reads
Difference Of Opinion: Philanthropy is fundamentally different from business, and efforts to tweak charities to make them operate more like businesses are neither new nor helpful, explains Phil Buchanan, CEO of the Center for Effective Philanthropy, in a post on the center's website adapted from Buchanan's book, Giving Done Right: Effective Philanthropy and Making Every Dollar Count. Usually, such reformers don't understand that philanthropy already uses many business practices, such as performance measures and strategic planning, Buchannan notes. "The for-profit world is all about competitive dynamics… The giving and nonprofit world is all about collaborative dynamics," Buchanan concludes. [CenterEffectivePhilanthropy]

Art Imitates Life: The charity featured on the hit Apple TV+ show "Ted Lasso" was inspired by "Letters to Santa," a real-life program of the organization Poverty Alleviation Charities that's supported by one of the show's writers, Ashley Nicole Black, and its star, Jason Sudeikis, reports Meaghan Darwish in TV Insider. The program uses donations to buy low-income children Christmas presents their families can't afford. "It's one of the best things that I do," Black said. "It's one of those things that, once people hear about it, they're like, 'oh, that's a great idea. I want to help out. I want to do that.' They just need to hear about it." [TVInsider]

Pick One: In Bloomberg, Matthew Doyle writes that in Austin, the growing tech hub that is also Texas' capitol city, employers are increasingly rejecting hybrid work arrangements in favor of those that are either entirely remote or entirely in-person. The future of work as it is shaping up in Austin shows that local conditions will trump broader trends in determining decisions made by managers and workers. "It's counterintuitive at first, because how could progressive Austin not be open to hybrid?" said Thomas Vick. "But it's because Austin was already very much fully remote. Also, there's been a lot of cranes here finishing expensive new buildings, and companies want to utilize that money spent." [Bloomberg]
Community Comms
Advance. Yes, you can move forward in your career serving the community you love. Discover Spertus Institute's MA in Jewish Professional Studies.
Be featured: Email us to inform the eJP readership of your upcoming event, job opening, or other communication.
Word on the Street
Rabbi Richard (Dick) G. Hirsch, founding director of the Religious Action Center of Reform Judaism in Washington, and decades-long Israeli Reform and world Zionist leader, died at 95… The World Jewish Restitution Organization named Mark Weitzman chief operating officer, effective September 1… The Jewish Agency for Israel appointed Sigal Kanotopsky as the organization's Northeast U.S. regional director and Yaron Deckel as regional director for Canada… Tsilit, a new Jewish fringe festival, will launch live across the U.K. in October… Israel's Council for Higher Education approved transitioning the private Interdisciplinary Center Herzliya college into a recognized university, which will be renamed Reichman University… Cedars-Sinai Medical Center awarded a record $30 million during fiscal year 2020-21 in support of programs serving vulnerable communities across the Los Angeles region… Private equity firm Apax will acquire nonprofit software platforms EveryAction and Social Solutions, and will merge both with CyberGrants, which Apax acquired in June…
Pic of the Day
The Jewish Agency for Israel gathered 145 Israeli high school graduates before dispatching them for a year of service as emissaries in Jewish communities around the world, including the U.S., Mexico, Italy and, for the first time, Belgium, Monaco, Spain and Switzerland.
Birthdays
Israeli judoka who won an Olympic medal at the 2016 games and then another medal three weeks ago at the 2020 Summer Olympics, Or "Ori" Sasson…
Baltimore resident, Jerome Seaman… Retired teacher of Talmud at Jerusalem's Yeshiva Torat Shraga, Rabbi Noam Gordon, Ph.D…. Former two-term mayor of San Diego, Susan G. Golding… Businessman and former chair of the Jewish Community Federation of San Francisco, John D. Goldman… Partner in Chazan-Leipzig Consulting, Cindy Chazan… Judge of the Montgomery County (Pennsylvania) Court of Common Pleas, Gary S. Silow… Dramatist, screenwriter and poet, Winnie Holzman… President at Benefit Connections, Raphael Schwartz… President of the Touro College and University System, Alan H. Kadish, M.D…. Labor law attorney and partner in the Los Angeles office of Ogletree Deakins Nash Smoak & Stewart, Stuart Douglas Tochner… Former U.S. Treasury Secretary, now president of Warburg Pincus, Timothy Geithner… CEO of the Future of Privacy Forum, a DC-based think tank focused on issues of data privacy, Jules Polonetsky… Executive director of the Maccabee Task Force, David Brog… Criminal defense attorney and media personality in Las Vegas, Dayvid Figler… Award-winning comic book writer and artist for both Marvel and then DC Comics, Brian Michael Bendis… Professor at Harvard's Kennedy School, Jason Furman… Conservative political talk radio host on the Sirius XM Patriot channel,Andrew Steven Wilkow… Greek Orthodox priest, he serves as a judge in Israel's religious court system and encourages Christians to enlist in the IDF, Gabriel Naddaf… Best-selling author, Nicole Krauss… Writer, actress and stand-up comedian in New York City, Jessi Ruth Klein… Washington director of the Reagan Presidential Foundation and Institute, Roger Zakheim… Actor, comedian, writer, producer and musician, David A. J. "Andy" Samberg… Fellow at The Jewish People Policy Institute and managing partner of the Madad website, Noah Slepkov… Editor of Moment Magazine, Sarah Breger… Founder of Dot Dot Dot, a media venture exploring technology through the human lens, Laurie Segall… Justice Department reporter at The Wall Street Journal, Sadie Gurman…
Email Editor@eJewishPhilanthropy.com to have your birthday included.