Your Daily Phil: Irwin Cotler tapped for Gratz post to highlight Holocaust education emphasis
Good Monday morning!
The decision by Ben & Jerry's to cease sales of its products in what it called the "Occupied Palestinian Territory" makes a strong case for the continued relevance of Israel Bonds, Israel Maimon, the president and CEO of the Development Corporation for Israel, told eJewishPhilanthropy.
"They're a financial lifeline in the event that Israeli debt is boycotted," said Maimon, who in August confirmed that he is ending his five-year term as the leader of the development corporation, a New York-based entity that issues Israeli debt. "In the pandemic, too, every country needed to raise more capital and funds, and we did that through Israel Bonds."
Israel has sold $46 billion in bonds, which were crucial to the survival and growth of the young state, since its first issue in 1951. Today, Israel is so financially strong it can sell its debt at lower interest rates in the global capital markets than it does through Israel Bonds, Maimon acknowledged, but the program is still valuable in case of emergencies and as a way of engaging with Israel's supporters.
During the pandemic, Maimon and the development corporation's board of governors raised the 2020 sales goal of Israel Bonds in the U.S. from $1 billion to $1.5 billion, and hit the higher target. Worldwide, sales were $1.8 billion. "Israel Bonds is still one of the greatest ways to connect Israel to its supporters, not just our people, but Christians, as well," Maimon said.
TEACHER TRAINING
With Irwin Cotler hire, Gratz College emphasizes Holocaust eduction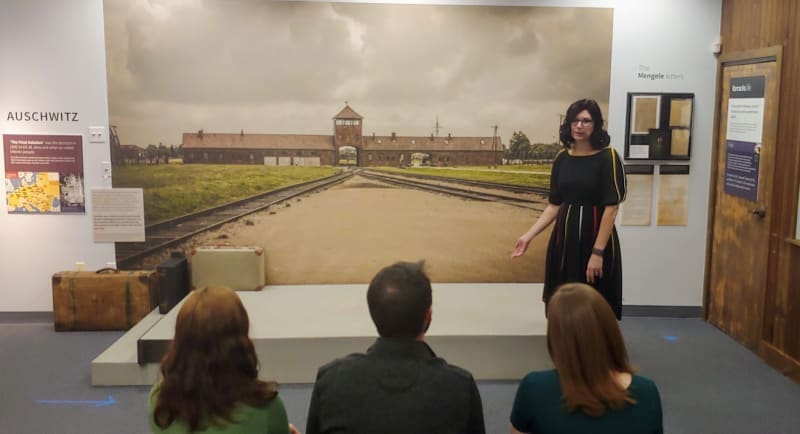 Gratz College has named human rights attorney Irwin Cotler, chairman of the Raoul Wallenberg Centre for Human Rights, as its first Isaacman Distinguished Visiting Professor in Holocaust and Genocide Studies. The move is a signal that the growth strategy the college is developing will emphasize its genocide education programs and an associated academic center. "The first phase is to get the center off the ground, and Irwin offers that prestige," Zev Eleff, Gratz's new president, told eJewishPhilanthropy's Helen Chernikoff. "It's also where we want to be programmatically."
A new center: Gratz opened its Center for Holocaust Studies and Human Rights in February under the leadership of Ruth Sandberg, a professor of Jewish and Christian studies at the college who has taught there since 1985. The center will enable students in three Gratz programs — Holocaust and genocide studies, human rights and interfaith leadership — to cross-register for classes, Sandberg said. The center will also aim to raise awareness of the Holocaust and other genocides, and to engage directly with the broader community. Cotler, a human rights attorney and a former minister of justice and attorney general of Canada, will offer two lectures during his appointment, which will span the 2021-2022 academic year. "Because Dr. Cotler is such a huge figure in this world, his appointment elevates awareness of the center," said Naomi Housman, Gratz's director of institutional advancement, who is working with Eleff to develop the center's fundraising strategy.
A history of teaching teachers: Founded in 1895 as a teachers' college of Jewish education from the estate of the Gratz family, which settled in the United States before the Revolutionary War, Gratz is the oldest Jewish institution of higher education that's not affiliated with a religious denomination. The school, near Philadelphia, focused on meeting the needs of local Jewish educators in its first decades and during the proliferation of suburban synagogues during the 1960s and 1970s, said Kathy Elias, an alumna of the college and its board chair. In the early 2000s, it became one of the first providers of online education, an area in which the college maintains a significant competitive advantage, said Avinoam Patt, a Judaic studies chair at the University of Connecticut. Today, about half of the student population of 300 is not Jewish. Gratz' masters program in education remains its biggest program, but the combination masters-doctorate program in Holocaust and genocide studies has significant growth potential, Eleff said. The program focuses on Holocaust education training for K-12 teachers in addition to community college instructors, museum educators and descendants of victims who speak in the community, Housman said.
More state mandates: The need for such training is growing in large part because at least 19 states now require that their public school systems teach the Holocaust. However, many states do not provide teachers with the training they need to do so effectively, Patt said. "It's very unfair to teachers," he added, noting that while he helped his home state of Connecticut craft such a mandate, he criticizes the state for not funding it adequately. New Jersey, he said, is an example of a state that does a better job in its funding. "The responsibility then falls to nonprofits and higher education, like the Gratz program." Facing History and Ourselves and Echoes & Reflections are the two biggest nonprofits that provide curriculum and professional development to K-12 teachers about the Holocaust and other genocides. "I'd say a program like Facing History can serve as an effective on-the-ground complement to the Gratz program, rather than a substitute for it," said Jonathan Krasner, a professor of Jewish education research at Brandeis University.
STRENGTHENING JEWISH COHESION
Israel and American Jewry – Pause a moment before the abyss
"The Jewish People Policy Institute's '2021 Annual Assessment of the Situation and Dynamics of the Jewish People' reveals that the past year has been dismal and has brought about a multidimensional erosion in Jewish resilience. One of the significant catalysts for this erosion is the strained relations between the State of Israel and most of the Jews in the United States. The Bennett-Lapid government has a duty to do everything possible so that by the end of its tenure, Israel will not be a bad word in many U.S. Jewish communities," writesShuki Friedman, vice president of the Jewish People Policy Institute, in an opinion piece for eJewishPhilanthropy.
Palestinian policy: "It is clear that the issue that weighs most heavily on these relations is Israel's policy toward the Palestinians. While for most American Jews the two-state solution is the minimum required of Israel… For Israel this is a core national security issue, a real existential threat, but for some American Jews it is a one-dimensional human rights issue that must be resolved. The impact on them and their lives in this regard is small."
Historic opportunity: "But with respect to the other contentious issue, religion-state relations in Israel, the current government has an opportunity for a breakthrough. The main criticism of American Jews, most of whom belong to the non-Orthodox streams, concerns the unwillingness of Israel's religious establishment, and the state itself, to recognize them… As long as the ultra-Orthodox were in government, they vetoed any change on these issues. In order to preserve his government, [former Prime Minister Benjamin] Netanyahu actually gave up on American Jews and sought to mobilize steadfast support for Israel among the evangelicals. The current government is different, and this is a historic opportunity."
TEMPORARY DWELLINGS
Building a sukkah again, for the first time
"When I was the parent of young children, Sukkot was the happiest of times. We loved everything about it – the decorations, the outdoor setting, the steady stream of friends, even the bees. It seemed completely unfathomable at that point in our lives that, as we'd been hearing from some older friends, once the kids left for college, we'd stop building a sukkah all together. Yet, with the passage of time, I must confess that this is exactly what happened," writes Hal Lewis, chancellor of Spertus Institute for Jewish Learning and Leadership, in an opinion piece for eJewishPhilanthropy.
Sukkot 5782: "This year, in the mountains of North Carolina, after many years of living a hut-less existence, we have decided once again to build our own sukkah. Now that I've stocked all the necessary accoutrements, and am looking forward to commencing the construction, albeit with a bit of trepidation owing to my less-than-sophisticated mechanical prowess, I find myself ruminating about this reversal. If you'll pardon the cross-holiday appropriation, why after nearly 20 years of not having a sukkah, is this Sukkot different from all others?"
Permanent and temporary dwellings: "This year I have been reflecting upon the significance of the sukkah as (what post-Talmudic rabbinic authorities called) dirat 'arai – a temporary dwelling, in contrast to what they termed dirat keva' – a permanent dwelling. Arcane as they may be, these concepts of permanent and temporary dwellings ceased to be obscure, intellectual categories for me about 14 months ago."
Worthy Reads
Turning Point: In a blog post on the Philanthropy Roundtable's website, Debi Ghate recounts her experiences on 9/11, during which she worked at a nonprofit that educates Americans about U.S. foreign policy. She observed her colleagues' ability to spring into action instantly, because they understood more deeply than most people what had happened — 9/11 was another instance in a historical pattern of clashes between Islamic totalitarianism and democracy. "For those of us in philanthropy, private funding can help ensure the lessons of 9/11 are not forgotten and remind us that ideas can have devastating consequences," Ghate concludes. [PhilanthropyRoundtable]
Setting The Table: Family philanthropy can function as a more enjoyable, deeply meaningful version of the dinner table, where instead of table manners, young adult and adult family members develop their relationships while discussing and implementing their values, writes Bruce Deboskey in the Denver Post. As a philanthropic advisor, Deboskey has developed guidelines for families interested in engaging in charity together, including no eye rolling or dramatic sighing, and an acceptance of respectful conflict as a healthy part of the process. "Rising-generation members will actively participate in a multigenerational philanthropic family endeavor only if they have meaningful, equivalent seats at the table," Deboskey notes. [DenverPost]
Either/Or: A professional will be well-served by understanding whether he or she is a generalist or a specialist in order to make sharper career decisions, suggests Duke Haddad in NonProfitPRO. Each type has advantages and disadvantages; a generalist might become overwhelmed by doing too many different tasks, while a specialist might not have as much career flexibility as desired. "Is it better to be a generalist or specialist? Currently, I am inclined to say be a generalist, but also have specialist knowledge in several key areas. Always remember that knowledge is power and strive to keep this knowledge continually up to date," Haddad reflects. [NonProfitPRO]
Community Comms
Apply! Want to join the team at Jewish Insider/eJewish Philanthropy? We're looking for a top-notch philanthropy editor. Learn more here.
Be featured: Email us to inform the eJP readership of your upcoming event, job opening, or other communication.
Word on the Street
The Dr. Herbert and Nicole Wertheim Family Foundation has provided a $50 million commitment to the University of California, Berkeley, in support of the School of Optometry… Jorge M. Pérez, chairman and CEO of the Related Group, will donate the $33 million he received from the sale of his longtime Coconut Grove, Fla. residence to the Miami Foundation… The Bob & Renee Parsons Foundation have gifted Mt. Sinai Health System $5 million in support of MDMA-assisted psychotherapy and other psychedelic medicine approaches… The Jewish Helping Hands Foundation has extended the application process for the 2022 grant cycle for U.S. projects… Angela F. Williams has been appointed president and CEO of United Way Worldwide… The trial of former Prime Minister Benjamin Netanyahu for suspected bribery, fraud and breach of trust reopened yesterday… A hearing is underway in Melboune, Australia, to determine whether there's enough evidence for former ultra-Orthodox school principal Malka Leifer to stand trial on child sexual abuse charges…
Pic of the Day
Israeli Foreign Minister Yair Lapid (left) and Chargé d'Affaires of the U.S. Embassy in Israel Michael Ratney (right) speak yesterday at a ceremony in Jerusalem marking the 20th anniversary of the 9/11 attacks.
Birthdays
Founder and president of Reshet Capital, Betty Grinstein…

Retired motion picture editor, Avrum Meyer Fine… Columnist, author and etiquette authority known as Miss Manners, Judith Perlman Martin… Chairman of global brokerage at CBRE, Stephen Siegel… Senior advisor to the Endowment for Middle East Truth, Richard Pollock… CEO of The Mellman Group and CEO of the Democratic Majority for Israel, Mark S. Mellman… Ice dancer who won five straight U.S. Figure Skating Championships (1981-1985), Judy Blumberg… Executive director of Aspen Digital, part of the Aspen Institute, Vivian Schiller… Senior lecturer at Baltimore's Ner Israel Rabbinical College, Rabbi Chaim Kosman… Comedian who earned the title "Roastmaster General" for his Comedy Central celebrity roasts, Jeff Ross (born Jeffrey Ross Lifschultz)… Attorney general of North Carolina, Joshua Stein… Member of the Los Angeles City Council, Robert J. Blumenfield… Founder of United Hatzalah of Israel and president of its U.S.-based support organization, Friends of United Hatzalah, Eli
Beer… Member of the Knesset for the Shas party, Uriel Menachem Buso… Senior associate regional director at the Anti-Defamation League, Meredith Mirman Weisel… Former member of the Colorado House of Representatives, Jonathan Singer… Advocacy strategist, Gary Ritterstein… Deputy director of communications and digital strategy at the Student Borrower Protection Center, Walter Suskind… Software engineer at AtomicKafka, David Behmoaras… Political education assistant at AIPAC, Noa Silverstein…

Email Editor@eJewishPhilanthropy.com to have your birthday included.