Your Daily Phil: How to measure impact + Remembering Rabbis Steinsaltz and Sacks
Good Monday morning!
In today's Your Daily Phil, we report on a new scoring system for philanthropic impact, and feature an op-ed by Abi Dauber Sterne on how religious beliefs impact elections. Also in this newsletter: JFNA's Eric Fingerhut and NJHSA's Reuben Rotman, Sam Bankman-Fried, Jeff Bezos and Dolly Parton. We'll start with two worldwide Jewish learning initiatives that kicked off yesterday.
Yesterday, two independent "global days" of Jewish learning mobilized more than 100 partner organizations each to honor the work and memory of two giants of modern Jewish scholarship.
The first was the late, prolific Rabbi Adin Even-Israel Steinsaltz, who translated the Babylonian Talmud into modern Hebrew with commentary, and the second was the late Rabbi Lord Jonathan Sacks, who served as chief rabbi of the United Kingdom from 1991 to 2013 and whose writing made a case for the relevance of Jewish tradition in modern times. Both men died in 2020.
Limmud North America, an offshoot of the global Jewish learning organization that started in the United Kingdom, held its virtual Global Day of Jewish Learning on Sunday; the event was founded by Steinsaltz in 2010, and was incorporated into the global Limmud organization a decade later.
Sunday night also marked the start of the Rabbi Sacks Global Day of Learning in Schools. That event, also called "Communities in Conversation," runs through Monday and marks the second anniversary of Rabbi Sacks' death by sharing his teachings in schools and communities globally.
Rabbi David Singer, executive director of Limmud North America, told eJewishPhilanthropy that Limmud's learning event brought together 117 institutions worldwide to host affiliated programs. In total, the day saw an estimated 10,000 participants studying "various iterations of our shared texts and study guide around the central theme" of rebuilding as a Jewish community, as a society and as a family after trauma, Singer said, adding that independent participants could also "study on their own or convene small circles of learning at their own pace."
The Covenant Foundation was the primary supporter of the Limmud event, and the scholars who crafted the lesson plans in the study guide are all Covenant Foundation grantees or awardees. Hanan Harchol, the creator, writer and animator of "Jewish Food For Thought," a free online animated series that teaches Jewish ethics, composed a unit on rebuilding after the loss of a loved one; writer, musician and educator Alicia Jo Rabins crafted a unit on using creativity as a vehicle for personal growth. The event's organizing partners include PJ Library, the American Jewish Joint Distribution Committee and the Jewish Federations of North America.
do the math
Israel's Menomadin Foundation says it can measure an organization's impact in a single number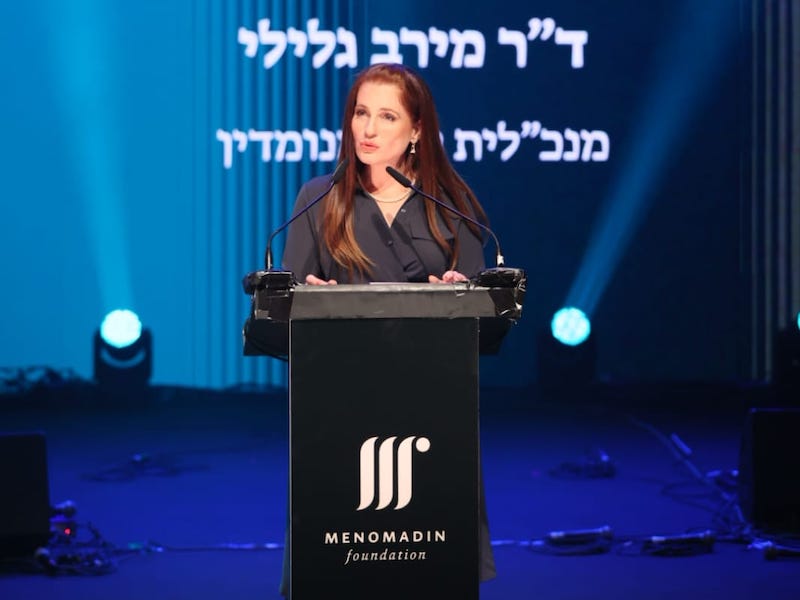 It's a question every nonprofit, donor and foundation has, at some point, struggled with: How do you measure impact? One Israeli foundation is trying to find the answer in a single number, reports Melanie Lidman for eJewishPhilanthropy.
Making the grade: The Menomadin Foundation, a philanthropic investment fund, has just released a 167-page report that tries to apply business investing strategies to philanthropic initiatives. The book functions as a report card that grades all two dozen initiatives Menomadin supports with a numerical value measuring their impact. The score is based on seven criteria including scale, depth, duration and alignment with the United Nations' Sustainable Development Goals.
From business to giving: Menomadin's approach is one that its CEO, Merav Galili, hopes will encourage more organizations and funds to blend strategic business investing and philanthropic initiatives. She feels that when charities can track their successes numerically, the same way that businesses track their financial returns, they become a much more practical target for investors.
Thinking differently: "Philanthropy is not enough to deal with the complex problems of the world, all of the social and environmental problems, because philanthropy is limited, it's not sustainable," said Galili. "We need to think differently about how to create sustainable capital, and unlock new capital."
values and votes
Shrinking the sacred
"Belief is a very powerful thing. Belief motivates each of us in many ways — where we choose to live, whether we get vaccinated and how we vote. We experience our own and others' beliefs every day, but when we disagree with another's choice, we notice these beliefs more strongly. Most recently, both in Israel and the United States there were significant elections. As with any election, some people are celebrating what they believe will be a safer, more secure country as a result of the elections, while others are mourning what they believe will be a more divided, unjust society," writes Abi Dauber Sterne, co-author of the book Stories for the Sake of Argument, in an opinion piece for eJewishPhilanthropy.
Personal beliefs become sacred values: "Over the past weeks, more than ever, I have been trying to make sense of how to live in a society where so many of us believe that our own values are so sacred that they represent the only truth. John Alcock, in his book Belief: What it Means to Believe and Why Our Beliefs Are So Compelling, writes: "'Some values are of such importance and have such influence on our beliefs that they are referred to as sacred values. In this case, sacred refers not specifically to religion, even though many such values are religious in nature, but rather to values that a community considers to be absolute and of such significance that they must not be compromised, watered down, or negotiated.'"
Sacred vs. sacred: "What we're seeing in Israel and the United States – and in political culture all over the world, more generally – is the sacralization of our values. Whether this is more true today than in the past, I won't address here, but it seems that sacred values are at the crux of the divisive cultures that we experience every day. If my belief is sacred, then yours cannot possibly be. For most people, what is sacred to me is increasingly viewed as the only possible truth. And, the danger of this kind of belief, as Alcock points out, is unresolvable conflict between groups."
Worthy Reads
Leave DAFs Alone: Substantial contributions from donor-advised funds (DAFs) enabled nonprofit relief and recovery agencies to respond swiftly and effectively to critical Hurricane Ida relief efforts, write JFNA's Eric Fingerhut and Network of Jewish Human Service Agencies' Reuben Rotman in The Hill. "But DAFs could be on the chopping block if the Accelerating Charitable Efforts (ACE) Act, which a few lobbyists and members of Congress are pushing to advance, were to pass. This misguided piece of legislation would limit DAFs, discourage donations, and result in substantially less money going to those in need. Proponents of this kind of 'reform' mischaracterize DAFs as enabling donors to 'hoard' or 'park' money rather than donating it to charity, since there is no time limit on when distributions need to be made. Putting restrictions on DAFs could pave the way to their elimination… Policymakers should enhance tax incentives for DAFs — not restrict them — and fortify these philanthropic vehicles by encouraging best practices, especially when the effectiveness of DAFs has been so well established." [TheHill]

Fall of FTX: Puck's Theodore Schleifer looks at the effect that the collapse of Sam Bankman-Fried's FTX could have on the philanthropic community. "??There is also the more pressing question of whether there are now a whole bunch of scientists and nonprofits that are about to go belly-up as their principal moneybag evaporates into thin air. People in the [effective altruism] community that I talk with range from despondent to enraged — could there be clawbacks of existing donations? Is the entire movement now associated with fraud? Those pangs of concern were given voice and credence on Thursday by Holden Karnofsky, the well-respected co-C.E.O. of the other big funder in effective altruism, Dustin Moskovitz's Open Philanthropy. In a post on the EA Forum — basically the community bulletin board of the entire movement — Karnofsky described how the 'serious trouble' at FTX would probably require Open Phil to try to backstop some of the E.A. funding gaps." [Puck]
Around the Web
B'nai Brith Canada has appointed David Granovsky as director of government relations…
The Donald R. and Esther Simon Foundationawarded a grant of $55,000 to Hillel of Metro Detroit to fund the on-campus work of Rabbi Michele Faudem…
Jeff Bezos will give most of his money to charity, according to a new report from CNN. Bezos also announced that he is donating $100 million to singer and philanthropist Dolly Parton for her to give away to the charitable groups she chooses…
Budd Friedman, founder of The Improv in New York City and The Hollywood Improv comedy clubs, died at age 90. He helped many comics get their start, including Jerry Seinfeld and Bette Midler, and was engaged philanthropically with the Actors Fund; Motion Picture Home; American Cancer Society; 1099 Assn (California Highway Patrolmen); L.A. Free Clinic; and Comedy Gives Back, among other causes…
Pic of the Day
Shai Dror, president of the Jerusalem Foundation, addresses the crowd as Hebrew Union College-Jewish Institute of Religion dedicates the new plaza at its Taube Family Campus in Jerusalem on Sunday. Dror was joined by the Taube family and Israeli President Isaac Herzog, who told the attendees that Israel "is committed to the rights of all minorities within, committed to the rule of law and committed to freedom of expression and human rights."
Birthdays
Former British Labour party MP who resigned in 2019 in protest of Jeremy Corbyn, Dame Louise Joyce Ellman…
Cellist and professor at Moscow Conservatoire, Natalia Gutman… Former professional bodybuilder who played for two seasons with the New York Jets, Mike Katz… Los Angeles businessman, community leader and political activist, Stanley Treitel… Retired member of the U.K.'s House of Lords, Baron Jeremy Beecham… Television director and producer, her text messages to her daughter are the subject of the CrazyJewishMom Instagram page, Kim Friedman… Editor-at-large for Bloomberg View, Jonathan I. Landman… Democratic member of the New York State Assembly from Brooklyn, his 22-year term is soon ending, Steven H. Cymbrowitz… Former U.S. secretary of state, now on the faculty of Stanford University and the director of the Hoover Institution, Condoleezza Rice… President of the Obama Foundation, Valerie Jarrett… Detroit-based communications consultant, Cynthia Shaw… President of Middlebury College in Vermont, Laurie L. Patton… Partner at the Santa Monica-based law firm of Murphy Rosen, Edward A. Klein… Senior fellow at the Brookings Institution and professor of political science at George Washington University, Sarah A. Binder… Vice chairman of The Atlantic and managing director of media at Emerson Collective, Peter T. Lattman… and his twin brother, Brian Lattman… Member of the Colorado House of Representatives, Dafna Michaelson Jenet… Former deputy national security advisor for President Barack Obama, Ben Rhodes… Head of public policy for Lime, Joshua Meltzer… Law professor at Fordham University, Pamela Bookman… Actress and comedian best known for her eight years as a cast member on "Saturday Night Live," Vanessa Bayer… Chief of staff for the chair at Albright Stonebridge Group, Jacob Freedman… Israeli conductor and pianist, Nimrod David Pfeffer… Founder of White Light Strategies, Lana Talya Volftsun Fern… First baseman in the Toronto Blue Jays organization, Spencer Elliott Horwitz…
Email Editor@eJewishPhilanthropy.com to have your birthday included.