As a follow-up to yesterday's post, The Wired Wealthy, we bring you this guest post by Katya Andresen, who summarizes the key points of this new survey and study.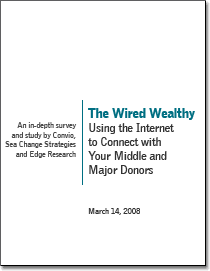 Why You Need the Wired Wealthy
The economic news is sobering. Foundations are cutting back on grants as their endowments shrink. Corporations are reducing philanthrophic programs.
What's a fundraiser to do?
One of my all-too-predictable answers, of course, is to look for new audiences online. That won't surprise you – urging nonprofits to get online is part of my job and my belief system. There are younger, generous people online that you probably aren't reaching in your other outreach. A typical online gift is over $100.
But wait, there's more: A growing number of people are giving even bigger bucks online. A new study, "The Wired Wealthy" by Convio, Sea Change Strategies and Edge Research, looks at these major online donors in depth. Read the study here, or just check out these key points from the study:
Major and moderate donors are generous and online
The e-mail files surveyed represent one percent of the membership but 32 percent of the revenue for this sector
80 percent of the wired wealthy made donations both online and off-line
72 percent say donating online is more efficient and helps charities reduce administrative costs
51 percent said they prefer giving online and 46 percent said that five years from now they will be making a greater portion of their charitable gifts online
Most charity Web sites are missing opportunities to fully engage wealthy wired with their organization
Only 40 percent said that most charity Web sites made them feel personally connected to their cause or mission
Only 40 percent said that most charity Web sites are inspiring
48 percent felt most charity Web sites are well-designed
Email shows signs of lost opportunities to connect with various donors
74 percent said it was appropriate for the charity to send an email reminding them to renew an annual gift
74 percent said that an email from the charity about how their donation was spent, and what happened as a result would make them more likely to give again
65 percent said they always open and glance at emails from causes they support
Three distinct groups of donors emerged based on the extent to which the donor sees the Internet as a source of connection between themselves and the causes
Relationship seekers (29%) – the group most likely to connect emotionally with organizations online
All business (30%) – not looking for a relationship or emotional connection, but a smooth and simple donation process
Casual connectors (41%) occupy the middle ground, showing some interest in sustaining an online relationship, but also wanting a smooth and simple process

Nonprofits should create and provide options that let the wired wealthy customize their online experience with the cause, says the study.
Get online now if you're not already!
And read about the wired wealthy's cousins, the wired fundraisers, here.
Katya Andresen is VP Marketing at Network for Good and a regular blogger on non-profit marketing.