Despite escalating violence throughout Ukraine, normal routine continues to remain a priority for Jewish Agency programming.
By Avital Chizhik
special to eJP
It's a hot summer in Ukraine. And the streets are mostly empty of children.
Anna Landberg, director of The Jewish Agency summer camp in Kharkov in eastern Ukraine, sighs as she remembers the difficulty of recruiting for summer camps.
"Parents are afraid to send their children out of sight here," she says. "No one knows what will happen tomorrow and it's been very difficult figuring out even the simplest logistics, like the children's transportation to our camp sites. There are days when we are almost positive that the camp will be full, and there are other days where many families change their minds. Out of fear."
Despite the continuing violence in Ukraine, across the country, from Kiev to Odessa, from Kharkov to Dnepropetrovsk – over 1,750 children and young adults are attending camps organized by The Jewish Agency for Israel in partnership with local Jewish communities. Another 450 Ukrainian students and young adults will attend Jewish camps in Belarus and Lithuania. More than 200 local and 60 Israeli counselors will staff camps in the location mentioned above. From five to ten days long, and meant for children and young people ages 7-27, the program includes experiential educational activities aimed at strengthening campers' Jewish identities and deepening their connections to Israel. In total, across the former Soviet Union, some 6,000 Jewish children and young people are expected to participate in about 60 camps.
"To meet the current situation in Ukraine, we have had to expand our summer camp activities there," said Roman Polonsky, Director of The Jewish Agency for Israel's Russian-Speaking Jewry Unit. "We've dispatched more Israeli counselors to the camps than ever before. It's important that we reach as many young people across the country, in order to give them a meaningful experience and a break from the goings-on in the country."
The camps in Ukraine include some 50 young Israeli emissaries serving as counselors, as well as senior educators trained by The Jewish Agency's Russian-Speaking Jewry Unit in Jerusalem. The emissaries themselves are Russian speakers as well – many of them olim who immigrated to Israel in the same way that these campers might choose to in the future.
Sasha, who made Aliyah from Kiev 24 years ago, is returning to Ukraine for the first time as a counselor at a Jewish Agency summer camp. "I'm nervous, but I'm looking forward to the experience," she says. "I am very excited to see the city in which I was born and raised, to meet Jewish children and to connect them to their heritage and history."
And despite the escalating fighting in Ukraine, normal routine continues to remain a priority for Jewish Agency programming.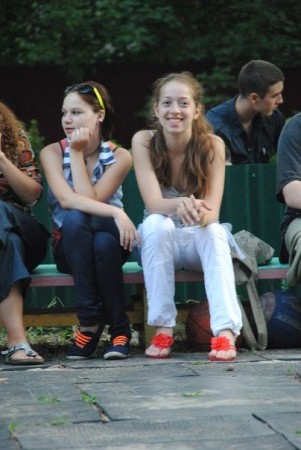 "Our educational training is just as rigorous as it has always been, thanks to our staff," says Mikhail Bogomolny, director of informal education at The Jewish Agency's Russian-Speaking Jewry Unit. "Even with the dangerous and stressful situation, our summer camp numbers have grown," he adds proudly. "Some parents hesitate to let their children go far away for the summer, so our local summer camps are a comfortable option. Other parents are afraid to let their children out of the house alone – the streets are dangerous in many cities now – but sending their children to camp in a safe location, with top security and education, gives them the room to breathe."
Summer camp preparation has taken months; generally a complicated process in itself, but especially so this year. Even settling on educational themes became a heated debate – camp administrators were too concerned about inciting the merest political controversy. "In Odessa, we chose to emphasize Tikkun Olam, repairing the world," Olga Bongart tells, carefully. "We hope the children will not be merely subjects of change, but rather become directly involved in bringing about change for a better world."
In the meantime, on the eastern border in Kharkov, camp directors are still nervous about children arriving from Lugansk and Donetsk – cities marked with constant roadblocks, railroad disruption and deadly shelling lately. And now with unrest in Israel as well, the Agency's popular Israel travel program is also eliciting mixed feelings from counselors.
"Summertime is always exciting, and so is the opportunity to work with youngsters," Landberg explains in Kharkov. "But there is panic here, too. We hope that the situation will change for the better … but in case the conflict escalates in the East, we have developed an evacuation plan."
"We work to combine timeless Jewish subjects with questions that are real to the participant in the 'here and now'," Landberg explains. "This summer the camp administration in Kharkov is running two sessions, one about the Jewish world and the Diaspora-Israel relationship, and the second session about the Jewish formula for success."
This year, camp is particularly important. Most of the campers and counselors are wrestling with the topic of Jewish identity, questions like "Who am I?" and "Who do I identify with?", as a result of the turmoil in Ukraine and in Israel. This year, camp is more than a summer activity. "It's an opportunity to connect with Israel and eventually visit there," says Dasha, a 15-year old camper in Dnepropetrovsk.
"This work is important to me, because it's beyond my official Jewish nationality, as it was recorded on our passports in Soviet times, but rather it is what you are inside," said Alla Sharinova of Dnepropetrovsk, a counselor at an Agency summer camp. "This year especially, we have gotten many more campers. We are seeing many previously unaffiliated Jewish families suddenly become interested in their Jewish roots, as they begin seriously considering Aliyah."
Natan Sharansky, Chairman of The Jewish Agency for Israel and a Donetsk native himself, emphasized that Jewish programming in Ukraine is an Agency priority, no matter what the circumstance. "I am happy and proud that it is now, in these difficult times, that we are organizing these camps in Ukraine as well as providing the opportunity for Ukrainian Jewish youth to go to camp in Israel," he said. "A Sochnut (Jewish Agency) summer camp isn't simply a pleasant way to spend the summer, with field trips, games, competitions. It is experiential education, when children are able to live their Jewish heritage and Israeli culture. And most importantly, I think, children in this difficult situation can feel themselves as part of one large Jewish family, strengthening their sense of Jewish identity for a lifetime."
For many, that sense of Jewish identity comes with Shabbat spent with fellow campers. "It was my favorite experience at camp," says Oleg Tkachenko, a camper in Dnepropetrovsk. "It was special to be with the group, there was a really beautiful atmosphere." He pauses and then adds, with a soft smile: "I wanted to learn more about Israel … Israel became much more real for me the moment my family decided to apply for Aliyah to Israel."
For young Jews in Ukraine, summer camp isn't just a fun experience. It's a moment of quiet amidst a storm – and for many, it's the very beginning of a new chapter ahead.
photos courtesy RSJ Unit of The Jewish Agency and eJP FSU summer camps archives