As Israelis fight over gender segregation in public spaces, progressive denominations see their moment 
In messaging ahead of Simchat Torah, Reform and Conservative movements highlight their egalitarianism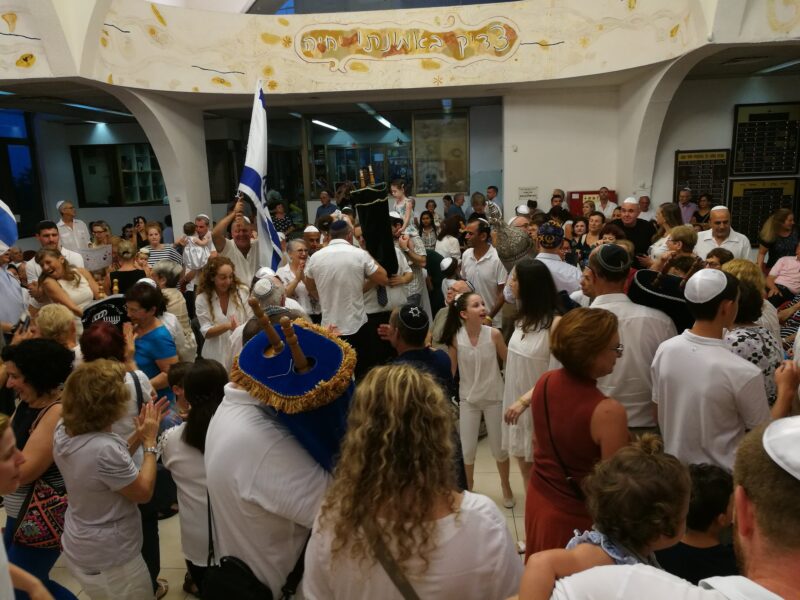 Courtesy/Daniel Center for Progressive Judaism
Over the past two weeks, Tel Aviv's Dizengoff Square has become a battleground in a long-running fight in Israel over the role of religion — specifically gender-segregated prayer — in the public sphere.
On Yom Kippur, a controversial religious outreach group, Rosh Yehudi (Jewish head), organized gender-segregated services in the square, setting up mechitzot, or dividers, between the men and women, despite being barred from doing so by the municipal government in a decision that was upheld by the High Court of Justice. A group of protesters disrupted the service, shouting at the attendees and occasionally scuffling with them.
The group was barred from holding public events in the city during the holiday of Sukkot (this was overturned on Friday), but in its place, other groups and individuals have held gender-segregated services in the square in protest of the city's prohibition on mechitzot and, more generally, against what they see as antipathy toward Orthodoxy. These services have been met by further protests — by those who see these services as representative of a larger effort to impose religion upon the public — leading to arguments that occasionally rise to pushing and shoving.
While Tel Aviv has been the epicenter of these fights over gender segregation in the public space, they have not been limited to the White City. Similar squabbles also took place on Yom Kippur in Haifa, Rehovot and even in the small town of Zichron Yaakov.
For the Reform and Masorti/Conservative movements, however, these controversies have served as a way to set themselves apart and to offer Israeli Jews an alternative. Though they represent the majority of American Jews, these progressive movements account for a far smaller percentage of Israelis (estimates vary but do not generally rise above 15%).
"Our motto in Hebrew is 'Judaism without mechitzot,'" Anna Kislanski, CEO of the Israel Reform Movement, told eJewishPhilanthropy. "It's our identity."
In advertisements on social media and on the radio, Israel's Reform movement, which is officially aligned with the protest movement, has been inviting Israelis this week to take part in Simchat Torah celebrations "without fences, without mechitzot in Reform movement communities."
Kislanski said that the current disputes in Israel over gender segregation and religious freedom "resonate with our ambitions for social justice and equality between men and women." Yet she added that she was "saddened that… the holy concept of the High Holy Days has turned into a [tool for division]" and expressed concerns over the growing divisions in Israeli society.
As these fights have played out, however, Kislanski said the Reform movement has seen a significant rise in interest and engagement.
This year, she said, 16 cities and towns have contacted Reform movement communities, asking them to organize public celebrations for the night after Simchat Torah, referred to as Hakafot Shniyot, meaning second processions, which feature music and dancing.
"There are 16 places where our rabbis and our communities are coming out with our Torah scrolls and holding events in the public sphere, without mechitzot," Kislanski said. "Last year there were eight."
The Masorti/Conservative movement, which held its own public prayer services in Tel Aviv's Habima Square on Yom Kippur, is organizing another event in the same place for Hakafot Shniyot.
"We've decided to meet again in [Habima] Square for egalitarian hakafot after Simchat Torah," the movement said in its announcement.
"We'll dance and sing together — women, men and children, without separation," the movement said.
In addition to Tel Aviv, the Masorti/Conservative movement will hold events in coordination with city governments in Raanana, Haifa and Herzliya.
Kislanski said that in addition to this quantifiable rise in the number of cities inviting Reform congregations to host Simchat Torah celebrations, she has also heard anecdotally from rabbis about growing interest in their services in the past year.
"More parents — mostly mothers — are saying they want to have bat mitzvah ceremonies for their daughters that are egalitarian," she said.